Grace Heny - ContactCenterWorld.com Blog
Book Launch with Kompas Gramedia Publisher
'Call Center Handbook' launch ceremony

With regards to the Call Center Handbook, we plan to have a simple ceremony next week. As a symbolic of book launch by the publisher Elex Media (part of Kompas Gramedia group) to the author, which is myself.
We will have small ceremony in celebrating and also distribute small souvenirs and gimmics for audience. It will be exciting.

Friday, October 12, 2012 7:28 PM EST
---
Presenting for Public Service topic
Presenting for Public Service topic
Closing the September month, I was invited to deliver a short presentation on how Contact Center solution becoming the core of Public Service for government sector. I was happy that the response and enthusiasm shown. I was honor to provide few key insight about how the contact center background and industry were all about now. The event held at Senayan Gold and Driving Range, but feel sorry I dont have time to do a driving activities. Looking at the audience, we were sure that we will have a follow up events in more detail and prepare for this segment of user. A good service from government sector is also a mandatory expectation from Indonesia society.
I was sharing my experience and my visit about Taxation call center, specially on what I got from Australian Tax Office (ATO) benchmark in Year 2011. I am very glad that I met and network with key person from ATO during the Australia ContactCenterWorld in July 2011, so I was able to have a fruitful visit back then.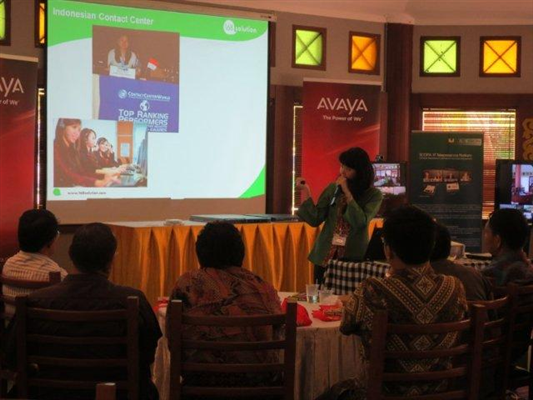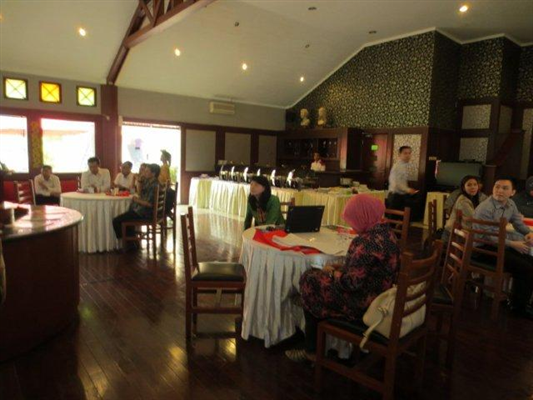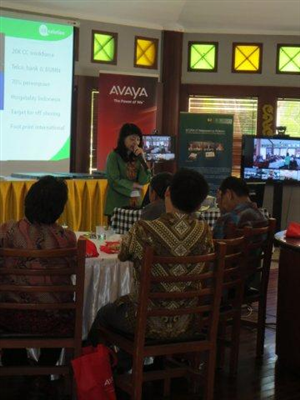 Tuesday, October 09, 2012 3:35 AM EST
---
Call Center Handbook Promotion
Dear Call Center Professionals, please find our promotion for getting our books at Gramedia book store.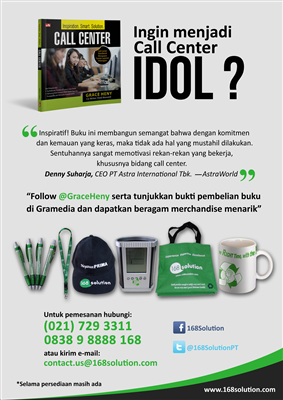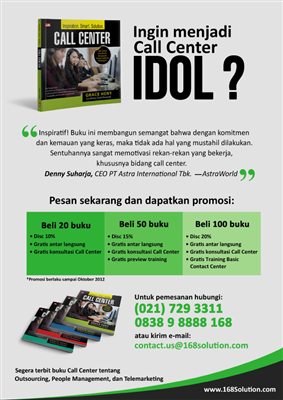 Thursday, September 27, 2012 11:38 PM EST
---
Book discussion with Magazines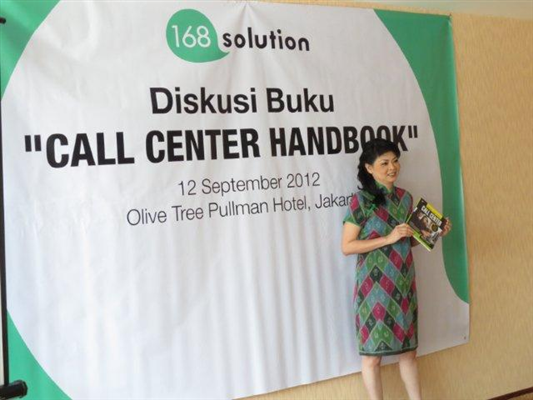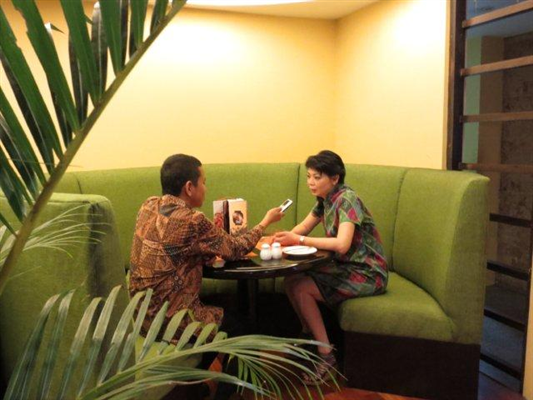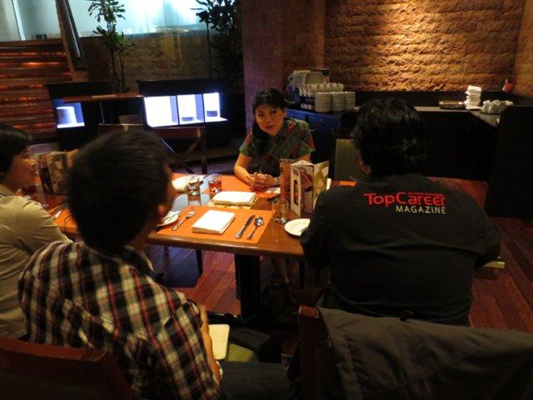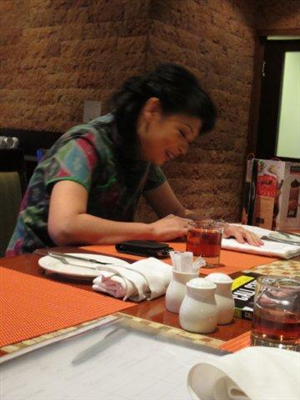 Saturday, September 15, 2012 9:06 AM EST
---
Call Center Book at the Shelf of New Arrival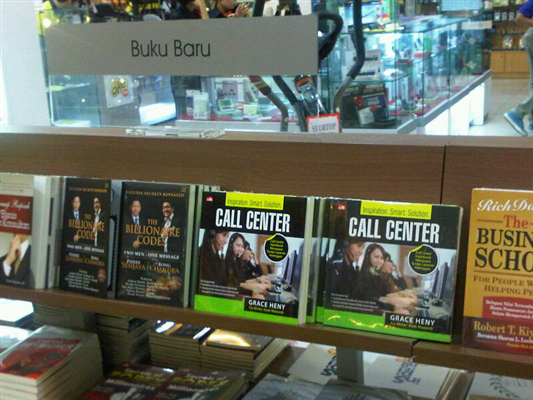 At the New Arrival shelf next to Robert Kiyosaki book.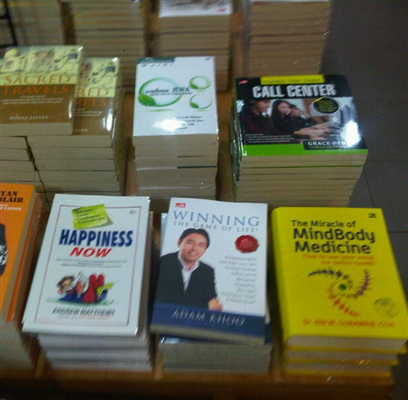 Above Adam Khoo book at New Arrival section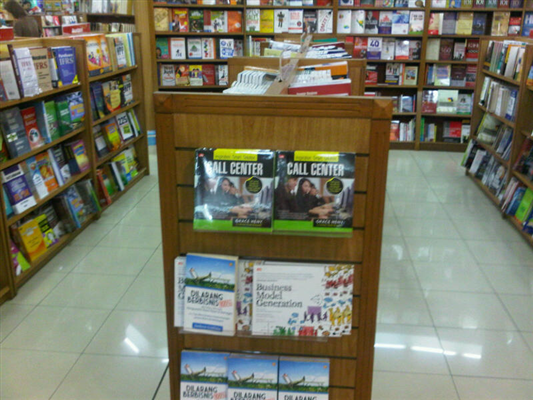 At Plaza Semanggi Gramedia Book shelf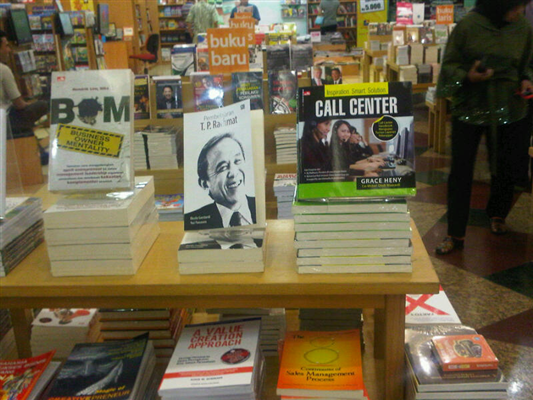 Next to Mr TP Rahmat Book ( a well known professional and entrepreneur)
Monday, September 03, 2012 6:56 PM EST
---
Call Center Book at the Gramedia
First day of book present at the Gramedia book store shelf.
At Friday 31st August 2012, starting morning I drop my proposal to a client at Thamrin and then attending a meeting at Mayapada Tower. The discussion went well and completed around 10.30 am. I am very exciting to drop to the nearest Trimedia Book Store at Ambas. I found my 'Call Center Handbook' at the New Arrival shelf together with Adam Khoo book. Waow so excited and I feel very Thankful up to today. Thats my two and half years of effort and thinking. I am also sending my thanks to all friends and colleagues that inspired me to write down my experience. If you are in Jakarta, drop by to any Gramedia book store and please do find my book "CALL CENTER Handbook: Mengupas Tuntas Layanan Pelanggan".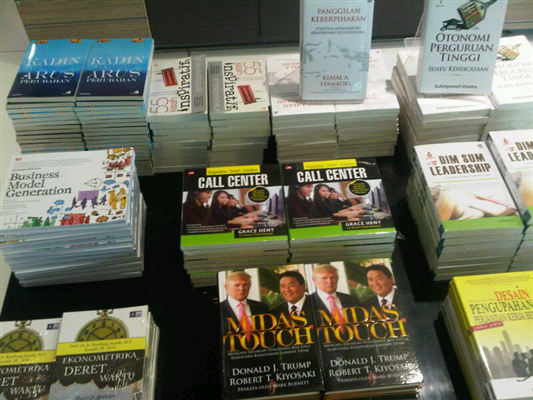 Above Midas Touch - Donald Trump and Robert Kiyosaki book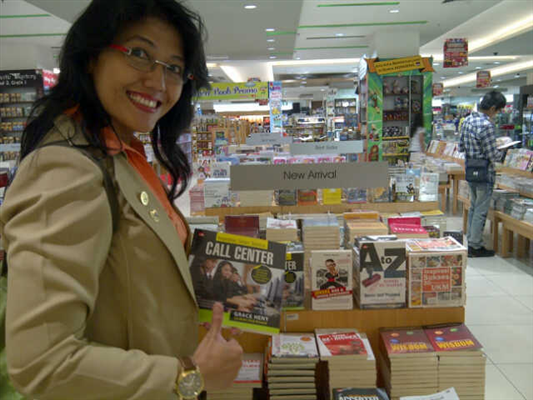 @ Gandaria City hold by a dear 'fan'
Saturday, September 01, 2012 5:54 PM EST
---
CALL CENTER Book
CALL CENTER Handbook by Elex Media - Kompas Gramedia publisher

Whenever we think of services in any industry, 'Call Center' is the word that immediately pop up in our mind. Initiating a complaint, have questions, or in need of information relating to a product / service from any organization, than Call Center is the answer for it. Call Center consider to be a 'unknown' world for quite long time and consider as a 'garbage can'. Not many people realized or understand what is it like working in a Call Center, except for those who engaged with the daily Call Center operational. Who says Call Center staff will be forever stuck in their desk using a headset, and becoming the 'trash can' for customers complaint and negative emotion?
Who says Contact Center staff are living a boring day to day monotonous routine work? I am compiling my 15 years experience in the world of contact center starting as Contact Center Agent in a book called Call Center Handbook. Starting from the inside and perception of the world's of Call Center, both operational and managerial, to an interesting life as a Call Center professional. The story are filled with real life case study and far away from a boring reading book.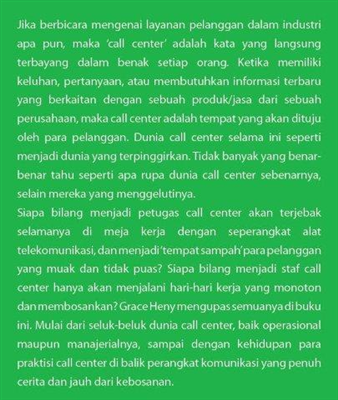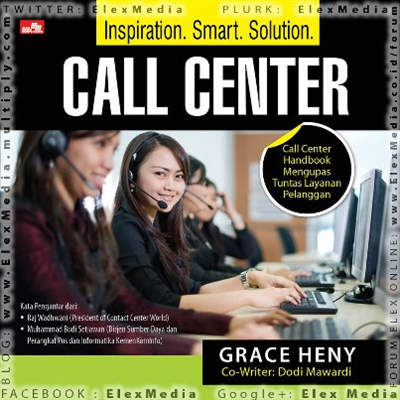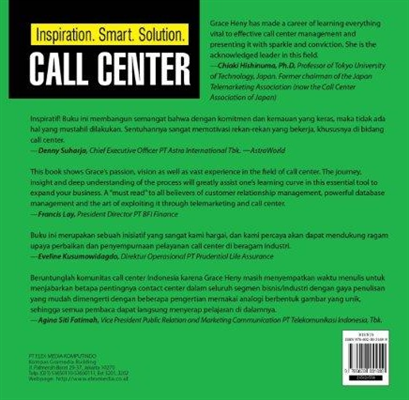 http://elexmedia.tumblr.com/post/29043789838/jika-berbicara-mengenai-layanan-pelanggan-dalam
elexmedia.multiply.com/reviews/item/2492
http://www.bacadulu.com/artikel/call-center-handbook-mengupas-tuntas-layanan-pelanggan
http://www.inibuku.com/31705/call-center-handbook-mengupas-tuntas-layanan-pelanggan.html
http://forum.chip.co.id/showthread.php?t=154063&p=3410887
http://www.facebook.com/elexmedia
Thursday, August 16, 2012 10:02 PM EST
---
AstraWorld Press Conference event on ContactCenterWorld
AstraWorld Press Conference - Jakarta

Yesterday AstraWorld held a press conference in MKG Jakarta to announce the AstraWorld achievement. The team winning 9 medals from ContactCenterWorld Top Ranking Performers competition. The event attended by senior management of AstraWorld and brief session by Ms Novie Marlika. The frontliners that compete was meeting the Astra International management as part of the recognition and appreciation plus few other things in the form of tangible and intangible value also. This to encourage and really support the team that will be competing to Vegas in November later this year in the world competition.
The event release by minimum 11 media and few articles can be click here:
http://id.carmall.com/id/otomotif/galeri/contact-center-astraworld-terbaik-se-asia-pasifik-2161/2/
http://www.dapurpacu.com/wp-content/uploads/2012/08/Contact-Center-AstraWorld-1.jpg
http://www.merdeka.com/ramadan/astraworld-sabet-9-penghargaan-asia--pasifik.html
http://www.auto-car.co.id/content/look/1/2692/AstraWorld-Raih-Sembilan-Anugerah-CCWAAP
http://www.kiosban.com/contact-center-astraworld-terbaik-se-asia-pasifik/?utm_source=rss&utm_medium=rss&utm_campaign=contact-center-astraworld-terbaik-se-asia-pasifik
http://www.tempo.co/read/news/2012/08/14/140423299/Raih-9-Penghargaan-dan-3-Medali-Emas
http://www.beritajakarta.co/index.php?option=com_content&view=article&id=253:contac-center-astraworld-raih-9-penghargaan&catid=48:otobiz&Itemid=21
http://id.carmall.com/en/articles/articleinfo/2161/
http://www.otosia.com/berita/astraworld-sabet-9-penghargaan-asia-pasifik.html
http://enamspeed.com/berita/sembilan-penghargaan-buat-contact-center-astraworld/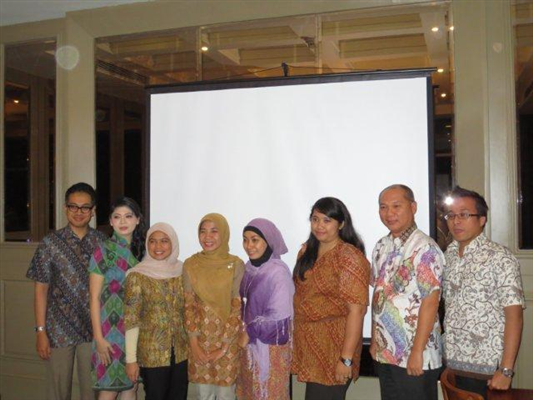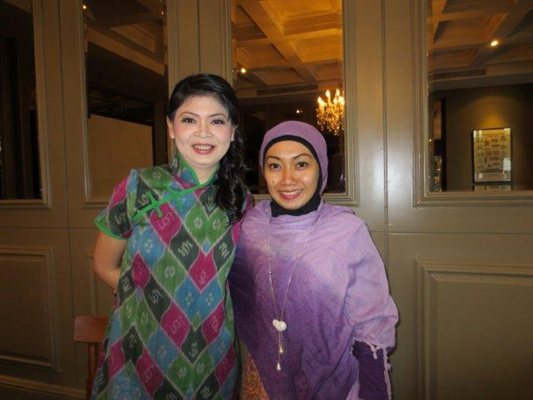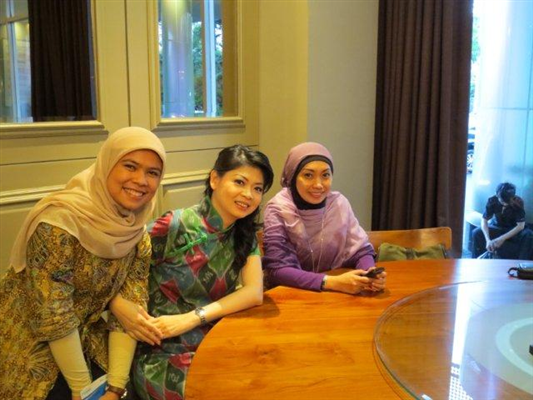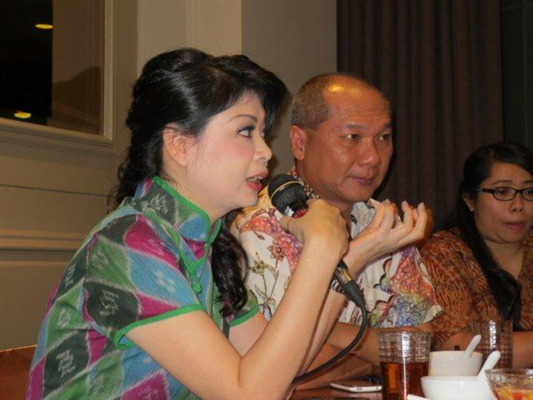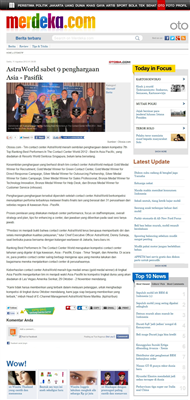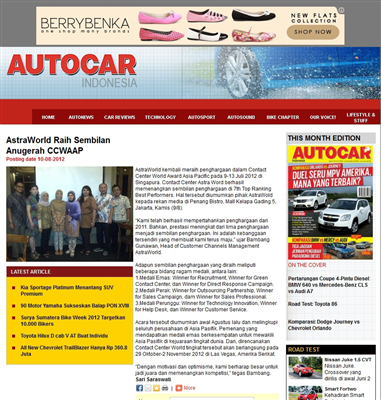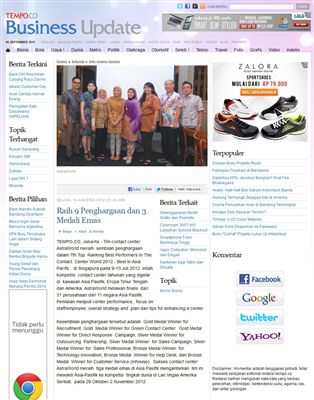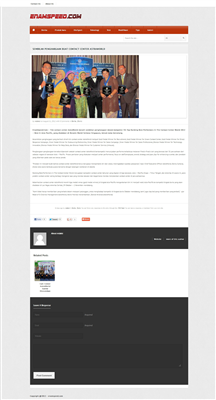 Thursday, August 16, 2012 9:52 PM EST
---
Notes from Indonesian Consumers Foundation
YLKI (Indonesian Consumer Foundation) notes for
"CALL CENTER" Handbook


There are two indicators to express a good level of state consumer protection in any country. First, there are a growing culture of complaint (complaint habit) whenever consumer feel they are being violated by industry or businessman. Second, having a tradition of an independent comparison testing (comparative testing), either by consumer organizations, media and other independent institutions.

Talking about complaint habit, some statistical to be envy of comparing to other countries explain below. In Malaysia year 2009, the National Consumer Complaint Center (NCCC) received 32 369 complaints of consumers. In the UK, The Financial Services Authority, on 2nd half of 2010 received 1.7 million complaints of consumers of financial services.
The Banking Ombudsman in India during 2009-2010 received 79 266 complaints of consumer financial services. While for Indonesia, the field of Consumer Complaint YLKI in 2011 "only" received 525 consumer complaints. Is it good or better we are alert of it.

There are two things on why the rate of complainants in these countries considerately high. In addition to the complainant culture, this is also supported by the ease and various access channels to launch a complaint, mention the core channel is a CALL CENTER.

Consumer complaints in this new business era is very important and meaningful in the efforts of quality improvement of product / service. So we dont get surprise that various organization are competing to provide an ease and good call center as the main access for consumers who would launch a proper complain.

The launch of "Call Center" handbook has two important meanings. For consumers is to help develop the complainant culture, at least through the call center. For business entities, this is the important guide to design a proper Call Center as the access point management for inquiries/complaints, so business can get lots of feedback from consumer, to take into consideration for quality improvement of the product / service. ***

(Sudaryatmo, Chairman of the Daily Executive Board of YLKI)
Wednesday, August 08, 2012 9:10 AM EST
---
Astra World contribution to Customers and Clients
Astra World contribution to customers and clients



Today we found the Astra World recognition award contribute to their customers and clients. On page 3 of Kompas newspaper today, we will see a half page recognition of ContactCenterWorld Awards event in Singapore. That also focus on the achievement received by Astra World from the same event.
This year the event was held in Singapore for a full week with almost 200 Finalist from around the Asia Pacific competing in 20+ categories. From the event, Astra World won 3 Gold for Best Direct Response Campaign, Green Contact Center and Recruitment Campaign. Beside presentation, all the Finalist should answer 'toughest' questions directly without help. These awards also as key contribution for Indonesian delegate.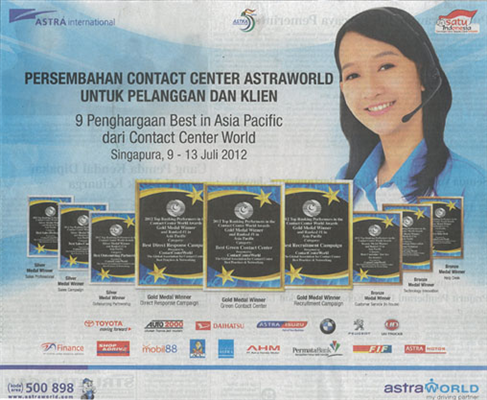 Wednesday, August 08, 2012 9:08 AM EST
---
Congrats and prepare for Vegas event
Congratulation to all winner and prepare for Vegas event

Coming home from Singapore event, really tired but surpize with the level of presenters preparation and commitment to deliver the great results. Those that cannot speak English facing twice the challenges and yet they still take this as the opportunity to excel, to learn and upgrading themselves.

The event took place at Resorld World Sentosa from July 9 up to 12, and Gala Dinner held at Regent Hotel. Indonesian delegates dominating the Finalist reaching 45% of the contestants. The higher number of Gold won by Halo BCA follow by Astra World. Others participants are Bukopin Bank, Dirjen Pajak, Hutchison Indonesia, Infomedia, Mandiri Call, Telkomsel and Telkom.
Seeing the presenters performance, we can estimate how much time, effort, thinking spent during the preparation. Not too mention the rehearsel to ensure the fast, communicative and fruitfull content presentation being deliver to win the Gold awards.
Other Asia Pacific countries that presented are Japan, Malaysia, Australia, China, Thailand, Pakistan, Fiji and the host Singapore.

Congrats to all ... but the winner still have to be ready for the Vegas to meet our friends from Turkey, Portugal, Poland, Ukraine, Russian, UK, USA, Canada, S Africa and others. Be aware and be ready again ....
All Leaders are on QA session ...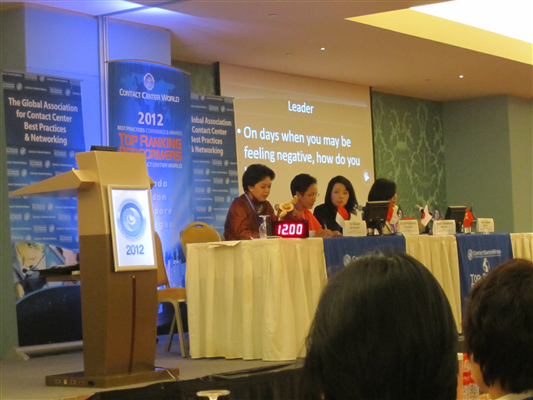 All Best Contact Center are on QA session ...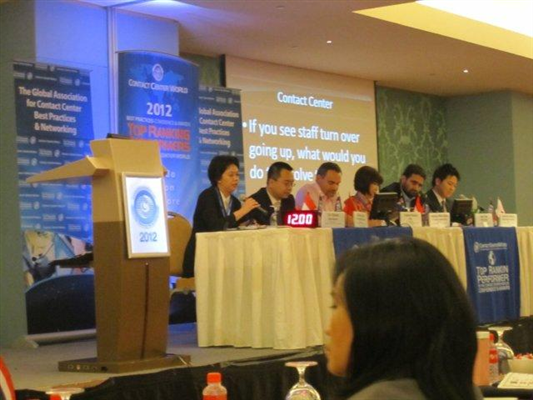 The Best Contact Center winner presentation
Friday, July 20, 2012 10:06 PM EST
---
Standing applause for our Frontliners
All here are our frontliners Customer Service winner.
With a standing applause by the audience, above are our Customer Service Professional winner that all of us specially thanks for their passion to do the day to day job.
This category is very favorit and the number of candidate is amazing ....
May the best win and represent Asia Pacific in World arena in Vegas...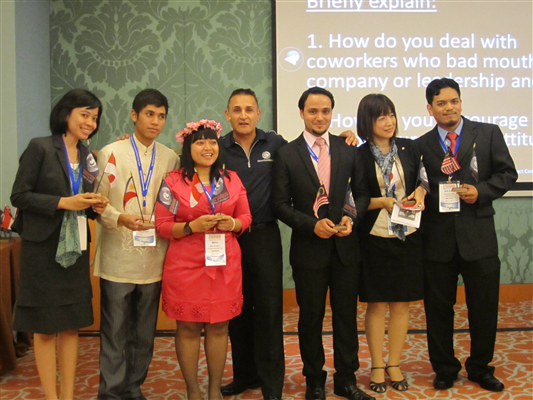 Wednesday, July 11, 2012 11:58 AM EST
---
Ready for Singapore event ?
Singapore Conference is coming, ready or not ....

The Singapore event is just around the corner. I believe within today all of our the participants are running around so buzzzy in preparing themselves for the event.
The event will be more packed with presenters than London and the competition ambiance now is raising :)

My best wish to all presenters, and special regards to Astra World, DJP, Halo BCA, Hutchison Indonesia, Infomedia, Mandiri Call and XL.
Some visualization on the stages look like for presenter to be ready and also wish from Monty - The Top Place 2 Work mascot.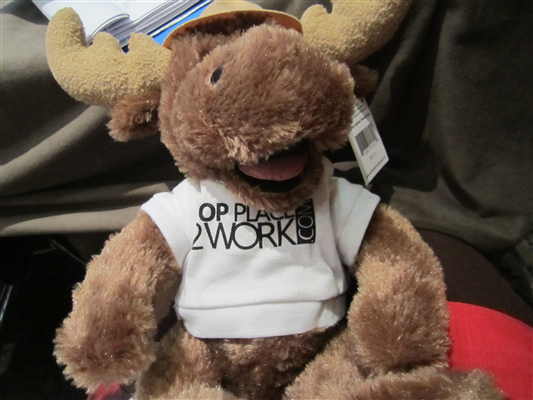 Thursday, July 05, 2012 11:02 PM EST
---
London conference
Arrived in London after 23 hours of travel - just one word at the London conference : EXCITING ...
We just finished the 4 days conference with lots of ideas and sharing. We met Turkey friends with the Turkish coffee hospitality, UK, Portugal, Spain, Finland, Denmark, Russia, Ukraine, UAE, Aljazair, Palestine, Bulgaria, Czech, Greece, Poland, South Africa, France, Nottingham and Saudi Arabia participants. Really great event! Cannot wait to look forward the Asia Pacific Region conference that to be held in Singapore July 9-12th.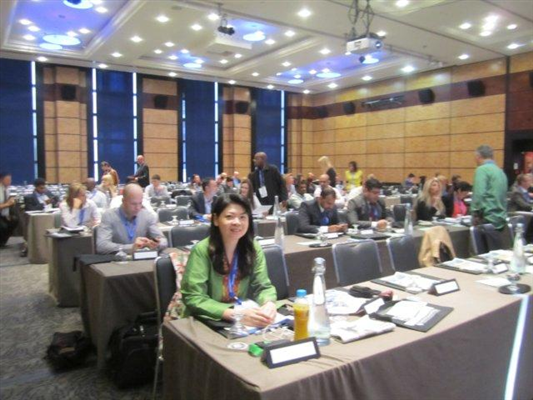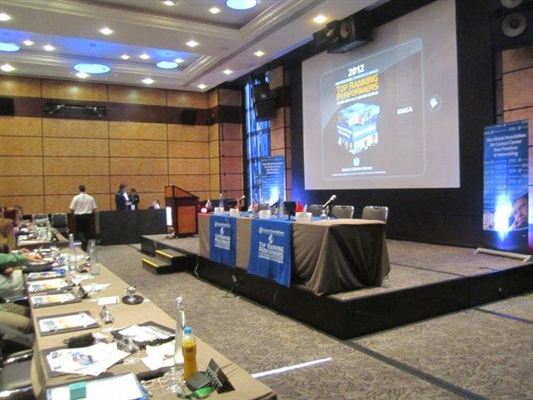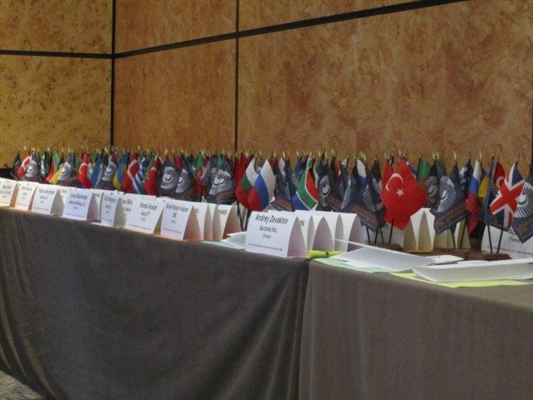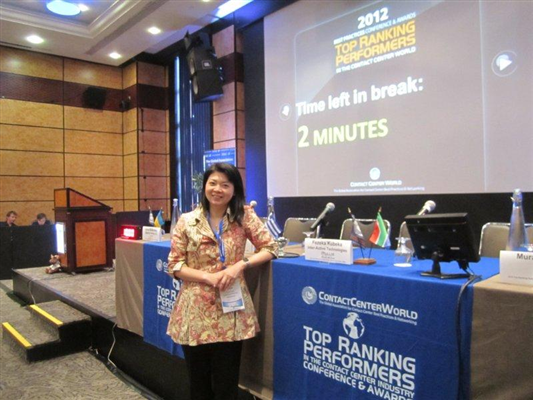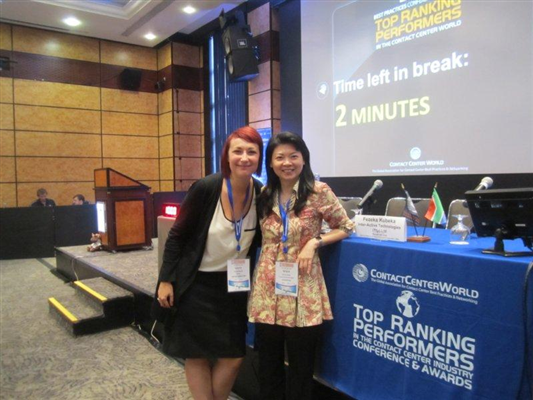 Thursday, June 28, 2012 1:16 PM EST
---
CALL CENTER Book
'CALL CENTER' Handbook

This week, I went to the Kompas Gramedia couple of times. I had an intense discussion on choosing the font size, type, lay out of books, color, book size, section to section divider and the list goes on .... Which articles need to go where. After the exercised, I realized I have 20 articles containing real life case study left. This will form as the 2nd book - I can called it Bunga Rampai Case Study in real life practice - it will be interesting. Wow this is amazing.
The redaction advice me of not exceeding more than 250 pages, as it will be too thick and not convenient. So sticking to the rule, we only inserting 10 case study. Really feel exciting for the book proofreading as the next step.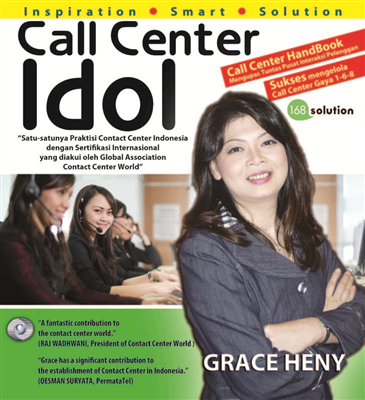 Thursday, June 14, 2012 11:28 AM EST