ContactCenterWorld - Definition
Letter: 3 | 4 | A | B | C | D | E | F | G | H | I | J | K | L | M | N | O | P | Q | R | S | T | U | V | W | Z
Phrase:Potential Revenue
Definition:

The maximum profits that each call has the potential to bring to the organization.
---
ContactCenterWorld.com Search Results:
Your search for "Potential Revenue" returned >> 2 published editorial records
Got editorial?
If you have related content, we'd like to publish it!
Please check out our Editorial Submission area of the site.
Got a question or need help?
Try our Contact Center Forums. Search and post and participate in discussions.
Tip of the Day
Read More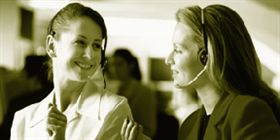 Do you do this in your center?


July 25, 2014 8:37 AM EST
Showing 1 - 1 of 1474 items
Featured Videos - Presenters at our Best Practice Conferences
Showing 1 - 1 of 24 items
Twitter
Looking for Networking & Best Practices?