---
© ContactCenterWorld.com
www.ContactCenterWorld.com
---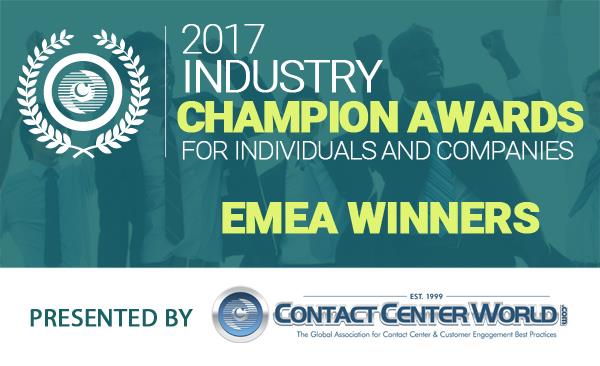 ContactCenterWorld.com Announces Winners of the 2017 Industry Champion Awards for Europe, Middle East & Africa
Thunder Bay, Ontario – Canada June 5th 2017 – ContactCenterWorld.com, the world's largest contact center and customer engagement association, is pleased to announce the winners of the coveted 2017 Industry Champion Awards for Europe, Middle East & Africa. These awards are presented annually to some of the heroes in the industry – both individuals and companies who are voted for by professionals for their service and support to the industry.
Recognizing the achievements of these Industry Champions is important to showcase the dynamic nature of this growing industry and to highlight the importance of sharing knowledge and inspiration. The 2017 Industry Champion Awards are part of a series of industry leading, highly coveted professional awards from ContactCenterWorld.com.
Champions are based on votes and feedback from within the industry and are broken down into individual awards for those who are champions in their own country, and companies, again by country.
Sharing his views on the 2017 Industry Champion Winners for Europe, Middle East & Africa, Raj Wadhwani, President of ContactCenterWorld.com said "We salute these heroes – they help promote best practices and the dynamic nature of our industry. They are champions in their country and we hope to see many of them join us in the global best practice conference in London in October www.contactcenterworld.com/world
where we will share best practices in the contact center industry from all corners of the World."
Several winners attended and participated in the 2017 Best in Europe, Middle East & Africa Conference in London 22-26th May including Zain Patel, Cândido Ferreira and Atilay Varlica
The 2017 Industry Champions – Individual winners for Europe, Middle East & Africa are:
Zain Patel for South Africa
Atilay Varlica for Bulgaria
Atakan Yilmaz for Turkey
Cândido Ferreira for Portugal
The 2017 Industry Champions – Company Winners for Europe, Middle East & Africa are:
Square Consultancy for Bulgaria
Yoummday for Germany
Bank of Beirut for Lebanon
Customer Contact Solutions Nigeria Ltd for Nigeria
REACH for Telecom for Palestine
Manpower Group Portugal for Portugal
CGS for Romania
Multichoice for South Africa
Istanbul Metropolitan Municipality for Turkey
Contact:
Raj Wadhwani, President ContactCenterWorld.com
rajw@ContactCenterWorld.com
Date Posted: Tuesday, June 6, 2017


---
About ContactCenterWorld.com
ContactCenterWorld.com is the world's premier on-line resource for the call and contact center industry. This article is one of hundreds available on-line to registered members. Our resource is updated every working day and includes content from every corner of the world. If you are not a registered member go to www.ContactCenterWorld.com and register today.
---