---
© ContactCenterWorld.com
www.ContactCenterWorld.com
---
#contactcenterworld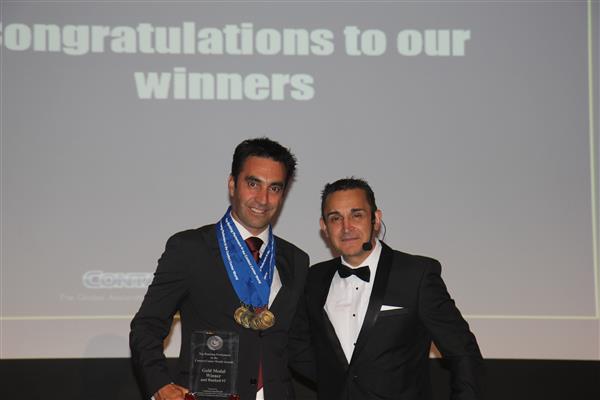 Portuguese Leader Wins More GOLD and Blows Competition Away!
Teleperformance Portugal, a leader in the export of Customer Experience Management Services and shared services worldwide, was awarded seven times with the Gold Medal by ContactCenterWorld.com for the Top Ranking Performers Awards (www.ContactCenterWorld.com/worldawards) in EMEA (Europe, Africa, and Middle East) 2015. Their wins include Best Contact Center; Best in Customer Service; Best Use of Social Media; Best Outsourcing Partnership (in partnership with Salt); Best Contact Center Design; Best Sales Campaign (together with Education First - Englishtown); and Best Technology Innovation were the categories where Teleperformance Portugal won the first place. The Best Contact Center and Best Contact Center Design categories were assigned to Teleperformance Portugal for the third consecutive time.
The awards, the 10th Annual Top Ranking Performer Awards recognize the best contact centers and professionals working within the industry all around the World. The program is split into 3 regional events - Americas, Europe Middle East & Africa, Asia Pacific and only the best in each region qualify to present their case to an esteemed audience of industry peers who then determine who is the best and who qualifies to represent the best in the region to share best practices at our annual global best practices conference in Las Vegas 2-5th November 2015 (www.ContactCenterWorld.com/conferences)
Every year industry professionals from around the World join the event in Vegas to learn from the best all around the World. An expected audience of around 200+ executives from over 30 nations will attend the Las Vegas conference and hear from Teleperformance Portugal and other top performers as they share their secrets of success with the audience who in turn go away with hundreds of best practice ideas to improve their contact center. It's been likened to the Olympics as so many nations best share what they do and the only event of its kind in the World.

The awards annually attract over 1500 entrants (across 30+ categories and covering centers from the very small to the largest) from 50 nations worldwide and Teleperformance Portugal had to persuade judges all around the World they are worthy to be finalist and be eligible to present at the ContactCenterWorld.com Best in EMEA regional conference in London in June where they won GOLD. Every year ContactCenterWorld.com runs the global awards program and the 2016 awards are already open for entrants all around the world to enter (www.ContactCenterWorld.com/worldawards)
#contactcenterworld
Date Posted: Tuesday, July 21, 2015


---
About ContactCenterWorld.com
ContactCenterWorld.com is the world's premier on-line resource for the call and contact center industry. This article is one of hundreds available on-line to registered members. Our resource is updated every working day and includes content from every corner of the world. If you are not a registered member go to www.ContactCenterWorld.com and register today.
---