---
© ContactCenterWorld.com
www.ContactCenterWorld.com
---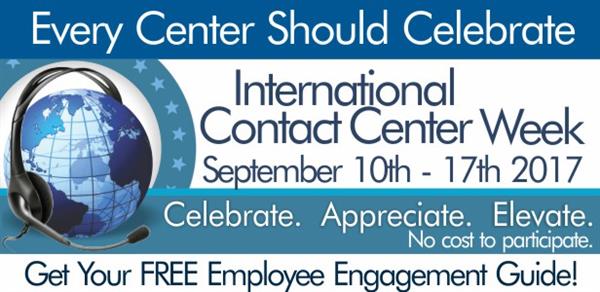 Be a Part of the Only Week Long Celebration Dedicated Exclusively to the Contact Center Industry!
September 10th - 17th 2017
Join thousands of contact centers all around the World who are celebrating our amazing industry!

Have fun, motivate staff and help the community!
Contact Centers are about People and every year thousands of centers around the World celebrate the industry we work in during International Contact Center Week (10th-17th September EVERY year).

It's a winning formula! - Everyone knows contact centers ARE about people and getting them motivated so they deliver exceptional service and performance.
Every contact center out there works hard to develop some kind of motivational program or to have some fun.
We have developed a weeklong program of activities any center can follow or simply use some of the ideas we have and add your own to show your support for your most valuable assets - your people!

There is NO COST or FEES to participate in this program - everything is in your control and you choose to do what you want! That said, we do have some great ideas to share in a suggested agenda 'FUN GUIDE' that you can follow or just use for ideas. Motivate your team and join in!
Find out more! click here
Date Published : 8/17/2017 12:00:00 AM
---
About ContactCenterWorld.com
ContactCenterWorld.com is the world's premier on-line resource for the call and contact center industry. This article is one of hundreds available on-line to registered members. Our resource is updated every working day and includes content from every corner of the world. If you are not a registered member go to www.ContactCenterWorld.com and register today.
---