News : Getting to Work at London Health Sciences Centre No Easy Task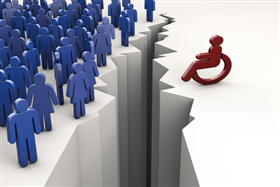 May 17, 2012 -- Larry Firby doesn't think he should have to rely on his boss or a co-worker to take a bathroom break.
The 47-year-old Londoner, confined to a scooter and crutches because of cerebral palsy, says he's tired of risking a fall each winter he makes his way from a parking lot to doors that don't open automatically.
He worries how long he'll be able to use crutches to get around a third-floor call centre that isn't big enough to accommodate his scooter.
You might think a hospital and its foundation would be leaders in accommodating the disabled -- but Firby says think again.
"It's very poor leadership . . . There's no action behind their words," he said Tuesday.
His criticism surprised a hospital official who thought he'd already gone the extra mile to accommodate Firby. David Crockett, who oversees hospital buildings, says he began talking with Firby three years ago and has since put in an accessible bathroom and a $200,000 elevator to replace one that was prone to outages in the 1940s building near the main Victoria Hospital.
"We worked together for a long time," Crockett said.
But Firby says some changes have come too slowly and others not at all and just hasn't matched what he experienced working for two private sector employers, TD Canada Trust and London Life.
The London man worked for TD for 18 years and the company quickly installed automatic doors and an accessible washroom, he said. London Life was also helpful, giving him a desk high enough to accommodate his scooter and parking near the entrance.
Late last year, the hospital replaced the building's only elevator but Firby says he's been told he must ask a boss or co-worker to open a door to leave the third-floor call centre to get to the second-floor accessible bathroom.
"I feel degraded, I'm 47 years old. I shouldn't have to ask to go to the washroom," he said.
Crockett says he had discussed the call centre door but didn't think Firby had made it a priority since its lever-handle is easier to open. If it is a priority for Firby it will be done, he said.
"We certainly want to work with (him)," Crockett said As for the lack of automated doors at the building, Crockett said the hospital has instead provided two options he thought preferable: Have Firby park near other buildings that have an automated door and have him walk to his building through connecting tunnels.



Those options hold a fiscal appeal too: The call centre is in an old building destined for the wrecking ball so it makes better sense to invest in buildings that are here for the long haul, Crockett said.
It appears the hospital foundation recently sent Firby a different direction that Crockett wasn't aware of in a memo Firby provided to The Free Press: He's expected to go to his building, phone the call centre and wait for someone to come and open the doors -- an approach Crockett agrees isn't ideal.
Posted by Veronica Silva Cusi, news correspondent
Source: http://www.lfpress.com
---
Published: Monday, May 21, 2012
Editorial Comments