2013 Industry Champion Award
This award is presented to an industry champion (an individual person) in each country as voted for by the members in that country. It's easy to enter and be nominated and there are no fees involved.

How the award program works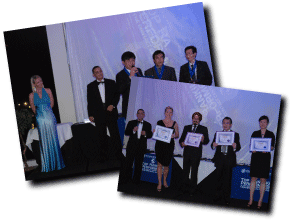 We invite anyone to enter as champion! Each country will have a dedicated page where all those wishing to participate can enter for free

The Industry Champion is an individual person. They may be the leader of a company or someone working within a company who has contributed to the growth and/or image of the contact center industry in your country.

Entrants must solicit votes from members of the industry who can share comments about the entrants work for the industry (not co-workers or friends/family)

Entrants will need to submit a document outlining what they have done for the industry in their country

ContactCenterWorld.com will manage the entire program online.

Judging will be based on votes and ContactCenterWorld employees who will review each entry submitted

Nominations and Voting for each country will be allowed up to 1 week before the start of the Top Ranking Performers Conference covering each region.



Finalists must be able to attend (at their cost) the respective

2013 Top Ranking Performers Conference

and Gala Dinner Regional events where a winner for each country will be announced (NOTE - a minimum of 2 entrants per country are required for a winner to be selected). The country winner will then go into a global competition where voters from around the world will vote for whom they think is the 2013 global industry champion and the winner will be announced live in

Las Vegas

in November 2013.

Who won in 2010:
Overall World Champion
Representing Australia
- Anita Bowtell of Customer Contact Management Association
Industry Champions by Country
Representing Bulgaria
- Jonathan Gladwish of 60K, International Contact Centres
Representing Canada
- Robert Campbell of Virtual Agent Services
Representing China
- Junying Wu of China Mobile Zhejiang Company
Representing Czech Republic
- Milena Linhartova of CEZ Plzen
Representing France
- Thierry Chamouton of CANAL +
Representing Germany
- Pal Bjelkengren of DHL Express
Representing India
- Ranjit Narasimhan of HCL Technologies Limited
Representing Indonesia
- Grace Heny of Contact Center Indonesia
Representing Japan
- Koji Funatsu of Trans-cosmos, inc.
Representing Jordan
- Ibrahim Seksek of CrysTelCall
Representing Pakistan
- Shariq Mehmood Syed of Sybrid Pvt Ltd
Representing South Africa
- Eric Schutte of Aegis BPO Holdings SA (Pty) Ltd
Representing Spain
- Vicente López of Grupo GSS
Representing Ukraine
- Elena Levchenko of East-European Communication Services (TM Beeper)
Representing United Kingdom
- Louise Gray of Liverpool Direct Limited
Representing United States
- Jim Bilger of CVS Caremark
---
For more information on nominating or voting CLICK the button below.
---
Attention Nominees
Generate votes and awareness - Copy and paste one of the following codes into your email signature.
These codes will show the corresponding image in your email signature and link to this page so that recipients can be directed here and vote for you
-OR-