WHAT CAN WE HELP YOU FIND?

All

Articles

Tips

People

Company

Jobs

Video

Blog

Gallery

Glossary

Store
Contact Center Global Benchmarking Study

---
Benchmark Your Contact Center
Why benchmark?
Any serious effort toward improving your company's performance requires that you know where you are and where you are moving toward. In order to know these things you have to be able to compare your performance to a standard. Only ContactCenterWorlds Global Benchmarking Study can provide you with data that pits your performance against the industry average AND allows you to compare that to the Top Ranking Performers in the Contact Center World!
---
The latest Data From Around the Globe
Online, easy to access, great to share, continually updated!
ContactCenterWorld have been benchmarking contact centers from around the globe since 2005. We have produced some of the widest and biggest studies ever in the industry and we benchmark the best in the world.
Global Data

Data is collected from centers arround the globe and can be show as industry average or you can view stats from only the Top Ranking Performers!

Searchable Data

Data is easy to navigate from the index by category and subject. Plus you can search directly by key word!

Easy to Access

Access this data anywhere Online. Plus give access to every member of your organization!

Continually Updated

Data is contributed and added continually so you have the most up to date and accurate data to benchmark against!

World's Best Centers Included

All the best metrics from the Top Ranking Performers in the Contact Center World.

Over 400 stats!

Eighteen data categories so you can target your planning. Hundreds of subjects drilled down directly focused on your needs!
What you get out of Benchmarking depends on what you put in. Defining best practices that will lead to improved performance is best done by benchmarking against the Top Ranking Performers and knowing what they do differently.
Buy Now!
How old is the data?

---

Data included has been collected as recent as February 2016.
Eighteen data categories and hundreds of subjects that you can use today!
Have a look at the type of data you can have access to:
---
See Your Data Your Way!
Choose from 2D and 3D pie charts or bar graphs
Benchmarking against the idustry average is good - Benchmarking against the Top Ranking Performers in the Contact Center World and knowing what they do differently is best!
Buy Now!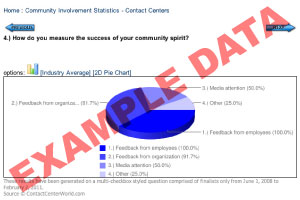 That's just one of over 400 stats!
View more samples in full size by clicking below...
---
12 Months of Access to all the Latest Data Starts
From Only $995
Get Instant Access!
OR
Download the fax order form to buy the online version
Industry Champion Award Leaderboard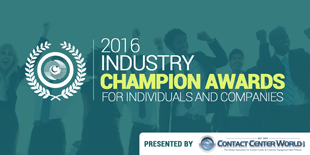 Contact Center Video News