Asonele Kotu - ContactCenterWorld.com Blog
24 May 2018
Software company remodels military truck into a brand mascot for American launch as a conversation starter.
A software development firm has taken out-the-box thinking to a new level with its innovative marketing campaign. Meet the ZaiTruck, a converted 18-ton military 6×6 MAN KAT that serves as a larger-than-life mascot for ZaiLab, a software company specializing in contact center software.
The ZaiTruck set off from Cape Town last year for a world tour that has spanned the entire African continent, Western Europe and now the USA. It's purpose? To act as a conversation starter for the crew on board and the people they meet in their contact center journey.
The ZaiTruck caused plenty of excitement when it dominated the ZaiLab stand at the Enterprise Connect expo in March this year. Now the epic space vehicle has embarked on a roadshow across America that will culminate at Customer Contact Week in Las Vegas taking place in June.
'Brick-and-mortar contact centers are a dying trend and cloud-based solutions are dominating the market,' explains ZaiLab CEO Nour Addine Ayyoub. 'This means you can operate a contact center anywhere, anytime.' The truck has served as the literal symbol of the startup's growth to date as it journeyed across the world.
The American roadshow kicks off from Orlando in May and will travel westwards towards Arizona.
'We are in the business of starting and managing effective conversations between people, so why not do a roadshow to start conversations and connect with people who are in the industry. This roadshow is not only about us, but also a depiction of how the world has evolved into virtual workplace,' explains Ayyoub
The ZaiTruck was built completely in-house by the ZaiLab industrial design team. The 12-seater features a touchscreen dashboard as well as a host of high-tech features and monitors from which to demo ZaiLab's software.
Currently, the ZaiTruck is on its way through Tampa, Greenville, Atlanta, Dallas, San Antonio, Phoenix and Las Vegas or catch the team at CCW taking place at The Mirage from 18-22 June 2018.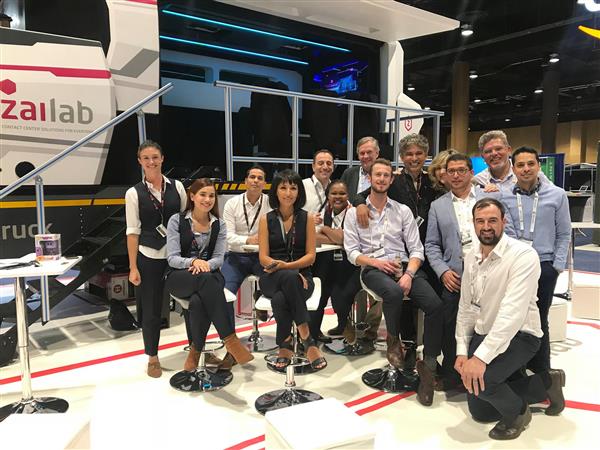 Publish Date: May 24, 2018 12:31 PM