Interpreting outsourcing of Back Office work for better managed business administration - Roger Max - ContactCenterWorld.com Blog
Be it the largest business organization or a small enterprise the very basic requirement of tem all is back office work. This back office work includes those paper work, file work as well as mandatory documentation and filing of records. This is exactly where the official work starts. It is from here that recorded data are summarized and interpreted in to meaningful information for managerial purpose.
He back office department is just like any other office department and is an important cost center. Since it require both infrastructures as well as human resource to work the back office it became easy to outsource this work t reasonable rates than having an in-house back office work department.
Back office work at a glance!
What comprises of back office work that makes it so important? Well the answer is right here. Back office work deals in recording of data into company's system for management information purpose. But this data is initially very raw and is processed by back office workers into useful data. All this requires filing of company's documents like invoices, letters, Proposals, contracts, accountable data and many more. Along with this back office keep track of statutory filing of records like financial statements or prospectus, MOA or AOA. It also helps in safe keeping of records for audit purpose as well.
How outsourcing back office work can help your organization?
Outsourcing has given new meaning to office work. It pools in professional help and technical knowledge for your company's benefit. Outsourcing back office support services will benefit the organization in many ways. At first it saves the company the financial cost of setting up an in-house back office department secondly the trouble of managing infrastructure and human resource for it. All the more, with well qualified and trained agents at its disposal outsourcing agencies provide adequate and quality work. Apart from this your outsourcing agency will also serve you by filing all your statutory records as per Company Law and keep track of working and finalizing of data as per new or amended rules. It also helps the company's management by providing it well maintained and summarized data in forms of tables and graphs.
One of the most important things while outsourcing your back office work for support services is hiring a vendor that is well experiences and equipped for provisioning of such services. Apart from this it would be an added advantage if you hire an experienced agency for this work. There are many big names in outsourcing industry and call2customer has made it large in this sphere.
What is important from a company's prospective before hiring an outsourcing vendor
You must keep in mind the nature and amount of back office work for your company.
Cost is an important factor because it is the first reason you wanted to outsource the work
Quality of work delivered is of utmost importance as it determines the company's functioning and managerial decision making.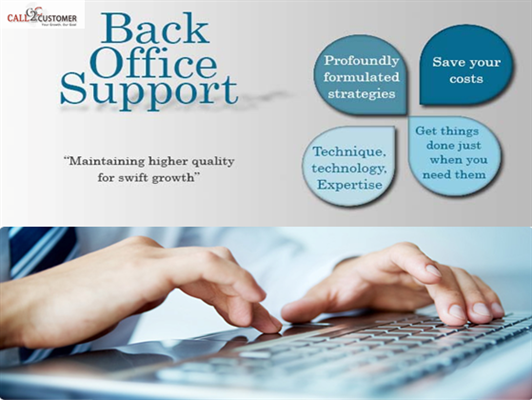 | | | |
| --- | --- | --- |
| Publish Date: February 9, 2016 10:11 AM | | 1 |