Teresa Jose - ContactCenterWorld.com Blog
Contact centers are real-time by definition. For the past decades contact centers mission was to serve customers in real-time with the least cost possible. Real-time operational metrics have been already very well defined and have served their purpose.
This is not a new topic. Almost one decade ago, Donna Fluss authored a remarkable book called "The Real-Time Contact Center: Strategies, Tactics, and Technologies for Building a Profitable Service and Sales Operation".
Unfortunately, many companies still rely on traditional reporting, designed to document what happened, quite after it has happened and at an operational level that is of little relevance to business strategies.

The lack of real time information in the contact center is fast becoming not acceptable as management adopts a more aggressive and proactive approach on how to explore the myriad of data available at the contact center.
Contact centers need to serve their organization in order to maximize the value of each customer and leverage each and every interaction to find new revenue opportunities.
Contact center goals must be aligned with business goals. Campaign, team and individual goals must be tracked and derived from these business goals. In this context, the importance of real time business performance analytics in achieving contact center goals is unquestionable.
There is a huge potential in the contact center to add value to the business that can be unleashed by real-time business performance.
Can't wait? Get a freeWhite Paper containing a set of guidelines that seek to help contact centers adopt business performance real-time analytics and realize the value it can add to the business.
Don't miss my next post. I will talk about the Eight Best Practices to Drive Great Customer Engagement Using Real Time Analytics.
Publish Date: April 7, 2014 7:09 PM
---
I attended the contact center world EMEA conference and I highly recommend it. It's enough of a reason to justify your trip to Lisbon. Lisbon itself is an add-on reason. If you can plan your trip with some extra time, I guarantee you will enjoy my city. You will feel very welcome here.
10 Reasons Why You Should Go to Lisbon
CULTURE

: It's one of the world's great historical cities, with characteristic and surprising sights, cultural treasures, and a beautiful setting that make it a paradise for walkers and photographers.

VALUE

: It's one of Europe's best values -- officially Western Europe's least expensive capital.

LOCATION

: It's the closest European capital to the United States and just around a 2-hour flight from all the other major European cities.

CLIMATE

: Its mild climate makes it an ideal year-round destination. Even in winter, when most other European cities are freezing, in Lisbon high temperatures rarely go below 10C (50F).

RESORT

: It is the only European capital located so close to sandy beaches, enabling visitors to combine culture with fun by the sea.

SIZE

: It's a compact and intimate city, ideal for a short city break or a longer romantic stay, with a lively café culture and a nightlife that is one of the most vibrant in Europe.

VARIETY

: Its surroundings offer an incredible variety of tourist attractions, from fairytale palaces in one of Europe's most romantic towns (Sintra), to world-class golf and fun in Europe's largest casino in Estoril, to surfing in Cascais or escaping to a natural park in Arrábida, to dolphin-watching in Setúbal.

GATEWAY

: It makes a perfect base to explore many of Portugal's most outstanding towns and villages, from Evora to Obidos.

SAFETY

: It's one of the safest European capitals. Tourists are always automatic targets in all big cities and visitors should beware of pickpocketing in Lisbon, but serious random violent crime is practically unheard of in this city.

WELCOMING

: It's a friendly city with a cosmopolitan population, welcoming to all visitors and families with children, and open to minorities and alternative lifestyles.
SOURCE: http://www.golisbon.com/
| | | |
| --- | --- | --- |
| Publish Date: January 13, 2014 4:20 PM | | 2 |
---
By now you should know that the 2014 world series of the Top Ranking Performers Conferences in EMEA will be held in Lisbon Portugal in June 2014. That is a good enough reason to visit my country.
But there are probably a lot about Lisbon and Portugal that you do not know and that I am proud to share with you :)

The Portuguese are said to be warm and hospitable. We are proud of our country, our customs and traditions, and we love to show our homeland to foreigners.
Find out more at http://en.lifecooler.com/lifecooleren/welcome-3.html
What is Lisbon?
Lisbon is Europe's second-oldest capital (after Athens), once home to the world's greatest explorers like Vasco da Gama, Magellan and Prince Henry the Navigator, becoming the first true world city, the capital of an empire spreading over all continents, from South America (Brazil) to Asia (Macao, China; Goa, India). The former launch pad for many of the world's greatest voyages is now where modern travelers discover...

...one of Europe's most soulful, captivating and picturesque capitals, built on a series of hills with scenic vistas from every angle.

...the city of the oceans, the only European capital with sunsets on the sea, so close to sandy beaches and with one of the world's largest state-of-the-art aquariums.

...one of the world's greatest natural harbors which attracted different civilizations, now reflected in its architecture and culture recalling Phoenicians, Celts, Romans, Visigoths and Moors.

...a charming visual time-warp with vintage trams and medieval village-like neighborhoods.

...a lively but serene and melancholic place with an insatiable appetite for long dinners, coffee breaks and nightlife.

...World Heritage monuments and singular museum treasures, from international design and contemporary art, to treasures from when the East met West, to the ancient art of tile painting and gilding.

...a reminiscence of the romantic decay of Venice, the exoticism of Naples or Istanbul, the laid-backness of Rome, echos of San Francisco, and Iberian spirit.

...one of Europe's capitals of Romanticism, a real fairytale just minutes from the city center (Sintra).

...the safe haven of WWII that remains a peceful city in a tumultuous world.
SOURCE: http://www.golisbon.com/
| | | |
| --- | --- | --- |
| Publish Date: December 27, 2013 3:44 PM | | 3 |
---
A lot of you may think I am talking about Christmas, sharing sentiments and all that…. So yes we could do that… But now I will be talking about how I feel it is time to replace proprietary hardware-based telephony systems in contact centers.
The majority of managers considered hardware-based proprietary solutions as something they don't like to live with but that they cannot live without. Like legislation or taxes…
Well, that's not the case anymore. The time has come to consider moving off legacy platforms that were designed for the classic call-center, to move to something that was designed for today's dynamic multimedia contact centers.
A new generation SIP server can bring you enormous cost advantages. Traditional ACDs are expensive to keep and maintain. Moreover, the ACD alone, whether on TDM or IP, is now an outdated piece of technology for true multimedia blending.
According to research from Ovum 74% of consumers use three or more channels to engage with an organization. The good news is that there are technology alternatives that enable the organization to rise to the challenge of this broader, seamless, approach to multichannel engagement.
Let me invite you to learn more about Altitude vBox 5 , an enterprise-grade SIP server optimized to deploy, upgrade or extend next-generation contact centers.It:
Enables multi-channel
Manages dynamic conversations and improve the customer experience
Increases efficiency
Is easy to manage
Lowers the Total Cost of Ownership
Coexists with legacy ACDs
I invite you to listen to two testimonials of leading organizations that benefit from Altitude vBox in their Call Center.

And, if you feel it is time to replace your old call center ACD! Altitude Software is offering you help on all the steps you need to be successful. Start today with the first step and receive a customized business case.
http://altitude.sites.hubspot.com/vbox5?utm_campaign=vBox5&utm_medium=home-banner-global&utm_source=website&__hssc=&__hstc&hsCtaTracking=e0aa2e49-9f63-486c-b892-969364e5252d%7Cfa8355dc-39e6-4c72-ae38-dd857bf05eb0
It is still early December, but I take the opportunity to wish you all a HAPPY 2014! Remember time goes by very fast. Start your savings today!
Publish Date: December 16, 2013 4:58 PM
---
Recently Altitude Product Marketing had the opportunity to visit one of its customers in the UK – Dovetail Services, and came back with some very interesting takeaways from this conversation. Dovetail is a subscriptions bureau that represents multiple brands (about 400). They use Altitude uCI to manage an average of 15.000 emails per week, related to different publications.
During our interview, the word flexibility was mentioned several times. This, in the current reality, is for sure a value added for any business. Dominic Simons, Contact Center Manager at Dovetail says it's one of Altitude uCI's secrets to success as it easily adapts to their business needs.
They chose the solution that answered to two of their most important requirements: reduce email answering time and improve reporting capabilities. Altitude turned out to be a powerful tool as it helped them improve their service by sending customized and extremely detailed reports to their customers and also worked as a motivator for their teams internally as they can now monitor every step and results of their campaigns.
As major results they have reduced answering time (they went from 3 days average time to 24 hours) and rose agent productivity by 50% (going from 12 emails/hr. to 18 on average). This increased customer satisfaction and loyalty.
In a near future they are going to test the web-chat capabilities and are curious about its impact on email traffic.
We now invite you to see the full video with the customer testimonial. (below) You can also download the Customer Success Story in our website.
Special thanks to everyone in Dovetail Services team!
Find out more stories in online.altitude.com and more about Altitude Software on
www.altitude.com
Publish Date: July 21, 2013 12:22 PM
---
I had a problem with my insurance company.
This is one of the leading companies in the country, but mistakes do happen.
We bought a new insurance policy for our small boat but received in our home two new policies: one for our boat and one for a boat we do not have or know. And both policies were entirely deducted in my bank account.
I called the head of the local branch with whom we had made the contract. She told me that she could not access the info immediately but that she would see to it…
After one month without any communication or change, I called again, only to hear more excuses, with no prospect of immediate resolution "Someone made a mistake, and I do not see it in the information system, so you have to wait, I do not know for how long! " she said…
So I gave up on the local branch and called the company's contact center.
My call was answered by a junior agent, that asked me very politely for information and if I had time to wait while she looked at the subject in more detail. After a few minutes she came back to me with an apology for the inconvenience and a straight solution for the problem.
Of course there are good and bad employees in every level of an organization. But in good call centers there is a culture of training, quality assurance, escalation processes and problem resolution that are key for good customer service and good business. This is why more and more I find myself thinking that companies should make the contact center the place to hire and train people. Or, at least, the one place in the company where people should work and spend time.
Nowadays, contact centers should have business processes that ensure that cases will be opened and followed, and emails will not be lost or deleted. Contact centers are focusing on building end-to-end processes and in providing agents with tools and knowledge that guides and helps them through the resolution process, ensuring an increase on productivity and customer satisfaction.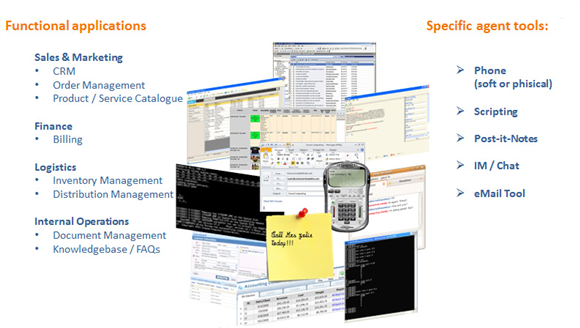 To achieve this, one thing that is lacking in some call centers is the unification and consistency. Often a customer calls in and talks about an email, and the agent doesn't have access to it. A true multi-channel contact solution can be a key differentiator for companies that want to offer consistent interactions in a cost effective way.
Customers won't care about how complex it is for the organization to handle all the different channels. They see the company as a single organization that must handle all interactions effectively and consistently no matter what channels they're using.
Additionally, agents often do not have the tools or the knowledge they need to be effective. Companies must focus on deploying agile knowledge management solutions, in line with customer demand, that allow agents to quickly access consolidated information and provide a consistent and unified service.
Simplifying the agent working tools and space is vital. A user friendly interface, free of meaningless and irrelevant information is crucial for agents to easily view the information that does matter and not get lost. A smart agent desktop displays only what is relevant in one single screen, ensuring that agents easily access the information that enables them to make each customer feel unique.
Today, call center solutions can incorporate business metrics that can prove how productive agents are and how they are contributing to the company's goals. And they are contributing a lot.
Do you have your own stories where the contact center has set an example on exceptional service?
Please tell the world how brilliant is the team of professionals operating your contact center. Share with Contact Center World and Altitude Software and we will help you spread the word!
http://online.altitude.com/blog/bid/90892/Tell-the-world-how-exceptional-is-your-contact-center-team
Publish Date: October 24, 2012 12:33 PM
---
Send your friends a cool movie on what a contact center does
For all of us that work in the contact center industry surely you spent some time trying to explain to your friends and relatives what is a contact center.
I have good news for you. You can show them some nice video illustrations. Do share!
Playlist: http://goo.gl/is5MQ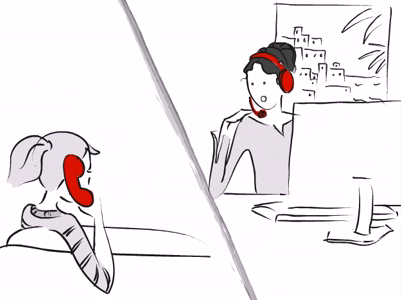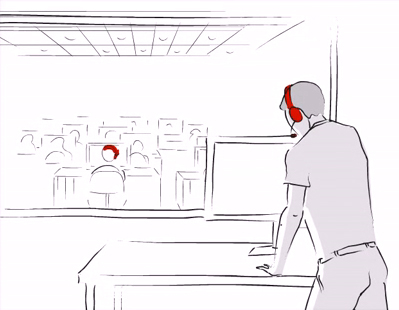 Publish Date: November 24, 2011 5:55 PM