Tell the world how exceptional is your contact center team - Teresa Jose - ContactCenterWorld.com Blog
I had a problem with my insurance company.
This is one of the leading companies in the country, but mistakes do happen.
We bought a new insurance policy for our small boat but received in our home two new policies: one for our boat and one for a boat we do not have or know. And both policies were entirely deducted in my bank account.
I called the head of the local branch with whom we had made the contract. She told me that she could not access the info immediately but that she would see to it…
After one month without any communication or change, I called again, only to hear more excuses, with no prospect of immediate resolution "Someone made a mistake, and I do not see it in the information system, so you have to wait, I do not know for how long! " she said…
So I gave up on the local branch and called the company's contact center.
My call was answered by a junior agent, that asked me very politely for information and if I had time to wait while she looked at the subject in more detail. After a few minutes she came back to me with an apology for the inconvenience and a straight solution for the problem.
Of course there are good and bad employees in every level of an organization. But in good call centers there is a culture of training, quality assurance, escalation processes and problem resolution that are key for good customer service and good business. This is why more and more I find myself thinking that companies should make the contact center the place to hire and train people. Or, at least, the one place in the company where people should work and spend time.
Nowadays, contact centers should have business processes that ensure that cases will be opened and followed, and emails will not be lost or deleted. Contact centers are focusing on building end-to-end processes and in providing agents with tools and knowledge that guides and helps them through the resolution process, ensuring an increase on productivity and customer satisfaction.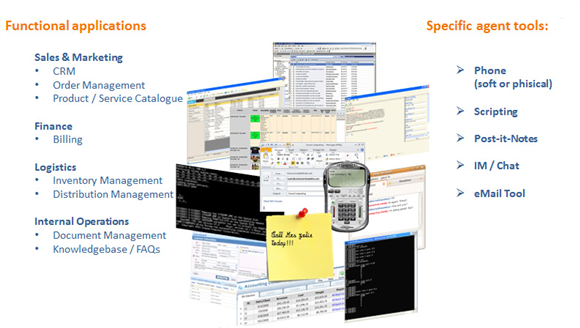 To achieve this, one thing that is lacking in some call centers is the unification and consistency. Often a customer calls in and talks about an email, and the agent doesn't have access to it. A true multi-channel contact solution can be a key differentiator for companies that want to offer consistent interactions in a cost effective way.
Customers won't care about how complex it is for the organization to handle all the different channels. They see the company as a single organization that must handle all interactions effectively and consistently no matter what channels they're using.
Additionally, agents often do not have the tools or the knowledge they need to be effective. Companies must focus on deploying agile knowledge management solutions, in line with customer demand, that allow agents to quickly access consolidated information and provide a consistent and unified service.
Simplifying the agent working tools and space is vital. A user friendly interface, free of meaningless and irrelevant information is crucial for agents to easily view the information that does matter and not get lost. A smart agent desktop displays only what is relevant in one single screen, ensuring that agents easily access the information that enables them to make each customer feel unique.
Today, call center solutions can incorporate business metrics that can prove how productive agents are and how they are contributing to the company's goals. And they are contributing a lot.
Do you have your own stories where the contact center has set an example on exceptional service?
Please tell the world how brilliant is the team of professionals operating your contact center. Share with Contact Center World and Altitude Software and we will help you spread the word!
http://online.altitude.com/blog/bid/90892/Tell-the-world-how-exceptional-is-your-contact-center-team
Publish Date: October 24, 2012 12:33 PM