How to Break Free from the Call Recordings Tape Tangle - Tony Porter - ContactCenterWorld.com Blog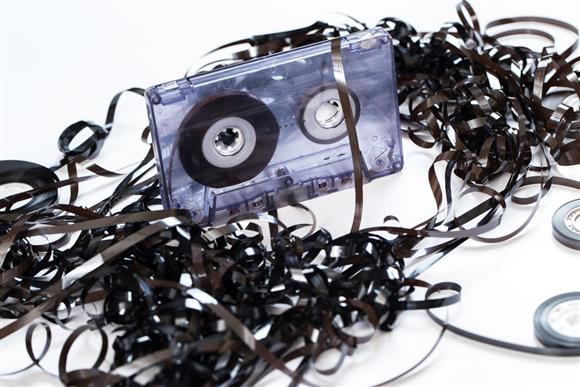 Most of us own a box of audio cassettes … recordings of a top 40 radio chart show, an album loaned by a trusting friend in 1990 and a mix tape we made for a classroom crush (but never had the courage to give them). When it comes to moving home, you just take the box with you. No big deal

.
But what if you're a financial organisation?
For financial companies with contact centers, it's a different story. The business of managing old tapes can get complex, expensive, risky and time-consuming … long after the recording machines have whirred to a halt.
Every month, more financial institutions are ditching tape as their format for recording customer calls, preferring disk-based technology or maybe an open standards database. Some of them will move from vendors like Nice to Verint … or from Verint to Nice, upgrading in the process.
Saying goodbye to old tapes
But any idea that you've said 'goodbye' to tape for good is misplaced. The stuff wraps itself around your arms and legs like tentacles. At least, that's how it can feel.
Those dusty old ribbons are still needed for compliance and e-discovery reasons and they won't let go. And you can't dare to let them go. You might need to keep hunting through countless calls for audits, governance issues, discipline matters and to fight legal claims against you. Rather than just one box in the attic, there may be hundreds of them, going back years.
Worse still, the irony is that companies may still have to keep their creaking old tape system running – even though it's officially be decommissioned. That means extra cost, space, power, time and money. Otherwise there's no way to replay those old tapes!
Where to get help
If you're facing this scenario, then here's some good news: help is at hand from contact center solutions and integration specialist PSS in two ways:
Firstly, you can keep your old, tape-based call recording system fully supported in the run-up to when you move to a new solution with a different vendor. That avoids being dumped or penalized by the old vendor, who's in no mood to be helpful. See PSS's e-guide called Contact Center Application Migration: Ensure your business-critical applications make the journey intact.
Secondly, when you're ready, it's possible to extract all your old calls and meta data from tape drives and call recorders onto disk or an open standards database – and to do it automatically. This can be completed in a fraction of the time and cost of any manual process. Even better, files are indexed during the process to make searching faster later.
For some powerful ways to protect your brand as regulators get tougher or to find out how you can guarantee compliance in the way you record, store and retrieve customer calls, download our free recently published 3 Step Call Recording Compliance Guide click here.
Publish Date: September 2, 2015 1:15 PM