13

Eric Klein - ContactCenterWorld.com Blog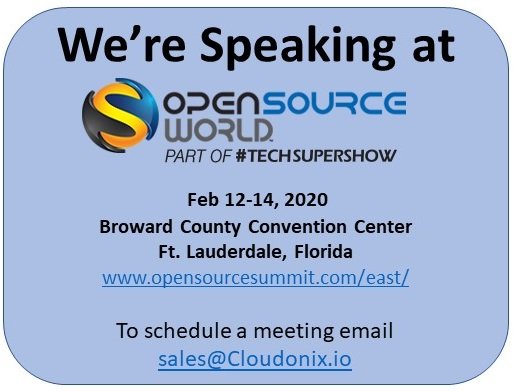 This is part of IT Expo, where we will be giving 2 presentaitons
Democratizing Communication Services and Infrastructure
Stop Giving Your Customers Away
let me know if you are going to be in the Ft. Lauderale area around the days of the show to meet.
Publish Date: January 8, 2020 3:45 PM
---
Cloudonix has release an update to the website that demonstrates our new Web Widget. By siging up for one of our plans, you can insert the direct all widget into your existing website with only a few lines of code (provided). And get direct sales or support calls straight into your existing workflow.

These calls offer more options without the per minute charges of a regular PSTN or 800 number, and can be used to track marketing and advertising directly into your CRM.
Publish Date: August 19, 2019 10:04 AM
---
Huge retail services company incorporates Cloudonix
After conducting thorough market research on communication platform as a service (CPaaS), a leading USA-based retail services corporation concluded that they needed an option that is both technically and financially viable - they chose Cloudonix, utilizing the Cloudonix.io CPaaS and SDK.
They were seeking a solution to connect millions of mobile devices back to their call center. Realizing most CPaaS solutions are minutes and endpoint oriented, leading to rapid inflation of expenses as new users or devices are added - the obvious conclusion was that a different solution approach is required.
When approached, Cloudonix analyzed the requirements and had a viable business model, enabling both a complete technical solution and a financial model that made sense. The model that was chosen is based on concurrent call capacity and not on the number of devices connected, allowing the retailer to grow to tens of millions of devices without incurring devices- or minute- related charges.
Now they are using the combined Cloudonix mobile SDK and Cloud services to provide contextual information to their contact center staff, reducing time on the call and preventing user fraud.
Publish Date: January 15, 2018 11:18 AM
---
Humbug Telecom Labs provider of carrier-class fraud prevention, detection and telecom analytics for any size business; today announced it named on the Global Association for Contact Center Best Practices & Networking's 2012 shortlist for the Top Ranking Performers in the Contact Center Industry Europe, Middle East & Africa in the Best Technology Innovation - Vendor Solution category.
Winners, of the 2012 Top Ranking Performers in the Contact Center World Best Practices, will be announced at the 7th Annual Top Ranking Performers Conference – Best in EMEA being held on June 25 - 29 2012 at the Grange City Hotel, London, England during the at the industry awards dinner on the evening of the 29th.
"Managing telecom fraud is an increasingly important priority for Call Center managers. Telecom fraud attacks may cost a Call Center tens, or even hundreds of thousands of dollars in as little as two days," said Eric Klein, Vice President of Sale and Marketing at Humbug Telecom Labs. He continues, "This is why Humbug telecom is proud to have been named to the shortlist for the Best Technology Innovation - Vendor Solution. The biggest external threat to companies is lack of discussion about fraud attacks. Fraudsters share information about how to perform the attacks, and until now there was no way for companies to break-free of the cycle of fraud."
To learn more about how to protect your call center with affordable fraud alerting tools and a database of over 70,000 industry confirmed blacklisted numbers Humbug Telecom Labs has published a white paper about the Benefits of Telecom Analytics and Fraud Detection for Call Centers. You can download the white paper at http://www.humbuglabs.org/index.php/telecom/callcenters.
About Humbug Telecom Labs
Humbug Telecom Labs makes it affordable for any sized business to have carrier-class fraud prevention and detection, while providing powerful business intelligence which puts users in command of their telecom activity. Humbug also offers free Visual Analytics to view telecom traffic in a real time, concise, readable Google Analytics-type format. No PBX report comes close. Customizable real time alerts can be configured by the user to track telecom traffic behavior and keep track of spending. Humbug is ideal for call centers, ITSPs (Internet Telephony Service Providers), organizations that sell by phone, businesses with significant telecom expenditures and any responsible organization cognizant of the global fraud epidemic. Humbug easily integrates with a host of popular open source and proprietary PBX systems. . www.humbuglabs.org.
Publish Date: March 5, 2012 8:57 AM