Juhani Kaariainen - ContactCenterWorld.com Blog
If you were a sport object?
I asked my Customer Service Associates:
"Please tell me what sport object
symbolises you at the moment"
Had to accept creative sport symbols because
contact centres are busy places.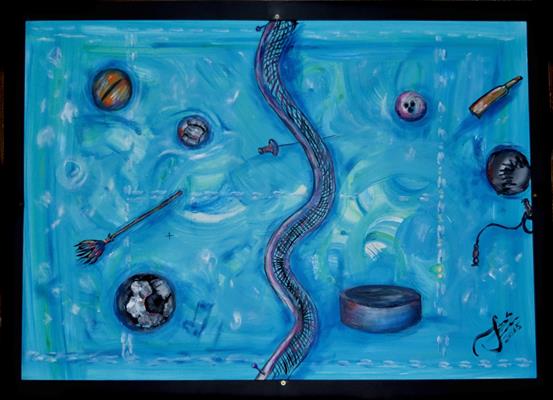 - Completed July 2015 -

Tennis court setting contains following objects based on
max spontaneous answers. The artist
seeks the current team ratio.

Populism (left side) : Respect (right side)

Example. Foil (sword) symbolises following.
Good work place means 50% populism 50% respect.
Publish Date: July 27, 2015 7:25 PM
---
Welcome to this tiny Exhibition!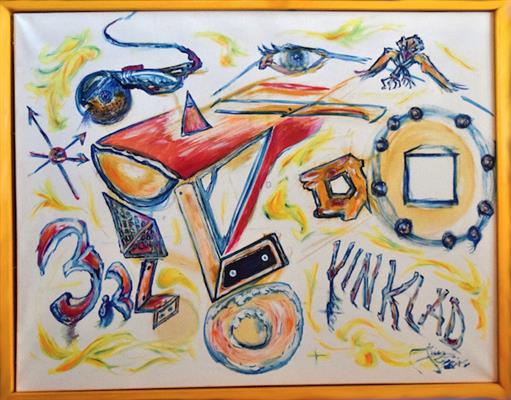 Angle (Oil on Canvas 2014 -Jan 2015 -by Juhani)
Hi again! Here comes my newest oil painting. This time I asked my Customer Service Associates: "What angle symbolises you at the moment". Results above, welcome!
| | | |
| --- | --- | --- |
| Publish Date: January 4, 2015 4:16 PM | | 1 |
---
Radiocurling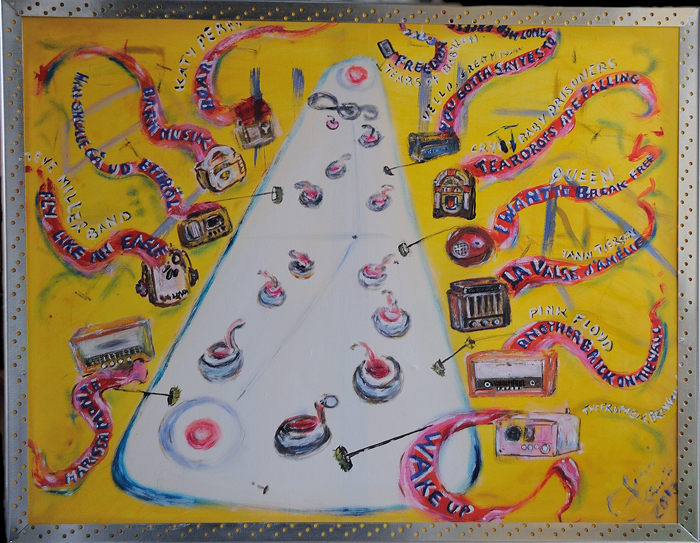 Long time no see. Welcome to see my newest painting. As always, I asked my colleagues question/questions. Now they told me what kind of a radio symbolizes them at the moment and what music it should play. Well, all but one answered. The background comes from sport, curling ice. Those who delivered the first answers were rewarded with biggest symbols. This triggers spontanity i.e. people don't start thinking too deep thougths.
- Kind Regards, Juhani -
Publish Date: January 4, 2014 7:42 PM
---
If you were a Pointer
Support Professional Team members, my fellow workers,
provided me a bunch of symbols for this oil painting. Thanks!
Each one picked up a symbol which mirrors his/her current life situation.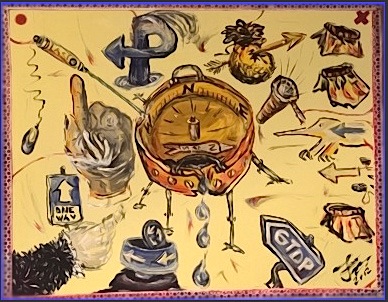 Completed October-November 2012
Publish Date: November 25, 2012 10:51 AM
---
Timeline continues... This is my latest Contact Center Art Painting.
Asked my colleagues what mountain and flower symbolizes you just now.
Got the answers and painted a Mountain Chain with flower jungle.
Enjoy :)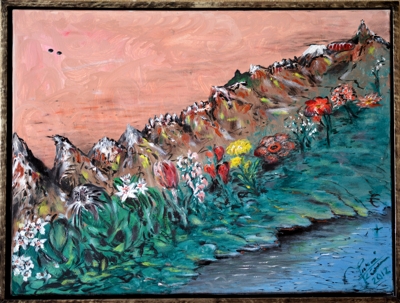 .
.
Publish Date: July 1, 2012 7:33 AM
---
Publish Date: July 1, 2012 7:26 AM
---
Yes, it's time again.
Now I asked my colleagues: What mushroom and compact camera
symbolizes you at the moment? Then I just painted the results.
Publish Date: November 28, 2011 5:56 PM
---
Hi!
You are very welcome to see my newest oil painting.
I asked my fellow Support Professionals:
"What wheel symbolizes you at the moment?"
And the answer can be seen here:
Kind Regards,
Juhani
Publish Date: April 6, 2011 5:38 AM
---
Just showing my latest contact center art painting.
10 years in the same company... that's something :)
I asked my colleagues what Opera symbolizes just you.
About 50% had time to answer but there were some guys on the holiday, too.
Anyways, I got enough stuff for my painting.
In the artistic process the Office layout become a frog.
Then I suddenly associated to Mark Twains: The Celebrated Frog of Calaveras County.
Couldn't resist borrow the Celebration text from Mark :)
Thanks for reading. Now I am just waiting for next inspiration.
---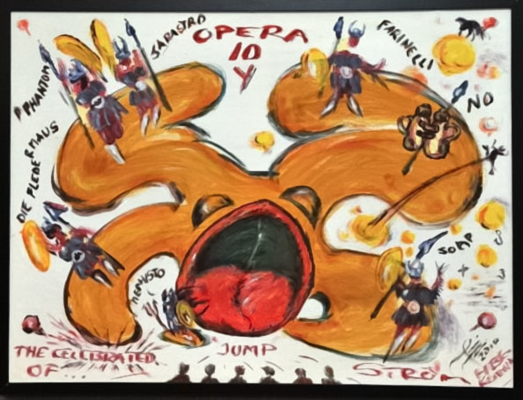 Publish Date: September 26, 2010 3:08 PM
---
In our business sometimes happens that the client pipeline is empty from the Support Professional's point of view. Management can't tell (yet) what's going on and SP's must cope with mixed feelings. What will happen with me, us? This painting is several years old but it has an universal message. Let's keep our current clients happy because they are our lifebouys.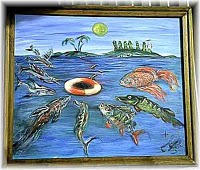 I asked my current colleagues what fish symbolizes just you... then I painted them one by one. Simple method catching SP's feelings :)
Wish you kind thougths!
Publish Date: January 28, 2010 8:13 PM
---
Hi and welcome to my Contact Center Art blog.
I am a Swedish-Finnish Support Professional since 1998. Yes, 13 years in this business has been an interesting walkthrough because everyone who works in a modern Contact Center is a kind of pioneer.
There has certainly been some kind of support through the history but I think that this profession with modern outsourcing dimension is a quite new experience in human history. Anyway, who has seen "pure" Contact Center Art with their own eyes.
I am an amateur artist who likes good old canvas. I have painted about 15 oil paintings which should give, present, a pretty good view of Contact Center enviroment. The visual language I use is symbolism with a touch of surrealism. You can see my collection here: www.contactcenterart.com These paintings reflect group dymamics within my teams i.e. every subject represent my colleague from their own point of view. Difficult? Yes but I simply asked what symbol represents just you... within each painting framework :)
Would be interesting to see what my "art-colleagues" have painted. Is there Contact Center Art or am I alone? Hopefully this blog gives inspiration to you my fellow artists. Welcome to start your own cultural blog here on Mr Raj Wadhwani's great forum! And... let me know if you'll find any online galleries.
Wish you kind thoughts!
Juhani Kaariainen, Sweden
Publish Date: January 24, 2010 9:27 AM