Contact Center Art, about mixed feelings/thin pipeline - Juhani Kaariainen - ContactCenterWorld.com Blog
In our business sometimes happens that the client pipeline is empty from the Support Professional's point of view. Management can't tell (yet) what's going on and SP's must cope with mixed feelings. What will happen with me, us? This painting is several years old but it has an universal message. Let's keep our current clients happy because they are our lifebouys.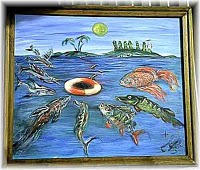 I asked my current colleagues what fish symbolizes just you... then I painted them one by one. Simple method catching SP's feelings :)
Wish you kind thougths!
Publish Date: January 28, 2010 8:13 PM
Industry Champion Award Leaderboard