Digital Seminar and Coaching Clinic - Grace Heny - ContactCenterWorld.com Blog
On March 27th, 2015, we held a big collaboration between 168Solution, AtmaJaya Hospitality, DigID Talent and MStarz group in the form of Digital Seminar.
The event objective is to build 'Digital Awareness' program for Indonesian Young Generation. To help equip them with the right digital knowledge and eventually skill to innovate. We believe that by having the right digital overview, framework, understanding on the digital ecosystem, thus will help our Indonesian young generation to be on the foremost talent in marketplace.
The audience registration was overwhelmed, we recorded 150% capacity, so we closed the registration before hand. But we manage to sort out and spread the crowd to 3 coaching clinic group. The small group covering few session such as Personal Branding delivery by DigIDTalent, 2nd class about Social Media for Customer Care by our team at 168Solution and last topic is YouTube Channel Management by MStarz team.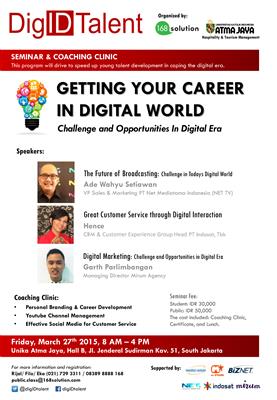 We are lucky to be support by prestigious presenter such as Mr Garth from Mirum Agency management (previously XM Gravity), Indosat Mrs Hence (Ooredoo Group) and Mr Ade from NetTV.
We also being support by AOS and BIZNET in the event delivery. Thanks to all the participants and sponsor.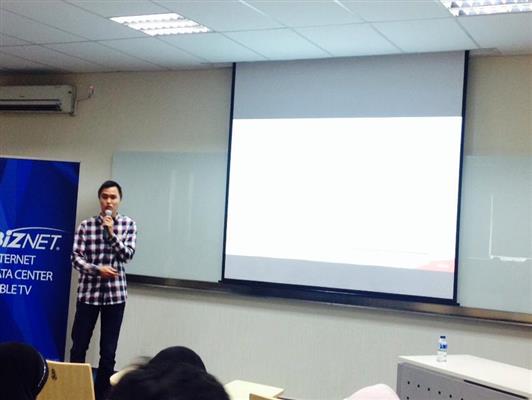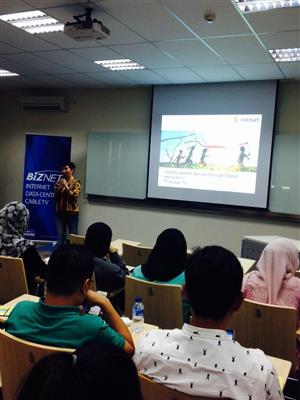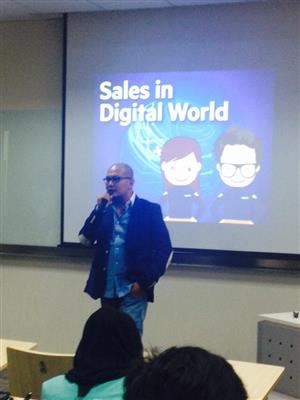 Publish Date: March 30, 2015 12:23 AM