Minister and Call Center - Grace Heny - ContactCenterWorld.com Blog
Queuing at Gate Toll - Case Study
Antrian di Pintu Tol - Studi Kasus

You may have read and aware of the accident of Gate Toll by the Minister of State Ownership Enterprise; Mr Dahlan Iskan when he saw the long queue at one of the Gate Toll in Jakarta in March 2012. (For those who never been to Jakarta - Indonesia, you can call our traffic is the busiest of all cities - you should ask Raj about this :) ). He didn't just get upset, but he jump out of his car and took off the barrier of the toll and allow hundred of cars to enter freely. That was his action to help the situation. "It's ridiculous" a comment said, others replied "Excellence, good example". All pros and cons comments were throw at media for several weeks in regards to the accident.
Anda mungkin pernah membaca dan melihat bagaimana marahnya Menteri BUMN Dahlan Iskan, ketika melihat antrian panjang di sebuah pintu tol dalam kota Jakarta, pada bulan Maret 2012. Pak menteri ini bukan sekadar marah, melainkan langsung bertindak, turun ke loket lalu membuka penghalang dan membiarkan mobil-mobil masuk tol tanpa bayar. "Kebangetan," ujar sejumlah pihak. "Bagus sekali, bisa menjadi contoh," kata pihak yang lain. Pro kontra pun mengalir selama sepekan lebih setelah peristiwa itu.
Previously, Dahlan Iskan has asked the company of toll roads management called Jasa Marga (SOEs) to ensure a reasonable queue at the toll booth in the city. It was instructed by Mr Dahlan 'up to 5 cars' queue only. Dahlan provide some period of time for the company to improve their queuing system in reaching this target. What happen was, the queue stay lengthy as it was. What trigger Mr Dahlan's anger was out of 4 booths, only 2 booths were operated, so this create more queue and things get worse. The 2 'not operated' booths waiting for the staffs/operators to come.
Sebelumnya, Dahlan Iskan sudah meminta kepada pengelola jalan tol yaitu Jasa Marga (BUMN), agar membuat antrian di pintu tol dalam kota, maksimal 5 mobil saja. Dahlan memberikan waktu kepada perusahaan itu untuk melaksanakan target tersebut. Namun, yang terjadi malah sebaliknya. Antrian tetap panjang. Kemarahan Dahlan di pintu tol tadi, bukan hanya karena antriannya yang panjang, melainkan juga karena 2 loket dari 4 lokat yang tersedia, masih tertutup karena penjaganya belum datang.
So what do an angry Ministers got to do with the call center? Actually the queue in Gate Toll (toll booth) is the same principles on following the queue phone calls in the call center. There are some immutable laws and must be there in any queuing concept. The first principle is ....
Lalu apa hubungannya kemarahan pak menteri, dengan pembahasan call center? Sebenarnya antrian pintu tol sama saja dengan antrian telepon di call center. Ada beberapa prinsip yang sama dan pasti terjadi di sebuah antrian. Prinsip pertama .....
(excerpt from the Call Center Idol book, to be publish soon.)
(dicuplik dari buku Call Center Idol, yang akan segera tersedia di toko buku Gramedia terdekat.)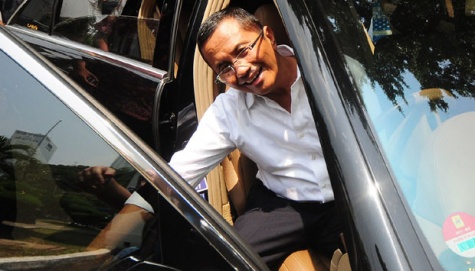 Publish Date: May 14, 2012 10:03 AM