Call Center Handbook Launch - Grace Heny - ContactCenterWorld.com Blog
AstraWorld and TRI Call Center shared their secrets at 'Call Center Handbook' launch

Jakarta, October 17th, 2012 -
Mrs. Novie Marlika, Head of E-Channel Management PT. Astra International Tbk - AstraWorld, deliver a sharing session of her experiences at the session of "Contact Center Vast Role and Function to Growth Business". During this session, she describe the role AstraWorld Call Center and how the Call Center support the growth of Astra group companies.

This session was deliver prior to the official launch ceremony of the Call Center Handbook by Elex Media Publisher. The ceremony of handed out the 'Giant Book from Publisher to the author; Grace Heny. The book is Grace contribution to the Contact Center professional community in Indonesia and hopefully worldwide.
On the same day, Mrs SB Diah Pudjiastuti also share her experience and success story in managing a BPO Call Center concept to the audience. Her session called "BPO Call Center, should be afraid to use it. Success Factor and common pitfalls for outsourcing Call Center". Mrs Diah is the Head of Customer Operation that managing TRI Call Center.

Seminar entitled "Revealing Current Call Center Trends and Models" combine with the book launch of "Call Center Handbook: Comprehensive studies of Customer Service" organized by 168Solution with PT Intelix Global Crossing and PT Persada by inviting Mrs. Novie Marlika of PT Astra International - AstraWorld and Mrs. SB Diah Pudjiastuti of PT Hutchison Indonesia as a key speakers. The event took place on October 17th 2012, held at Ballroom 1 Ritz Carlton Hotel, Mega Kuningan, South Jakarta.
The Seminar and book launch attended by more than 150 peoples from the call center community, opened with a Keynote Speaker Mr. Sudaryatmo, Executive Board of the Indonesian Consumers Foundation. In his speech, Mr Sudaryatmo expressed his appreciation to the effort of the Call Center Handbook published. He really hopes that more consumers can take advantage of the call center services in accordance with its function, whereas everybody can take advantage of the presence of call center refering to the book.

Premiere of "The Call Center Handbook: Comprehensive Customer Service Approach" is the closing ceremony of the seminar, which took place since 9 am. Handed of a giant book cover by Ms. Digna, as Elex Media Representative to Grace Heny as the author marks the official launch of the book. Call Center Handbook is available in overall Gramedia bookstores nationwide, as well as at several online bookstores in Indonesia.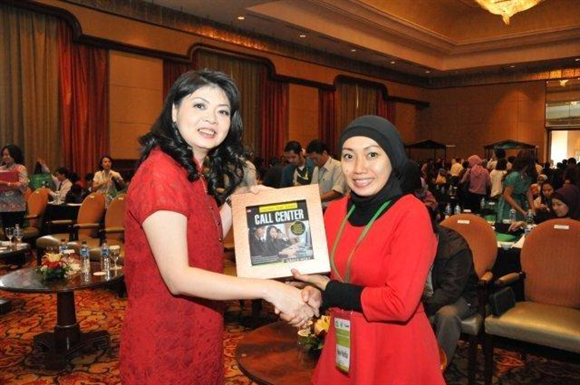 Grace Heny handed out the Call Center Handbook to Mrs Novie Marlika.
About Call Center Handbook
The book is 252 pages and took quite sometime in writing it down. Until the year 2011, Grace was actualizing here dream by puring out all ideas and case studied to simple wirtten and become a book. She hope that the book will build an awareness of how is the world of call center is actually looks like. What and how is the ContactCenter professional certification and with the hope that this contribute positively to the contact center world.
Astra World berbagi rahasia Call Center pada peluncuran Buku 'Call Center Handbook' terbitan Elex Media

Jakarta, 17 Oktober 2011 –
Ibu Novie Marlika, Head of E-Channel Management PT. Astra International Tbk – AstraWorld, berkesempatan menjadi pembicara dan berbagi pengalaman dengan menyampaikan materi "Value of Contact Center to Business Growth & Summary – The Vast Role and Function of Contact Center". Sesi ini menjabarkan peran AstraWorld terhadap keseluruhan bisnis Astra dan juga menjabarkan komitmen manajemen dalam pengembangan SDM Astra.

Sesi ini diadakan sebelum peluncuran resmi buku Call Center Handbook oleh Penerbit Elex Media kepada Grace Heny, penulis buku Call Center Handbook. Buku ini menjadi sumbangsih Grace Heny kepada komunitas Call Center Indonesia.

Acara Seminar bertema "Revealing Current Call Center Trend and Model" sekaligus peluncuran buku "Call Center Handbook: Mengupas Tuntas Layanan Pelanggan" diselenggarakan oleh PT Satu Enam Delapan Solusi bersama PT Intelix Global Crossing dan PT Personel Alih Daya (Persada) dengan mengundang Ibu Novie Marlika dari PT Astra International - AstraWorld dan Ibu SB Diah Pudjiastuti dari PT Hutchison Indonesia sebagai nara sumber kunci. Acara yang menyasar para pelaku dunia call center ini berlangsung pada tanggal 17 Oktober 2012, bertempat di Ballroom 1, Hotel Ritz Carlton, Mega Kuningan, Jakarta.
Seminar dan peluncuran buku yang dihadiri lebih dari 150 orang dari dunia call center, dibuka dengan Keynote Speaker oleh Bapak Sudaryatmo, Pengurus Harian Yayasan Lembaga Konsumen Indonesia. Dalam sambutannya, Sudaryatmo menyampaikan penghargaan atas kehadiran buku Call Center Handbook di Indonesia, serta berharap konsumen dapat lebih memanfaatkan layanan call center sesuai dengan fungsinya, sedangkan bagi para pelaku call center dapat memanfaatkan apa yang tertuang dalam buku ini untuk menjadi acuan dan perkenalan bagaimana call center menunjang bisnis serta peningkatan layanan organisasi.

Peluncuran buku "Call Center Handbook: Mengupas Tuntas Layanan Pelanggan" menutup acara seminar yang berlangsung sejak pukul 9 pagi. Penyerahan sampul buku raksasa dilakukan oleh Ibu Digna Maria, Perwakilan Elex Media kepada Grace Heny, sang penulis buku. Momen ini menandai resminya peluncuran buku Call Center Handbook yang saat ini telah tersedia di toko buku Gramedia, serta di beberapa toko buku online yang ada di Indonesia.


Tentang Buku Call Center Handbook
Proses penulisan buku setebal 252 halaman ini terbilang tidak sebentar, mengingat waktu luang Grace Heny yang tidak banyak. Sebelum ini, naskah yang mengambil waktu penulisan sekitar 2 tahun, merupakan buku yang dibagikan Grace ketika memberikan pelatihan tentang call center di beberapa instansi. Hingga di tahun 2011, Grace berpikir untuk mencetak naskah tersebut dengan harapan dapat menjadi buku panduan (handbook) yang dapat bermanfaat bagi para pelaku di dunia call center dan masyarakat luas yang belum memahami tentang dunia tersebut.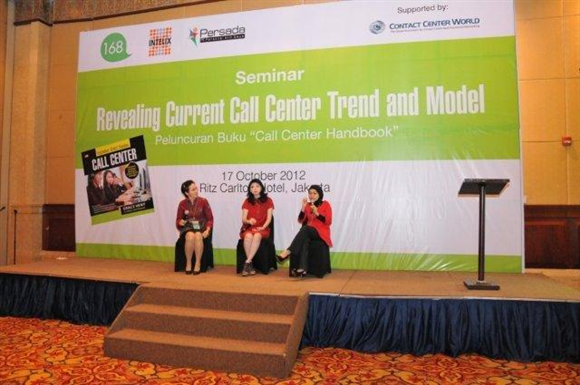 Publish Date: October 19, 2012 2:41 PM