Jean Rizal - ContactCenterWorld.com Blog
Originally Published at BPOCareerHub Resources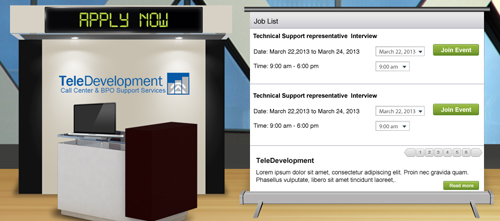 Virtual Recruitment is the emerging trend among many companies, whether start-up or an industry key player. This is especially true for the rapidly expanding Business Process Management (BPM) or Business Process Outsourcing (BPO) and Call Center businesses where finding the right candidates can be a major challenge for recruiters. There are costs, accountabilities and time factors that use up vital human resources. This is why recruiters are beginning to take advantage of virtual recruitment tools and shift to digital means of pooling candidates.
Is Virtual Recruitment the concept of the future? Let's take a look at some of the advantages of virtual recruiting.
1. Ease of use and accessibility
Online job portals and virtual recruitment tools are no longer hard to understand and access with more and more people relying on the internet for many of their needs. Virtual recruiting allows employers to reach out to a wide pool of candidates, cutting out the standard recruiting expenses associated with travel, testing and background checks.
2. Interactive Virtual Recruitment
Participating in virtual job fairs is just as interactive and informative for the job seekers as the actual job fairs. Companies can set-up virtual job booths where job-seekers can readily access company information and available positions. Advanced virtual recruitment fair platforms like BPOCareerhub.com's Virtual Recruitment solutions allow participants to a one-on-one video chat or calls with recruiters and even company executives.
3. Employers Branding
Virtual recruitment, say HR experts, also helps companies showcase their brand and give participants a feel of their company culture at no cost.
The virtual job fairs are also beneficial for "passive job seekers" which comprises majority of the population who are merely interested in learning what is out there for them.
4. Reduced Costs
Virtual recruitment is cost-efficient and time-efficient for both companies and job seekers because it can be set up and accessed from a home or office computer.
How do you leverage techonology for your hiring purposes? What role do virtual recruitment have in your hiring strategy? Let me know in the comments below — or contact us to request for a free demo to learn more.
| | | |
| --- | --- | --- |
| Publish Date: November 27, 2013 5:58 AM | | 1 |