PCCW Teleservices Philippines Wins 4 Gold, 2 Silver and 1 Bronze Medals At The 7th Asia Pacific Top Ranking Performers Conference & Awards (2012), Hosted By ContactCenterWorld - Jeff Opendo - ContactCenterWorld.com Blog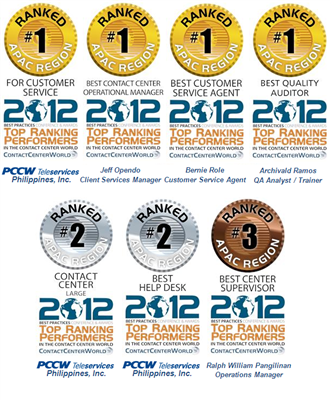 Article By:
Jeff Opendo --- Client Services Manager, PCCW Teleservices (Philippines), Inc.
Resorts World Sentosa Convention Centre, Singapore | July 13, 2012 – Four gold, two silver and one bronze medals have been awarded to PCCW Teleservices (Philippines), Inc. in the recently concluded Seventh Asia Pacific Top Ranking Performers Conference and Awards, hosted by ContactCenterWorld.
With more than 1,500 entrants from around the world this year, a per region short listing was made by over 50 judges who run contact centres across EMEA, the Americas and Asia Pacific. In the Asia Pacific region, finalists were scored and selected by the judges, and these chosen delegates came from Japan, China, Australia, Thailand, Hong Kong, Malaysia, Indonesia, Fiji, Singapore and the Philippines. Those deemed the best in the region vied for 30 award categories by presenting best-in-class contact centre ideas and practices. PCCW Teleservices Philippines stood out, sweeping 4 gold medal awards for Best in Customer Service, Best Contact Centre Operational Manager, Best Quality Auditor and Best Customer Service Professional/Agent; 2 silver medal awards for Best Large Contact Centre – Outsourced and Best Help Desk; and 1 bronze medal award for Best Contact Centre Supervisor. Representing the new capital of contact centres, PCCW Teleservices (Philippines), Inc. was the only shortlisted entrant and recognised finalist from the Philippines in this year's ContactCentreWorld Conference and Awards Series.
ContactCenterWorld is the global association for contact centre best practices and networking. Running the industry best practices global competition through the Annual Top Ranking Performers Conference, ContactCenterWorld selects only the very best in the competition to present at the event. Having the best from different nations compete for the gold medal awards, the Top Ranking Performers Conference is considered as the Olympics of contact centres and contact centre professionals.
About PCCW Teleservices (Philippines), Inc.
PCCW Teleservices is the successful contact management outsourcing business of its publicly-traded parent company, PCCW Limited. Operating one of Asia's largest 24-hour, multi-channel contact centres via hubs in mainland China, Hong Kong, the Philippines, the USA and Panama, the company designs and implements customer strategies for local and multinational clients globally.
PCCW Teleservices offers world-class BPO services in all facets of voice and non-voice customer support, technical support, sales, retention, and many other business processes. The company has multilingual capabilities that help its clients speak with over 65% of the world's population, and caters to more than 80 million customer contacts annually. With nearly 20 years of experience in running contact centres, dozens of industry awards, solid growth and highly experienced management team, PCCW Teleservices has helped its clients worldwide by providing end-to-end total BPO solutions that meet the sophisticated needs of the local and international business community.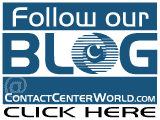 Publish Date: August 31, 2012 5:18 PM