Mike Xu - ContactCenterWorld.com Blog
I have been reviewing a movie "Outsourced"(2007) telling about the cross-cultural shock happening in an outsourced call call center world under the background of the global economy shift and a best-selling and classic management book "The Goal" published in early 80's giving vivid insights about the mysterious and profound operational management world in form of a fiction. Both are such masterpieces in my mind that they successfully weaved the comprehensive and complicated industry controversies and business knowledge into some appealing and easy-to-engage stories.
Having worked in the contact center and outsourcing industries for over 10 years, I often heard people grudging about the challenges and pains in this highly stressful and competitive industry. Yet, through different perspectives as unveiled by these two great works, there are actually lots of entertaining and fascinating facets in our day-to-day fights. I am thinking it would be enticing to write a fictional book about everyday work and life in the contact center service environment, pretty much a hybrid of Outsourced and The Goal, to entertain our hardworking practitioners and professionals while systematically teaching the new comers the skills and knowledge on how to manage the business effectively.
Publish Date: February 18, 2011 7:50 AM
---
The following five common attributes for a "best-in-class" call center are transferred from http://www.call-center.net, a regional partner of CC-CMM (http://www.cc-cmm.org). We do share the common view and now in China these five attributes also pinpoint the key challenges of our contact centers, more or less, as opposed to the real WW top ranking performers.
----------------------------------
1 Skilled workforce A well-trained, motivated and seasoned workforce with ongoing training to continually build business knowledge and customer service expertise. Also important in establishing best-in-class status is developing long-term relationships with customers- skilled agents build trust and loyalty.
2 Strategy A service-oriented and forward-thinking company that is open-minded, pro-active and accepting of change. Additionally, communicating a consistent, clear and focused strategy in the call center establishes a company as a recognized industry leader.
3 New technologies Cutting-edge technologies including web self-service and multi-channel tools provide customers with choices and ease of access. Advanced technologies result in streamlined call handling which reduces call times and costs and improves customer satisfaction.
4 Management practices A mature and flexible management team that promotes trust and develops motivated and empowered teams is key to a satisfied workforce and customer base. Good management also supports situational (crisis) management as well as long-term strategic and operational planning.
5 Quality monitoring Promoting a balance between quality and quantity in call centers, call monitoring focuses on improving agent performance and customer satisfaction. Actively monitoring calls and regularly coaching agents to achieve better call outcomes are key attributes for the best call centers.
Publish Date: November 26, 2010 3:00 AM
---
On Nov 25th 2010, CC-CMM Standard Organization Committee has successfully held its second all-hands committee annual meeting in Fudan University Shanghai. CC-CMM Standard Ver. 2010 is about to issue at the beginning of next year. As the most popular contact center standard & certification institute in China and so far as we know the most influential standard in this fast- booming developing market, CC-CMM has cultivated for nearly three years since its birth, a trial version in the mid 2008 and achieved incredible growth and wide acceptance in China.
The CC-CMM standard aims at the development and enhancement of all types of contact centers throughout their lifetime from emerging contact centers, professional to strategic assets, and it will also act as the region's communication protocol to interact with the WW industry audiences.
In the newly updated version 2010, the CC-CMM's unique five maturity stages - Applied, Managed, Benchmarked, Lean Managed, Optimized - will more systematically and sustainably enable a contact center to grow from good to great, as pointed out by the committee.
We warmly welcome Raj Wadhwani, President of CCW, to visit China next Jan and look forward to carrying out constructive discussions on how to further engage China's contact center industry more closely into the global industry and community. A rigorous standard aiming at bringing up more and more top ranking performers and fostering a customer-oriented culture in the industry will certainly contribute to and expedite this process, we believe.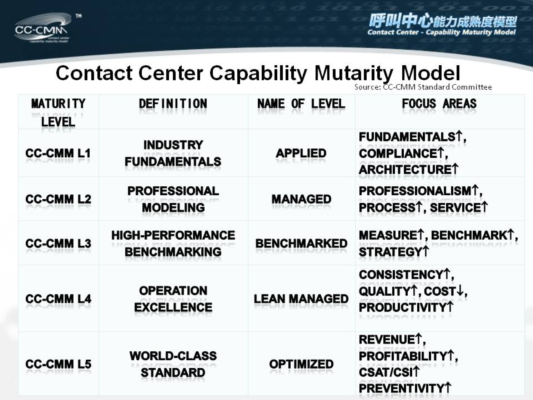 Publish Date: November 26, 2010 2:52 AM
---
An observation in China that must be made is that while there is no useful industry stanard level of service that contact centers should provide, most centers seem to use a service level (preset by PBX user's guide) goal of 80%/20sec or less. Often, I was asked what is the benchmark of service level in their sector. However, China is still in the a process of benchmark research and accumulation; more often that not, there is no so-called "the most proper" service level for a certain center in one specific sector. My response is - it depends on what the company is willing to afford financially and /or what their competition in the market is willing to afford. According to a book I read "Navigating the customer contact center in the 21st century", it is suggested that contact center managers routinely call into their own centers at random times of the day or even night and measure answer delay in the way that their customers exprience.
Publish Date: November 18, 2010 8:34 AM
---
More often than not, I heard such feedback from the top management of the companies who runs their in-house or outsourcing contact centers: "Contact centers are basically pretty simple operations", "establish a contact center? well, grab some phones and put together some people, what's the big deal?" If senior management holds such attitude, the chances of ever creating a truly world-class contact center from a Chinese company would be minized or at least diminish.
The myth originates from the fact that we people have been addicated to the telephone as the most convenient interactive tool for a lon gtime and it remains in our communication culture. They are everywhere and everyone knows how "simple" it is, especially when China's contact center was transformed from the paging industry about 12 years ago...because of such familiarity, it is easy for the top management to assume that a contact center is not a challenging management task at all. Yet, this is very wrong - it IS a big deal and complicated because the contact center undertake the most frequent interaction with customers and propects than ever before, in a more significant way than the traditional outlet or any physically-existed customer service center. The contact center creates an invisible world that the top management cannot visually inspect how meaningful and important our customers are taken care of by such frequent and massive daily engagement. The quality is simply not visible... and available without effective and state-of-the-art management.
The top management in China should realize that in a multimedia communcation era contact centers are truly somthing that really mattter not only to our customers and prospects but to our business growth as a whole.
Publish Date: November 17, 2010 2:38 AM
---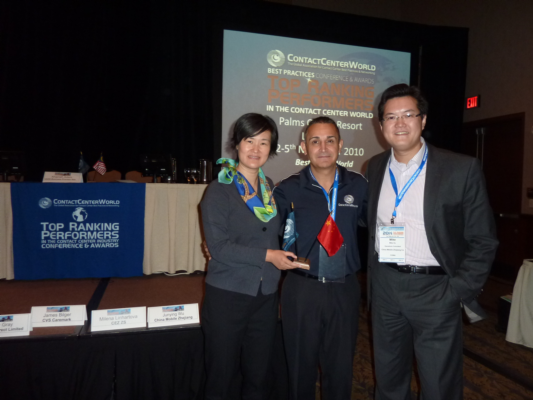 the left one is Ms Zhang Xiaochun, Vice GM of China Mobile Zhejiang Customer Service Center, managing two sites totalling over 4000 CSRs. The Zhejiang company under China Mobile group is one of the most contributive pillars in terms of total rev, service quality and customer satisfaction. the right one is me, serving as a long-term consultant for Ms Zhang's operations. It's my pleasure and honor to participate LAS 2010 final for two consecutive years, being Ms Zhang's company for this time. Raj, President of CCW, is also learning more and more about how fast China's contact center industry is booming. By the end of this year, we estimate the total industry population to exceed 500 thousands, who will provide services to nearly 1Bn customers of all kinds.
Publish Date: November 16, 2010 3:02 AM
---
I am very glad to open my official blog on ContactCenterWorld in hope that my blogs will provide more insights for the CCW members from all around the world on how China's contact center industry is developing and prospering... Two weeks before, a China Mobile Customer service center (from Zhejiang province) on behalf of the entire China's contact center industry has, for the first time, participated in the 2010 Top Ranking Performers conference held in Las Vegas. The feedback from our delegation is extremely positive that we Chinese industry peers should interact more closely with the delegates and friends from other countries, especially those from the developed markets. China 's contact center world has got lots of different characteristics and challenges speaking of its awesome market scale and the rocket-up speed of growth. A contact center with more than 1500 seat capacity serving tens of millions of end users is fairly common and normal anywhere in China, which leads to even more complicated design, planning, operation and management and employee development problems than we ever expected. Therefore, cross-border industrial communication, learning and hence our own best practice dev and nurturing will be vital for our centers to become world-class performers one day. We will keep our door open, inviting you and welcoming you to visit, make your input and share great experience with each other. Hello, Contact Center World!
Publish Date: November 16, 2010 2:54 AM
---
It has been a fantasitic conference. What amazed me is its parcipant diversity, the quality of all the speeches and its incredibly consistent management on how all the presentations were delivered and how perfectly the time length of each speech was equally controlled. Great job, Raj and the team!
Publish Date: November 16, 2010 2:42 AM