CC-CMM (Contact Center Capability Maturity Model) 2010 coming up... - Mike Xu - ContactCenterWorld.com Blog
On Nov 25th 2010, CC-CMM Standard Organization Committee has successfully held its second all-hands committee annual meeting in Fudan University Shanghai. CC-CMM Standard Ver. 2010 is about to issue at the beginning of next year. As the most popular contact center standard & certification institute in China and so far as we know the most influential standard in this fast- booming developing market, CC-CMM has cultivated for nearly three years since its birth, a trial version in the mid 2008 and achieved incredible growth and wide acceptance in China.
The CC-CMM standard aims at the development and enhancement of all types of contact centers throughout their lifetime from emerging contact centers, professional to strategic assets, and it will also act as the region's communication protocol to interact with the WW industry audiences.
In the newly updated version 2010, the CC-CMM's unique five maturity stages - Applied, Managed, Benchmarked, Lean Managed, Optimized - will more systematically and sustainably enable a contact center to grow from good to great, as pointed out by the committee.
We warmly welcome Raj Wadhwani, President of CCW, to visit China next Jan and look forward to carrying out constructive discussions on how to further engage China's contact center industry more closely into the global industry and community. A rigorous standard aiming at bringing up more and more top ranking performers and fostering a customer-oriented culture in the industry will certainly contribute to and expedite this process, we believe.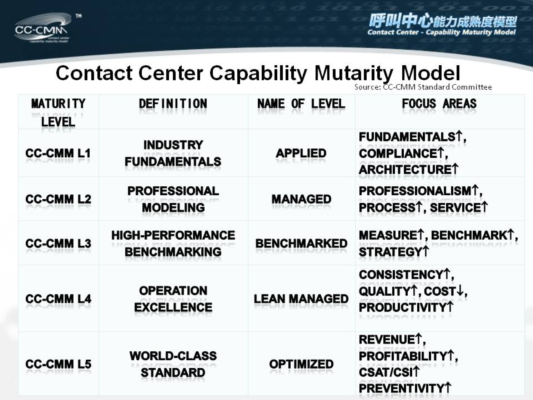 Publish Date: November 26, 2010 2:52 AM