CCC World's Best - Raj Wadhwani - ContactCenterWorld.com Blog
Like to congratulate CCC - see below
CCC Leipzig provides its partner PAYBACK with the "World's Best Customer Service"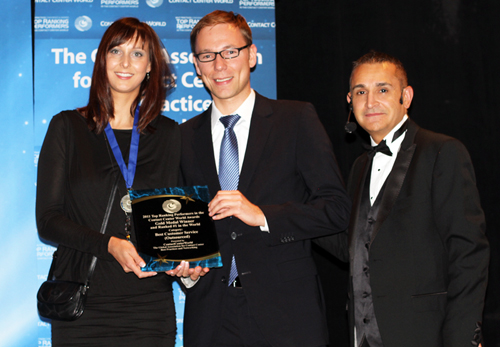 At the Contact Center World Conference in the USA Competence Call Center was once again recognised for its outstanding customer service provision.
The World Finals of the Contact Center World Awards 2011 took place in Las Vegas, USA at the beginning of November and saw CCC Leipzig and its partner PAYBACK receive the award in the category "Best Customer Service (Outsourced) worldwide" in recognition of their joint outsourcing partnership.
In doing so they triumphed over worldwide competitors.
Martin Streinz, Head of Customer Service, PAYBACK and Anke Schönfeld, Call Center Management, CCC Leipzig attended to represent the successful partnership at the Contact Center World Conference along with around 300 industry experts from Asia, America and Europe.
"It was a great honour for me to support CCC and Anke Schönfeld at the Contact Center World Awards and I am delighted that we can now celebrate our joint success. CCC is an extremely professional business partner, vital in helping us provide customer service of the very highest level.
Being recognised as providing the world's best customer service is the best possible proof that we made the right decision when it came to our outsourcing partner! Congratulations to the PAYBACK team and CCC Leipzig!" said Martin Streinz after receiving the new award.
PAYBACK is Europe's largest loyalty program with 20 million cards currently in active use in Germany. The PAYBACK card is the third most commonly used card in German wallets and purses.
Since September 2010 the team at CCC Leipzig has been offering both PAYBACK business partners and customers support via a variety of communication channels – by telephone, email, fax and letter. The emphasis is very much on quality and personalised customer service.
Call Center Manager, Anke Schönfeld showed her delight in the following statement: "I am very proud that our customer service concept has aroused this much interest among such an international audience and that it has achieved fantastic recognition thanks to this award. The presentation in Las Vegas was a fantastic chance for us to present the Leipzig location on a global stage. My thanks and sincere congratulations go to the Leipzig team and also our partner, PAYBACK for the excellent cooperation!"
Since 2006, the Contact Center World Awards have been recognising the very best players from the international contact center sector. CCC has already impressed with professional appearances at the event which took place in London, as well as at the global event in Las Vegas where overall winners were selected. In 2006 CCC manager Carita Vallinkoski collected the "Best Contact Center Leader" for both the EMEA and worldwide. In 2009 it was IT manager Gregor Willenberg's turn to collect an award. In 2010, Competence Call Center reached the world finals in both the "Best Outsourcing Partnership" and the "Best HR Support Professional" categories.
About CCC Leipzig:
Competence Call Center Leipzig opened on 1 September 2007 and was the seventh location to be opened by CCC. Since then, CCC employees in this university city have been successfully providing call center services in the areas of both inbound and outbound as well as written customer correspondence. 500 employees provide customer support services to international companies including the telecommunication and energy provision sectors. In total, Competence Call Center is active in seven European countries and has more than 3,000 employees.
The joint award received by CCC Leipzig and PAYBACK is CCC's 35th international award.
Find out more about the 2012 Awards at https://www.contactcenterworld.com/worldawards/
Publish Date: November 15, 2011 12:01 PM