Raj Wadhwani - ContactCenterWorld.com Blog Page 10
Page: 1 | 2 | 3 | 4 | 5 | 6 | 7 | 8 | 9 | 10 | 11 | 12 | 13 | 14 | 15 | 16 | 17
TopPlace2Work.com - one of our FREE tools for contact centers to use to measure employee engagement is really taking off and its exciting to see the feedback we are getting. Its a free tool and allows your staff to give feedback via TopPlace2Work.com on how they feel working for you. Try it! go to TopPlace2Work.com
Raj

Publish Date: December 29, 2011 8:32 PM
---
WOW - 2012 should be a great year for the industry! We are breaking records with entries for the 2012 Top Ranking Performers in the Contact Center World Awards - seems more and more companies really value the approach we have where you learn as you participate and get the opportunity to hear who else is doing great things and how.
The awards on offer this year include:
Best Community Spirit

Given to the company that demonstrates a commitment to the community and is involved in local community activities.

Best Contact Center Design Award

Award presented to the contact center with the overall best design and features to enhance employee satisfaction.

Best Contact Center Executive / Director

Given to the Executive / Director who manages and directs the entire center including staff, systems and practices.

Best Contact Center Sales Pro

Award given to the Contact Center Sales Agent that can demonstrate outstanding sales results and a commitment to the customer and the organization.

Best Contact Center Supervisor

Given to the Contact Center Supervisor who manages a knowledgeable and highly motivated team of agents to exceed customer and corporate expectations.

Best Contact Center Support Pro - HR

Award given to the contact center support professional who provides outstanding Human Resources support to to existing and potential staff at the contact center.

Best Contact Center Support Pro - IT

This award is given to the IT individual who provides outstanding support to the contact center.

Best Contact Center Support Pro - Workforce Planning

This award is given to the Workforce Planning Professional who provides outstanding support to the contact center.

Best Contact Center Trainer

Given to the Contact Center Trainer (internal or external) who contributes significantly to the overall success of the Contact Center by delivering exceptional training programs.

Best Customer Loyalty Program

This award is presented to the company that has developed and managed a highly successful customer loyalty program that resulted in increased customer satisfaction and loyalty to the company over a sustained period of time

Best Customer Service Pro

Award given to the Contact Center Service Agent that can demonstrate best in class service excellence and a commitment to the organization.

Best Direct Response Campaign

Given to the overall Best direct response campaign managed by a contact center.

Best Help Desk

Given to the overall Best Help Desk that can focus on staff at all levels, demonstrate a commitment to the customer, and ensure that the performance and objectives of the Contact Center are in line with the organization's goals.

Best Home / Remote Agent Program

This awards is presented to the company who has developed a successful home/remote agent program

Best In Customer Service

Given to the Contact Center that can clearly demonstrate total dedication towards customer service and outstanding results.

Best Incentive Scheme

Given to the overall Best Incentive scheme run in a contact center.

Best Outbound Campaign

Given to the Contact Center that can demonstrate creativity, results, and Contact Center integration using outbound calls as the primary tool.

Best Outsourcing Partnership

This award is given to the client and outsourcer who have a highly successful, professional and outstanding business relationship with proven results.

Best Recruitment Campaign

Award given to the most successful and innovative contact center recruitment campaign.

Best Sales Campaign - Inbound or Outbound

Award presented to the company who can demonstrate they have developed a high value sales campaign with solid results. This can be inbound or outbound.

Best Technology Innovation - Internal Solution

This award is given to the Contact Center that can demonstrate creativity through the use of internally developed technology to enhance business performance or customer service.

Best Technology Innovation - Vendor Solution

This award is presented to the organisation that has developed a technology solution for contact centers.

Best use of Self-service Technology

This award is open to any center that has successfully implemented self service solutions within the past 24 months with proven ROI and can demonstrate increased customer satisfaction overall as a result.

Best use of Social Media in the Contact Center

This Award is open to any center / company that has a social media strategy as part of its overall sales or service and that strategy has led to increased sales and/or enhanced customer satisfaction.
Take a look and consider entering before the Jan 15th deadline
Details at https://www.contactcenterworld.com/worldawards
Raj
Publish Date: December 28, 2011 11:05 PM
---

I wanted to share with you some thoughts this time of year so have written a piece I will publish on ContactCenterWorld.com this weekend.
In the meantime, like to wish you all the very best for the holidays and lots of success in 2012!
Raj
Publish Date: December 24, 2011 4:36 PM
---
Yesterday I called a company and was really unhappy about ....
this looks great - will post!

Raj
Publish Date: December 24, 2011 1:02 AM
---
I have been a cable company business customer for years and recently switched from another company to use their home TV services and went for the top package available with their Gateway system. Install was good and today went to set my system for UFC 140 PPV event. Having had problems with my other provider, I wanted to call the company to find out if there was any way I could check that the PPV was set ok as it was my first use.
I called the local number and selected tech support and was placed in a queue. 54 minutes later my call was finally answered! No apology for the wait , just heard from the male agent "how can I help you?" I explained and the agent said I would have to talk to another team. I asked him why as I had been in queue for 54 minutes - he was not being helpful and asked
"do you want me to put you through to another team?"
I asked if there was any way he could help me with this simple message and he simply repeated again "do you want me to put you through to another team?"
He was not being helpful so I then asked if I could speak to a manager and he said
"No"
I asked why? he said
"there are no managers here".
I asked where he is based and he replied "X".
I could tell he wasn't that bothered and I asked if he knew how long I would be in a queue if he transferred me and he said
"maybe a short while"
I asked "do you know exactly how long?" he replied "No. Do you want me to put you through to another team?"
…I had no option - I had tried to use the online chat but after 15 minutes of waiting for an agent decided to stay on the call. Eventually call was picked up by another agent and he tried to help me – Dana the agent said he would have to call me back!!
Have to write I was appalled by the apathy of the first agent and that no managers are on site! Shaw, this is my first experience with you and I am totally frustrated! You guys need to look after customers as a priority and make sure staff can handle simple questions and that you manage the queue! Appalling service from a cable company.
Publish Date: December 10, 2011 5:32 PM
---
The saga with Sears - I called the Sears help line for an update and was put through to an agent who called me maam! I corrected her and asked to be put through to the center in Canada and after a few minutes was connected but put in a queue without knowing how long it would be. So called the local sears and asked for delivery support and was transferred to another IVR menu and selected delivery option. When the call was answered I explained it was 3pm and I would like an update on my delivery today - was told it will be sometime today – very useful!. I pressed the agent for a telephone number of the delivery company – she was not very helpful and wanted me off the phone. I eventually got her to give me the number – was 1-866-297-5306 so called it and it was Sears incentives not the delivery company and the offices were closed. By this time I was getting really frustrated - the agents are either incompetent or Sears has not provided the right support and information or a combination of both. By this time I gave up and just then I got a call from the delivery truck who was 5 minutes away to confirm they will be with me in a few minutes.
WOW - what a hassle this whole experience has been! Sears, I gave Guitar Center 10/10, you guys get 3/10 and that's being kind! Really need to improve your service!
Publish Date: December 3, 2011 8:20 PM
---
After amazing service from Guitar Center, thought i'd share my experience with Sears Canada. I ordered some exercise equipment online whilst it was on sale and paid for shipping to my home. As soon as I pressed submit the order status was showing Pending approval - I thought this was odd so called them as it was due to be shipped to me by 30th Nov and it was 27th when i placed the order. I called the phone number on the email order confirmation I received and got through to an agent in an offshore center. I asked what's happening and they could not help so they transferred me to another customer services center in Canada only to be told my shipping would now be earliest 3rd Dec and because its a Saturday it would cost more - I was frustrated but agreed to this and my order was scheduled.
Now today (2nd Dec) I called to find out when on Saturday it would be with me and got through to a center in the Philippines. the agents was trying to help but after a few minutes said he could not because this was an online order - why ask me to call a number where they cant help me I thought ? anyway after a frustrating discussion he agreed to transfer me to a dept. who could help - seems they have no info on online orders - what a complete waste of my time Sears! Now I am in a Queue to reach another agent to try to get more info - how frustrating. S
Signing off now - will post an update later when they finally answer my call! Way to go sears! Not impressed
Publish Date: December 2, 2011 6:38 PM
---

So like many online shoppers, I waited for black friday offers and pounced when an item I was after was on sale at Guitar Center. The online process was great and I ordered online yesterday (thursday). I realized today I should have shipped the item to an address in the US I would be at early Dec and figured I would check to see if my order had shipped. Luckily it had not so I tried to change the delivery address online but no luck. So called the toll free number and my experience was awesome - call center is based in Utah! I expected chaos with today being one of the busiest days of the year, but got through quickly and spoke to a professional wo made me feel very welcome. Her name was Tara Hogan and she was simply awesome! very professional, super courteous and ever so happy to assist. She did try and upsell me - was tempted but really had no need - thanks for your effort Tara :) Awesome work Tara and Guitar Center! I would definately rate that call 10/10 - it had all the right elements - so once again Tara, excellent job. I would happily call you guys anytime!

Raj
Publish Date: November 26, 2011 12:48 AM
---
The World's most prestigious Call/Contact Center Awards program (7th year of the Top Ranking Performers in the Contact Center World Awards) is open for entry!

Enter before end of Nov 2011 - all you need to do is register (complete your application by 15th Jan 2012) - AT NO COST!
Find out more and enter: www.ContactCenterWorld.com/worldawards/
and spread the word - every year we receive over 1,000 entries!
...the list of the best in the World 2011 has just been published! subject Want to be named 'Best' in your Region 2012, maybe the World!?
Publish Date: November 18, 2011 8:43 PM
---
Like to congratulate CCC - see below
CCC Leipzig provides its partner PAYBACK with the "World's Best Customer Service"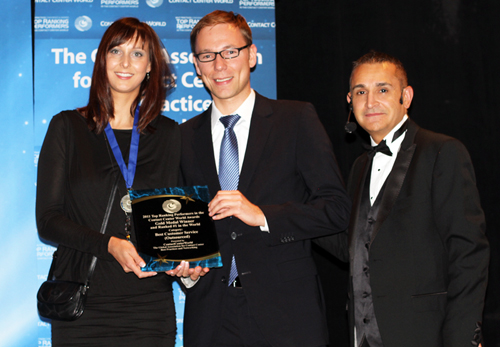 At the Contact Center World Conference in the USA Competence Call Center was once again recognised for its outstanding customer service provision.
The World Finals of the Contact Center World Awards 2011 took place in Las Vegas, USA at the beginning of November and saw CCC Leipzig and its partner PAYBACK receive the award in the category "Best Customer Service (Outsourced) worldwide" in recognition of their joint outsourcing partnership.
In doing so they triumphed over worldwide competitors.
Martin Streinz, Head of Customer Service, PAYBACK and Anke Schönfeld, Call Center Management, CCC Leipzig attended to represent the successful partnership at the Contact Center World Conference along with around 300 industry experts from Asia, America and Europe.
"It was a great honour for me to support CCC and Anke Schönfeld at the Contact Center World Awards and I am delighted that we can now celebrate our joint success. CCC is an extremely professional business partner, vital in helping us provide customer service of the very highest level.
Being recognised as providing the world's best customer service is the best possible proof that we made the right decision when it came to our outsourcing partner! Congratulations to the PAYBACK team and CCC Leipzig!" said Martin Streinz after receiving the new award.
PAYBACK is Europe's largest loyalty program with 20 million cards currently in active use in Germany. The PAYBACK card is the third most commonly used card in German wallets and purses.
Since September 2010 the team at CCC Leipzig has been offering both PAYBACK business partners and customers support via a variety of communication channels – by telephone, email, fax and letter. The emphasis is very much on quality and personalised customer service.
Call Center Manager, Anke Schönfeld showed her delight in the following statement: "I am very proud that our customer service concept has aroused this much interest among such an international audience and that it has achieved fantastic recognition thanks to this award. The presentation in Las Vegas was a fantastic chance for us to present the Leipzig location on a global stage. My thanks and sincere congratulations go to the Leipzig team and also our partner, PAYBACK for the excellent cooperation!"
Since 2006, the Contact Center World Awards have been recognising the very best players from the international contact center sector. CCC has already impressed with professional appearances at the event which took place in London, as well as at the global event in Las Vegas where overall winners were selected. In 2006 CCC manager Carita Vallinkoski collected the "Best Contact Center Leader" for both the EMEA and worldwide. In 2009 it was IT manager Gregor Willenberg's turn to collect an award. In 2010, Competence Call Center reached the world finals in both the "Best Outsourcing Partnership" and the "Best HR Support Professional" categories.
About CCC Leipzig:
Competence Call Center Leipzig opened on 1 September 2007 and was the seventh location to be opened by CCC. Since then, CCC employees in this university city have been successfully providing call center services in the areas of both inbound and outbound as well as written customer correspondence. 500 employees provide customer support services to international companies including the telecommunication and energy provision sectors. In total, Competence Call Center is active in seven European countries and has more than 3,000 employees.
The joint award received by CCC Leipzig and PAYBACK is CCC's 35th international award.
Find out more about the 2012 Awards at https://www.contactcenterworld.com/worldawards/
Publish Date: November 15, 2011 12:01 PM
---
So I had the honor of hearing from the best in the contact center world last week and I was blown away - the best are getting better and better. Shame the venue failed to deliver service we expected - don't recommend staying at the Palms in Las Vegas on business folks - they used to be good but have gone downhill fast. Back to the conference - amazing ideas from everyone and looking forward to the 2012 competition where we choose presenters etc - find out more at https://www.contactcenterworld.com/worldawards
Publish Date: November 8, 2011 2:25 AM
---
Hi regular readers, you will know I blasted Dell a few weeks ago whilst trying to get some support. Have to say, they have been amazing. They put Jonathan Royer on the case to resolve this and he was simply brilliant. The research shows that a satisfied complainant is more likely to recommend than someone who has no reason to complain - I am proof of that! Jonathan was superb and on the ball and even when he was away, he had other colleagues keep in touch. he did what he said he would and everything worked out great. Thanks Jonathan, thanks Dell for employing him and your service. Do I feel bad I blasted them? yes and no - I guess if I just walked away and never said anything they would have lost me for ever, at least they had the chance to do something and they did. Well done Dell 10/10!
... if you are reading this and your company makes it easy for customers to complain hats off to you - complaints resolved = very happy customers who will probably go out of their way to sing your praises!
Publish Date: October 26, 2011 8:03 PM
---
This week I took a call from a sales professional at a credit card company. As soon as I answered the call the salesperson asked to speak to me, I said who is calling? (I was screening my own calls which I often do especially if someone can't pronounce my name) and she responded "X from company y". As I am one of their customers I said "Raj here, how can i help?" She then went into script mode and rattled off what seemed like a 3 minute presentation about their credit protection insurance before saying or asking anything else. Not once did she ask if i had a moment to talk. I have trained thousands of sales professionals in my time and one thing you always do is introduce yourself and ask "is now a good time to talk?". What can the customer say? "Not now – call back", "I'm eating dinner", "no", "what's it about?" or "YES". Each response can have it's own next action from a script perspective that moves the call along.
But simply ignoring this common courtesy of asking is like bursting into a client's office without knocking and expecting them to stop and listen to you. If you want better sales results and happier customers on the phone, less customers saying "add me to your do not call list" etc, then be courteous and ask if the person you are calling has a moment to talk. It's basic, it's courtesy and it works!
If you want to do a test, I dare you to burst into your bosses office when the door is closed and he/she is in a meeting with 'their boss' and see what they say when you just rush in and start talking about something YOU want them to do for you. Watch their reaction – if they tell you where to go, then consider are you doing the same to your customers?
And, if the script was provided to you by someone else then challenge them with the same task – script writers need to understand basic courtesy as well.
Anyway, you will be pleased to read I was not rude to this salesperson, I did get a bit irritated though after 3 times saying no that she kept on coming back with more – in the end she gave up because I did not have a need for what she was selling at this time.
Publish Date: October 26, 2011 3:01 PM
---
Big thanks to Dana White, Pres of UFC and his team for accommodating us during our conference in Vegas - we will be heading down to see TUF gym! This exclusive tour will be lots of fun - as an avid MMA fan and someone who trains with pro-fighters at The Leading Edge MMA gym in Thunder Bay I am a little excited! Thanks UFC!

I met Dana 2 years ago and interviewed him - here is the article http://north-america.contactcenterworld.com/view/contact-center-article/ultimate-leader.aspx)
Publish Date: October 21, 2011 1:58 AM
---
T minus 2 weeks to the start of the annual global best practices conference where the Top Performers from Europe, Middle East, North & South Americas and Asia Pacific will meet and share best practices!
I am really excited to hear what the Best in the World are doing in terms of customer satisfaction, employee engagement, productivity, social media and more. I only get this unique opportunity once a year and I am looking forward to this.
I estimate that I will hear between 350-700 best practice ideas in the contact center - WOW - that's a lifetime in just 3 1/2 days! An extraordinary bunch of professionals with world class ideas :)
We only have a few tickets left and then its SOLD OUT completely! Find out more https://www.contactcenterworld.com/vegas/
Publish Date: October 20, 2011 3:29 AM
Page: 1 | 2 | 3 | 4 | 5 | 6 | 7 | 8 | 9 | 10 | 11 | 12 | 13 | 14 | 15 | 16 | 17