Raj Wadhwani - ContactCenterWorld.com Blog Page 11
Page: 1 | 2 | 3 | 4 | 5 | 6 | 7 | 8 | 9 | 10 | 11 | 12 | 13 | 14 | 15 | 16 | 17
Just under 3 weeks to go - the best in the contact center industry are meeting to share best practices and the very best will win awards. This event is almost sold out and delegates from over 20 nations will be there to listen and learn. Looking forward to this annual event we are hosting. Hope to see many members there!
https://www.contactcenterworld.com/vegas/

Publish Date: October 13, 2011 4:26 PM
---
Over the years I have acquired numerous Dell pc's and servers and as we replace them I have been building a nice collection of technology I wanted to donate to Charity. So, thought i'd clean them up and erase any data etc. I called Dell for some help and one of their agents in the Philippines kindly offered to send me disks to recover 5 of them. I received 3 packs with no instructions on what to do. So I called Dell and the service was a nightmare - one agent in the US started to help me even though he said he shouldn't and he suggested patching me through to the right dept. after I gave him some service tag info.
When i got thru to the other department I had to start all over and this included a request for the service tag - I was in a completely different part of the building now and he insisted i give him the tag - anyway after much discussion he tried my phone number (my suggestion) - there were no notes from all my discussions with Dell and he said he could not help me because the machine I had was out of warranty and suggested i talk to that department. I explained i have all these discs with no instructions and that I actually have 8 or 9 not one as per his notes. I also explained that I have already been thru this several times with colleagues of his who sent me the discs - just wasn't getting anywhere. I said there must be more notes on their system and gave him my email – after a while he put me on hold and I was extremely frustrated and hung up. I cannot believe what should be so simple is such a complex task - i have the CD's and they won't tell me what to do because i have to provide all the data again as they did not have it. I am sorry Dell, you are a massive corporation with substantial resources, yet failed me miserably and all I wanted to do was to donate some old PC's to some charities!
Last time I ever buy Dell!
If only they would have enclosed some simple instructions with the discs I probably would have been impressed and written a good service story, now I am being critical because of all the walls I kept on running into!
Publish Date: October 11, 2011 11:47 PM
---
We are going to issue 150+ certificates at the Contact Center World Best Practice Conference next month in Las Vegas - the event is almost fully sold out! - it's exciting!
The Certificate in Contact Center Best Practices is valid for 12 months!
Benefits of a Certificate for Contact Center Best Practices:
• Professional recognition from the Global Association for Contact Center Best Practices & Networking
• Identifies you as an individual focussed on Best Practices
• A tangible certificate you can mention on your Facebook, Linked in, ContactCenterWorld profiles as well as on your resume/CV
• Shows your boss that you actually attended key sessions in best practices
• Demonstrates you are current with best practices
Find out more about the next event to obtain yours - every center should have at least 1 person with this certificate!
https://www.contactcenterworld.com/Vegas/
Publish Date: October 10, 2011 1:58 PM
---
A member is sent an email by me and his response is (see below) ...(sorry if I offend anyone..)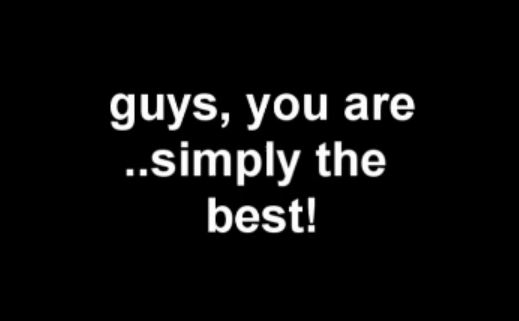 ... i just don't get it. This person is apparently the CEO of EmAcct Consulting in India. Well we don't want members like this so we will delete him off our system! Once every 6 months I get someone like this - shame on them. If he did not want to receive an email from me he does not have to be rude. To all members, you don't want to be associated with people like this and neither do we!
Publish Date: September 30, 2011 7:38 PM
---
Last week I took my vehicle in for its first service. Was just for an oil change. The Dealership - Lakehead Motors Thunder Bay - took the car in on time and 40 minutes later i returned to pick it up. All was good - it was ready as expected. Fee was reasonable and just as I was paying the service technician told me I would receive a call from Dodge asking for feedback. he told me that the 3rd question relates to his performance and that unless i score him a 9 or 10 out of 10, he would be scored zero by Dodge. Now I know what's going on here - he is trying to get every customer to give him a 9 or 10 - Dodge probably using NPS and he is looking for high scores. Until he mentioned this I was impressed. Now I question the integrity of the dealership and hope some of our members at Dodge check this out - no point measuring NPS if the people you are measuring are trying to influence the results by telling customers what to do!

I am not impressed – first time anyone has asked me to do this and I am shocked.
Publish Date: September 26, 2011 7:02 PM
---
I just got off a call with someone who called me claiming my computer was infected with a virus and they can help me remove it - what is it with these guys? Scammers like this do nothing but bring down our industry because some people relate these type of calls to contact centers in general - how do we stop them?? They need to be stopped.
Publish Date: September 22, 2011 6:07 PM
---
So here in Vegas planning for our event in 6 weeks time. It will be amazing from a learning perspective and have some time for fun as well.

31st October - day before the conference - we will join other delegates who dress up in Halloween costumes - picked mine already and its interesting! :)

1st Nov - taking the delegates bowling - this is always such fun and one of the best ways to get folks networking. Plenty of food and drink plus lots of fun! I can't bowl for toffee but so can't many of the delegates - thats what makes it so much fun!

2nd Nov - Planning a show - suggest La Reve - its amazing
3rd Nov - Scavenger hunt down the strip for delegates. Then off to Hard Rock Cafe for a well earned drink and delicious food.

4th Nov - The gala - we have some excellent entertainment lined up Vegas style - photos are a must! will be amazing event to cap off an amazing best practices event!
Wow - love this industry. The people are amazing and the ideas ... out of this World!

Looking forward to all those who are joining us

www.ContactCenterWorld.com/vegas/

bye for now
Publish Date: September 22, 2011 3:33 AM
---
Goit an interesting email today - its from AMEX Canada asking for feedback.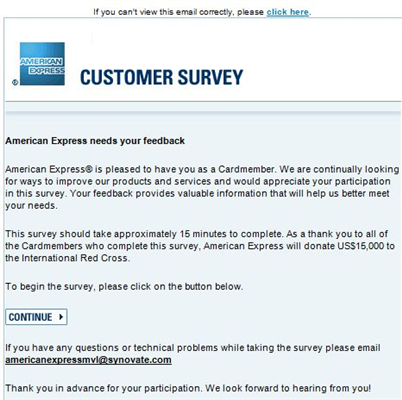 Publish Date: September 12, 2011 1:19 PM
---
Must say, I am really excited with plans for our upcoming conference 1-4th Nov in Las Vegas. The presenters are excited too! We have the very best from at least 19 nations around the world participating and having seen these award winners present in the summer, i know this will be a remarkable event - probably our best ever and when you consider we put on a great event, it's always a challenge to top it! Come and join us - there is only 1 Global event of its kind and we are so proud to host it! The early discounts are available until 14th September - details at www.contactcenterworld.com/vegas

Be there or miss out on hundreds of the best, most valuable ideas in the Contact Center World!
Publish Date: September 2, 2011 10:09 PM
---
Recently ordered some new monitors and purchased online with Futureshop (part of Best Buy). Shipping was by Canada Post and I got a note to say they were ready for collection at the local postal outlet. When I got there one of the monitor boxes was in a real bad shape - looked like it had been mauled by a bear - had chunks taken out of it and had obviously been taped back by Canada Post. Concerned about damage, I had the postal outlet add a damaged sticker and stamp it to say it was damaged and I was told to call the number on the sticker if I had a problem.
I got home and unpacked the box. I called the Canada Post number because the monitor was cracked and bent way out of shape. The agent I spoke to was friendly but not helping much - I asked for her to explain what happens and it was like trying to get blood out of a stone. I had a monitor that clearly was useless and she would not explain anything about what happens - al she said was that I would contacted by the claims department. she would not tell me what they do or how they work - I said "look, I want to know if I should get another one or what I should do" and she would not tell me. I asked when I would hear from the other department and she said "not today" - so i replied "when?" she said reluctantly, you would hear by 30th August - it was 4th August and I would have to wait 26 days? crazy!
Anyway, frustrated I then called Futureshop online store for help and they said I could take the product into the local store for an exchange. I did that and the manager Stewart was fantastic - he was surprised I was told to do that as they are a separate entity from online but he helped out - his customer service staff were not as helpful, they always seem to make me feel like I did something wrong or that I am 'evil' when I take anything back, but he was great - exactly what I would have expected and really appreciated his help - his staff would not accept a printed copy showing what I ordered or let me log on to Futureshop online - he went one better and took me to a place where there is a kiosk in store so i could access my order and print off a copy - why his staff could not do this beats me.
Anyway, Canada Post - BIG thumbs down on service
and BIG thumbs up to Futureshop in particular Stewart!
Publish Date: August 9, 2011 5:12 PM
---
I love Kitchen Nightmares so when I was at T5 at Heathrow Airport and had some time, thought i'd pay a visit to Gordon Ramsay's 'Plane Food' restaurant. WOW - food was great - portions little small, but quality was excellent. Have to say service was very poor though. Our waiter did not offer us any of the daily specials (when we were paying our bill the waitress at the next table reeled them off and they sounded great - we missed out!). And the waiter did not know the weight of the steaks - he guessed and got it wrong!. Then took ages to get the bill and when it arrived there was a cover charge on top of a 60 GBP bill for 2 for lunch - when I asked one of the staff why a cover charge (not seen one for years and never on a decent bill), I got a very poor response - something about 'cleaning linens' and 'bread rolls' - he seemed very uneasy with the question and I certainly did not appreciate paying for clean linens - that should be a given! So, message to Gordie, food is great but mingy portions mate. Service is right out of one of your TV programs - "come on bleep bleep bleep" !!!

Raj
Publish Date: July 29, 2011 3:36 AM
---
I must write about my recent experiences with BA flying from Toronto to London, then on
to Singapore and back.
I booked business class and expected business class service. You can read what I thought
of the service!
First, the flight over to London. This was on a 747 and I chose the upper deck. Sharon's seat had no inflight entertainment and my seat kept on adjusting itself without any interference from myself – I would slowly sink down and a few times the flight attendants came just before takeoff and told me to keep my seat upright! Wasn't my fault! I had the sinking feeling (sorry for the pun) that this was going to be an eventful flight. The seat problem occurred all through the trip – in the end the attendant gave up when we were due to land – hopefully he "snagged" it in the log (jargon for a problem that needs fixing). 4/10
Then, on to cabin service when I was asked what I would like from the menu, I was told "sorry, we have run out" The flight attendant explained that for 16 passengers they only had 3 of the items I wanted – how poor is that? The second option tasted like beef jerky and I left
it. 2/10
Flight attendants – they were great but I felt they were helpless – 8/10 overall
Next, trip to Singapore on BA. Another night flight, my final destination was Brisbane but
BA only took us as far as Singapore then we had to change to Qantas. The check in agent was amazingly good at heathrow – awesome in fact and very patient – we had loads of cases with us. 10/10
The flight over was good – better than first, however do they train flight attendants to literally 'stomp' down the aisle when passengers are trying t sleep? Seemed like it – give them slippers and teach them to walk slowly and without stomping – helps us passengers sleep better. 7/10
Flight back to London. Again, on the upper deck. Was an overnight flight so went for some zzz's as soon as we got on the plane and missed the meal thinking I could grab some later if needed. Good flight, but at 3am when I woke to grab a snack, was disappointed by the kitchen selection. 7/10
Flight back to Toronto. Upper deck again. Boarding was chaotic – at one point there were 10 staff members waiting to check boarding passes and no one making sure the queues were organized. Then we had two muppets (ask me to explain that one if you don't know) at the front of the business class queue ignoring the fact we could board and holding up the line. Got on finally and settled in. We were passed the menus etc and saw it was the same menu as the one on the outward bound journey from Toronto a few weeks earlier. Said to Sharon, hope we get the items we want this time! What do you know, nope, I was out of luck! Only 4 for the whole upper deck and 16 total for 52 total business class passengers so I missed out again! The attendant suggested I make a report – glad to!
And what about the amenity packs? Basic – BA execs should fly on some of the other carriers to see what they do – need to know your competition! If you don't, you will continue to provide second rate service to customers who pay top dollar and soon you will lose that customer to another airline!
Then, when we went to pick up our bags, one was open and spilling stuff onto the baggage
conveyor belt. The case had been damaged and the zip broken – was a new case I purchased in Singapore this January and it was not useless. We collected the rest of the luggage and had to wait for a BA staff member at Toronto to explain what happened. Their comment was that because it's a zip there is nothing they can do – suggested customer relations! How convenient!
Overall, I am not impressed with BA. It's not that I don't like the company – I have
friends who work for them in the US Contact Center - that's why I am writing this, because BA used to be great and its slipping fast – come up guys, pull your socks up! I met one of the contact center managers from Emirates at our June conference in London – maybe will try them again – last time I flew with them they were great. I have over 200k miles with BA and am Silver One World member – not sure if that counts for anything, probably not – we will see!
Publish Date: July 29, 2011 2:21 AM
---
As a seasoned traveller I don't mind security - its all good, however I must comment on the security at Brisbane! I got to the check in desk and all was great - Qantas staff were helpful etc as expected. Then went to security and had my bag of liquids in my hand and was stopped - one of the security guards wanted to weigh my carry on. He said i had too much (10kg) - limit is 7kg. I explained we had some equipment and was it a problem? he eventually let me go after he found out i was in business class. Now, what is the point of all this? past security is the duty free - i could have easily purchased a new case and filled it with 7 or 20kg of stuff! why do we have all this hassle? come on guys, if weight is such an issue weigh stuff after duty free and see what happens, yeah bet the sales will go down and so will revenue! The whole things does not make sense! wise up please and consider the customer keeps you employed!
Publish Date: July 25, 2011 3:51 AM
---
WOW - what a fantastic week - i was honored to have spent so much time with the best in Asia Pacific - here is a link to the article
https://www.contactcenterworld.com/static/ar/ar_b6ad08ba6b2c41e78b6d30e1c8ab6dae.aspx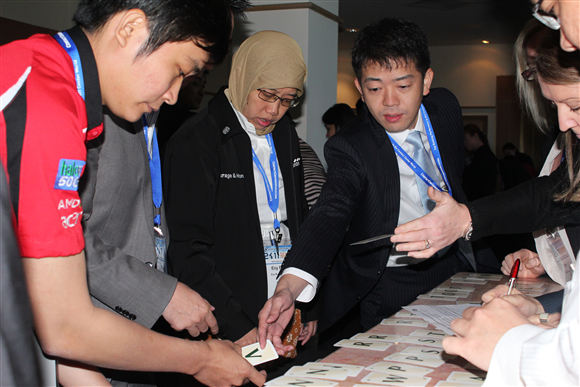 Publish Date: July 24, 2011 11:44 AM
---
I had a problem with a hosted solution and wanted some help so clicked on the 'chat with us box' under 'help 24 hours a day' ...

this is what happened (I omited a couple of bits before but you will get the gist of whats going on)


Welcome to Rackspace. How can I assist you?
You have been connected to John.
Customer:

hi - you have locked me out of my account - help
Customer:

XXXXXXXXXXXXXXXXX

Customer:

my email is XXXXXXXXXXXXXXXX

Customer:

i just changed my pw
Customer:

and got locked out
John:

this is actually a new sales chat
John:

it would be best to call our support line and ask to speak to your support team, they will be able to better assist you
Customer:

it says on your website start a chat - is there no one there i can chat with?
Customer:

or can you have somone email me with what to do?
John:

yes but this is a new sales chat
John:

unfortunately not, you would have to call and speak to support
Customer:

sorry john, does not say that on the chat tool
Customer:

you should say chat to sales or call support!!
Customer:

not very helpful
Customer:

i will call them in the am - its late here and dont want to wake the family!!
John:

no problem have a good night
Thank you for visiting Rackspace. You may now close this window.
Your session has ended. You may now close this window.

John ended the session - was quick to kick me off!

rackspace - I am not impressed with your service!
Publish Date: June 6, 2011 4:02 AM
Page: 1 | 2 | 3 | 4 | 5 | 6 | 7 | 8 | 9 | 10 | 11 | 12 | 13 | 14 | 15 | 16 | 17