Raj Wadhwani - ContactCenterWorld.com Blog Page 12
Page: 1 | 2 | 3 | 4 | 5 | 6 | 7 | 8 | 9 | 10 | 11 | 12 | 13 | 14 | 15 | 16 | 17
I have to tell you about this crazy situation - I was sent a voucher by Qantas (Australian airline) because they failed to deliver services earlier this year that I had paid for. First they sent me the wrong voucher amount and when i questioned this they told me they had been told it was X - I said it was more and they disputed this. I offered to send them a letter I had received and first they said no. They came back to me and asked me for it! seems communication is a problem at Qantas. Then I went to use the voucher - it has a unique number which I could only use on a phone reservation (probably got charged for the phone booking!) and then I was told I had to send the voucher back to LA where it was issued before I could get my ticket issued! How crazy is that? what a waste of resources - Qantas needs to get their act sorted out - service really sucks and if they are not making any, or much money, they should look at their business practices especially communication internally and how they manage service issues with vouchers. Anyone else had any issues with any companies where processes are ridiculous? tell me please!
Publish Date: May 5, 2011 10:00 PM
---
Its a funny old world! My mum just called me to tell me that I was in the paper!
The headline was 'Do You Remember: The Chess Kings?

Back when I was 10 (thats a long time ago now - look even the photo has faded! LOL) I used to play chess and was pretty good - went on to represent my county and won several tournaments. Didn't keep it up though but very grateful to my late father, and mother who both encouraged me - I learnt a lot playing chess and today one of my sports of choice is Brazilian Jiu-Jitsu - another very tactical activity but also very physical unlike chess - only time chess got physical is when your opponent knocked over their king to resign!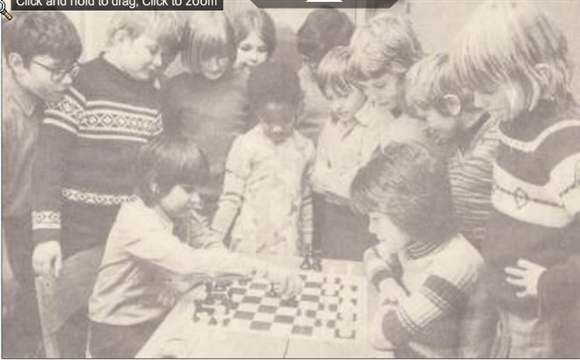 That's me on the left playing Andy Ginn who went on to become a Vice Principal of a college. Had a dodgy hair cut in those days!

The paper came out 21st April 2011.
Thanks mum :)
- I know she is still proud and happy to see me making news a couple of years on.
Publish Date: April 25, 2011 6:00 PM
---
Have to write I am NOT a huge fan of Sears/Chase - the way they run their business leaves me speechless at times. Last weekend I went to purchase some new home appliances - I had previously cleared my account down because I was so frustrated with their billing practices and way they seem to avoid the interest free programs they promote to customers.
Anyway, the new purchases took me above my limit and the sale person in Sears called for authorization. I was shocked that in a busy store right by the checkouts I was asked to divulge over the phone my annual income, date of birth and even mortgage details - so much for confidential information - no wonder identity theft is on the rise - would have been very easy for Chase to ask me to input information into the telephone keypad when promoted - all the data I had to divulge were numbers. It was absurd that anyone in earshot now knows all this info about me even though I tried to be discreet.
Credit companies need to take more responsibility for client confidentiality - this was ridiculous Sears/Chase.
Note - I find the sales people who work in store very accomodating - just dislike the finance arm and had I been able to find the same or close deal elsewhere I would not have shopped at Sears
Publish Date: April 20, 2011 3:24 AM
---
I find it frustrating that some of the best known brands suck at service. Following on from my blog below I received an email today to say my order (which i referenced below as confirmed cancelled) was shipped and my card debited! How crazy is that? I get an email last week from Sony to say my order has been cancelled and today one to say its been sent! Come on Sony, another wasted hour trying to sort this out - perhaps I should send you an invoice for my time!
Publish Date: April 11, 2011 9:30 PM
---
I have been a huge Sony fan for decades but have to say, the overall service I receive is, and has been for years sub standard. Recently I tried to get my laptop serviced in Orlando whilst on a business trip - went out of my way to see their backstage team only to find it was closed for lunch! I came across web pages with errors when browsing to buy some new laptops and told Sony - they told me they were testing. I was surprised a corporation like Sony tests pages live.
Yesterday I wanted to cancel an online order and was frustrated - the only way to cancel is to call - there is no email address or form and i had problems getting through to the contact center. Eventually I did reach an agent who was pleasant and helped me. After the call I was taken to complete a survey - I thought the questions were inappropriate for my call type and am curious how they use this data.
Anyway, Sony - I still buy your laptops - just purchased 3 new ones - but your service is poor. Take a look at how Apple service customers - they too have great products and amazing service!

Only time I ever experienced great service was with the PlayStation Group - they are brilliant (I used to train some of them in Europe so I know how great they are)
Publish Date: April 8, 2011 2:30 PM
---
It's 6:50pm here and I just took a call from a company working on behalf of AMEX. I don't mind taking sales calls but when the agent has to reel off a long winded speech, not pausing even to take a breath for what seemed like 2 minutes, I had forgotten what benefits she had quoted - there were so many thrown down the line at me and not once was there any effort to fact find.

Credit where credit is due to the agent - she sounded friendly but what happened to common courtesy? she did not even ask if I had a few minutes to talk - just assumed that this was so important I had to listen to her ramble. She sounded out of breath and it was obvious that this was the script from, well you know.

So script writers out there, here are a few pointers if you are interested:

1. Ask the person you are calling if they are free to talk - a 'no' is not a go away, but an opportunity to schedule a time to call again.

2. When you have a product to introduce, ask a question or two first then tailor your solution to the customers needs - just throwing out information and lots of it, is a waste of time.
Open questions are good. And if AMEX were as smart as I thought they were, then they would have noticed I travel a lot from my expenses so mentioning things that are relevant would get me more interested.

3. Give the sales agent more tools - was good that the agent could direct me to a website for more info (I had to push for a way to compare before just signing up), but would be better if they asked if they could email me or mail me a pack then follow-up. I mentioned to the agent when she gave me the link americanexpress.com/Canada that I reach the same page by going to americanexpress.ca - she didn't acknowledge this first time as she was in her set piece mode, so I stated it again - the scriptwriters should know this sort of stuff to make it easier for the agents

4. And please, its never good to ask 'How are you?' when you talk to a brand new prospect - imagine how bad the call would go if I responded "terrible - just lost my job"" or "my cat just died" or "not well" etc - one of the worst things you can do and totally smacks of a 'sales' call

anyway, just a few pointers!
Publish Date: March 24, 2011 12:07 AM
---
I have a MiFi and had to call customer services. Have to write I was very impressed with their service - the agent was fast, efficient, friendly. He even recommended switching me to a lower cost MiFi package without any other commitment - impressive. Well done Verizon.
Publish Date: March 7, 2011 2:23 AM
---
I am on a list from Inside CRM and saw an interesting invitation to read a paper titled Top 12 Web Conferencing Vendors Face Off. As I am reviewing options I thought I'd take a look and filled in the online form. Firstly, the system rejected me because i did not have a US Post code so I put in 90210 (Beverley Hills) to get round this - always a good one (from TV show 90210 for those who don't know). Anyway, managed to get to the download link and selected the paper I wanted. It opened up.
I was sadly disappointed!! - the paper is almost 2 years old - dated at the very top 'April 2009'! its Feb 2011 and the comments about the technologies from the different vendors is pretty much useless - they have all been developing their solutions and I thought this was a complete waste of my time - why Inside CRM even sent out this email with an old technical paper beats me! Never mind. Will continue my own research.

Just an interesting thing so thought I'd share it :)
Publish Date: February 18, 2011 2:08 PM
---
Back in December I received great news – I was now a Prestige Elite member with additional perks such as extra baggage allowance and preferred seat selection. So in February when I checked in online for a flight from Toronto to Thunder Bay I was surprised that the online system was charging me for a second bag - should be free with my new status.

Anyway, as I had to check in online, I paid this and thought I could find out at the airport when I dropped off my bags what the deal was. I had 3 bags. When I got to Toronto Pearson I went to ask for some help. I was advised to talk to one of the agents at the Elite Status check-in area and I approached the desk with a smile and started to explain our situation. The check in agent looked stern and disinterested as if I was not worthy to talk to her. She had a name badge but it was blank so I shall call her Penny (like the stewardess on Come Fly with Me – British comedy show and very true!).

Anyway, Penny looked miserable and uninterested and asked to see my boarding pass. She said I did not have elite status showing on my pass so I asked her to check on her system. She then said 'Oh yes, the system should have recognised your status but it did not' She handed me back my boarding pass and I said "so what does that mean with baggage?" She looked at me and said "Allowances have recently changed and I don't know" She did not say anything after this. I responded with some degree of frustration now as she was not being helpful at all "So, you are the check in agent and you don't know what our allowance is? Aren't you supposed to know?" She looked at me with resentment then started tapping into her system and replied "I will check". 'Two bags". I explained that the system had charged me for the second bag and she then turned around and gave me a slip of paper and said nothing. I said "what's this?" She replied "it's customer service – you have to see if they will give you your money back"

Wow, have to say Penny did nothing to promote my interest in flying Air Canada – she was probably one of the most unhelpful people I have met at a check-in desk.
Note to Penny – smile, be helpful and treat people the way you want to be treated and your day will be happier and more pleasant.
Note to Air Canada – you should be asking customers for feedback on their check-in experience - in fact their entire experience and fix your systems – its been 2 months since I was told I have an upgraded status and yet your check-in system did not show this. For a major airline this is not acceptable.
By the way a great tool for customer satisfaction is www.Rate-Our-Service.com
UPDATE MARCH 4TH!
We received a call from Air Canada who apologised for the problems and arranged a refund of fees we should not have paid. Great work Air Canada - you dealt with the situation and made good.
Publish Date: February 10, 2011 7:45 PM
---
Big thanks to Serpil, Asli and all the great staff who took time to show us round their center 1 hours south east of Istanbul. It's a brand new center – only 2 months young – and was great to see all the facilities for staff. Like some others I have visited there are some interesting things I will be sharing with you all shortly.
Publish Date: February 9, 2011 10:29 PM
---
I want to thank the fantastic folks at Sportingbet in Dublin - you were fabulous hosts during my visit - thanks to Paul, Troy and Ally (who is right now ascending 5,985metres to the summit of Kilimanjaro on a charity expedition - way to go Ally!)

Keep up the great work in the center guys - you are truly world class - congrats.
Publish Date: February 4, 2011 6:29 PM
---
the last time I was in China i started a blog and didn't finish it. Had a great time at China Mobile and was a honory guest at their Spring Festival party - that meant I got to present awards to some of their award winners - wow so many of them! Also, but not convinced about this one - as a guest I had to do the rabbit dance (year of the rabbit) on stage with 1000 agents looking on - think my co-ordination was good but after a few (actually quiet a few toasts with execs on my table) may have missed a step or two :)

Jane, Tom, Mike - thanks for helping facilitate the whole trip and Jane you were a great tour guide - nice you did some things you had not done before from a tourist perspective. So sorry I did not eat all that was put before me but my upset tum took a few more days to settle and was nothing against the food :)

and to end my trip to China, I awoke to snow in the air - as if I don't get enough in Canada already! never mind - great trip and great people.
Publish Date: January 26, 2011 12:47 PM
---
After 2 days in KL was time to head back to Singapore for a couple of days and had the chance to stay at the unique and very new Marina Bay Sands hotel. Was great to meet Catherine who runs the center for the hotel - we go back a few years and she helped me a lot - thanks. Had some time out with Teck from NTUC - won't go into details but we had a blast. Singapore is not a cheap place for most things but getting around by cab, public transport is and its so efficient - even taxis are clean and comfortable unlike other cities I have visited. Like Singapore a lot and had some good fun.
Publish Date: January 26, 2011 12:42 PM
---
Had the privilage of visiting the folks at Celcom and their partners VADS - whad a great trip. Was my first time to KL and Malaysia and loved it - stayed at the Sheraton and had the biggest suite ever!. Service was again amazing and love to be back in KL soon. Maybe a good location for our APAC event! Celcom was great and VADS who run the center are doing a fantastic job - was really impressed - well done guys. Thanks also to all the kind folks for showing me around and dinner etc :)
Publish Date: January 26, 2011 12:39 PM
---
Had an overnight stay in Singapore - Conrad Hotel was amazing and so central. Got upgraded to a massive suite but had to leave early the next morning for Kuala Lumpur for some meetings.
Publish Date: January 26, 2011 12:36 PM
Page: 1 | 2 | 3 | 4 | 5 | 6 | 7 | 8 | 9 | 10 | 11 | 12 | 13 | 14 | 15 | 16 | 17