Raj Wadhwani - ContactCenterWorld.com Blog Page 16
Page: 1 | 2 | 3 | 4 | 5 | 6 | 7 | 8 | 9 | 10 | 11 | 12 | 13 | 14 | 15 | 16 | 17
I had the opportunity to visit 2 great outsourcers last Friday (8th Jan) - I went to visit the folks at Inktel Direct and had a tour of their center as well as interviewed Ricky Arriola, CEO. Later that day I met up with Herman Shooster Chairman and Founder and the team at Global Response for a tour. Both are great companies and I will be writing about the tour etc soon! Thanks to all the folks at both companies for their kind hospitality and for showing me around. I will let you know when we publish more. Later this week I will be visiting 2 more contact centers in the Orlando area.
Publish Date: January 13, 2010 3:22 AM
---
It's Sunday evening and I was checking my business card expenses and noticed I had been charged over $1,000 for something I did not approve so I grabbed my card and called the number on the back to dispute the charge. I got through very quickly and the first agent asked what i wanted so i explained. She took my card number and asked if this was a business card and I told her it was. She said she would have to transfer me to another agent who deals with business cards. I was connected in seconds and the second agent asked me again for my card number and to verify my details. So, I had to repeat the process and asekd if he was told why I was calling - he apologised as he was not made aware. So I explained and we talked about the charge. He asked if this was a business card and I said yes. he then told me I would have to call back on Monday as the business department was closed. I asked him if he knew why I was put through to him and he did not know. What a waste of my time - if only TD Visa would have informed me when I first called in the business office was closed I would have saved me a lot of hassle and TD the costs of the call. The agents were polite but why I was put through to another person, why I had to repeat everything etc frustrates me. TD look at your processes please!
Publish Date: December 14, 2009 1:08 AM
---
In my books this guy won the fight against Machida (UFC 104). When I was talking with Dana White he was telling me about all the great UFC fighters at his conference and then he said "look, over there is Shogun" ... I managed to catch the top fighter and snag a photo with him. You can see the remnants of his black eye ... and I look drained after late nights and early starts!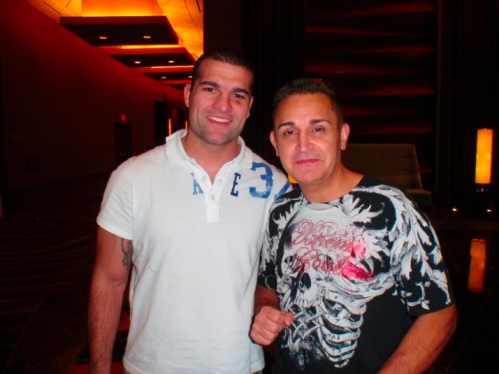 Publish Date: December 5, 2009 2:57 AM
---
I cornered Keith 'the dean of mean' Jardine as he was making his way to the UFC conference - had to be quick - he wasn't stopping for anyone ... is that his fist I see ready to punch my lights out if I stop him for too long?!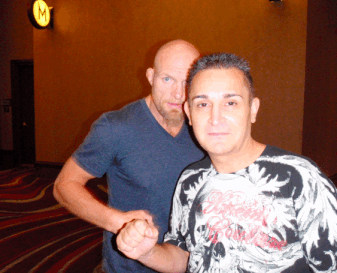 Publish Date: December 5, 2009 2:50 AM
---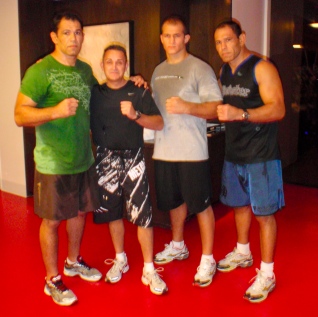 I like this photo - i went down the gym to do some training and who did i bump into? the nog brothers and Junior Dos Santos. Talk about big guys - I look like a midget!

The brothers look so alike but I still could tell them apart. Big nog and I had a chat. He was telling me that he was itching for his next fight and this his brother 'liltle nog' was going to fight soon - that was the fight where Little Nog won against Luiz Cane with a TKO in the first (UFC 106)
Their proper names are Antonio Rodrigo Nogueira (big nog) and Antonio Rogerio Nogueira (little nog). Nice guys and very happy to me me look like young kid next to them! Thanks for the photo guys. Don't mess with these guys!! :)
Publish Date: December 5, 2009 2:45 AM
---
Now this is a cool guy. I had a quick chat with Dana - what a nice guy! he told me what the UFC were doing at Red Rock etc and he was great to talk to. A good guy for sure! Dana White of the UFC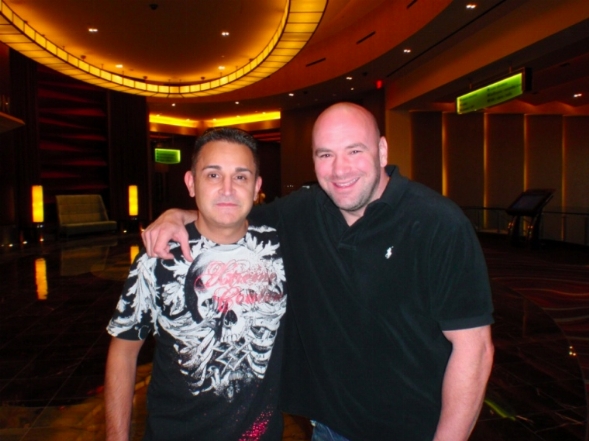 Publish Date: December 5, 2009 2:32 AM
---
So when i first started seeing all these guys at Red Rock, I thought 'Blimey, they are huge! lot bigger than they are on TV!' ... I met some more my size later on in the week. Here I am with Frank Mir ... another UFC heavyweight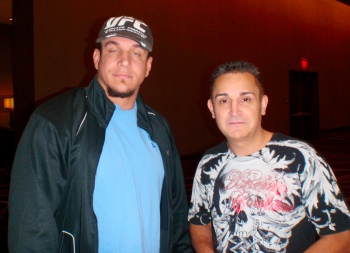 Publish Date: December 5, 2009 2:24 AM
---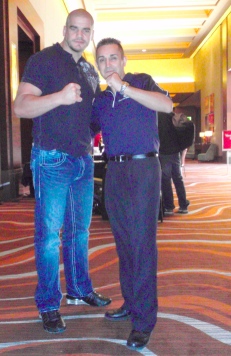 I met James McSweeney, UFC Heavyweight, at Red Rock when we were hosting the 2009 Top Ranking Performers Conference. We had a chat for a few minutes - nice Brit guy. Now trains in the US. I look like a midget next to him! Cheers James for the photo opportunity.
Publish Date: December 5, 2009 2:20 AM
---
You know I hate to write this but these guys just don't seem to have their act together. I have lost count how many times I visit the local Future shop store and most of the staff I deal with really don't care about customer service. Today for example, I went in looking to spend over $1,000 on some in-car navigation equipment and went to speak to a specialist. He casually walked over to the product I was interested in and he basically waffled about how great the gps is so I asked him to show me and he said "'well its gps and works as other gps units do" Come on guys, I know more about gps than this guy and when I asked him to show me he said he did not know how. I asked if it was connected up so I can try it and he looked at me like I was from planet moron, threw his arms in the air and said "we don't have any set up for real" I had several other questions and gave up.
A week earlier I was talking to another sales person about StarChoice (satellite) programming packages (read about them separately in my blog) and the so called specialist said "we don't have information on StarChoice but you can look at well Bell Express vue programming packages, they are almost the same" That did not help me with my question about StarChoice programming packages at all. The guy then frustrated me more by giving me ridiculous answers to simple questions. That day, and like today, I walked out in disgust at the way they just don't seem to train staff in customer service.
Over the years I can only count 3 or 4 occasions where I felt the service I have received from Future Shop Thunder Bay was any good. All the other times I am disappointed or disgusted. I avoid Future Shop whenever I can but in a small town like Thunder Bay, choice is very limited and sometimes you have no choice!
Publish Date: December 2, 2009 12:59 AM
---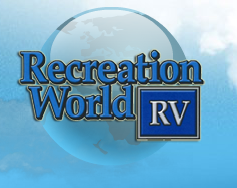 These folks are amazing. As I am in the market for a travel trailer (caravan to us Brits) i contacted several dealers and these guys have shone way above the rest. Their sales person Errol took time to find out what we needed. Their parts and service rep Dale has spent hours researching for us, and Susan the finance manager has also been wonderful. Talk about great customer service - these guys are awesome and nothing is too much trouble. They spend time and are very patient and I would recommend them to anyone.
Recreation World RV
2320 Dawson Road
Highway 102 West
Thunder Bay, Ontario, P7G 2G2
(807) 767-3455 Fax: 1-888-967-3455
www.Recworldrv.com
Publish Date: November 26, 2009 5:15 PM
---
technology - I was browsing a website because I was interested in buying satellite TV and up popped a window with the message "hi my name is XXXXX, I am familiar with this product, can I help you?" I thought WOW! this is great technology so I filled in the box a question and pressed enter. I was excited by the clever use of the technology then I got the following message: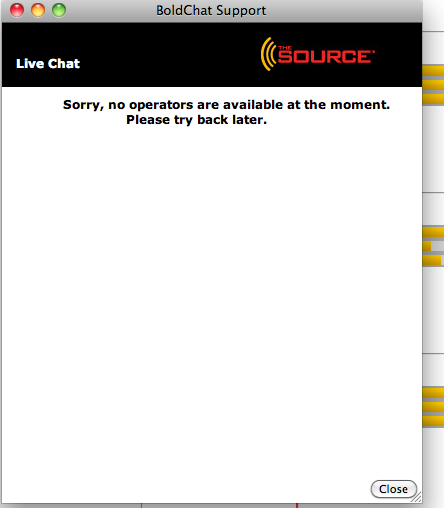 Whats with this? went from being amazed to disappointed in a mili second - Great technology, poor execution 'The Source' I wont be back.
Publish Date: November 25, 2009 6:50 PM
---
I have an apple macbook pro and have again had issues with the battery life. The macbook pro is still fairly new and when I had an initial issue i took it to an apple store where they quickly diagnosed my battery was faulty and without hesitation changed it for me - that was great service.
Recently my replacement battery has been playing up so I called the Apple care center. The female agent I spoke to was extremely helpful and we ran through some diagnostics. She asked if she could consult with a technician and if she could put me on hold - I was ok with this. Whilst on hold I did some web searches based on the questions she was asking me and discovered this was a common problem so when the technician took over the call I knew to suggest a replacement. He agreed and told me a replacement one would be sent out. I then asked how long and was told it could take 7-10 days. I asked if I could take them to a local Futureshop and he said that would be fine. He told me to take in the macbook pro and they would run some tests and confirm the battery was faulty. I asked if he could confirm they would do this and he was adamant this would work. So this am, I went to Futureshop only to get a lecture from the technicians there that they don't support Apple etc etc. I had wasted my time and had to call Apple again for help. Eventually I got this sorted and will await my replacement battery. Overal, not impressed with Apple support and the 'lemon' advice I received from a Level 2 Technician.
Publish Date: November 21, 2009 10:34 PM
---
At the same time our conference was taking place in Las Vegas, the UFC (Ultimate Fighting Championship) team plus well over 100 fighters were at Red Rock Resort & Casino for their annual conference!
I met up with Dana White, Rashad Evans, Forest Griffin, Matt Serra and many more superstars - watch out for some pics coming soon!
Publish Date: November 17, 2009 1:00 AM
---
just got this ... at least they are working on the problem and keeping customers up to date. Good job Westjet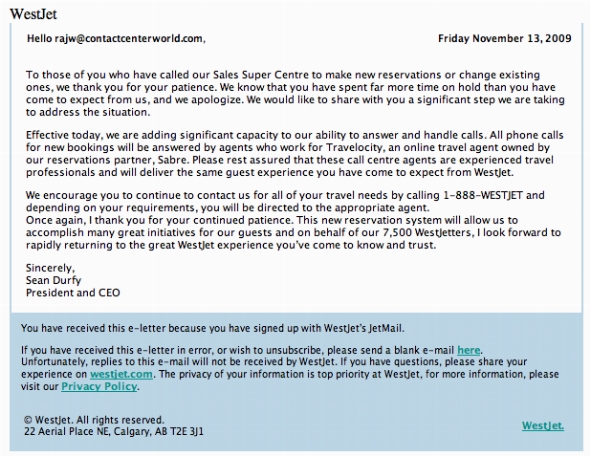 Publish Date: November 13, 2009 11:41 PM
---
I have been a huge fan of WestJet for years but something has changed - their online service and telephone service is failing miserably and I have heard many complain about how long it takes to get through and how the website is not working well.
When I was checking in at the desk in Las Vegas on sunday, I heard one business traveller say to WestJet staff that the person who implemented the changes to the website should be fired. The lesson to us all is if it works make sure any changes you implement are as good as, if not better than what you have now. I have had to wait 60+ minutes to get through and personally experienced huge failures on their website - recently i tried to book some flights and the system screwed up - had I not noticed the error, I would have purchased tickets for a date 3 months into the future not a week ahead which is what I wanted - a real mess for sure. Come on WestJet - get back to business before you go out of business - your recent enhancements have been a disaster!
Publish Date: November 12, 2009 12:36 AM
Page: 1 | 2 | 3 | 4 | 5 | 6 | 7 | 8 | 9 | 10 | 11 | 12 | 13 | 14 | 15 | 16 | 17