Raj Wadhwani - ContactCenterWorld.com Blog Page 6
Page: 1 | 2 | 3 | 4 | 5 | 6 | 7 | 8 | 9 | 10 | 11 | 12 | 13 | 14 | 15 | 16 | 17
So my mother and my aunt were heading home to England after spending 2 weeks with us and I suggested we look at porter services when they get to Toronto airport so did some research and found out you could pre-book a porter to help with luggage. So my aunt called the number and was told she had to redial - there are 2 terminals and she called the wrong one! - What happened to transferring the call? Then she called the other number and got someone who spoke poor English and seemed very unhelpful. My aunt offered information like flight number and name but seemed the person really wasn't interested so in frustration, she repeated what she wanted and then the person at Toronto Pearson hung up on her! How crazy is that?!

So plan B, we looked at the Toronto Pearson website and saw there was a 'book a porter' online option - I filled it in for my mum and aunt and submitted the form requesting confirmation in the notes - this was 24 hours before they would arrive. Guess what, never got any response.
Just spoke to my mum (now safely back in the UK) and asked what happened. She told me when they got to Toronto there was no porter waiting for them and they had to hunt one down! They were then told by the porter, who spoke in poor English, that he could not help them transfer to the other terminal which was key for my mum and aunt! Eventually after much persuasion he agreed and took them to the other terminal - which by the way usually is by monorail but it's not in use so buses operate - normally not a problem for most, but for two 70+ year old women with 6 pieces of luggage not an easy feat! My aunt offered the porter $20 but he turned round and told her it was not enough so she paid him more!

Airports should be user friendly - that goes for their website, phone services, processes for bookings and moving around with/without porters - left a really bad impression of Canadian service in the minds of 2 worldly travellers! Poor show Toronto Pearson Airport!
Publish Date: July 23, 2013 3:37 PM
---
I am on my 31st ContactCenterWorld.com event and have to write that my experience with one of the venues we chose has been horrible – let's just call this group ZZZ. I have complained on countless times about the way they have looked after me and my business and earlier this year flew all the way from Canada to this European venue to try and make sure everything was ok - I felt they were not looking after me.

I complained to several people I know and my complaint was passed to the European HQ at ZZZ - at this point I felt they would take note, but all I got was an email from HQ saying they had spoken to the venue and all was ok ... hey, what about talking to the customer to ask if all is ok???
…Seems that talking to the customer is not part of the complaint handling process which is somewhat bizarre! I found in general that the ZZZ hotel really were not interested in any professional relationship – seemed it was just one big money grab!

We had numerous issues about bookings - sometimes their system failed to show available rooms so some delegates were told there was no space even though this was not the case! They were offering better prices to other groups even though we were told ours was the lowest and we told all our delegates our was the lowest - we found out this was not true during a phone call with the sales director of the hotel! And, worse we had signed an agreement to hit a min room block or face financial penalties. They did acknowledge there were problems but as you will see later, they were not very understanding!

We were promised by the Sales Director, after more complaints, that I would receive a personal contact from the GM the next day ... never happened, got a long winded email (sorry that is NOT personal when you complain but a brush off) saying they had done all they could!
I had been complaining that they never seem to communicate with us by phone – in all the time we worked with them think we had 3 calls – very un-personal doing everything by email and we often waited 2-3 days, sometimes longer to get answers to questions – what's up with emails all the time especially when I asked them to pick up the phone and talk?!

Never got minutes from phone calls or any meetings - seems they were trying to avoid putting anything in writing from meetings!

I had resigned myself that they were really doing a lot to make it difficult for us and the Friday before our event asked for a meeting - a team of 6 met me - one was the so called Sales Manager who just said hello then left! - was the second time she did this – she did this in Feb when I made a special trip to ZZZ!
At the meeting I asked for them to confirm we had done everything we could to hit the quota of 340 room nights with a current count of 337 and asked them to accept that we should be allowed to avoid penalties and was told 'absolutely not' - we would have to hit 340 or face penalties! The hotel had not supported us and made it very difficult for us and did not seem to acknowledge this at all and simply refused to budge! We were 991% of the target and told we would have to pay a penalty! The GM in his long winded email said he would be confident we would hit our min – seems he again was avoiding the issue and not prepared to take a realistic look at all our issues!

At the meeting I also went thru the plan and asked for tea/coffee to be served on the first day as delegates checked in - was noted by the account manager and yet it never happened - again no meeting notes and yet 5 other people from the hotel were there it was missed!

At the event I was asked if they could reduce the amount of food at lunch as we had guaranteed a certain amount and were short of this - I said if you can reduce our costs yes. The response was absolutely not! On the second day of our event they did reduce the amount of food by half - was very obvious to all my delegates they had done this and was done without asking!

At breaks in the am/pm they drastically cut down on food - they put out 0.75 muffins per person ... that means 1 in 4 would not get any food because they were deliberately under catering despite fact we were paying for everyone and again they did this without asking – very insulting to us and the delegates!

Overall this venue was appalling - it's not one of the hotels owned by the hotel chain, rather a franchise ... so buyers beware, there are some very bad 'big chain' hotels out there and this was the worst we have ever worked with. Too bad the folks I complained to did not listen to me the customer ... maybe they should have sat in on the customer service presentations given by our presenters who clearly know what service is all about!

Remember a satisfied complainant is more likely to buy than someone who has no need to complain. This hotel group missed the opportunity to build a relationship and now I won't ever work with any of their properties again! And look, I am sharing this with 138,000 of our members - all business professionals and will be tweeting this, posting on Facebook and spreading the word!
Ironically some members from this group do come to our best practice events – just not the ones who were looking after our business!

So, if someone complains, listen and improve ... some people at the hotel understood exactly what I was saying and agreed we had been treated poorly - shame the management were too ignorant to even care!
Finally have to say the support staff were great - in most cases they are amazing and the folks in the lounge, in the conference area, guest services etc were always helpful.
PS - I also had to complain about the wakeup call service - in the first 3 days of staying there 2 of my 3 requests were not actioned on time - they have a policy of calling you to wake you rather than using a machine - problem is when they are busy they are late and mine were late 2X out of 3! … never had such poor wake up call service in my entire career!
UPDATE AS AT 22ND JULY
Its been 17 days since our event finished and still no contact from the venue to ask how things went and get some feedback. They know I am not happy and ZERO effort has been made since I left! I know if I had someone who spent $100,000+ and they were not happy I would make a lot of effort to communicate and see what I can do! ... this really emphasizes the lack of customer care by this hotel in Vienna!
Raj
Publish Date: July 11, 2013 2:02 AM
---
Let the competition begin! Free to enter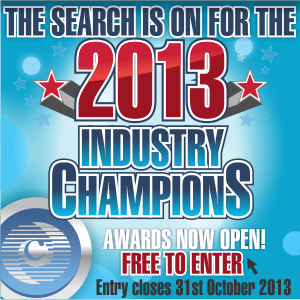 Find out more: https://www.contactcenterworld.com/worldawards/industry-champion.aspx?year=2013
Publish Date: June 20, 2013 3:55 PM
---
We are dealing with members who abuse forums and also those who join to just send marketing messages to members - this is not allowed and memberships will be revoked permanently! There are mechanisms for advertising and using our forums and/or sending emails to members trying to sell products and services is not part of the membership plan - for those looking to sell products and services follow this link www.ContactCenterWorld.com/sales - there are plenty of suitable ideas there!
Publish Date: June 17, 2013 2:15 AM
---
We had lots of entries and almost everyone commented on the excellent lineup and great topics - it really is the best talking and sharing what they do across most areas in the contact center today!
Now onto the winners - congratulations to:
Donna Hatfield Vilinsky - who won 2 tickets to our Americas event
Abiola Fischer - who won 2 tickets to our European event
Yukol Rompo - who won 2 tickets to our Asia Pacific event
Winners should contact me asap to arrange for their tickets
And for those interested in participating in the event to hear all these amazing ideas, we still have some tickets left to sell at each event - go to www.ContactCenterWorld.com/conferences
Publish Date: April 30, 2013 2:12 PM
---
WIN in our no cost competition and learn the latest Best Practices!
We have a pair of tickets for any of our regional Top Ranking Performers 'BEST PRACTICES' conference to be won in this no cost contest!
You choose which one you want to attend from:
- You will join up to 200 of the best contact center professionals in the region as a brilliant lineup of award winning presenters share fantastic ideas that will help those running centers, or those interested in best practices to learn the latest methods that has helped the presenters becoming World-Class!
Presenters will share practical ideas - from those who do the job, not vendors trying to sell you a solution .... a huge difference in what and how information is shared!
Plus you will be networked with everyone who attended the event (through ContactCenterWorld.com) so you will have a ready made professional network to stay in touch with after the event!
Now, how to win the pair of tickets!
This is a no cost to enter the draw. To enter, select the conference you would like to attend and look at the agenda (schedule at a glance link on the conference pages) and pick one presentation each day from the respective schedule you would really like to hear and tell me which one it is (1 per day) - example for the Americas event you would tell us which 4 presentations (over the 4 days) you would like hear and send me your contact details.
You can enter once per event i.e. you can enter to win tickets for the Americas, European and Asia Pacific event - just make sure you are available to attend if you win!
Reply to this message or e-mail rajw@contactcenterworld.com with your presentation choices, contact details and the event you would like to win the tickets for!
Winners will be drawn at random on 30th April and all winners will be announced on ContactCenterWorld.com on that day. Prize includes 2 full conference tickets to one of the events of your choice in Orlando, Vienna or Singapore. Judges decision is final. No other cash alternative is available. Value of the ticket is up to $2,500 USD each ticket. No substitutes allowed.
PS - if you want to ensure your place you can still book tickets online for any of these events at this link https://www.contactcenterworld.com/conferences/register.aspx. Don't forget we also bring the best from around the World together in November to share best practices in Las Vegas, NV USA (https://www.contactcenterworld.com/conferences/?confarea=GLOBAL)
And, with 98% of delegates telling us they would recommend these events, you KNOW you will find the event hugely beneficial!
Publish Date: April 5, 2013 12:25 PM
---
Recently i visited the Home Depot website to make a purchase and read the product I wanted could only be ordered and purchased in store so made a trip to town to buy what I wanted. At the store I asked at service if they could place the order and was directed to the speciality dept. (comment was they don't like service placing the order!) so went to the door dept. and asked to place an order. After several minutes of discussion the person at the order desk checked with his manager and told me they could not order the item. I complained and went home. I called the HD service hotline and they said they would check and get back to me - never happened! almost a week later the Asst. store manager called and asked me how he could help - I had to explain the whole story about why I was told I should order from the store and what happened – wasted tip etc etc. He was not helpful and there was no empathy with the situation. A couple of days later I got a call from the store again - different manager asking how he could help! Seems communication is a real issue with HD and I had to explain all over again and told him I ordered direct from the manufacturer in the end because of all the issues and I had to pay for shipping ... was waiting to see what he would say/do .... again nothing - no empathy. I am appalled at HD - really poor service and now go out of my way to avoid shopping there! Service is poor and needs a makeover!
Publish Date: February 27, 2013 2:03 AM
---
How stupid is this! I have tried several times to order some watches online and my card company has provided authorisation to debit my card but the folks at Jared won't authorise the purchase and told me I have to go in store to place a special order. I don't live near a Jared and put my point across to David then his supervisor Amy. They have received authorisation from my card company it don't trust BMO or me apparently even though I wanted the watches shipped to a store where I will be next week! How stupid is that! My card issuer has given them the authority and set aside 2 authorisation amounts for 2 orders Jared has now declined. Amy said its nothing she could do so I asked to speak to Authorisations there – surprise surprise they don't take calls! Then all of a sudden when I said well how are we supposed to resolve this, Amy said they need photo ID - every heard anything so stupid? Jared, if you want photo ID for online orders then you are barking mad – why have an online store with such a ridiculous process?! Service like this frustrates me - no logic and I have wasted hours trying to do business with them. I love the industry but hate being on the receiving end of service like this because I know it tarnishes all the good things great centers do out there.
So Jared won't get any of my business and this makes for an interesting case study to share in service (not)!
Footnote – we don't have any members at Jared – maybe Mike Light the CEO should enrol some of his staff to hear how the best in the business do it!
Publish Date: February 20, 2013 10:37 PM
---
I am overseas and as usual I called in advance to let my card issuers know. AMEX Canada was great. TD Bank was appalling - the agent asked me lots of security questions and I answered them all. She asked where I was travelling (normal practice) but didn't seem to have a clue where Lisbon was and after telling her where I was going she told me she could not authenticate me and suggested I go to my branch so they can verify who I am. (I think she was poorly trained and got confused with where I was going – she did not seem to know where Lisbon was) How absurd and I had to escalate this to my branch and the supervisors at the credit card hotline to get this resolved! It was a simple call to say I am going out of the country and I have done this lots of times yet TD made it so hard! Eventually got this resolved. The agent who first took my call at TD needed lots of training on service AND geography - funny, I have a special card for frequent business travellers!

We also called RBC and what a wasted opportunity to provide better service - we advised we were travelling and went thru all the usual stuff then was asked right at the end when are we travelling and we advised them today "Oh" was the answer, "I will need transfer you to security dept. so they can do this" ... why don't they ask when you are travelling at the start if its a different process I thought! Then, to add insult NO information was passed on to the next person so we had to do all the security questions over again! Very poor - simply ask at the outset if its key AND pass on information if you are going to transfer

So, my scores:
AMEX Canada 10/10
TD Bank 3/10 - very poor service and totally wrong suggesting I go my branch who would only tell me to call the card service hotline!
RBC 5/10 - poor process and can easily be improved!

... These are my ratings based on my experience as a customer!
Raj
Publish Date: February 19, 2013 9:59 PM
---
Pleased to say that I received great service from Jay at Tbay Tel today.
Story: I got my first bill after signing up for 2 phones and only saw one sign up bonus showing on my bill. When I called the dealer sales rep, he agreed to check and call me back. When he called me a few minutes later he said I was not eligible and apologized – this was not what I was led to believe so I called Tbay Tel direct and spoke to Jay. He was extremely polite and professional and helped me out. I agreed to send some proof of what I had mentioned to confirm eligibility and emailed Jay at 1pm today. He just called me (4om) because he did not receive my email. He gave me his personal email and he got my email immediately when I resent it. Whilst on the call, he was able to review the info I had just sent and confirmed he could add the credit. He had also called the dealer who confirmed my story so was covering all bases.
So, 10/10 Jay - great work - you must be a great asset to Tbay Tel. By the way on the technical aspects of the call, everything worked really well - got thru immediately so very impressed.
This should be one that Jay adds to his collection for a job well done.
Publish Date: January 29, 2013 8:59 PM
---
Tonight I saw a marketing piece for a contact center event in asia - i was shocked that they expect vendors to pay 2X that of other attendees - that does not seem like good business - a conference should be same price for everyone to attend - charging one group more is discrimination! Crazy world! whats next they will charge non nationals more? ... Bad practice! Everyone rights = equal fees to attend ! - I'm glad we are not a sponsor or supporter of this event!
Publish Date: January 25, 2013 3:52 AM
---
Ok wherever you are in the world - whats the temperature? Can you beat this?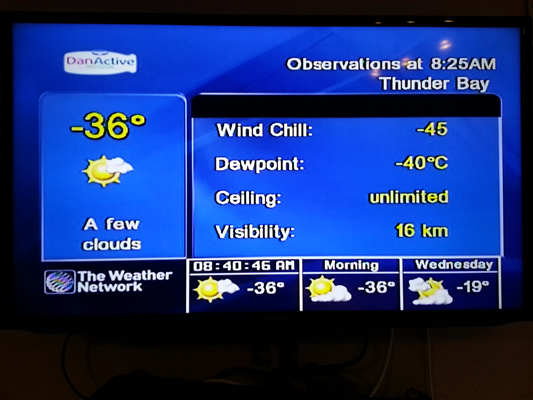 Thats just the temp WITHOUT wind chill - its -45!
beat that! :)
added ... Its even too cold for our dogs despite the fact they have some Husky in them! ... Below is Daisy - she clearly shows her keenness to head out this morning ... NOT!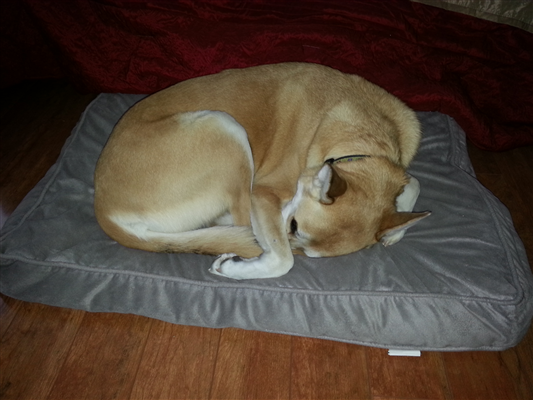 Publish Date: January 22, 2013 2:26 PM
---
WOW - I am amazed by so many new best practices that have been submitted for this years 8th annual global best practice' awards - so many industry leaders have taken part this year - will be the best year yet for the industry awards that recognise best practices in our industry! Now we are waiting for the entrants in the Europe, Middle East & Africa region who have until 21st January to compete their entries. It's not too late to enter - go to www.ContactCenterWorld.com/worldawards
Publish Date: January 11, 2013 1:07 PM
---
I saw a request from one of our delegates at our conference last month for feedback on how we distribute charity funds we raise at our events so thought I'd share this with you
ContactCenterWorld covered all the networking event fees like line dancing, boat trips, bus rides etc so anything any delegate contributed went to the charity fund - that's 100%,
We also purchased outright at our cost Monty The Moose, the electric guitars (Hard Rock Orlando) and every penny we raised went to charity. With the T-shirts ALL profits went to charity - that's $15 per shirt sold!
We also had generous donations of products/services from many delegates and many of you participated in the networking and/or bid on items at auction - thank you all
So, In the past 18 months we have achieved all of this which is amazing!
We donated as a result of your support :
Raj Wadhwani, President of ContactCenterWorld said "I would like to thank all those members who have attended our events in the past 2 years and made contributions to our charity efforts. We are encouraged and will continue to do more in 2013 and thank you for your generosity - we could not do all of this without you! Thank you"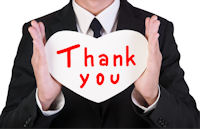 Publish Date: December 28, 2012 8:16 PM
---
Interesting story!
I always try and maintain a healthy balance on my cards - ideally $0 but because I overpaid a balance with Home Depot they wrote it off and took my money! How ridiculous is that? I spoke to one of their agents at CITI who manages the portfolio and asked why they took my money and wrote it off - seems that unless you call them - they don't tell you that by the way - they will write off what they owe you if it's under a certain amount. Now don't get me wrong, we are only talking about $0.70 they owed me but it's the principle! Bet if I owed them $0.70 the interest would rack up and up forever!

I have several accounts with CITI Group and I must say I am not impressed. As I bothered to complain they will send me the $0.70 back. Why didn't they just do this in the first place OR keep the credit on my account and avoid all this hassle? They say they can't allow a customer to keep a credit on file for more than 3 months – maybe true? But, it probably cost them $4-$6 or more to take my call so now its cost them a lot more … plus me writing this about them!
I welcome some comments from anyone at CITI/Home Depot and also other members in this industry … is this standard practice? or what you think about this situation where a credit company writes off money they owe you?!
Publish Date: December 27, 2012 10:46 PM
Page: 1 | 2 | 3 | 4 | 5 | 6 | 7 | 8 | 9 | 10 | 11 | 12 | 13 | 14 | 15 | 16 | 17