Victor Matos - ContactCenterWorld.com Blog
Virtual call centers are nothing new these days. It is a smart solution for all businesses to have a call center that does not need much investment. You all must be aware of the fact that a business needs to connect with its customers every now for VoIP Providers and then so as to continue the business relationship for a long term. This can be done through calling and keeping track of them.
Along with that you also believe the fact that making new customers is also important while keeping the old ones with you. This means that your company or business needs to contact new people and know whether they are interested in your business, its products, and services. For that, a business has to spend a lot on calling equipment, employees and other important tasks which mean that another budget needs to be decided and decisions need to be taken.
Why is virtual call center needed?
The virtual call center is a must in today's date as they cut the cost of installation of equipment of call center and other important things. It also helps you to get rid of waiting for the call to answer as you can get everything designed in such a way that you the calls will be answered them like a program and you don't have to worry about certain things.
You will find that virtual call center has changed the way business worked earlier and they are much focused on other core activities as compared to those earlier or those not having a virtual call center. One thing that you will find is that there are various network providers who will offer you IVR for a virtual call center. To get hosted IVR you can easily contact them and one of those companies is Idea which is a reputed network provider.
If you have owned a business and want to enhance its productivity than a virtual call center is much needed. It will help you to manage things in a much better way which means that you can connect with the customers whenever they want and without hampering your work and be affecting the productivity of the company.
A virtual call center handles and makes calls to your customers in a much systematic and organized way which means that you don't have to worry that you may miss a customer just because you were unable to attend the call of the customer on time.
Publish Date: July 27, 2017 6:59 AM
---
VOIP or Voice over Internet Protocol is a new thing which many are not aware of. It is a technology and group of methodology that helps in the delivery of multimedia sessions and voice communication over Internet Protocol which is the Internet. This technology is provided over the public internet rather than the public switched telephone network. There are various steps involved in VOIP which helps you to get better communication. Businesses these days are also opting for VOIP which is considered as business VOIP and is used to provide better communication to people who believe in technology.
How has VOIP changed the communication system?
Asterisk is one such open source platform which lets you create telephony apps for VOIP gateways, conference services and much more. Switch2VOIP is one such company that has made it possible for various businesses to get Asterisk VOIP and to make communication easier and they have also changed the way people communicated with each other. With VOIP communication in corporate has changed into a better way and that is where you can consider Switch2Voip and can get your own telephony apps so that you can easily create a proper communication network and can get all the work done on time.
Switch2Voip: A Name in communication over Internet Protocol
Swicth2Voip help many companies to get their own communication and telephony apps and enhance their communication process as that is the only thing which keeps the business going. Since communication is a very important part of every business and without communicating with one another no work can proceed so it is the best thing that has happened to businesses and corporate. You will see that this introduction in technology is something that has come up as a boon to various corporate and MNCs and if this thing continues to grow in future than the future of communication will change.
Swicth2Voip has made a client list whom they have helped in developing telephony apps and making their communication better with employees and other people and hence enhancing and improving their business. So, if you own a business and want to make your communication networks flawless then you can consult Switch2Voip and they will surely help you to get something relevant to that and you can get the best of communications with a positive effect on your business such as enhancement in the productivity and increase in the profit.
Publish Date: July 21, 2017 7:51 AM
---
Switch2VoIP can be termed as one of the most favored and best business VOIP providers, whose quality and reliability stands unmatched and unconquerable amongst all the other local phone companies. However, Switch 2 VoIP's services are not solely restricted to the entrepreneurs but for call centers and businesses all across the world on the basis of prepaid.
Here are some of the best-known business benefits you obtain from VoIP at Switch 2 VoIP
It saves money
While choosing business VOIP from Switch 2 VoIP you ensure you don't have to break your bank. Using a VOIP telephone is quite cost-friendly than most other traditional phones. You can also make long distance calls using Switch 2 VOIP, at jaw-dropping rates.
Portability
The convenience and comfort offered by Switch 2 VOIP's telephone system are accessible all across the world. Using any broadband connection, you can have the luxury to log into your VoIP telephone, and you will receive a dial tone. Irrespective of where you are, if you are enabled with an Internet access, you won't be having any connection or cost issues. VOIP can also be accessed while you are on the go through the internet. All you have to do is carry your IP phone or headset to communicate with clients and staffs at an extremely low cost.
Flexibility
You will be amazed to know that you can be eligible to use the conventional phone, a VoIP adaptor or telephone and a VoIP converter as well. A VoIP adapter resembles a USB memory stick which can be plugged into any computer. A VoIP converter is designed to sense signals that are originating from analog phones, and these are the signals that will be transposed to digital data which in turn can be routed over the internet. A computer must be switched on for the service to run. VoIP system also allows you obtain your VOIP number, and thus allows you to take calls from anywhere, even when you are traveling on that same number.
Multi-Functional
Besides making calls, your VOIP phone also allows you to host video conferencing calls. This feature doles out by the VOIP system enables you to be in touch with your clients and co-workers to discuss vital agendas, affairs, deals, files, meetings, documents etc. Even when you are out of the country for some other meeting, you would still have the scope to attend other vital meetings back at home office scan the worry to be present physically.
Turn to Switch 2 VOIP, for mind-boggling VOIP rates, and effective phone business phone calls. What keeps the success of business VOIP provider at a top-notch level is its business-friendly characteristics besides simplified billing and low calling rates. Switch 2 VOIP is also the most preferred Asterix VOIP SIP Trunking service providers, which flaunts of doling out premium Asterix VOIP services sans setup fees, monthly fees, call volume or monthly payments.

Publish Date: June 28, 2017 8:42 AM
---
Small or high-end, every company must be aided with a means of communication for their customers to be able to contact them, in times of need. In the case of Startup Company, you can afford to get away with local office line, but as you grow and expand in size, add in myriad departments, and grow your base of customers, the phone at the front desk might not be sufficient enough.
This is exactly the time when creating a toll-free number makes absolute sense. With a toll-free number, you can start receiving phone calls like the industry's big toys.
Here are some of the basic things that you must be known about before dialing a toll-free number:
What exactly is a toll-free number?
Toll-free numbers are basically professionalism's staple which enables the customers to make free phone calls. However, unlike the name, the phone calls are actually not free, as the business taking ownership of the number is liable to pay both for the outgoing and incoming calls.
How do the toll-free numbers work?
The basic principle behind the toll-free numbers of the virtual call center is that anyone who choose to call the business, has by all means, either spent the money with them or is looking out for some information to probably place a fresh order. Not adding cost to the phone is a lovely gesture of thanking for your business.
What are the differences between 800, 888, 877, 866 and 855? Is 877 at all a toll-free number?
Toll-free numbers come in five distinct formats-1-800,1-888, 1-877 and the new one is 1-855. These formats are not different from one another except of course the appearance, and neither of these cost more than the other to operate or acquire. One individual company makes a perfect comparison between website domain names and phone number formats:
…800 is primarily .com
…888 is .net and 866 and 877 are majorly like .info, .biz or country codes
Most successful and top-notch companies have crafted the entire brands revolving around an 800 contact number.
What is a Vanity Number?
Tailor-made phone numbers that possess the business name or eye-catching words to define the services you hold out are known as vanity numbers.
What is the difference between the stand-alone toll-free and regular toll-free?
Regular toll-free service usually comes aided with an outbound line. You must make sure to switch the outbound line when signing up for the service. However, you can actually sign up for the stand-alone toll-free number sans the need to alter the outbound telephone service provider.
Here are some of the facts and points that you must know before you pick the phone up to dial a toll-free number.
Publish Date: June 20, 2017 8:20 AM
---
Switching to VoIP from traditional calling networks can save your business a lot of money, especially if you need to make a lot of calls every day. VoIP offers several advantages like lower costs, increased flexibility, and tons of useful features. However, a business VoIP system is not entirely free from challenges. One of the biggest challenges that you would need to deal is the security of the system.
Security Concerns with Business VoIP
A VoIP is basically a computer network that is adapted to deal with voice calls. Therefore, like any other computer network, it can be hacked. There are a lot of factors that increase the vulnerability of the business VoIP system. One such factor is the connectivity of the VoIP system. Here, 'connectivity' refers to the way the network is connected. If the calls are routed to you via the public internet, then the risks are significantly higher. If the VoIP provider is offering you a directly managed IP line straight to your premises and all the calls are routed to you using that line, then the risks are much lower.
Get the Secure VoIP services from the Leaders
You must make it a point to get the services of the leaders as that would give you the assurance of higher security. One of the best service providers is Switch2VoIP. They offer a wide range of solutions for Asterisk VoIP, VICI Dial, Go Autodial and more. They have advanced security features in place. So, get the help of the leaders and get a secure VoIP network for your business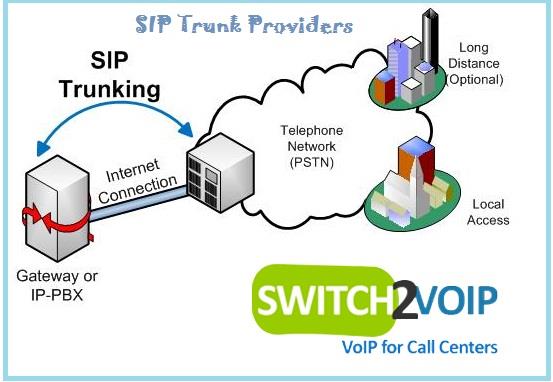 Publish Date: June 15, 2017 9:44 AM
---
Finding the right and proper VoIP provider may be tough because there are so many to choose from and you might be looking to get great benefits for the money you are investing. When compared to conventional telephone services, VoIP services helps to lower the telephone bill by around 40 to 80 percent. Most of the service providers offer some services that are similar to the regular features like caller id, call waiting, call blocking, call transferring etc.
Here are a few tips to keep in mind before choosing the right VoIP service provider
Cost effectiveness
A good VoIP service provider offers a plan that suits our needs. It is not a good idea to pay for extra features that you don't need. You should always look for a VoIP provider that saves you money and provide features that match your budget and need. Since each business is different according to company size, the cost effectiveness also depends on such aspects.
Value added and special features
More than saving business money for you, VoIP gives better features that you will never get with a traditional analog phone. Besides custom auto attendant and virtual fax, there are additional features like professional greetings, music on hold, call forwarding call recording, conferencing etc among other regular features for VoIP providers.
Click to know about virtual PBX.
Publish Date: June 6, 2017 5:41 AM
---
There are many features that you need if you are going to use VoIP for your small business and most of them can help you. You should make sure that you list the features that you need and those that you would like to have to ensure that you are getting what you require.
Switch2Voip provides business VoIP service to make calls all over the world at very low prices.
Email: vmatos@switch2voip.us
Contact Person Name: Victor Matos
Address: 101 Capitol Way N Olympia, WA 98501
Phone: 8472454578
Read more here: http://www.switch2voip.us/blog/21-voip-for-business-ippbx
Publish Date: February 16, 2017 10:18 AM
---
Switch2Voip provides VoIP for Business and Call Centers at very low rates. Our SIP Trunks with unlimited channels will allow you to use any Autodialer or PBX and make concurrent calls with no limit of channels, send hundreds of calls at the same time using your VoIP account.
All our VoIP Rates are under 1 cent per minute:
United States: 0.008 per minute
United Kingdom: 0.008 per minute
Canada: 0.005 per minute
France: 0.0078
Australia: 0.15
For more VoIP rates visit our website: http://www.switch2voip.us/voip-rates-for-call-center

Online Chat Support Available and Free Support for your Device.
Publish Date: February 4, 2017 5:30 AM
---
What you don't know about SIP trunking is that it combines data, video and voice networks into one line, including your broadband, long distance and local calling as well. This means that you can keep all of your real time traffic off of the PSTN and on the internet instead, which has plenty of advantages over the traditional telephones or even the older versions of VOIP. This is a great way to help your business save money and time since the provider takes care of the required technical support, which is another great way to get the best service without breaking the bank.
This means that the customers not only see a local number when they call, but it will give you a lower bill in terms of outgoing calls. The best part is that if you need to increase the number of lines that you have, it can be done easily with the provider, as well as removing any extra lines that aren't in use.
When you think about sip trunk providers Switch2Voip is one of the best options. They have plenty of services that you can enjoy in the UK, Canada and the US. This can make your business easier since the costs are extremely affordable, which means that you can put the extra money you would have spent towards other areas. You can also have an unlimited amount of trunks, which means that you don't have to limit your business, but you can let it grow and expand as much as you want.
Resource: http://www.switch2voip.us/voip-services/20-sip-trunk-provider
Publish Date: February 1, 2017 5:27 AM