Teck Heng Wang - ContactCenterWorld.com Blog
Page: 1 | 2
Its a basic question but its time as contact centre managers and directors, we need to ask ourselves this question.
Enough is again subjective. Enough from whose viewpoint? Agent? Organisation? Statistics?
So what happens to all that evaluations....Coaching most likely, are there sustainable improvements? Is it a mere tool to drive agent behaviour? Did we review our processes, products and procedures?
We need to understand that the cost of labour is high is many developed countries and evaluations are not the only way to improve your quality, it is possibly the most expensive way to do so.
So take some time and ask yourself, what do we really need?
Publish Date: September 12, 2013 3:57 AM
---
I saw some amazing presentations and practices at the recent Singapore Conference. Congrats to all the winners!
Publish Date: July 16, 2012 4:15 AM
---
I have personally select some of my better shots of the conference.
Enjoy!
Publish Date: November 13, 2010 7:43 AM
---
This is the first time I tried United Airlines for a long haul and I must say that there is definitely room for improvement. Compared to Singapore Airlines, many things are missing.
Here it goes:
1. Breakfast is served in a pack rather than a tray.
2. Drinks are served from hand to hand and when you take a window seat, someone needs to help you. In SIA, they use a tray. This reduces risk of spillage and increases presentation.
3. Inflight entertainment is limited to Movie Screening. SIA has Krisflyer, so you do get a choice.
4. Headphones and jacks are damaged.
5. No toothbrush provided for wash up.
6. No hot towel to freshen you up.
7. Toilets does not seemed to be clean up regularly.
8. Tonality of Service Personnel are lacking
9. Announcements are too soft.
10. Only one type of titbit and no ice cream.
11. Pillow and pillow case is a disposable type
12. The seat belt sign comes up to often, so I felt quarantined to my seat.
and the list can go on.
The one good thing I like is the starbucks coffee but I was drinking coke most of the time as the cranberry juice seemed to run out pretty fast...
Publish Date: November 10, 2010 4:00 AM
---
I have uploaded the photos of the gala dinner here.
Publish Date: November 9, 2010 3:11 PM
---
In a contact centre, as supervisors, we must be focused. There will be adherence issues, complaints from customers, datelines, reports and many things. Therefore, time mangement and delegation is important. Empower your team to do things on your behalf and get the right people to help you.
Publish Date: August 26, 2010 2:42 AM
---
Respect the customer as an individual and put yourself in his/her shoes. We do our best to be of service to them. When you realised that you cannot give your best frequently, take a break!
Publish Date: August 20, 2010 7:37 AM
---
When you handle an enquiry, it can simply be just an answer to a question. However if it is customer service that you are thinking of, you will show concern and hence move towards giving advice which helps your customer in a decision making process.
Publish Date: August 5, 2010 11:49 AM
---
Training provides the foundation for enquiry handling. Buddying gives peer support, but Nesting allows incremental development.
If you have a situation where seniors always ask what training is doing, tell them Training gets things started, but to get going, Practice makes Perfect! So go all out and support your Freshmen!
Publish Date: July 31, 2010 2:19 AM
---
I often get people asking me how many staff are allowed to go on leave when workforce planning is how many people you have at work. Puzzled?? It is really 2 different numbers but they are inter-related. You need the shrinkage (training, briefing, sick leave, off day) to complete the picture.
Publish Date: July 26, 2010 11:33 AM
---
I called a few banks to do a change of address and each had different procedures, some could not take the instruction over the phone, some could do it for credit card but not the bank account.
A simple transaction like this also gave me wonderful ideas about how we should approach such a transaction and how you can delight your customers with the correct softskill, this does however show up with a longer than expected waiting time for my call to be answered.
Publish Date: July 26, 2010 7:25 AM
---
Once, I had to order a cyclinder of Liquified Petroleum Gas. I made a call to the hotline, I was pretty surprised when they verified the address from which I called from, told me when my last order was and that I should get a bigger tank this time. Well you guess it right, its CRM and CTI, but little did I expect this piece of technology in a traditional business that is usually ran like unprofessionally. Well Done!
Publish Date: July 21, 2010 9:38 AM
---
Keeping the workforce happy is a constant challenge in Contact Centres. Managers struggle to strategize ways to make them happy when the easiest thing to do is to ask your people, and to ask them regularly. Just as we change our KPIs to align our operations to strategic goals, our team have different needs at different times. We can stretch them a little but not to much, be fair and communicate early "What is it in for me?", show them some benefits and you will get your returns. While it is true that we want to cultivate the correct mindset and not let our team be too calculative, we need to learn that we also need to show that we are fair in our dealings.
Publish Date: July 21, 2010 4:46 AM
---
WOW, 4 Awards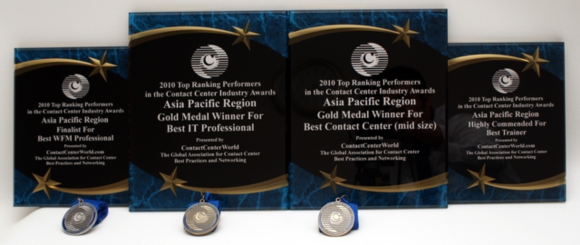 Publish Date: July 14, 2010 11:44 AM
---
NTUC Income is excited with our recent victory at the APAC conference.
Publish Date: July 14, 2009 5:11 AM
Page: 1 | 2