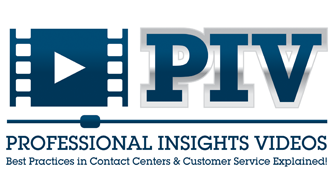 Professional Insights Videos
Professional Insights Videos
PIV or Professional Insights Video is a comprehensive series of video interviews for contact center and customer service professionals.

These short training bites will help you sharpen your skills and knowledge and to perform better.
Below is a sample list of the interviews we have in this ever expanding library.
Below is a partial list of items available to subscribers
Ayu Tresnalestari of Bank Negara Indonesia on the role of a Supervisor
Balamurugan Muniraju of Measat Malaysia on Leadership
Chantel Perkins of Accenture Canada on People Development
Claudia Hawkins of Whirlpool USA on Operational Leadership
Edna Pereira of Measat Malaysia on Employee Experience
Erin Clark of Whirlpool Corporation USA on HR
Fidel Calcagno of IGT on the role of an analyst
Gert Jacobs of Multichoice on Workforce Planning
Interview with Alex G Demczak on Outbound Dialers & Legislation
Interview with Angela Wilson - The Role of Analysts and Social Media
Interview with Mitch Roth on Industry Legislation
Interview with Vera Austin of Mass Mutual on running a contact center
Jasmin Aksan of Astro Malaysia on running a contact center
Jean Michel Cateaux of Aegis South Africa on Quality
Jovaney Toledo of Mass Mutual USA on his Customer Service role
Laura Thayer of Optum on Service Operations
Mariana Arnault of NOS Portugal on Change Management
Marielle Lavapie from Ibex Global Phillipines on Team Management
Michael Mckinlay from Sytel on Outbound and Dialers
Mithum Singh of Merchants South Africa on Workforce Management
Mthokozisi Nsango Of Multichoice on Workforce Analysis
Ozge Tekalp TEB Turkey on Leadership
Philip Joseph of Ooredoo Myanmar on Customer Experience
Rahmat of BNI Indonesia on IT, Training & Recruitment
Renee Thomas Aegis South Africa on Operational Management
Sagain Roongruangrong of Siam Commercial Bank Thailand on Running A Center
Stephen Abbruzzese of Concentrix New Zealand on Outsourcing Relationships
Utku Toprak of Teleperformance Turkey on Operational Management
Preview of the series
Ayu Tresnalestari of Bank Negara Indonesia on the role of a Supervisor
Laura Thayer of Optum on Service Operations
Marielle Lavapie from Ibex Global Phillipines on Team Management
BUY ACCESS TO ALL THE SERIES - $49.95