Last Call for Digital Transformation - [24]7.ai - ContactCenterWorld.com Blog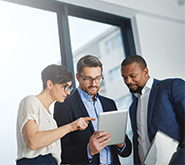 Don't put off until tomorrow what you can do today.
The old adage might strike fear into the hearts of procrastinators everywhere, but it has stood the test of time for a reason. There are a number of scenarios where procrastination will cost you – filing your taxes, buying an anniversary gift, and of course, undergoing a digital transformation.
Digital transformation is an essential process for companies who want to continue meeting changing consumer demands and remain competitive in the modern marketplace, yet, a recent study by Forrester found that over 60% of executives believe they are lagging behind.
This happens for a number of reasons. Undergoing a digital transformation can feel like an overwhelming process requiring a significant investment, both financial and operational, and many organizations are often unsure where or how to get started. It can also be difficult to get buy-in and support from the board and hard to convince employees and leadership to embrace the necessary culture shift.
But, as customers become more and more demanding – the same Forrester study found that consumers now have zero tolerance for poor customer experiences – digital transformation is no longer an option. If you received a past-due notice from the bank or were told you needed surgery, you wouldn't put it off – the same sense of urgency should be applied to digital transformations to avoid putting your organization at risk.
To meet the demands of modern-day consumers, companies must ensure they're providing consistent experiences across all channels in addition to automating digital interactions and allowing customers to self-serve whenever possible. Get started by analyzing your customer journeys to determine which ones you should automate first – pinpoint where customers are becoming frustrated and abandoning their journey and determine what's needed to improve their experience.
Don't wait – get started today.
The Final Countdown
2018 is expected to be the year when the impact of a lagging digital transformation becomes painfully clear. Forrester predicts 30% of companies who were slow to act will see further declines in CX performance, which will likely translate into substantial profit losses, in addition to a loss of confidence, loss of key team players, and the potential for the organization to perish completely.
Don't put your organization at risk by allowing the experiences you offer to drift further from modern-day customer expectations. Register for our webinar on Jan 23 featuring guest speaker and Forrester Principal Analyst Brendan Witcher, where you'll get practical advice on how to drive organizational change and use technology to improve customer experiences.
Topics: Customer Acquisition, Customer Engagement, Digital Transformation
Publish Date: January 9, 2018 5:00 AM
---
PREMIUM

CTI Software
(VIEW OUR PAGE)

CTI Software is the creator of custom application called Davos, which complements the telephone client solutions with intelligent features such as automated call attendant, call recording and archivin...

(view more)

PREMIUM

ConceptCall
(VIEW OUR PAGE)

Аутсорсинговый контакт-центр ConceptCall| КонцептКолл специализируется на исходящем и входящем телемаркетинге: мы предоставляем услуги по осуществлению холодных звонков и продажи по телефону, проводим...

(view more)

PREMIUM

Future Gen International Pte Ltd
(VIEW OUR PAGE)

Outsourcing provider of English Call Centre services, Audio Transcriptions, Big Data ETL (Extract, Transform, Load) , Big Data Visualization, Big Data Predictive Model Generation
---

View more from
[24]7.ai
Recent Blog Posts:
| | |
| --- | --- |
| [24]7 AIVA - the Only Virtual Agent with Combined Conversational and Informational Capabilities | February 20, 2018 5:00 AM |
| Goodbye AHT – Hello Time to Intent | January 31, 2018 5:00 AM |
| Why Natural Language Technology Will Let You Down | January 30, 2018 5:00 AM |
| How Does [24]7.ai Compare to the Competition? | January 23, 2018 5:00 AM |
| Last Call for Digital Transformation | January 9, 2018 5:00 AM |
| Case Study: How [24]7 Active Share Transforms the Voice Experience | December 14, 2017 5:00 AM |
| Fall 2017 Release Features Intelligent Messaging, Support for Apple Business Chat and Vivid Speech Functionality | November 15, 2017 5:00 AM |
| [24]7 AIVA Powers both Speech and Digital Channels | August 16, 2017 5:00 AM |
| Chatbots for Travel: A Customer Engagement Balancing Act | January 5, 2017 5:00 AM |
| There's No Better Gift Than Optimizing Your Customer Experience Strategy | November 15, 2016 5:00 AM |