3CLogic - ContactCenterWorld.com Blog
With Voice activated personal assistants becoming the new user interface of choice in our homes and cars, it's only natural for enterprises to focus on voice interface technology as a customer engagement channel.
Analytics Today
Innovative solutions that deeply integrate voice (AKA contact center telephony) into service management platforms, like 3CLogic and ServiceNow's combined offering, allow enterprises to gain unparalleled visibility into customer-agent (or virtual agent) engagements, extracting valuable data and putting it to work.
Valuable data is mined and presented in 3CLogic's consolidated reports and dashboards seamlessly integrated within the ServiceNow platform. Thanks to a flexible, configurable framework, Contact Center Supervisors and Managers can easily customize, filter, and drill-down into communication data points with an easy-to-use, drag and drop interface and view them alongside ServiceNow reports. Performance of individual agents as well as the contact center itself can be measured using metrics that include:
Number of inbound/outbound contacts attempted
Connection rates and average talk time
Quantity abandoned and transferred calls
Agent status/availability (available, busy, away)
Wrap up-time, handle time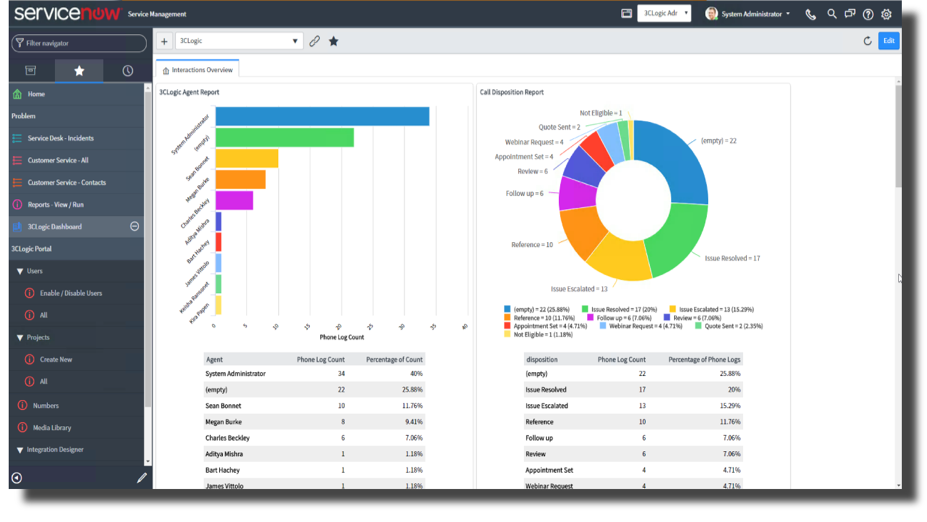 Where It's Headed (and will arrive soon!)
3CLogic is taking customer engagement visibility with ServiceNow to the next level with enhanced real-time supervisor dashboards and wallboards providing access to more KPIs for a complete view of activity, including:
RONA (Rang at least one agent and were not answered) or missed calls
Current queue wait time
Wait time between calls
External Transfer
Call backs
Handled Count
Total Talk Time
Total Wrap Time
DNC
And more
In addition to real-time data enhancements, 3CLogic is digging deeper into voice to offer new sentiment analysis, bringing the Knowledge18 Hackathon win to life!
In the past, visibility into voice conversations between customers and customer service agents had been limited to the notes that the agents enter, or do not enter, after a call ends and data is logged into ServiceNow.
The soon-to-be revealed sentiment analysis capabilities will provide unprecedented visibility into a conversation as close to real-time as possible, assign sentiment such as positive, negative and neutral ratings and drive automated tasks based on the analysis.
Unlocking these valuable insights and acting upon them leads to improved customer experience, increased customer loyalty and contributes to real business transformation. Organizations are increasingly taking these necessary steps to become truly customer centric – and you should too.
Where Can I See It Live?
3CLogic will unveil its newest inbound/outbound activity dashboards, wallboards and sentiment analysis capabilities within ServiceNow at upcoming NowForum and NowSummit events.
Click here to see the dates and locations most convenient for you – we hope to see you soon!
Source: https://blog.3clogic.com/contactcentervoiceanalytics
Publish Date: October 9, 2018 5:00 AM
---
Tune into an under-the-hood demonstration of how to build a native call center in ServiceNow in this on-demand webcast. Understand the top issues enterprises seek to resolve using this 3CLogic-ServiceNow combined offering as we explore the key building blocks that construct this powerful solution, including:
Openframe and

CTI

Interactive Voice Response (

IVR

)
Integration Designer

Reporting

& Analytics
Abid Hoque is a Senior Project Manager and Implementation Specialist at 3CLogic, innovator of the leading cloud communication platform and Now certified, natively integrated application available in the ServiceNow store. He's implemented 3CLogic's cloud contact center solution for enterprise clients for the past 5 years and is a leading technical expert on the integration for ServiceNow.
Watch the recording now.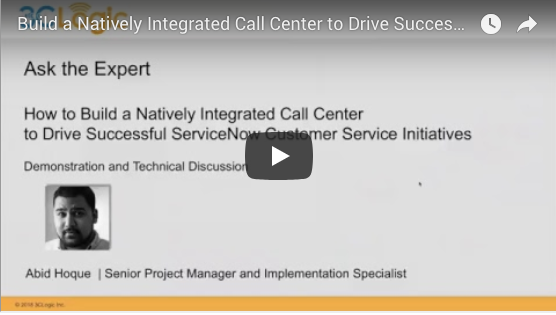 More About 3CLogic's Native Integration for ServiceNow
3CLogic has the only native ServiceNow certified platform CTI application developed 100% within ServiceNow. No additional resources, platforms or services are required.
Enterprise organizations can operate their call centers from a single, consolidated platform leveraging a unified agent and administrator experience to simplify the delivery of high quality customer engagement and support. Read the press release for full details.
Interested in scheduling a demo for you and the members of your team? Send us an email or fill out this quick online form.
Source: https://blog.3clogic.com/how-to-build-a-native-call-center
Publish Date: June 14, 2018 5:00 AM
---
A record 20,000 attendees consisting of a vast array of enterprise IT professionals and leaders gathered at the Sands Expo Hall in Las Vegas last week to experience the future of work according to ServiceNow – and the company did not disappoint!
The massive 3-day event was packed with keynotes, analyst presentations, classroom sessions, developer labs and exhibits with over 100 ServiceNow partners, showcasing the latest technologies, trends and topics related to the future of ServiceNow, the ecosystem and how the company is empowering digital transformations and delivering great customer and employee experiences.
Read on to explore the top highlights from the show:
ServiceNow's New Look
Definitely a big part of the buzz was the unveiling of ServiceNow's new logo and branding. No doubt emphasizing a desire to excite buyers and users beyond the IT department, the new logo replaces the on/off button that once served as the "o" in "Now" with a human-style form to suggest people, rather than technology, are at the center of the brand.
Technology Focus
A large dose of the buzz was also around the five ServiceNow suites: Customer Service Management (CSM), IT (including ITOM, ITBM, and ITSM), Security Operations, HR Service Delivery and Custom Apps. It is clear that the ServiceNow platform is expanding at an extraordinary rate, with the core suites increasing in depth, especially CSM. We also learned more about the new technology in upcoming releases, i.e. London in Q3 of this year, that ServiceNow has dropped all across Knowledge18 sessions. We also got a good lesson from keynotes on emerging technologies like AI, automation and machine learning.
3CLogic Hackathon Win


On the topic of machine learning and AI, 3CLogic was named the overall winner of the CreatorCon Hackathon. "Team Vocalize", consisting of developers Rahul Malhotra, Swati Malhotra, and Amar Singh, with executive sponsor Guillaume Seynhaeve, 3CLogic vice president of Business Development & Sales, beat out 28 other teams with its application that showcased the power of speech transcription with artificial intelligence and machine learning to translate the voice of the customer into actionable ServiceNow tasks.

The application solves a number of crucial challenges in today's contact center landscape, including the ability to:

Capture customer engagements for analysis to drive key insights into the quality of the interaction
Improve responsiveness to exceed customer expectations, while giving supervisors an unbiased and real-time view of the emotion of clients being served.
Leverage a coaching platform for agent training and improvement.

The team created the app using commercial off-the-shelf technology, including Amazon Web Services Transcribe, Lamda and Comprehend, together with the 3CLogic cloud-based IVR solution and the ServiceNow platform. Read more in our press release.

3CLogic New Native Integration with ServiceNow
3CLogic unveiled its new solution at Knowledge18 that features a fully-native integration within the ServiceNow® platform. Enterprises can now operate their call centers from a single, consolidated platform leveraging a unified agent and administrator experience to simplify the delivery of high quality customer engagement and support. Traffic at the booth was constant to see first-hand how agents and administrators can now work more effectively and efficiently with all customer data, workflow and enterprise resources in one place, without having to leave ServiceNow.
If you missed us at the show, view our new ServiceNow integration video here.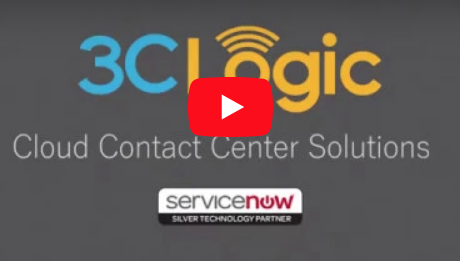 3CLogic is proud to be the only ISV Silver Technology Partner with a fully native telephony solution with ServiceNow. And like ServiceNow, 3CLogic's platform will continue to evolve and address the emerging needs and requirements in today's customer-centric organizations.
Interested in scheduling a demo to see this new integration in action? Send us an email or give us a call at (800) 350-8656 and hit option #2 for Sales.
Source: https://blog.3clogic.com/knowledge18recap
Publish Date: May 19, 2018 5:00 AM
---
According to Dimension Data's recent Contact Center benchmarking report, digital channels (email, web chat, social media, SMS text, video chat), which currently account for roughly 35% of contact centers' total interactions, are expected to overtake voice within the next two years. The catalyst?—the widespread adoption of Internet-connected mobile devices. Consider the following: by 2018, Cisco predicts that the number of mobile devices used by consumers will grow close to 8 billion.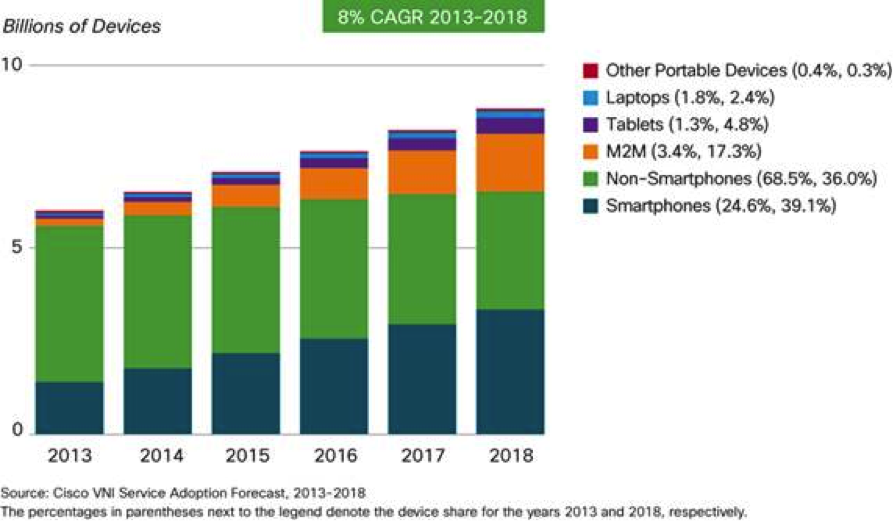 And as the usage and adoption of laptops, tablets, smartphones, and other Internet-connected devices continues to grow, so will customer expectations. But despite the fact that mobile customer service strategies are a relatively new concept to many organizations, customers expect the same, if not enhanced levels of service across all channels, whether they're using voice, chat, or video. Earlier this year, Gartner released some key findings from its research on mobile customer service, which can be summarized in the following three points.
1) By 2017, one third of all customer service interactions will still require the support of a human intermediary.
The widespread adoption of mobile devices has facilitated customers' ability to service their own needs online via self-service channels, or through other lower cost means. And as a result of this, some fear that customer service representatives will eventually be displaced—but this is simply not the case. Gartner predicts that by 2017, approximately one third of all customer service interactions will still require the support of a human intermediary. And despite the fact that many interactions initially begin through a digital or self-service channel, they are often escalated to voice once the issue becomes more complex. There is and will always exist a need for live assistance—and we do not expect that to change. Businesses should continue to invest in their human capital just as much as digital and self-service channels.
2) By 2018, five percent of customer service cases will be initiated on Internet-connected devices, up from 0.02 percent in 2014.
Within a four-year time span, the number of customer service cases initiated on Internet-connected devices is expected to grow significantly, largely due to the fact that the adoption of these devices is quickly expanding. And as this occurs, businesses need to ensure not only that they have the infrastructure in place to handle omni-channel customer journeys, but also that they have the right strategies and business processes in place to deliver on customer expectations. All digital channels should be integrated with each other as well as with any database management system, allowing for seamless transitions from one channel to another. Agents should also be properly trained on how to use every channel, as well as when to escalate an issue from one channel to another.
3) More than 100 of the 500 largest global businesses will introduce video-based chat by 2018 for customer-facing interactions.
Fueled in part by the growing adoption of mobile devices and increasing demand for fast customer support, the introduction of video as a customer service channel is on the rise, expecting to double between now and 2018. But as many businesses attempt to first tackle the task of improving service within their existing channels, many have not yet given video-based service much thought—but they should, as it has shown to drive sales, conversions, and customer satisfaction. A relatively new technology that supports browser-to-browser applications for voice calling, video chat, and file sharing without the need for internal or external plugins, WebRTC is revolutionizing the communications space, allowing consumers to bypass the costs associated with traditional telephony carriers. With more than 6 Billion WebRTC supporting devices expected to exist by 2019, this is something every business should consider adopting in the near future.
Source: https://blog.3clogic.com/mobile-trends-shaping-the-future-of-customer-service
Publish Date: December 27, 2016 5:00 AM
---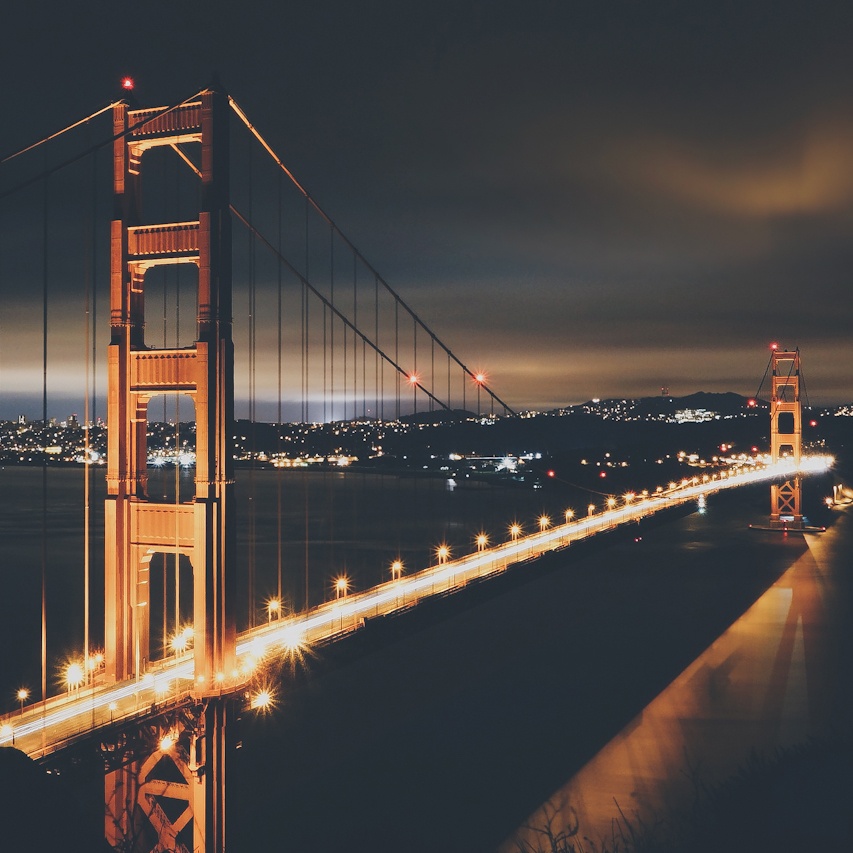 SugarCon, SugarCRM's annual San Francisco-based CRM conference, is this year's can't miss event for Sugar customers, partners, prospects, developers, and technology experts. Offering attendees valuable CRM insights and trends from industry leaders, information on Sugar's product roadmap, networking opportunities, and more, the show is designed to help companies master digital and mobile technologies to deliver greater value to their customers. If it's your first time attending the show, or you would simply like a quick refresh, check-out the following events we recommend that you attend at this year's conference. You won't be disappointed!
1) Welcome Reception at the Hilton: To kick off SugarCon 2016, Sugar will be hosting a welcome reception on Monday, June 13th at the Hilton San Francisco Union Square for all attendees and sponsors. Complete with food, drinks, and fellow CRM users and influencers, the reception is a great way to network before the show is in full swing.
2) Opening Keynote with Larry Augustin and Clint Oram: At the beginning of the conference, Larry Augustin, Sugar's CEO, will be presenting a powerful keynote on how to transform customer relationships by aligning strategy, people, processes, and systems, followed by Clint Oram, Sugar's CTO, who will share key features and benefits of Sugar 7. Come check out what Sugar has in store in the coming months!
3) Sponsor Pavilion with Sugar Partners: SugarCRM has hundreds of technology partners and integrators that help extend its functionality, a few of which are sponsors of this year's event—and we're one of them! Come meet the 3CLogic team, in addition other key sponsors, including Act-On, Wipro, Faye Businesses Systems, Levementum, W Systems, and dozens more in the sponsor pavilion at the Hilton!
4) SugarCon Party: One of the highlights of the conference every year is the SugarCon party, held on Tuesday evening. A great opportunity to reconnect and network with like-minded attendees, grab some tasty food and beverages, and let loose before the show concludes, the party is an absolute must-attend event at the conference.
5) Session on Embedding Communications within Sugar: There are a number of insightful sessions scheduled for this year's conference, one of which 3CLogic will be presenting, titled "How to Extend SugarCRM with Embedded Communications". Addressing the range of benefits businesses can obtain with an integrated CTI platform, the session will be held Wednesday at 1:55pm. Click here for more details.
Like what you've read? Check-out our recent webinar with SugarCRM partner and integrator, Epicom, below! And for more information about 3CLogic's advanced CTI for SugarCRM, click here.
Source: http://blog.3clogic.com/5-things-you-cant-miss-at-sugarcon-2016
Publish Date: June 9, 2016 5:00 AM
---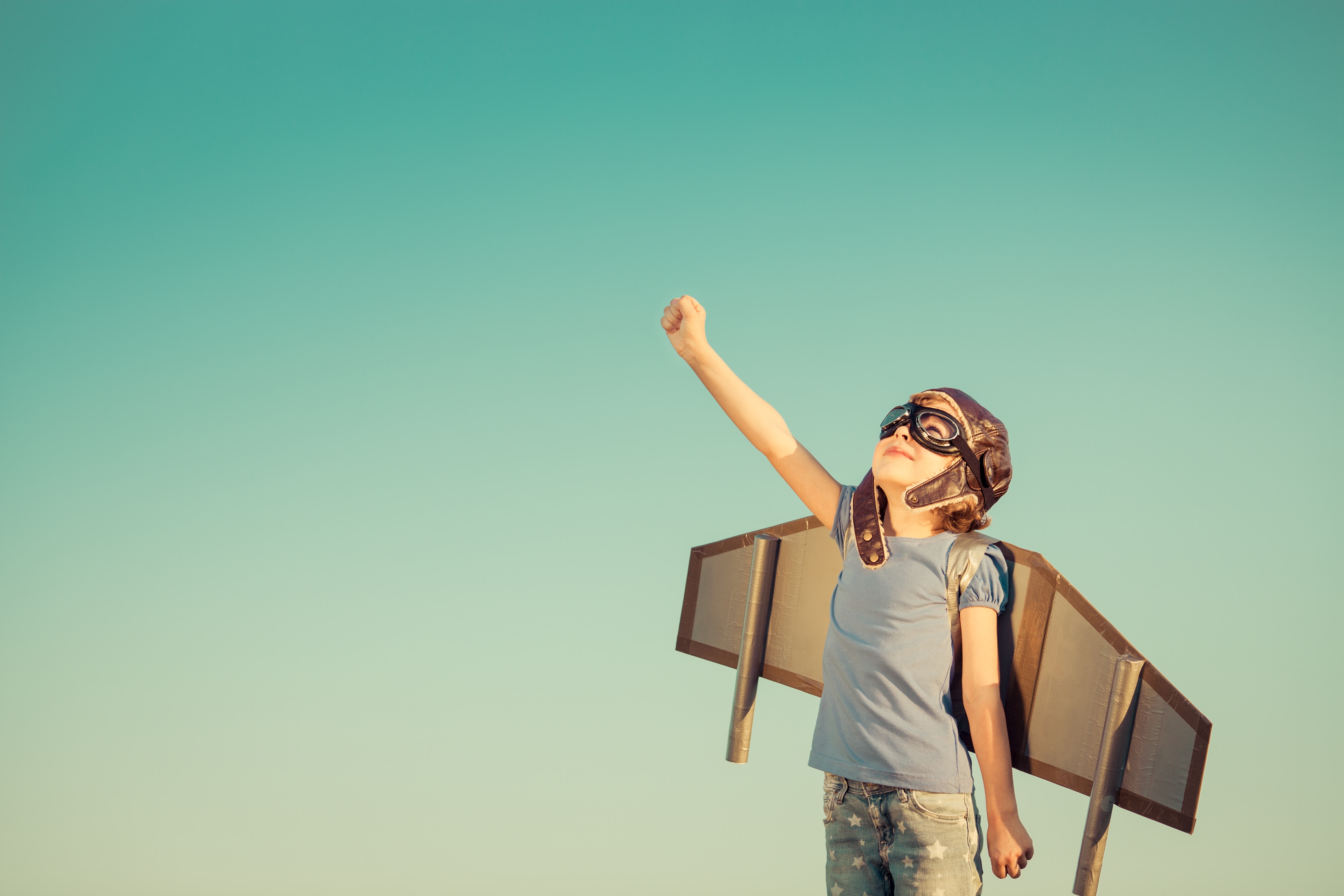 Customer Relationship Management (CRM) platforms exist to help businesses manage the vast amount of information their customers provide, and use it to more effectively build lasting relationships—right? But the missing piece of the puzzle, and one many take for granted, is the communications component (telephony)–the true vessel that is facilitating these strong and lasting customer relationships.
In fact, see what Larry Augustin, CEO of SugarCRM has to say about it:
"The key to customer satisfaction in the future is retaining the human interaction, combining that with digital interaction and delivering a personalized experience to each individual. Personalization combined is what each customer needs in order to truly feel valued and demonstrates that we truly understand how to meet their needs."–Larry Augustin, CEO of SugarCRM
Aren't we already doing that?
So you may be thinking—"We already communicate with our customers via the telephone, along with email, chat, and social media." But are these channels seamlessly integrated with your CRM, enabling you to automatically record and document all customer interactions within Sugar, intelligently route customer inquiries, automate lead nurturing and follow-up, and much, much more? Probably not, especially when considering that less than 10% of interactions are entered into the typical CRM.
Introducing 3CLogic—the only seamlessly integrated CTI (Computer Telephony Integration) for Sugar.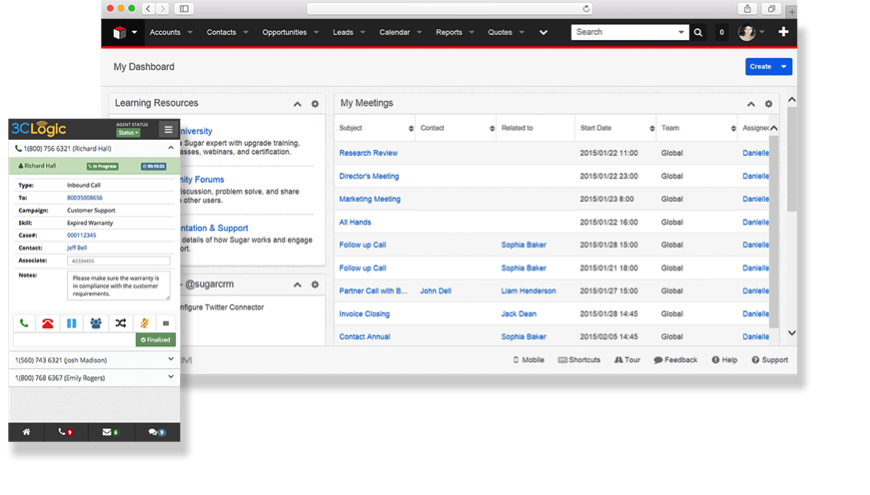 What can 3CLogic's seamless SugarCRM integration do for your team?
Enhance Lead-to-Call: No matter where your leads are coming from, whether it be through a landing page, online chat, or email, following-up in a timely manner is always imperative. In fact for web generated leads, following up within 5 minutes increases the likelihood that they will convert by 9 times. With 3Clogic's CTI for Sugar, seamlessly route leads from any source to the agent best suited to meet their needs within seconds, enhancing the likelihood of a successful close.
Increase Contact Rates: It's no secret—consumers are hesitant to answer calls from unknown or toll-free numbers, or even those that are out of state. But with 3CLogic's local dialing presence capabilities for Sugar, reps can automatically reach out to leads from their own local area code, a practice that has shown to increase answer rates by more than 400%.
Contact More Leads, Faster: It takes the typical sales rep eight dials to get in front of a single But what if it didn't take any? Using 3CLogic's auto dialing capabilities, prospects will automatically be dialed while reps are finishing up a call, minimizing time wasted in between interactions and accelerating sales. Agents will also have access to click-to-call buttons directly from Sugar, eliminating manual dialing while enhancing the speed with which clients are contacted.
Enhance the Quality of Interactions: More than half of customers believe sales reps are poorly prepared or not prepared at all for their initial interactions. And this is, more often than not, due to their lack of timely and relevant information. But with 3CLogic's seamless SugarCRM integration, reps' screens will automatically populate all client information, records, and account information, along with prompts to follow if necessary, enhancing the likelihood of a successful interaction.
Sync Call Information: As stated previously, less than ten percent of interactions are ever entered into the CRM, eliminating valuable data reps could be leveraging about their clients. But with 3CLogic's CTI for Sugar, all call details (agent on call, time and date, result, etc.), notes, transcripts, and recordings are automatically synced to the client's CRM record, ensuring reps are informed and ahead of the next initiative.
Automate Nurturing and Follow-Up: Eighty percent of sales require at least five follow-ups before a successful close—yet almost half of sales reps give up after one. But using 3CLogic's CTI for SugarCRM, users can help automate lead nurturing, triggering actions in workflows and scheduling follow-up calls on agent calendars. A simple way to help keep them on track.
Source: http://blog.3clogic.com/6-ways-to-boost-sales-in-sugarcrm
Publish Date: June 3, 2016 5:00 AM
---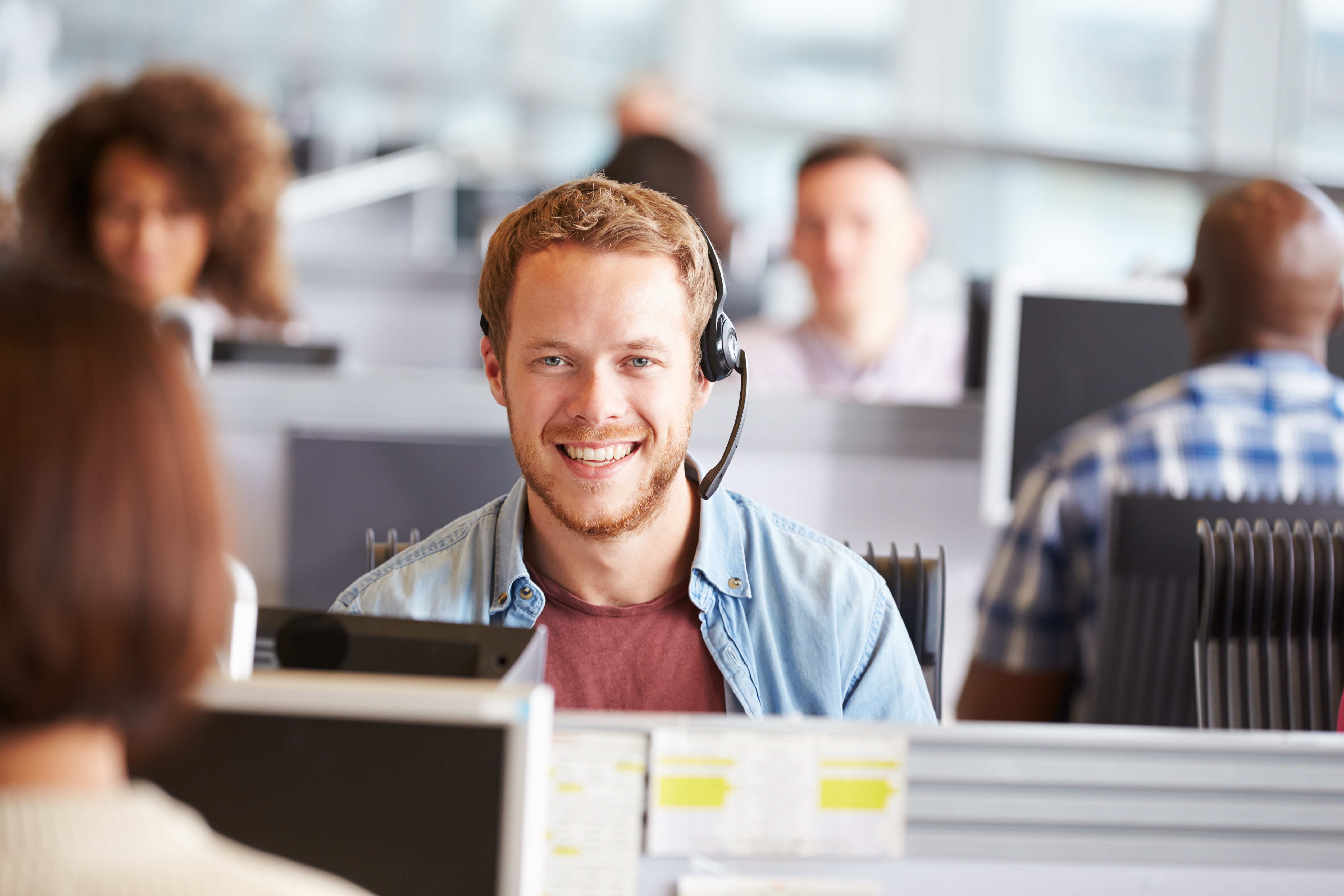 While the merits of cloud solutions are widely understood, many of today's enterprise businesses continue to power client communications with old tried-and-true legacy systems, such as Cisco or Avaya, which have proven to deliver exceptional security and service quality, while facilitating compliance with the latest regulatory standards. But as consumers continue to demand fast and effortless service, many businesses are recognizing the need to adopt a more flexible solution capable of integrating various systems (CRM, Service Management, Call Center Software) and communication channels (voice, email, chat), breaking down departmental siloes, and scaling as quickly as client needs dictate—capabilities only the cloud can truly deliver. And this has left many wondering—must businesses give up the security benefits of the "old" to gain the flexibility benefits of the "new"?
Not so fast
As simple and appealing as replacing old legacy communications platforms with cloud solutions may seem, full-fledged migrations are rarely practical or cost-effective. And while new investments often default to cloud solutions, many businesses still recognize the benefits on-premise platforms provide as it relates to security, quality of service, compliance, and reliability. Simply put—legacy systems aren't going anywhere, anytime soon. But how can those organizations that wish to continue utilizing premise-based solutions more effectively adapt to the changing customer service landscape?
Merging the tried-and-true with the sleek-and-flexible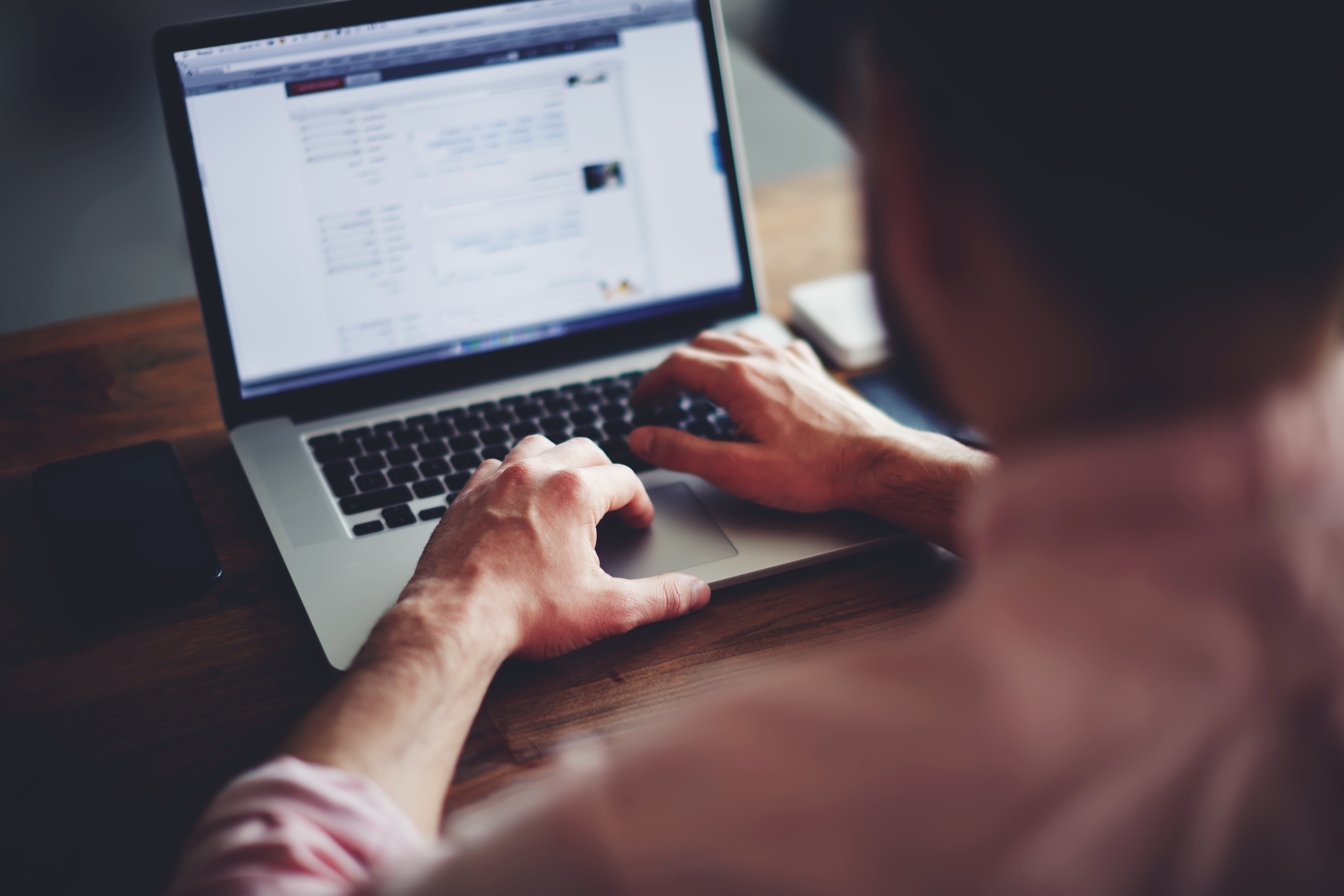 The solution?—converging an enterprise's existing on-premise systems and infrastructure with a cloud-based communications platform, such as 3CLogic's, to create a "hybrid" solution, a more versatile and practical answer for today's enterprise businesses. So what are the benefits of merging the two? First and foremost, businesses no longer will be forced to increase investments in their legacy systems (Cisco, Avaya, etc.) to add agents into their contact center, and will instead enjoy the benefits of a pay-per-use business model with enhanced scalability delivered through cloud. Users can also unify all solutions and communication channels under a single roof, breaking down departmental siloes while enhancing agents' ability to deliver quality service. And with the ability to maintain control over the underlying network, voice quality, and connectivity, and keep existing security protocols intact, businesses no longer have to give up the reliability of their on-premise systems for cloud's flexibility—they can have the best of both worlds.
Source: http://blog.3clogic.com/customer-service-management-for-todays-enterprise-business-merging-old-with-new
Publish Date: May 6, 2016 5:00 AM
---
Technology has become the framework upon which exceptional customer experiences are built. And as customer service continues to become a critical aspect of a business' success, organizations are increasingly seeking new and innovative solutions to power their contact centers. Check-out the following key insights from CCIQ's Executive Report on Contact Center Technology in 2016 to discover the top priorities and trends impacting call centers in the coming months.
1) Businesses are increasingly allowing agents to "work from home"
Enabled by modern technology, a growing number of today's contact center agents are permitted to "work from home", a practice that has allowed businesses to take advantage of talent outside of their geographic region, while reducing overall costs. In fact within twelve months, more than a quarter of businesses will be employing a substantial number of at-home agents. And this shift will continue to drive demand for technological architecture that is able to accommodate multi-site, virtual contact centers without impacting quality—something only cloud platforms have been able to successfully provide.

2) Today's organizations are rapidly moving to the cloud
Twelve months ago, 80% of businesses primarily housed their contact center technology on premise, while the remaining 20% chose to house their contact center technology in the cloud or a combination of cloud and on premise (hybrid). Today, that number has decreased to 58%, and is expected to fall to just 44% within the next year, indicating that cloud infrastructure is quickly becoming a crucial part of the contact center mix. Businesses will likely continue migrating their contact center infrastructure at least partially to the cloud to take advantage of the superior flexibility, reliability, and cost saving benefits it has to offer.

3) When buying technology, uptime/reliability, value for the end-user customer, and data security represent the greatest priorities
No matter what role the contact center is playing within an organization, its success ultimately boils down to the reliability and security of its communications solution. So when asked which factors played the largest role in evaluating and purchasing contact center technology, uptime and reliability not surprisingly came in first, followed closely by security and value to the end-user customer. Cloud solutions have successfully provided organizations with greater uptime and reliability, while unifying communications and enhancing usability for end-users. And while some organizations have expressed hesitation in moving all data and operations to the cloud for security reasons, hybrid models have been able to alleviate some of these concerns.
4) When assessing the performance of technology, improvements in operational efficiency, improvements in customer-oriented metrics (CSAT, NPS) and improvements in agent performance represent the greatest focuses.
As customer service continues to be the primary driver of consumer purchasing patterns, businesses of all sizes and industries have begun placing a greater focus on customer-oriented metrics such as CSAT and NPS when assessing the performance of technology. Not surprisingly, decisions makers also want to make sure the technology is capable of improving operational efficiencies and agent performance, two metrics that can also greatly impact customer satisfaction, as well as revenue. But to properly measure this, businesses must ensure they have the technology in place to properly track and monitor agent performance and customer satisfaction.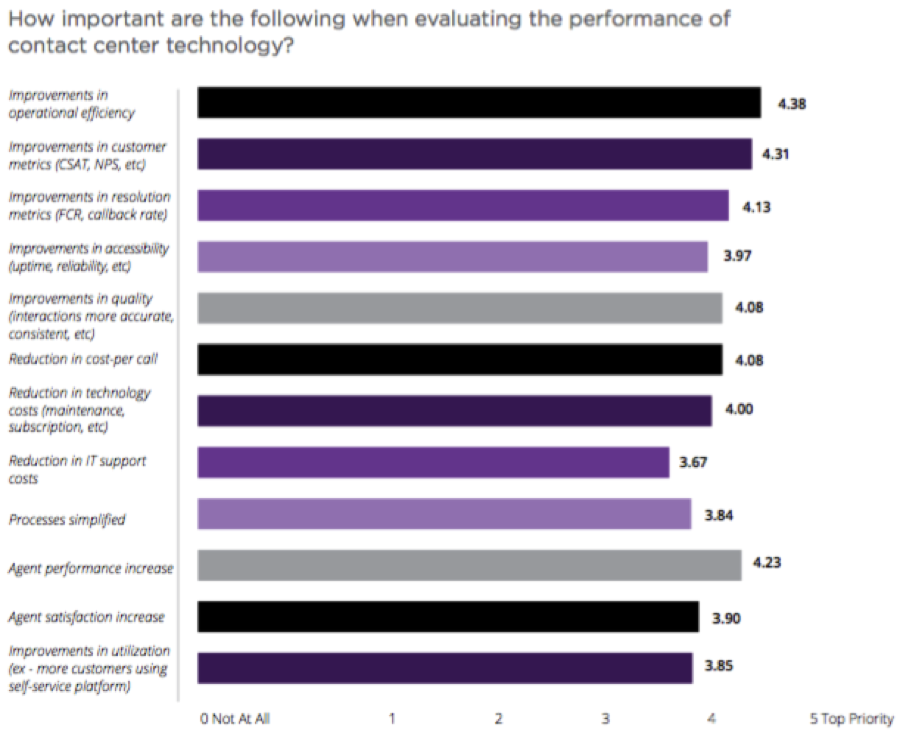 5) Virtual agents, live chat, and self-service will take center stage in 12-24 months
As adoption of Internet-connected devices continues to rapidly expand, digital forms of communication are quickly increasing in popularity, expected to surpass voice within the next two years. Not surprisingly, when asked what their contact center's top priorities were for next year, 18% of businesses stated virtual agents, 17% live chat, 17% self-service, 16% mobile solutions, and 16% multichannel integration. Within the next 1-2 years, businesses will likely place a greater focus on enhancing and expanding their digital offerings, while ensuring all channels are integrated and supported by their contact center.
Source: http://blog.3clogic.com/top-5-key-findings-from-cciqs-contact-center-technology-report
Publish Date: April 29, 2016 5:00 AM
---
Gartner's leading software marketplace, GetApp, recently released its quarterly "Top 25 Call Center Apps Based in the Cloud", and 3CLogic scored high marks for the sixth consecutive quarter. Scoring vendors based on five key criteria—integration capabilities, security, reviews, media presence, and mobility—3CLogic is ranked among the top five call center applications.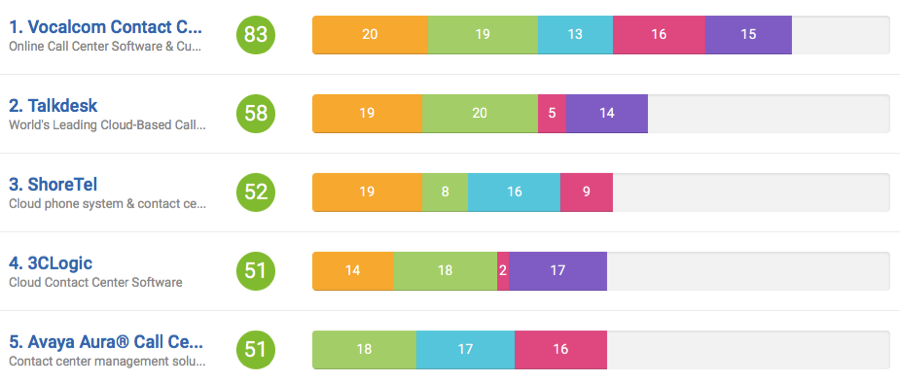 Among the report's highlighted categories, 3CLogic led in system security, due in part to its unique Virtual Telephony Application Grid (VTAG) architecture hosted on Amazon Web Services, the worldwide leader for cloud infrastructure. 3CLogic also scored high marks in system integration, resulting from the extensive variety of third-party solutions its system can seamlessly integrate with, including CRM, Customer Service Management, Workforce Management, Workforce Optimization, PBX, and Social Media Management. Learn more about the rankings here.
Source: http://blog.3clogic.com/3clogic-scores-high-marks-on-getapps-call-center-rankings-for-sixth-consecutive-quarter
Publish Date: April 22, 2016 5:00 AM
---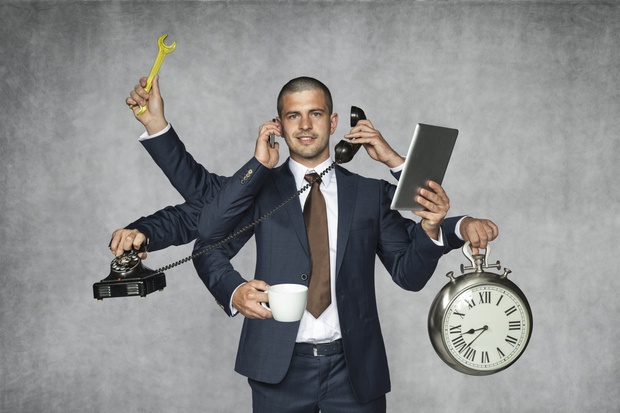 If you're a company performing outbound sales campaigns, there is a high likelihood you have a portion of your employees regularly making phone calls. But as consumers become increasingly mobile and caller-ID gains widespread adoption, sales reps are finding it increasingly difficult to get in touch with their prospects. In fact, it takes the average sales rep eight calls to get in touch with a single prospect, of which only 2% result in an appointment. Factor in the added complexity of maintaining compliance with the latest industry regulations, and keeping up with it all can feel like a juggling act. As a result, many businesses have turned to contact center solutions to assist not only in increasing contact rates, but also enhancing the quality of interactions. Is it time to adopt a contact center solution for your organization? If you answer yes to one or more of the following statements, it may be something to consider.
Prospects aren't answering your calls: Today, it is twice as difficult for reps to get in touch with prospects as it was seven years ago, which should come as no surprise when considering that eight out of ten consumers are extremely unlikely to answer a call from a toll free or unknown number. But with a contact center solution, sales reps can automatically reach out to prospects from their own local area code, which has shown to increase contact rates by 400%. If you're having trouble getting prospects to even answer the phone, this may be a viable option.

Your sales reps spend most of their time attempting to reach people: Are your reps spending a significant amount of their time attempting to get in touch with prospects, with little to no success? The average sales rep spends an astounding 80% of their time on outreach, and only 20% actually speaking to potential customers. But with the help of ATDS devices (auto-dialers), reps can automatically initiate contact with leads as they are wrapping up a call while filtering out answering machines, faxes, invalid numbers, and leads on DNC lists, minimizing the time spent between interactions and significantly improving contact rates.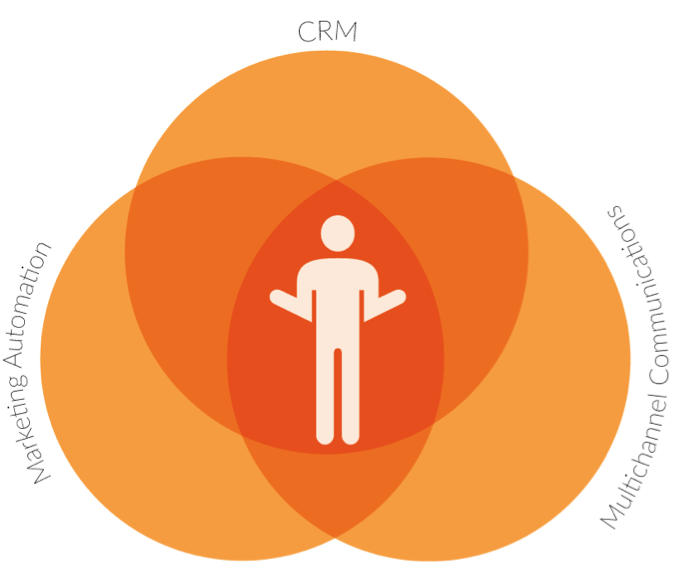 Your phone, CRM, and marketing automation don't communicate: As an organization performing outbound sales, you likely have a solution(s) to assist in attracting leads, managing their information, and communicating with them—but are all of these solutions sharing their valuable information with each other? By integrating your marketing automation and CRM with a contact center solution, web generated leads can automatically be sent into the dialer and called on by a sales rep within minutes, which has shown to increase conversion rates by 9 times. Lead lists, as generated from services such as Pipl, can also be uploaded to the dialer and called by reps, syncing only those interesting prospects with the CRM for follow-up.
Your technology doesn't facilitate TCPA-compliance: As technology evolves and regulations continue to change at a moment's notice, many businesses are finding it increasingly difficult to keep up with and understand the latest legal boundaries (TCPA, PCI-DSS, HIPAA,) impacting their businesses. And if your organization has not legally obtained consent to call prospects, you could find yourself facing TCPA noncompliance. Are you contacting leads from a smart phone? Are you scrubbing leads against the national DNC list on a daily basis? Have you made sure numbers haven't been reassigned? TCPA-friendly call center solutions can facilitate your business' ability to remain compliant with the latest standards and regulations.
You don't have records of your interactions: Do you and your agents have records of every customer/prospect interaction? Do you have recordings of these interactions? Call history and recordings can assist businesses with a number of initiatives, including quality management, compliance, and training. The can also be used by reps to better understand where they left off with a prospect to help facilitate a successful close in the future.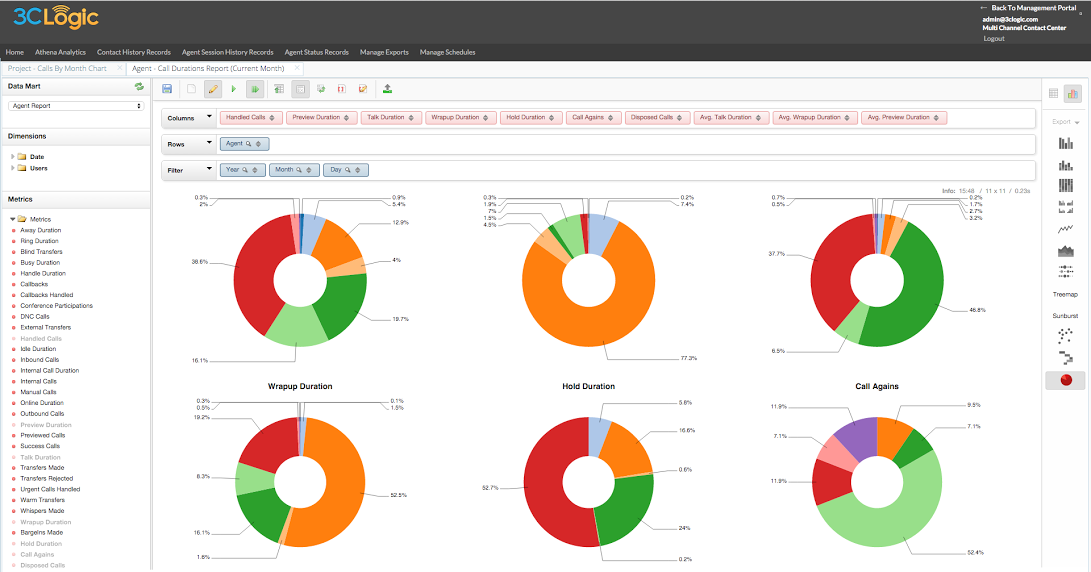 You can't properly track and monitor employee performance: Understanding how your employees are performing in customer facing environments is absolutely crucial—but can be challenging without the right quality management and reporting capabilities. With customizable reporting and business intelligence, supervisors can easily identify metrics that are the most crucial to their business' success, whether it's CSAT scores, conversion ratio, dials per hour, $ sales/hour, etc. And for those struggling agents, supervisors should have the tools they need to silently monitor interactions and whisper suggestions when needed. Such capabilities and insights are simply not available on traditional telephony platforms.
Source: http://blog.3clogic.com/how-to-know-its-time-to-create-a-contact-center-for-your-company
Publish Date: April 15, 2016 5:00 AM
---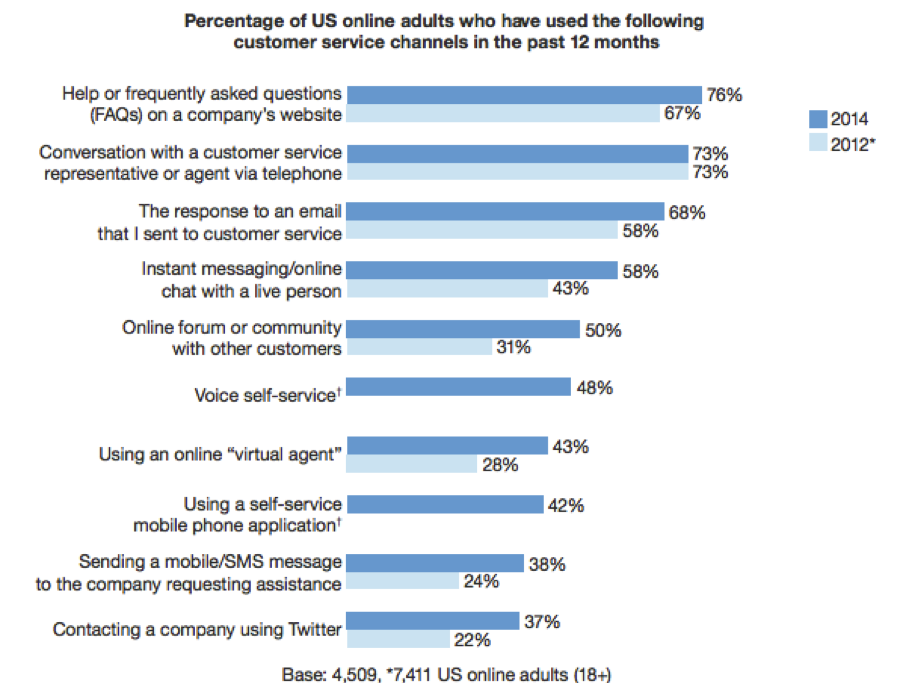 By 2020, the customer is expected to manage 85% of their relationships with a business without interacting with a human—something that should come as no surprise when considering the rising popularity of self-service channels across the web, mobile apps, and voice (IVR). As a matter of fact, Forrester recently conducted a survey, which revealed that web self-service (through online knowledge bases) is now the most commonly used communication channel for customer service, the first and only channel to exceed voice in history. And as mobile device adoption continues to expand and consumers increasingly demand fast and effortless engagement with the businesses serving them, many have been left wondering—will alternative touch points soon cause the call center agent to become non-existent?
Preferred channel depends on the type of inquiry
After further investigation of consumers' channel preference based on the type of customer service inquiry, a few interesting insights were uncovered that are certainly worth noting. While most consumers preferred to use the company website or email for "simple" inquiries, the overwhelming majority preferred speaking with a real person on the phone for "more complex" or "difficult" inquiries, indicating that self-service and alternative channels do have their limits, and cannot adequately resolve all problems in a reasonable amount of time.

Escalation to the call center agent
It is also important to understand customers' cross-channel journeys, as 67% of consumers use three or more channels during a single transaction. A recent survey found that of those individuals who attempted to look for the answers to their questions via self-service, nearly half were eventually forced to contact a representative, as they were unable to resolve their own needs. This indicates either that the company's self-service capabilities and knowledge base are insufficient and not meeting consumer expectations, or the problem is simply too complex for customers to resolve it on their own. Either way, the agent became a crucial part of the transaction.
Conclusion- the call center agent is here to stay
While the role of call center agents has most certainly transformed over the years as they are increasingly expected to handle more complex inquiries, as well as those through additional communication channels (web chat, email, text, social media), their importance has largely stayed the same. Utilized when there is a critical need, and no other alternative, the call center agent will continue to play a critical role in the customer service space, and will likely become a business' primary means of competitive differentiation in the years to come.
Validation from companies setting the standard for customer service
"The key to customer satisfaction in the future is retaining the human interaction, combining that with digital interaction and delivering a personalized experience to each individual. Personalization combined is what each customer needs in order to truly feel valued and demonstrates that we truly understand how to meet their needs."
–Larry Augustin, CEO of SugarCRM
"While companies can resolve many customer service interactions via other channels, they often need to 'talk it out' when it comes to issues like closing an account, booking a multi-city set of flights, or explaining a smart meter bill. As voice increasingly becomes an escalation channel for more complex customer service interactions, the ability for organizations to seamlessly add affordable phone support right alongside other support channels creates an opportunity to build positive customer relationships. This is very difficult to do with "siloed" solutions for each channel."
-Zendesk
"A lot of people may think it's strange that an Internet company would be so focused on the telephone when only about 5% of our sales happen by phone. But what we've found is that on average, our customers telephone us at lease one at some point, and if we handle the call well, we have an opportunity to create an emotional impact and a lasting memory."
–Tony Hsieh, CEO of Zappos
Source: http://blog.3clogic.com/is-the-call-center-agent-doomed-for-extinction
Publish Date: April 8, 2016 5:00 AM
---
The following post was written by Billy Attar at Pipl, 3CLogic's parnter company.
The big trend in sales management this year is building an effective sales stack to keep your pipeline full and pumping out deals.
What is a sales stack? It's the collection of tools used to optimize each stage of your sales process from finding sales prospects to closing deals. The popularity of designing such stacks to optimize sales has led to an explosion in sales tools and a new generation of highly analytical sales managers.
It may sound somewhat complicated, but designing your stack is actually pretty easy. The key is to know exactly what information and capabilities you need at each step of your sales process and some good research skills.
Here are 7 data-centered tools (plus 6 other tools) to use to ensure you find the prospects you need and close a high percentage of deals.
Industry research
The first step in your outbound sales process is figuring out which companies to target. You probably already know which industry you want to go after and the leading companies within the industry to which you want to sell.
Now you need an easy way to find similar companies with potential to make large purchases.
You can use Owler or FindTheCompany to start building a list of similar companies to target. Start by searching a company you have sold to or want to sell to and both tools will give you a list of similar companies. You can also try Capterra or G2 Crowd to find similar companies as well. These two review sites are very useful for understanding which SaaS platforms are the most popular in a specific space.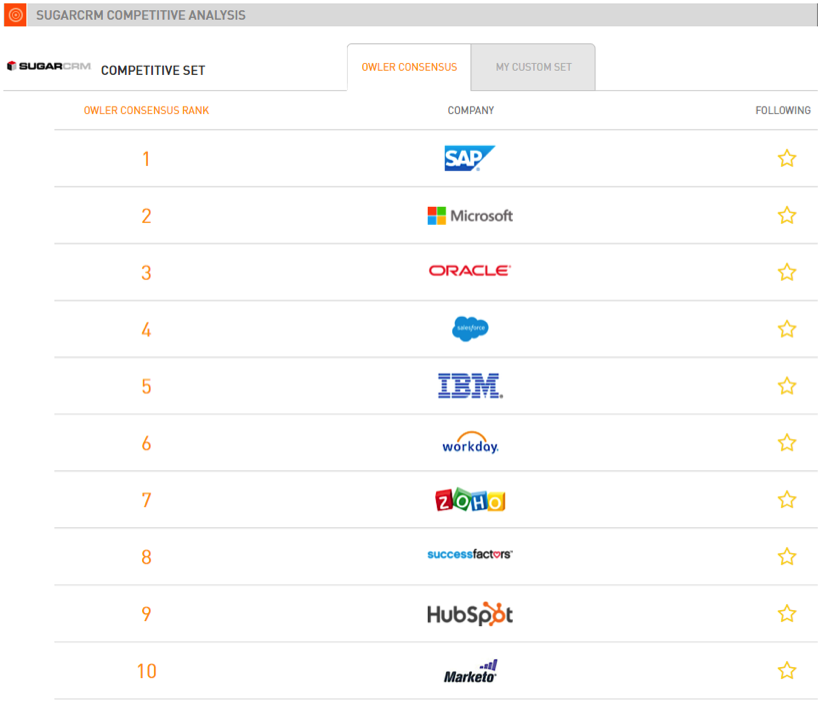 Finding the right prospect
Once you have the companies to target, it's time to find the right people within each company to contact. LinkedIn is probably the best way to find prospects and the research should be pretty easy to outsource. You can go in a different direction with a platform like Leadspace that will try to find leads who are similar to your top customers.
Once you have a list, you'll need to add the right contact information to each. Third party data providers, like Pipl, can fill in the holes in each prospect's data with information such as email address, phone number, social profiles, address (good for knowing a prospect's time zone) and more.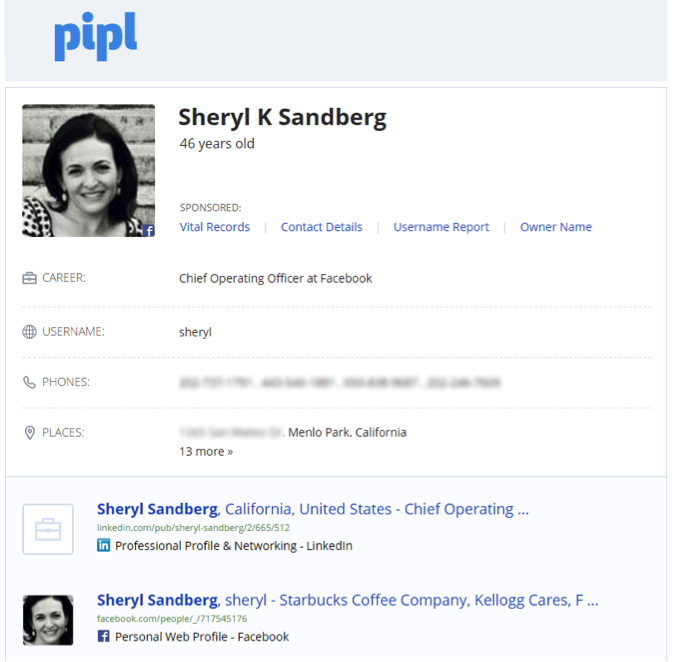 Timing your outreach and beyond
Next, you'll need to complete your sales stack with the tools to take advantage of all the data you've collected.
Whale Alerts is a great way to know when to contact a prospect, Sendbloom is useful for automating outbound drip email campaigns. 3CLogic offers great tools for outbound phone prospecting and tools like SugarCRM, Segment and Zapier can act as the hub and spokes to make all of the different platforms and data work together.
While this is a proven sales stack that has worked for us, every company is different. For some other examples of sales stacks check out Max Altschuler and Jorge Soto's excellent post or Falon Fatemi's on TechCrunch.
Just remember to complete your stack
The key is to make sure you have the tools you need at each level of your stack: company research, lead data collection and lead outreach. Having a great outreach platform isn't very useful if you don't know where to find leads or how to reach them and vice versa. Make sure you have the tools you need to bring leads through the sales funnel...and then get to it!
Pipl offers one of the most comprehensive people search engines on the web, finding high-quality results in pages that cannot be found on regular search engines. Learn more about the company and its offerings here.
Source: http://blog.3clogic.com/7-data-tools-you-need-to-design-an-effective-outbound-sales-stack
Publish Date: April 5, 2016 5:00 AM
---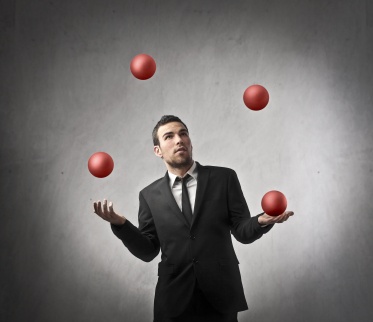 These days, customer experience is everything—in fact, 89% of today's businesses want to compete primarily on the basis of customer experience, versus only 36% four years ago. But while the vast majority of CEOs believe they are delivering a superior customer experience, only 8% of their customers agree, indicating that there is a large disconnect between the service businesses think they are delivering, and how those on the receiving end feel. And as customer preferences continue to evolve and additional communication touch points emerge, businesses are finding it increasingly difficult to stay ahead of their clients' growing demands. Add in the complexity of maintaining compliance with the latest industry standards and adhering to strict business requirements, and managing it all can feel like a juggling act.
Leveraging Technology to Stay Ahead
In an attempt to bridge the gap, many businesses have begun adopting cutting edge solutions, including CRM, CSM, and Marketing Automation, just to name a few. As it relates specifically to customer engagement, many have also discovered the merits of advanced cloud contact center solutions, which are currently being utilized by more than half of today's businesses, and 76% within the next 18 months. Touted for their superior customizability, reliability, and cost savings, cloud contact center solutions have quickly become the standard for client facing communications. But while many may appear to offer similar features and functionality, there are a number of fundamental differences between each that every customer service professional should be aware of before making a switch.
The Contact Center Solution Should Remain Flexible to Changes in the Following: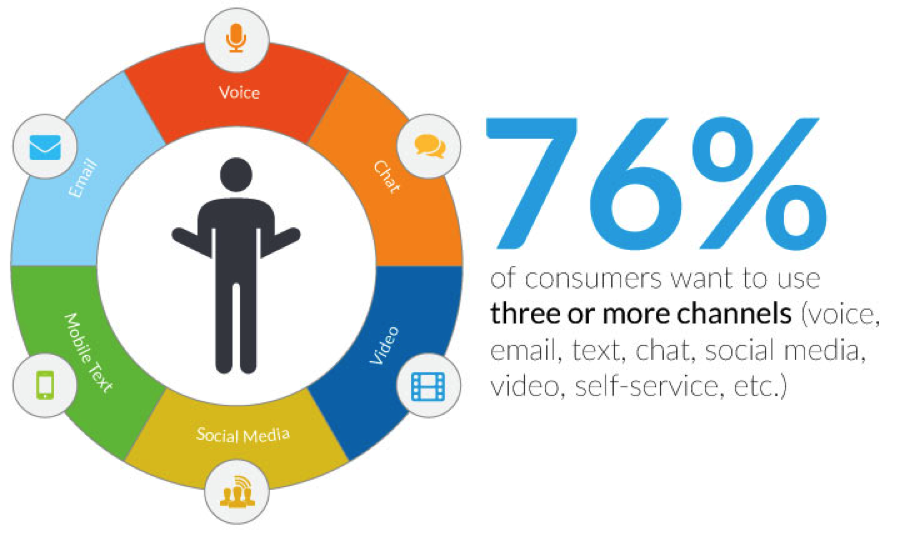 1) Consumer Preferences: Consumer preferences are constantly evolving, as are their demands. And with 76% of today's consumers wanting to use three or more channels during a single transaction, businesses must be prepared to address the needs of these multichannel consumers in order to remain relevant in their respective industries. The contact center solution must be adaptive to changing consumer preferences and newfound customer service channels (most recently social media), enabling customers to contact businesses on their own terms.
2) Technology: The technology powering the customer service space has also undergone a significant transformation, and shows no signs of slowing down. What was previously an industry dominated primarily by the phone and in a fixed location, today's contact centers employ agents in many remote locations who are tasked with handling multiple touch points. Businesses should be sure that their contact center vendor is current on all of the latest features and capabilities on the market, whether it be WebRTC, speech-to-text, third-party integrations, robust reporting, and more, so they don't eventually find themselves falling behind.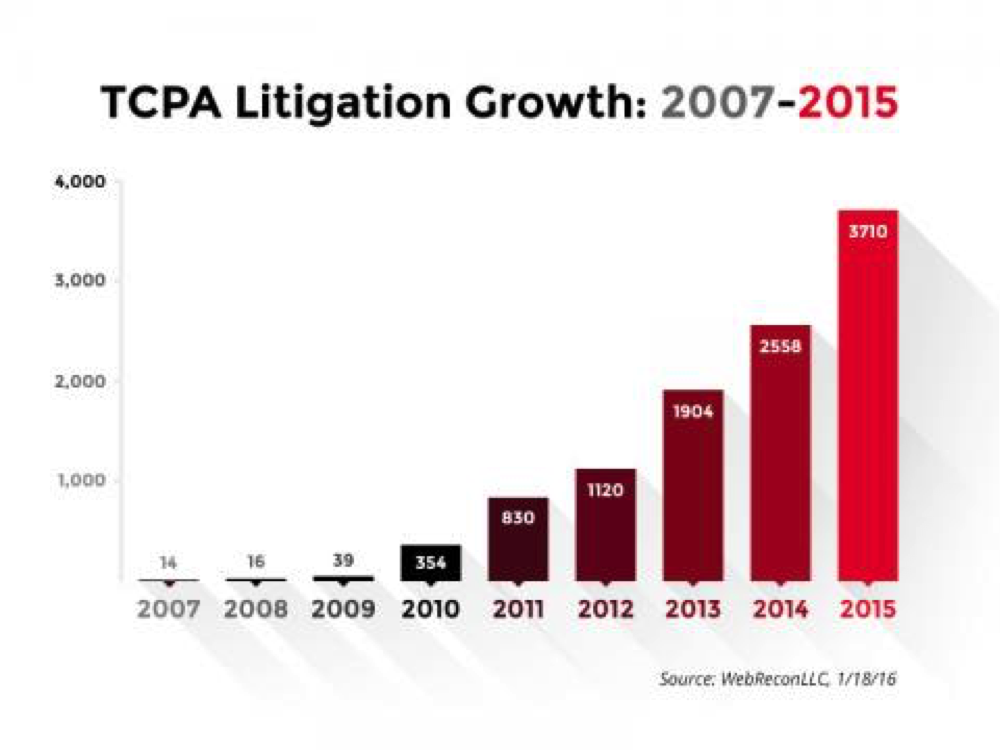 3) Industry Regulations: As technology evolves and regulations continue to change at a moment's notice (as seen in the Summer of 2015), many businesses are finding it increasingly difficult to keep up with and understand the latest legal boundaries (TCPA, PCI-DSS, HIPAA, etc.) impacting their contact centers. Which is why it is extremely important that the vendor be responsive to any and all changes in the TCPA/PCI regulatory environments, and that it offer all the tools necessary to facilitate compliance, whether it be call recording capabilities/encryption to mask sensitive information or TCPA dialer modes.
Source: http://blog.3clogic.com/pace-convention-expo-leveraging-technology-to-support-leading-edge-customer-engagement
Publish Date: April 1, 2016 5:00 AM
---
Customer satisfaction is considered the most important performance metric by more than 60% of customer service managers, yet the global "switching economy"—or the potential revenue up for grabs due to consumer switching patterns—is at an all-time high at $1.6 trillion (up 29% since 2010), indicating that a large portion of today's consumers are not as satisfied with those companies serving them as one would assume. In fact while 80% of companies believe they are delivering a superior customer experience, only 8% of consumers agree. How can one bridge the gap, and deliver on the expectations of today's consumers? Check-out our recent infographic for a few ideas on how to deliver better service in the call center:

Source: http://blog.3clogic.com/infographic-how-to-improve-customer-satisfaction-in-your-contact-center
Publish Date: March 25, 2016 5:00 AM