a2b Fulfillment - ContactCenterWorld.com Blog
by Bryce McCuin
Direct Response Marketers have unique needs when it comes to order fulfillment. Ever since our first foray into Direct Response Fulfillment over ten years ago, we have loved the excitement and high volume of the industry. In fact, it's Direct Response that created the drive for us to expand our services from Business-to-Business into the multidimensional fulfillment operation that we are today. But it certainly wasn't an easy transition!
For any first-timers to the DR space, the intricacies and challenges of things like order management, continuity, multi-pay and new offer configurations can be a bit daunting. We know because we've been there. It's crucial as you get started to take the time to develop trusted partners that have significant expertise in the industry and do your homework.
We're thankful for the help that we have received from our valued partners and would like to offer a little bit of help ourselves. Here, we've leveraged our years and years of experience to create this infographic highlighting some of the more important things you need to know regarding Direct Response Fulfillment. We hope this is a helpful tool in the preparation of your next Direct Response campaign! And of course, if we can be of any assistance, feel free to reach out to us for support.

Share this content with your network!
Source: http://www.a2bfulfillment.com/8-ways-direct-response-is-different-infographic/
Publish Date: August 19, 2016 5:00 AM
---
by Bryce McCuin
Customer expectations continue to change the way that delivery is structured. With carriers testing Saturday deliveries in select markets and same-day delivery gaining momentum even within the small-to-medium sized merchant realm, it is evident that consumers (particularly those pesky Millennials like myself) are raising the bar on delivery times.
Someday, we may see packages air mailed to our door step as soon as we hit "buy" on the shopping cart. But until this day comes, we suggest your fulfillment operation focus on having the appropriate balance between speed and the cost your customer is willing to pay for shipping.
Where you warehouse your product, how quickly it is fulfilled and the method you choose to fulfill the customer's order are all critical factors to this balance. Careful analysis in your fulfillment operation could result in significant improvements in speed and reductions in cost. Work with an experienced fulfillment center to understand the choices and make your decisions.
In the meantime, check out our latest infographic highlighting the importance of speed and the factors you should consider when selecting a fulfillment provider.
Source: http://www.a2bfulfillment.com/need-speed-infographic/
Publish Date: July 21, 2016 5:00 AM
---
6 Ways to Personalize Your Order Fulfillment Process
by Ayal Latz
Sophisticated marketers pay attention to who their customer is and serve up ads and shopping experiences based on behavior. You see it all the time with banners popping up showcasing the exact product you've searched for online just moments ago. "That's funny, I was just thinking of buying that exact pair of shoes!" Or the chat service that pops up after a couple of scrolls. "Hi, I'm Chad. Can I help answer any questions for you today?"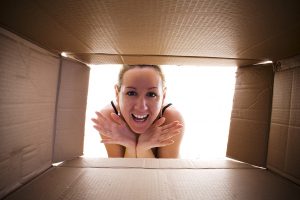 Many times the personalization ends when the order gets placed. The mundane, informative email loaded with numbers, disclaimers and directions kicks off a process of waiting for that cardboard box that's holding your new purchase hostage to arrive.
Why not use this time as an opportunity to "wow" the customer as well? When the order is complete, that's when the customer's excitement soars as they anticipate holding that brand new item for the very first time. They're anxious to know when it will arrive.
Don't make the mistake of losing touch with the customer after they buy; instead, continue to customize the journey until the product is in-hand. Here, we highlight 6 ways you can tailor the order fulfillment experience in an effort to make a stronger connection with your customer.
1) Order Taking: The first question you should ask yourself is "Am I letting my customers order in a way that's comfortable to them or am I forcing them into my sales funnel because it is easy and effective for my business? If you answered 'yes' to question two, you just might be costing yourself sales. Take a look at the processes for how you take orders and be sure the options make sense for your specific customer's needs.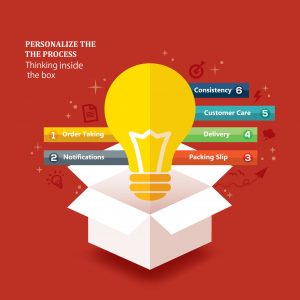 2) Notifications: Marketers know that once that "submit order" button is pushed; the countdown is officially on. The anticipation to receive the product will grow by the minute. Staying in contact with your recent buyer is key, and this can easily be done via notifications for fulfillment of the order and shipments. Unfortunately, many marketers view these as an afterthought and don't place much attention on their delivery.
You've all seen them, right? The cryptic, text-rich email outlining the order details and loaded with numbers and disclaimers. Does it serve a purpose? Sure it does! But it is also a lost opportunity.
Think of it this way: You head into a store to buy a new tablet. The first Salesperson (we'll call him Bobby Basic) rings up your new order and says in a monotone voice, "Have a nice day." The second Salesperson (let's call her Patty Personal) scans your item and thanks you for coming to the store. Patty then proceeds to show you some amazing new apps that you can consider after launching your new device, she recommends some additional accessories to consider in the future and offers a coupon code (for VIP customers only) to redeem those items. If you're the customer, who do you choose?
The point is – make those notifications informative but personalized as well. Be colorful, maintain a positive tone, and call the customer by name. What's that saying? "A little goes a long way."
3) Packing Slip: Say goodbye to your black and white, information-only packing slip and say hello to a four color, brochure-quality piece combining transaction info and company eye-candy. Lead a new purchase off by adding "Thank you Sally for the Order" to grab your customer's attention or throw in a "may we suggest that you try product xyz?" complete with splashes of color and imagery. The small cost to personalize the experience can be made up easily by adding repeat orders or simply by avoiding a return.
4) Delivery: Once the product ships, give the controls to the customer and allow them the option to modify the order. If you ship with a supporting carrier, this unique option can come in to play. Take the My Choice Program from UPS for example. This allows the customer to change the delivery date or even location of the delivery, all for a reasonable charge that is billed to their My Choice account. The marketer does nothing more than ship in a way that the customer can later control at their option, and consumers who use the service will be glad that you made it possible.
5) Customer Care: Don't think of this realm as a cost center. You have a customer on the line. Even if it's for a negative reason, this is a time to strengthen a bond. Invest in training and turn customer calls into new sales and increased lifetime value. Do this by knowing who is calling and following a script tailored for that type of customer. If you offer continuity programs, make a great connection with your customer by personalizing them as needed. Don't have the attitude of, "this is what we offer." Instead, create a customized continuity model that works for your customer. Though complex, a good back-end provider can manage this custom approach for you.
6) Be Consistent: The best thing you can do to personalize the back-end functions of order fulfillment is keep the message, look and feel consistent. A turnkey fulfillment partner can help achieve this. Communication is not only streamlined by having less entities in the mix but it's also more consistent.
Take some time to evaluate the order fulfillment process for your product or company. Are there functions or systems on autopilot? Where might there be opportunity to shake things up and surprise and delight your customer's shipping experience?
Sure, it could take some time and effort. However, if you take the time to do it well, you could be on your way to developing even deeper connections with your customers.
Source: http://www.a2bfulfillment.com/thinking-inside-box/
Publish Date: July 13, 2016 5:00 AM
---
by Ayal Latz
A version of the below article originally appeared in the May 2016 issue of Response Magazine
It has been almost a decade of planning and construction, but the Panama Canal expansion is nearly complete. Originally scheduled to open in 2014 during the famous waterway's 100th anniversary celebration, the Canal is set to bring tremendous opportunity for the logistics businesses located in the eastern part of the US.
The $5.25 billion canal expansion was approved by Panamanian voters in 2006 and will be adding a third set of locks along with a deepening and widening of the canal. The change allows for larger ships, which means more containers can pass through the waterway. This is turn will help increase efficiency and reduce freight costs associated with cargo moving to East Coast Ports. Now, East Coast ports can be competitive with the West Coast ports from a shipping cost perspective.
This creates shipping options in a very dynamic environment. And with that comes many new warehousing and distribution options and opportunities.
Traditional thought had products produced in Asia shipping to West Coast ports because it is the shortest distance. However, this mindset has been steadily shifting eastward as Marketers come to the realization that the vast majority of their customers are better serviced from the East Coast. By paying a relatively small premium on inbound shipping to the East Coast ports results in much greater savings on outbound shipping from the distribution center to the end customer. But now with the canal expansion dramatically improving the economics via larger ships carrying more freight, the benefits of locating your distribution on the East Coast grow even larger.
Additional benefits of shipping east include:
More port choices. From Boston to Savannah to Miami and the Gulf Coast. Shippers can evaluate multiple scenarios. And many East Coast ports have been activity improving their capabilities to handle the larger ships.
Less congestion, faster unloading and customs clearance. Each port will have its own dynamics on these issues.
Lower costs for port fees, off-loading, drayage and storage. Some locations on the East Coast, like Savannah, will have significant advantages over West Coast ports.
Faster package shipping times and lower overall freight costs to the majority of the US population from East Coast warehouses.
Lower reliance on cross-country trucking and rail shipments. Increased highway congestion, higher safety requirements and a shortage of truck drivers will make long haul transportation more expensive. This can be mitigated by placing the goods in a more strategically located distribution centers on the East Coast.
Many marketers are still feeling the sting of the recent labor disputes which shut down West Coast ports. Having additional options in other parts of the country can provide a measure of security for your business.
Avoid California taxation and regulation. Georgia has been rated consistently as having one of the best business climates in the nation. Why continue to expose your business to California?
Now is the time to consider alternative methods to your shipping and distribution strategies. New options are soon to open up. The shipping landscape will be altered significantly. Will you reap the advantages of these new opportunities?
And this expansion could be just the beginning. There is already talk of a new expansion project costing $17 billion with an additional 4th set of locks and further widening and deepening of the canal. The east is where it's at…..
Source: http://www.a2bfulfillment.com/the-panama-canal/
Publish Date: June 9, 2016 5:00 AM
---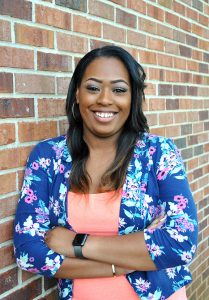 LaQuan Boddie joined a2b Fulfillment's Accounting department in 2014. In honor of National Accounting Day falling in May, we decided to sit down with LaQuan and learn a little bit about what inspires her.
1) What led you into Accounting?
I've always worked well with numbers and "Organization" is practically my middle name so those two things go hand-in-hand when it comes to Accounting. Once I took my first Accounting course in college, I immediately knew that this was something that I would enjoy as a career. I couldn't imagine myself doing anything else.
2) What is your favorite thing about your career?
The best part about my career is the constant change and the opportunity to learn; whether that be new software or legal guidelines, there's never a dull moment. Accounting itself is very broad; with Tax, Audit, Forensic, and Financial to name a few. There's always more to learn!
3) Describe the atmosphere and work culture of a2b.
I'd like to think of us here at a2b Fulfillment as one big Family. I enjoy coming to work every day and the atmosphere is very comfortable and enjoyable. This allows us to work well together.
4) What motivates you to work hard?
My family is the number one motivation in my life – always has been and always will be. I'm the second oldest of my siblings and I would like to set a good example for them so that they can see that hard work does pay off. We hear people use this phrase often, however it's more meaningful and motivational when we can actually see someone being an example to us.
5) If you could live anywhere, where would it be?
I would love to live anywhere near the Beach. I don't have a specific place in mind. The waves of the water are calming and peaceful to me. To be able to live somewhere that provides peace of mind visually and emotionally would be ideal.
6) What is something interesting about you that not many people know?
It may be interesting to know that I'm what some may call a "Left Brainy." I'm a very strategic planner in every aspect of my life. I organize, plan and strategize everything from vacation itineraries to the pens on my desk. Everything has to be written out and in its proper place.
7) What do you love to do outside of work?
When I'm not working I enjoy spending time with my family and friends because time is so precious I wouldn't have it any other way. The list of activities we may do together are endless but as long as we're together I am perfectly fine with that.
Source: http://www.a2bfulfillment.com/employee-profile-laquan-boddie/
Publish Date: May 31, 2016 5:00 AM
---
by Ayal Latz
Several strategies exist when it comes to management of back end functions for a direct to consumer campaign. On one hand you can take the multiple vendor route, where each takes its own function, such as Customer Service, Order Management, and Fulfillment. On the other hand, some choose a vendor providing all these services turnkey. What's the best approach? Well, it's not always easy.
There are lots of considerations but it all boils down to the fact that the marketer of a product needs to be 100% comfortable with the vendor (or vendors) they choose to work with on these critical functions. Here we breakdown the advantages of going turnkey, should that be the route you're considering to take.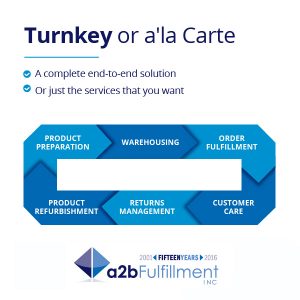 Benefit 1 – Cohesion. With turnkey providers communication is both streamlined and consistent. The turnkey fulfillment services provider can speak to the marketer about all areas, at one time and in one format leading to faster reaction time and less opportunity for miscommunication.
Benefit 2 – Cross-Function Communication. Great turnkey providers share information across functions, and with their clients, often in real time. This interconnectivity can translate into lightning speed problem identification for the marketer and resolution by leveraging data from one department and applying it to the other.
For example, if Customer Service begins receiving calls about a product defect, the manager in a turnkey environment can walk down the hall and ask the warehouse manager to go and look at the items in stock. If there is indeed an issue, the marketer can be notified and additional shipments can be stopped until a resolution can be put into place.
Benefit 3 – Savings, Savings, and more Savings:
Selection and Implementation. Choosing vendors is time consuming. Obviously wanting the best vendors in place, a marketer interviews potential prospects for each function. This can result in 10-15 options to consider. In a turnkey model, multiple vendors are evaluated, but each is offering a complete suite of services, so overall you save time without sacrificing choice.
The same can be said for implementation. The upfront contracts and legal work, product and campaign setup, and integrations are all simplified through a turnkey model, saving both time and cost.
Service Cost. A marketer that bundles multiple functions together becomes larger and more attractive to the turnkey provider. For example, a campaign with 1,000 orders a week, also needing customer service, order management and returns management, can leverage all of these needs by keeping them together. The turnkey provider on the other hand, sees efficiencies by integrating all of these services. It's a win-win for both the Marketer and the turnkey provider.
Management. One Stop-Shop also means a single Client Services department to help with a wide range of needs, including: offer changes, sku-setup, scripting, etc.
Additionally, the benefit of receiving one itemized invoice, which can be paid with a single payment, saves administrative time and makes reconciliation easy.
Inventory management savings. Some marketers utilize different vendors based on the type of fulfillment – retail versus direct to consumer. This requires splitting of inventory and is inefficient, inflexible and costly.
Why? Here's two reasons:
1) Stocking inventory in multiple locations will likely require more inventory due to the complexities of having the right product in the right places.
2) With all of the inventory in one location, the Marketer can react to the ebbs and flows of different types of customers.
Take this for example. A larger than expected Retail order can be handled by "borrowing" inventory from the direct to consumer allocation. That can be replenished when the next shipment of inventory arrives. Or if the direct to consumer campaign changes, and a new assortment is needed, having additional stock available to draw from increases the response speed.
Another way to be efficient with inventory is placing returns and refurbishment under the same roof as order fulfillment. With this set up, product can be quickly and efficiently injected back into inventory. There are no shipping costs or time delays caused by locating these functions elsewhere.
Benefit 4 – Peace of Mind. To sum it all up – the ease of communication, often with one point of contact, empowers the marketer. You know who is handling the issues and where accountability lies because there is one entity responsible for all functions, versus many different companies needing to communicate and coordinate on each and every issue. The payoff? As you work closely with your valued turnkey provider, your communication and teamwork constantly improve, allowing for even greater trust-and peace of mind.
Source: http://www.a2bfulfillment.com/4-benefits-turnkey-order-fulfillment/
Publish Date: May 20, 2016 5:00 AM
---
By Ayal Latz, President a2b Fulfillment
Let's be honest, your core business is marketing and selling products, not shipping them. And because you have a business to run, I've highlighted just the five top reasons why outsourcing fulfillment can help maximize profits and keep your focus where it belongs – growing your business.
1. Focus o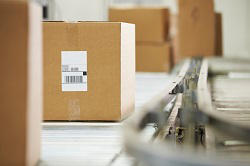 n growing your business, not running it.
One major advantage to outsourcing fulfillment is spending time where it matters most – growing your business. There are many costs to performing tasks in house, including opportunity costs. What could you achieve with your time if it was not spent on managing the logistical process? This could be the difference between running a flat business versus a growing one.
2. Upgrade your level of experience.
When you outsource any function, you bring on a team of experts delivering service at a higher level of skill and accuracy. This is why you hire a CPA to do your taxes and an attorney to handle legal matters. Your company's logistics is no different.. A fulfillment provider knows how to manage inventory and process your ever-important orders quickly and accurately, keeping your customers happy. This performance is achieved by employing experienced distribution professionals, engineered processes and best standards, and utilization of highly sophisticated distribution technology and equipment.
3. Turn fixed costs into variable costs.
Chances are your landlord doesn't give credit for space you're not using each month. And your warehouse managers don't take unpaid leave when it's slow season. Nope, you currently have fixed costs. Now what if you could turn those into variable costs? With an outsourced fulfillment solution, you will pay for what you use. The same is true with employees needed to run your warehouse.
4. The Power to Scale
Most businesses have some seasonality or cyclicality for sales. Ask yourself "Do I have enough space and labor to handle the peaks?"
A large influx of product to meet your seasonal demand may overwhelm your facility. Even if it all fits in, is it organized? Do you have room to perform normal warehouse operations such as assembly and kitting, reworking and shipping?
Do you have enough labor to meet the peak demands? Oh sure, your kids, friends and neighbors and brothers-in-law have all said they would help. And the temp agency promises to deliver all the untrained warm bodies you could possibly need. None of these options is efficient and none hold a candle to the ability of a fulfillment provider.
Another side of the above coin is "How fast can you react to peak demands, and at what cost?" Sometimes your labor solution just cannot be there the day or week that you need them. You can cover this by carrying more employees than you really need. And the cost of training short-term employees also absorbs valuable time and resources.
Another point on labor. Your original business concept didn't envision becoming an expert and managing a labor force. You do it because it's got to get done. A fulfillment provider, on the other hand, is an expert at managing labor. That is one of the key ingredients to success.
Outsourcing fulfillment, and spending less of your time on the back end functions, you free up more time for your key business needs. Hey, we are back to Reason #1!
5. Discounted freight rates.
Since fulfillment providers serve many different clients, they are able to aggregate the freight activity and negotiate with the carriers to achieve lower rates than you can achieve on your own.
Lower freight costs means stronger marketing tools. It is less expensive to offer free freight. You can offer a wider selection of options to meet your customers' needs. Lower rates may create a margin opportunity.
6. Bonus Reason. Peace of Mind.
With the support of professional partners assisting you with your fulfillment and back end functions, you can focus on growing your business, while providing outstanding service levels to your customers, at a competitive cost structure, while saving money for your growing business.
If backend functions are distracting you from marketing your product, then now may be the time to trust a team of experts to handle the logistics for you. If you choose your vendors wisely, the savings in freight costs alone will fund your entire outsourcing program. That alone could really put your mind at ease. Happy hunting!
Source: http://www.a2bfulfillment.com/thinking-outsourcing-fulfillment-5-good-reasons-take-action/
Publish Date: March 23, 2016 5:00 AM
---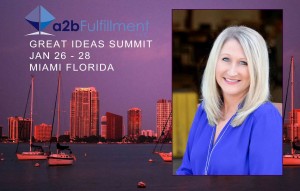 a2b Fulfillment will be exhibiting at the next Great Ideas Summit on January 26 – 28, 2015. The Great Ideas Summit brings together the direct response industry's most influential leaders to hold high-powered meetings, close global deals, and develop new digital marketing strategies.
Featured speakers include Becky Bui of Global Marketing Solutions. Her team helps marketers in the retail and e-commerce industry drive measurable business results by connecting to customers and prospects on Facebook. Mark Hughes of C3 Metrics and author of Buzzmarketing: Get People to Talk About Your Stuff will be there. As well as Jane Crisan, who has over 20 years experience in digital marketing and traditional advertising. Jane blends the craft & math of marketing to help connect brands and customers in the ever-evolving media landscape and digital ecosystem.
The Great Ideas Summit is held by the Electronic Retailing Association (ERA) who's membership is comprised of companies that use the power of direct response marketing to sell goods and services on television, online and on radio. ERA strives to promote thought leadership and the sharing of knowledge to advance the direct marketing industry as well as facilitate relationships that help members to drive their businesses' growth and profitability.
Make an appointment now with Debbie Skerly, Director of Business Development, Direct-to-Consumer at 866-843-3827 ext 211 or email her at debbie@a2bf.com.
Source: http://www.a2bfulfillment.com/a2b-exhibits-great-ideas-summit-2015/
Publish Date: January 15, 2015 5:00 AM
---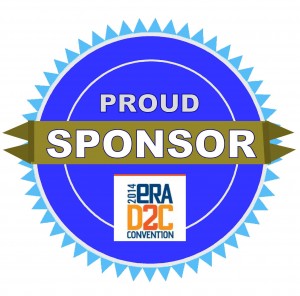 a2b is a proud Sponsor of ERA's D2C Convention which will be held in Las Vegas from September 16 – 18, 2014. D2C is one of the largest events in the Direct to Consumer Industry, attracting thousands of Direct Response marketers.
Look for our giant sign at the event, which highlights our key advantages: Super Powerful Customer Care, Turnkey Fulfillment, Painless Set-Ups, and Cost Effective Shipping.
While at the event marketers may attend numerous presentations, sessions and discussions led by industry experts, including a2b's own Ayal Latz, who will co-present Back End Bloopers III on Wednesday, September 17 at 2:15 – 2:30 on the show floor. The membership keeps inviting Ayal back for more hilarious, sometimes unbelievable and always avoidable situations that occur with DR campaigns.
Ayal Latz describes the session as follows:
"Can there still be more Bloopers? Oh yes, new ones are committed all the time. Our Bloopers I & II lightning sessions were smash hits. Back by critical acclaim, this informative and entertaining sequel to the sequel offers even more insights into the potential faux pas that you can prevent, instead of experiencing first hand. Back-end functions can make or break your campaign. Learn to avoid the pitfalls of the most common mistakes and oversights. Practical information delivered in a concise manner with to-the-point insight from the industry's top back-end partners. Join this fast-paced session where you will laugh, shake your head in wonder and walk out with proven money-saving ideas. "
An additional high point of the event will be the annual Moxie Award Gala presentation on September 18th. Collette Liantonio, president of Concepts TV Productions, will be honored with the esteemed 2014 ERA Lifetime Achievement Award. Additionally, entertainment and beauty icon Susan Lucci will be presented with the 2014 ERA DR Icon Award.
Throughout the Convention, the show floor will be very active with over 100 different exhibiting companies. a2b is at booth #1121. Stop by to learn about our exciting programs.
Source: http://www.a2bfulfillment.com/a2b-sponsors-2014-d2c-convention/
Publish Date: August 20, 2014 5:00 AM
---
Things just don't slow down here at a2b Fulfillment. We just returned from a successful show in Chicago and are now preparing for our upcoming activities. What's next?
ERA NETWORKING
On Tuesday, Gary Latz hops on a plane to Canada for ERA's Network Toronto event. This reception will be held on Wednesday, July 16th beginning at 6pm at La Maquette Restaurant. Attending will be the who's who of direct response in Canada. We look forward to seeing our Canadian associates, friends and clients.
For more information on the event contact Jennifer Williamson at ERA or Click Here.
Gary will be in Toronto and Montreal for several days around this event. So let him know if you would like to meet outside the networking event.
RESPONSE BASH
On Thursday July 24th Debbie Skerly represents a2b at the Response Summer Bash in Orange County, CA. The event will be held at the Oak Creek Golf Club in Irvine, CA and starts at 6 pm.
a2b Fulfillment is a proud sponsor of the event. This is another great opportunity to meet with many key players in the direct response industry. For more information on the event contact Dan Donati at the DRMA.
If you are visiting California for the Bash, remember to schedule some extra time with Debbie sometime around the event.
ERA D2C
During the week of September 15th the entire a2b team will be at ERA's D2C show in Las Vegas. D2C is one of the largest gatherings in the direct response industry. Official events run from September 16th – 18th. The show floor is open on Wednesday and Thursday. a2b will be exhibiting at Booth #1121. For more information on D2C follow this link: Click Here.
At D2C, a2b Fulfillment will feature its 'Ship Smart' program. We will demonstrate why shipping from our strategic Georgia location will result in the best combination of low freight costs and fast delivery. Add to the recipe our SAME DAY shipping, EZ START program for direct response, our 'Returns to Profit' returns and refurbishment service, customer care service, Canadian fulfillment, and visitors to our booth will learn why a2b Fulfillment is the best choice.
Ayal Latz, president of a2b will present a special Lightning Session on Wednesday from 2:00 – 2:15 in the Learning Lounge. The topic is titled Back End Bloopers III. Voted in through ERA member crowd-sourcing for the 3rd consecutive year, Bloopers III promises to be informative and hilarious.
Ayal describes the session as follows:
"Can there still be more Bloopers? Oh yes, new ones are committed all the time. Our Bloopers I & II lightning sessions were smash hits. Back by critical acclaim, this informative and entertaining sequel to the sequel provides even more insight into the potential faux pas that you can prevent, instead of experiencing first hand. Back-end functions can make or break your campaign. Learn to avoid the pitfalls of the most common mistakes and oversights. Practical information delivered in a concise manner with to-the-point insight from the industries' top back-end partners. Join this fast-paced session where you will laugh, shake your head in wonder and walk out with proven money-saving ideas."
Source: http://www.a2bfulfillment.com/a2b-move-toronto-response-bash-era-d2c-2014/
Publish Date: July 18, 2014 5:00 AM
---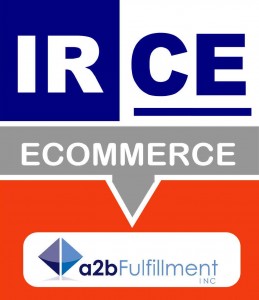 Here at a2b Fulfillment we are busy getting ready for the annual Internet Retailer Conference (IRCE) to be held in Chicago. Events kick off on Tuesday June 10th and conclude on Thursday June 12. This is a great opportunity to enjoy the largest e-commerce industry event in the world. It is jam-packed with educational presentations and hundreds of exhibitors and industry experts.
Visitors to our Booth #1308 will discover how outsourcing fulfillment for e-commerce merchants can improve efficiencies, lower costs and make them more money. There are five main reasons that a2b Fulfillment is unique from other third party fulfillment centers.
a2b is built on the philosophy of speed. Same Day shipping made us famous. This high standard along with our strategic SE location combine to make our 'Ship Smart. Save Money" story quite simple and powerful. We reach most consumers in 2 days or less via the least expensive shipping method – ground. Along with our logic-based shipping software, our systems will always choose the most economical shipping method required to meet the delivery goal.
E-Commerce merchants want to build a loyal customer base. Top notch Customer Care is essential. Who better to provide this service than a highly trained and motivated team of service and product specialists working under the same roof where your products are shipped from? That means that we can touch and feel our e-commerce merchants' items and also identify issues within minutes, leading to quick, cost-saving resolutions.
Merchants can leverage a2b's order management technology to better manage the customer relationship. They will see how our systems process payments and refunds with ease, all within a PCI Level 1 Certified environment. This enables them to gain insight on their customers through our extensive reporting capabilities. Our system integrates easily with most shopping platforms.
Returns – they're inevitable. a2b's "Returns to Profit" program shows merchants how to leverage a good returns process to make happier, loyal customers AND save or even make money in the process.
a2b offers services on an a la carte or turnkey basis. When we meet with prospective clients we review their needs and together we build a solid back-end support system.
Sound too good to be true? Whether you are considering attending IRCE or not, contact us today for more information. At the show we can be found at Booth 1308.
Source: http://www.a2bfulfillment.com/ecommerce_merchants_increase_efficiency/
Publish Date: May 23, 2014 5:00 AM