Accurate Always - ContactCenterWorld.com Blog
In April, it was all over the news that the FCC fines AT&T $25 million for data breach affecting an impressive 280,000 customers.
You might have read about it, but in case you missed it, AT&T call center contractors collected personal information of 280,000 subscribers from November 2013 to April 2014. The stolen customer data included names, personal information and social security numbers, which was then used by scammers to unlock cellphones.
To date, this is largest fine and data security enforcement act taken by the FCC. In Oct 2014, the FCC imposed a $10 million fine on telecom operators TerraCom and YourTel for the same reason. It's good to see the FCC taking consumer privacy regulations seriously instead of playing lip service, which has seemed to be the case until recently.
Can you imagine what would happen if someone was stealing your customer's personal information and selling it to the highest bidder? Unfortunately this could happen to any company that has an internal or outsourced call center.
Accurate Always came up with a solution to mitigate this insider threat with Voxida CenterSecure. CenterSecure provides a 360° view of every user action. With an automatic user tracking mechanism, CenterSecure reports on all log ins, log outs, commands issued, searches executed, calls monitored, files played back, reports ran, documents shared, and exported, by any given user— anytime. CenterSecure also records all administrative functions, including permission and configuration changes, user and group administration and more. Within seconds an organization can track communication asset breaches across the enterprise. Now you can take the right action at the right time to minimize insider threats that damage your brand and revenue.
Although this fine may seem like a drop in the bucket for AT&T, think about how many customers they will lose and negative brand damage that occurred because of this breach… the fall out is yet to come and the impact could end up being in the hundreds of millions.
Luckily there is a fail-safe in place. Learn more about Voxida CenterSecure and contact us today.
You can also see the latest CenterSecure news and awards here.
Source: http://blogs.accuratealways.com/record_this/2015/07/too-bad-att-didnt-have-voxida-centersecure.html
Publish Date: July 22, 2015 5:00 AM
---
Accurate Always was recognized in Pipeline Publication's Awards this year. I got to attend the event in Nice, France and I couldn't be more grateful to the esteemed panel of industry analysts, judges and Pipeline's core team. Read the full release on the recognition Voxida CenterSecure received here.
Source: http://blogs.accuratealways.com/record_this/2015/06/voxida-centersecure-wins-second-for-innovations-in-security-and-assurance-in-pipeline-awards.html
Publish Date: June 10, 2015 5:00 AM
---
This is the first we've said on this but we were nominated on Friday for the Pipeline Publications Innovations award for our advancement in enterprise communications security auditing. This was for a product announced the day before*. If you've even been in a startup, even a well-established one, you know what that means and how much work was still ahead of us. Three of my coworkers got a call from me Friday AM that can only be summed up in the words of Dr. Evil's "I'm the boss. Need the info."
Kostya, Elizabeth and Yousef: Thanks for one heck of a work effort this weekend. I wanted to take a moment as I'm wrapping up the submission materials to say that your efforts, lack of sleep and humor this weekend reminded me of the old days when we launched on espresso and Skittles wrappers and sheer determination to do something exceptional in the communications recording and analysis space. You're on it. Always. With no questions asked.
You are what helps us serve the Fortune 50s to the growing call centers. We have the best support issue resolution rates- hands-down- in the industry and it's because the whole team is crazy enough to go with extra mile, with or without Dr. Evil's direction. It would be hard to say if I was more grateful or proud.
Now, get back to work, we have awards to win across industries and more exciting things to announce soon. And I'm sure Dr. Evil has something to say about that.
*You can see our CenterSecure press release here.
Source: http://blogs.accuratealways.com/record_this/2015/05/dr-evil-said-it-best-and-nomination-for-innovation-award.html
Publish Date: May 4, 2015 5:00 AM
---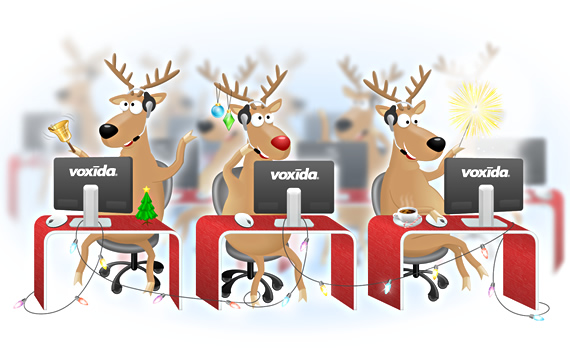 Sleigh bells aren't the only thing ringing....
What a year! Thanks for inviting us into so many of your call centers and healthcare, governmental and aerospace organizations. I got to work with such amazing people, many of which rapidly became close friends.
I just wanted to take a moment to tell you I'm grateful for all of you and know how lucky I am. Each customer, vendor, industry friend and coworker that touches my day-to-day work life really makes it bright.
If I can be of service in the new year, or if you just want to grab a hot cocoa over break, connect with me on LinkedIn.
Warmest wishes,
Kate Haley
Cofounder and CMO
Source: http://blogs.accuratealways.com/record_this/2014/12/kate-haley-from-voxida-holiday-gratitude.html
Publish Date: December 22, 2014 5:00 AM
---
I just did some scary math. A mid-sized call center could wind up paying ten million dollars for illegally recording calls in California in just one year. Ouch.
Under the California Invasion of Privacy Act (CIPA) (Cal. Penal Code §§ 630-637.5), California imposes a civil liability of $5,000 for EACH non-compliant call recording. Additional states also impose fines; multiply that by the number of calls you record and it will add up fast given that most mid-sized centers do millions of calls a year.
Given the exponential rate of compliance requirement growth in the last few years, call recording laws will likely only get tougher. We know how draining this is on your resources to keep track of the rapidly changing regulatory environment, so we're trying to save you a little time. While it's important to always seek local legal council, we're also providing this Quick Guide to Call Recording Laws which gives a top-level look at call recording notification regulations for each state, as well as many international guidelines.
Don't put you, your company, or your employees' jobs at risk. Let us help you ensure your call recording is compliant. Download "A Quick Guide to Call Recording Laws."
If you have additional questions, please don't hesitate to contact us.
Source: http://blogs.accuratealways.com/record_this/2014/10/call-recording-notification-laws-in-call-centers.html
Publish Date: October 2, 2014 5:00 AM
---
I spent a year and a half working on a compliance software project at Johnson and Johnson. It was 2006, and healthcare compliance was a hot, albeit painful, topic. I later went into the field, making the rounds at physician's offices in Central New Jersey (yes, I earned some serious stripes). I saw the highs of physician dinners, free pens, and Dunkin Donuts runs; when the PhRMA code banned giveaways and out-of-office dinners, I dutifully and compliantly explained why my bag was no longer filled with branded tchotchke.
Eight years later compliance regulations are stronger than ever, touching practically every industry. Having played in both the IT and the healthcare compliance sandboxes, my prediction is that compliance regulations will continue to grow. As technology and data storage increases in capability, and decreases in price, compliance needs will follow suit. Which brings us to the elephant in the room:
"How do you know if you are compliant?"
The simple answer is continuous research + processes = compliance. There is no magic algorithm that creates or maintains compliance. There are ever changing laws and/or codes, and following them requires a human touch (ironic for IT compliance isn't it?). One must stay up-to-date on the latest regulations and then implement progressive processes to ensure those regulations are met.
I pride myself on simplifying the overly complicated-- I want to make things easy. I may not be able to provide compliance cheat sheets for every industry, but I can for call recording in healthcare organizations.
See the Quick Guide to Call Recording Laws for Healthcare here. It's not the Rosetta Stone, but it may eliminate the first part of the compliance equation by addressing the latest call recording requirements.
Please get in touch – I'm happy to offer my humble opinion, serve as a sounding board, point you in the right direction, etc.! Email me at mharstad@accuratealways.com
Source: http://blogs.accuratealways.com/record_this/2014/09/healthcare-call-recording-laws-1.html
Publish Date: September 24, 2014 5:00 AM