5 Signs You Need to Switch Your Medical Answering Service - Ambs Call Center - ContactCenterWorld.com Blog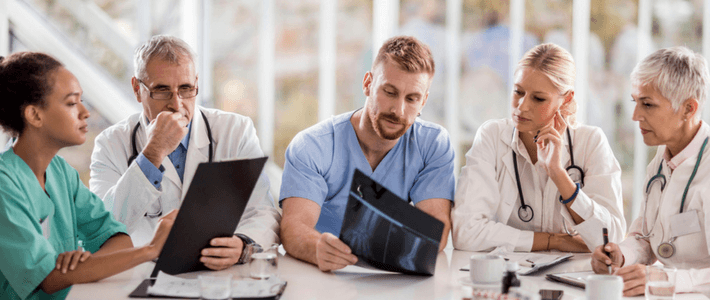 In medical school, they never covered how to handle endless patient calls, after-hours requests, and emergencies. Often your answering service is the patient's first impression of your practice, and it can shape whether their experience is positive or negative. The intent behind hiring a medical answering service is to take your business to the next level – but what if they're providing a sub par service?
Switch Medical Answering Service Providers When...
1. Patients are On Hold Forever

No one likes being on hold. And frankly, most people won't put up with extended wait times – they will hang up. If your patients need to schedule an appointment, or worse, if they have an urgent need, the last thing you want is for them not to be able to get ahold of you.
If you are receiving complaints about unreasonable wait times, don't ignore them. A professional and reputable call center will have a system to handle all phone calls promptly and efficiently.
2. Emergency Calls are Mishandled
Not all medical answering services are created equal. If your service provider did

not receive training on how to handle medical situations and emergencies, they are likely doing more harm than good. The answering service staff must be aware of your emergency policies and have set standards for directing your patients' calls. You don't want doctors being woken up in the middle of the night when they aren't on-call or have the wrong doctor notified of an emergency.
If you hear that a patient's emergency call was handled incorrectly, take action immediately. Do your best to make things right with your client and do what you can to make sure the situation does not happen again. Have calls recorded and regularly reviewed to ensure accuracy and professionalism.
3. Agents are Rude
You've worked hard to gain the trust of your clients. Don't reward their business

with rude phone operators. One way to avoid this is to make sure the company you hire uses a thorough vetting process when selecting new agents. Set clear expectations on how you want them to treat your patients, how frustrated customers should be handled, and how to best provide a positive experience. Again, make sure that there is a review process so you can verify your patients are treated with respect, patience, and understanding.
Rudeness is unacceptable and should not be overlooked. Your reasonable expectation is that your customers will be delighted with the service they receive. The hope is that they will assume the people answering the phone are simply members of your staff.
4. Patient Data is Repeatedly Incorrect

Misspellings and incorrect information are generally annoying, but when it comes to patient data, it is unacceptable. Accurate patient records are an essential element of having a professional and reliable practice. With how often your staff has to look up patient data in the Electronic Health Record (EHR) database, it's important that the information they find is meticulous and accurate. This information can be as simple as spelling names correctly to as vital as noting allergies and prescriptions.
Repeat mistakes should not be dismissed – don't settle for a sub par service. Not only can these mistakes make your practice look negligent, but it can also hinder the care of your patients.
5. They aren't HIPAA Compliant

Don't mess around with HIPAA compliance. Data security is more important than ever, and it's vital that your practice's information is kept private. Take the necessary steps to verify your call center is consistently up to date on HIPAA best practices. After all, if a mistake happens, it doesn't matter if you knew or not – you could be subject to hefty fines – and worse, lose the trust of your patients.
Ask your provider about their standards for handling text message notifications. To be HIPAA compliant, they must use an encrypted text messaging app to send protected health information. While this may not be the first thing you think of when it comes to finding the best medical answering service, it should not go overlooked.
Do these problems sound all-too-familiar? Every time your patients have a negative experience with your phone answering service it exponentially increases the likelihood that they will switch health care providers. Don't settle. A cost-effective solution that improves patient satisfaction with excellent customer service is not unrealistic. Look for an HIPAA compliant medical answering service that enhances the speed and accuracy of the coordination of patient care. Your patients and staff will thank you.
Source: http://blog.ambscallcenter.com/5-signs-you-need-to-switch-your-medical-answering-service
Publish Date: August 12, 2016 5:00 AM
---
PREMIUM

ConceptCall
(VIEW OUR PAGE)

Аутсорсинговый контакт-центр ConceptCall| КонцептКолл специализируется на исходящем и входящем телемаркетинге: мы предоставляем услуги по осуществлению холодных звонков и продажи по телефону, проводим...

(view more)

PREMIUM

CTI Software
(VIEW OUR PAGE)

CTI Software is the creator of custom application called Davos, which complements the telephone client solutions with intelligent features such as automated call attendant, call recording and archivin...

(view more)

PREMIUM

Avizent Ltd
(VIEW OUR PAGE)

Advanced AI technology and Natural Language Processing delivered to clients in the Cloud that harnesses both voice and digital conversations. The focus is on building an environment where intelligent ...

(view more)
---

View more from
Ambs Call Center
Recent Blog Posts:
| | |
| --- | --- |
| Can Your Answering Service Provide These Medical Call Center Services? | December 11, 2016 5:00 AM |
| 4 Reasons to Use an Answering Service for Electricians | November 28, 2016 5:00 AM |
| What Does a Virtual Receptionist Do? | November 15, 2016 5:00 AM |
| Call Recording Essentials You Should Know | October 29, 2016 5:00 AM |
| 6 Reasons to Use a Property Management Answering Service | October 20, 2016 5:00 AM |
| What is a Virtual Receptionist? | October 11, 2016 5:00 AM |
| 4 Tips for Setting up a HVAC Answering Service | September 29, 2016 5:00 AM |
| 6 Technology Tools Your Medical Answering Service Should Provide | September 20, 2016 5:00 AM |
| Four Key Traits to Look for in a Telephone Answering Service | September 15, 2016 5:00 AM |
| Established vs. Start-Up, Which Answering Service is Right for You? | September 12, 2016 5:00 AM |
Industry Champion Award Leaderboard