2016 Award for Answering Service Quality - Ambs Call Center - ContactCenterWorld.com Blog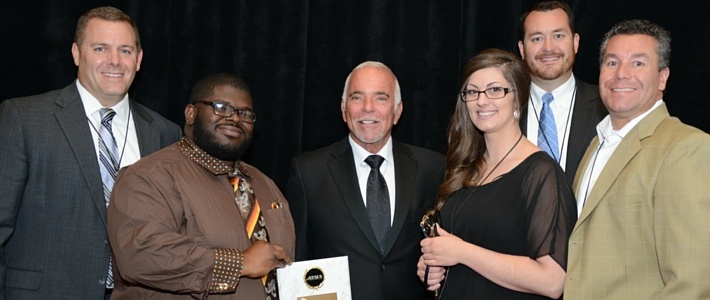 Ambs Call Center was just awarded the 2016 ATSI Award of Excellence for answering service quality. It marks the 6th consecutive year that our team has earned the award. We couldn't prouder of the team of dedicated people that made it happen!
"Winning the ATSI Award of Excellence for a sixth consecutive year demonstrates the true commitment to excellence that AMBS has. I am proud of the entire staff for our continued dedication to providing the highest level of service to our clients."

-Cedric Roney, Quality Evaluator for Ambs Call Center
The Award is presented annually by the Association of TeleServices International (ATSI). ATSI is the industry trade association for call centers across North America and the United Kingdom. This year, the award was presented at the 2016 ATSI annual conference in Tampa, Florida.
Secret Shopper Program for Answering Services
The ATSI award of excellence program is a secret shopper program for call centers. Independent ATSI judges evaluate telephone answering services and call centers over a six-month period.
The scoring criteria includes courtesy, response time, accuracy and service to their clients.
If a company scores 80% or better in all categories, they are presented with the coveted Award of Excellence. The program is now in its 26th year.
Call Center Judging Criteria for Agents
Did they use the answer phrase with a genuine interest and positive attitude?
Was the entire answer phrase clear and could be fully understood?
Did they enunciate clearly and speak at an appropriate pace?
Were they professional?
Did they convey a pleasant and helpful attitude by his/her choice of words and/or tone of voice throughout the call?
Did they use proper manners? (2 please, 1 thank you)
Did they use proper business phrasing and grammar throughout the call, without slang, and without the use of "OK" and/or "Um" during the call?
Did they give the impression that they were knowledgeable by giving appropriate responses and navigating information with confidence/call flows smoothly?
Did they guide caller throughout the call with appropriate questions, with no dead air or evidence that the caller was leading the conversation and was not pushy or rushed when/if gaining control?
Did they offer to take a message/offer to assist, explaining how the message would be handled in a clear and professional manner?
Did they confirm correct spelling and correct phone number?
Was script followed per client instructions?
Did they have a strong close by advising what they would do and ask be done with the message and by advising any additional scripting?
How was the overall "impression" the agent left with the caller?
Did agent remain professional and interested at all time, leaving the caller to feel confident that their needs would be met?
Did the agent personalize by referring to the caller by name, either first or last, throughout the call (at least twice)?
Did the agent sound engaged (appropriately concerned or compassionate) with the caller and did not sound mechanical or scriped??
Ambs Call Center was established in 1934 and has grown to become a provider of the latest telecommunications technologies to a wide range of industries throughout the nation. With locations in Jackson, MI Grand Rapids, MI, and Tampa, FL, Ambs Call Center helps businesses become more efficient and profitable with its 24-hour call center services.
Source: http://blog.ambscallcenter.com/2016-award-for-answering-service-quality
Publish Date: June 27, 2016 5:00 AM
---
PREMIUM

HigherGround, Inc.
(VIEW OUR PAGE)

HigherGround develops data collection, information storage, and interaction analytics solutions that easily transform data into actionable intelligence, enabling operational optimization, enhanced per...

(view more)

PREMIUM

CTI Software
(VIEW OUR PAGE)

CTI Software is the creator of custom application called Davos, which complements the telephone client solutions with intelligent features such as automated call attendant, call recording and archivin...

(view more)

PREMIUM

Avizent Ltd
(VIEW OUR PAGE)

Advanced AI technology and Natural Language Processing delivered to clients in the Cloud that harnesses both voice and digital conversations. The focus is on building an environment where intelligent ...

(view more)
---

View more from
Ambs Call Center
Recent Blog Posts:
| | |
| --- | --- |
| Can Your Answering Service Provide These Medical Call Center Services? | December 11, 2016 5:00 AM |
| 4 Reasons to Use an Answering Service for Electricians | November 28, 2016 5:00 AM |
| What Does a Virtual Receptionist Do? | November 15, 2016 5:00 AM |
| Call Recording Essentials You Should Know | October 29, 2016 5:00 AM |
| 6 Reasons to Use a Property Management Answering Service | October 20, 2016 5:00 AM |
| What is a Virtual Receptionist? | October 11, 2016 5:00 AM |
| 4 Tips for Setting up a HVAC Answering Service | September 29, 2016 5:00 AM |
| 6 Technology Tools Your Medical Answering Service Should Provide | September 20, 2016 5:00 AM |
| Four Key Traits to Look for in a Telephone Answering Service | September 15, 2016 5:00 AM |
| Established vs. Start-Up, Which Answering Service is Right for You? | September 12, 2016 5:00 AM |