BrainSell Technologies - ContactCenterWorld.com Blog
Some may think it's distasteful to think of higher education institutions as businesses. But the roles that colleges and universities play in their relationships with students and faculty have changed from being a bureaucracy of educators to a customer-centric service organization.
With this deep-set change in philosophy, colleges and universities have also changed their approach to business technologies — most notably, they have embraced the use of CRM software. Administrations use CRM software to enhance student experiences, track and maintain operations and outreach, and develop a deeper understanding of their processes. Here are the top 4 ways colleges and universities can improve their organizations with CRM software:
1. Improving Prospecting for Future Students
Student recruitment can be tricky. Wide-reaching strategies aren't the most effective way to pull in the interest of target demographics such as soon-to-be high school graduates, local community members, or family of alumni. On top of this, dealing with a constant influx of engagement from people who communicate in different languages, live in different regions, and use different technology channels can become overwhelming without the correct tools to manage it. CRM software can track and automate a lot of the processes involved in this engagement with prospects, such as gathering and storing prospect information, sending follow-up messages, distributing content, and communicating on social media (if integrated with CRM). In addition to this, reporting tools inside many of major CRM platforms can provide additional insight on the influence of prospect demographics on the application process, or which marketing campaigns result in the most lead conversions (which, in the case, are conversions from interested students to applicants).
2. Tracking Student Life-Cycles Throughout Admission, Enrollment, and Graduation
Colleges and universities can use CRM software to track students from the admissions process all the way to graduation.
Part of the advantage to this is that it will increase retention rates and ensure that students won't drop out or transfer to a different university. But it takes a lot of time, money, and effort to manage students throughout their life-cycle as a student — which can last anywhere from 2 years to nearly a decade. The main way colleges and universities use CRM software to nurture student life-cycles is by personalizing communications and leveraging data to develop messages accordingly. CRM software is a quality and consistency control tool that allows institutions to branch out of the siloed department-specific approach to forming relationships with students and instead taking a university-wide one. Administration can also use CRM software to advertise courses to enrolled students, and provide information about student services, career fairs, or university events. Juggling these programs is difficult and admin-heavy without a CRM that can centralize information and outreach across all departments.
CRM can also help student achieve academic success and maintain personal well-being, if set up to remind students of upcoming deadlines, exam schedules, or information resources. Many platforms are easily customizable. For example, many universities set up alert systems for when students dip below a given GPA — which triggers a number of automatic CRM tasks, such as sending alerts to necessary faculty, placing the student on probation within the CRM, or emailing the student with information about student counseling services.
3. Staying Connected with Alumni and Donors
Many colleges and universities cannot survive without generous financial contributions from alumni and community leaders. For this reason, they're always on the hunt for better ways to raise money and prompt donations — which is infinitely harder to do if they don't build successful and long-lasting relationships with donors and alumni. Along with a decrease in public funding for higher education and rise of student loan interest rates (which discourage students from enrolling and paying tuition), fundraising from donors and alumni is more important now than ever before. With the help of a CRM system, administration can centralize donor and alumni information and use it to send out automated messages and outreach during the most convenient and effect times of the year. These messages might include updates on the success of the institution's programs or students, stylized infographics or reports of university-wide improvements, and information about rewards or benefits programs for contributors. Built-in CRM analytics tools can help determine the messaging and events that result in the most contributions. Colleges and universities can also use CRM software to recruit donors or alumni as potential employees or administration.
4. Gaining Insight on Organization-Wide Data and Processes
Like any other organization before the rise of business technologies, colleges and universities used to gather data on internal processes the old fashioned way — with pen and paper records shoved into cabinets in the back room, or with complicated spreadsheet files full of redundant or outdated information. With CRM, gathering and updating data or compiling it into a report for stakeholders is simple. Built-in reporting and analytics tools make it easier for individuals and departments to access information. This allows everyone to make informed decisions and strategize for growth in a much shorter time.
Administration can also use CRM software to gain insight on their processes by integrating their CRM with other business software. Data collected at the many touch points along the student life-cycle are lost if CRM isn't integrated with other technologies such as social media tools, marketing automation tools, or financial management tools. This lead to a lot of delays and errors in data, as the hand-off of information from one tool to another has to be done manually. Not only does this was a lot of time, money, and manpower, it can seriously affect the accuracy of data, mislead department heads into overlooking (or even over-hyping) problems in their processes, and ultimately lead higher-level individuals within the organization to make bad strategic decisions.
Changes in operational processes and organization-wide philosophies are giving way to the fact that relationships with students, alumni, employers, donors, and faculty are extremely important to the health of higher education. Despite residual discomfort with the idea of treating students like customer, CRM software is an essential tool for running colleges and universities. Proactive colleges and universities are using CRM software to improve and grow their organizations.
Source: https://www.brainsell.net/blog/2019/02/crm-for-colleges-and-universities/
Publish Date: February 19, 2019 5:00 AM
---
It's the loveliest time of the year: Valentine's Day. Today is the day to celebrate love and pledge your undying devotion to loved ones – sometimes across a fancy meal in an Italian bistro, and sometimes across social media channels! (Read: "usies" – as if "selfies" weren't bad enough…)
But, did you know that Valentine's Day is ironically a popular time for break ups? According to several studies – including one that tracked trends in Facebook relationship statuses – break ups might be the result of added pressure to showcase your relationship on social media around this time. This weight of expectations might be the straw that broke the camel's back. So if your girlfriend dumps you today, you probably weren't a good match to begin with…
Here at BrainSell, we aren't matchmakers for people, but we do match companies with the right software solutions to solve their business problems. And while we take great care in fostering lasting connections between organizations and their technologies, some companies aren't so lucky and find themselves in a relationship gone bad – particularly with their CRM software.
So, when should you call it quits with your CRM software? Here are four signs that it's time to let your CRM software down easy:
1. Your CRM is too high maintenance.
If it costs too much time to keep up with upgrades and too much money to scale technologies with your growing business, it may be time to move on.
2. Your sales team and your CRM just can't seem to hit it off.
When a CRM marries you, it marries your whole organization. Your CRM will only deliver ROI value if it's used by salespeople. If you're struggling with user adoption, sit down with your sales team and have a heart-to-heart. Understand why your employees are not using your CRM – maybe they need more training or your CRM is too complex for them. You may love your CRM, but if it just doesn't get along with the people who are important to your business, then something needs to change.
3. Your CRM's user interface has really let itself go.
We've all heard "don't judge a book by its cover" but when it comes to user interface, your employees crave a good customer experience and that usually means that your tools need to look and operate similarly to the latest and greatest consumer apps. So, if your CRM has an outdated look and feel, it may be time to change things up.
4. You've outgrown the relationship.
The right technology for your organization when it was younger isn't always the right technology after your organization has matured. Whether you require better integrations with other software, more advanced reporting capabilities, or more modern functionality, don't struggle to keep your relationship with your CRM together by creating tedious workarounds. You may need a more supportive CRM that can satisfy your needs. Acknowledge you've outgrown your existing tool and that it's time to explore new avenues.
If you're ready to call it quits with your CRM software, download this guide to learn what to look for in a new CRM software solution or contact us so we can help match you up with the right solution for your business.
Source: https://www.brainsell.net/blog/2019/02/dear-crm-its-not-you-its-me/
Publish Date: February 14, 2019 5:00 AM
---
In our most recent CRM 101 video, SugarCRM expert, Susan Shapiro, gives us a brief overview of how to customize your record display and how to use or create filters within Sugar to make it easier for you to navigate your CRM data.
CRM 101 is a video tutorial series of tips and tricks on how to get the most out of your CRM software solutions.
Got any suggestions for what topics we should cover next? We'd love to hear them! Leave a comment below.
Source: https://www.brainsell.net/blog/2019/01/crm-101-how-to-display-records-and-use-filters-in-sugarcrm/
Publish Date: January 22, 2019 5:00 AM
---
If you're a Game of Thrones fan, you are all too familiar with the phrase, "Winter is coming." And, with one of the first big snowstorms of the season forecast to hit us on Sunday, you can hear "winter is coming" being muttered throughout the halls of BrainSell HQ.
However, winter has already arrived for SugarCRM with the announcement of its Winter'19 Release earlier this week. And we can say with confidence, we're much more excited about the roundup of new features and functionality now available in Sugar than we are about all the shoveling we'll be doing in the coming days.
So, what can you expect in the SugarCRM Winter '19 release? Here are the key feature enhancements as outlined by SugarCRM:
Sugar Cloud
Improved collaboration with the new Comments Log – Enable everyone in your company to collaborate more effectively with the new Comments Log. Take important notes as they relate to accounts, opportunities, cases and more so that everyone has the latest information about your customer interactions.
Better business insight with enhancements to Reporting in Sugar – Gain better insight into your business with the ability to now export any report type from Sugar. You can now export the raw data from Matrix and Summation Reports for further analysis in spreadsheets, use in presentations or import into business intelligence and decision support systems.
Greater sales efficiency with the new Product Quick Picks Dashlet – The Product Quick Picks Dashlet helps sellers gain fast and convenient access to their most recently and frequently sold products. Like the product catalog dashlet, sellers can quote products and create opportunities with a single click right from the dashlet.
More enhancements to Advanced Workflow for better business process automation – Several enhancements to Advanced Workflow have been made to drive better business process automation including a major improvement to the business process designer.
Hint 5.0
Stay up-to-date on key accounts with automated insights – With Hint's new Insights feature, you can now receive proactive insights about your prospects and customers to support the right business decisions at the right time. Customize your preferences to select key accounts to monitor, the type of insights, and the cadence for a variety of user-configurable alerts to keep you informed. With automated alerts, stay "in-the-know" for important updates and signals about your key accounts.
Customer Journey Momentum
Drive greater sales and service velocity with Momentum – Momentum is a new feature in Customer Journeys, enabling sellers and service reps to track how efficiently they're progressing through their Customer Journeys. By incorporating a time component to your Customer Journeys, you can drive greater speed and efficiency into your customer interactions.
If you have any questions or want to learn more about these new features and functionality, please reach out to your Customer Success Manager, Ali Lipman (alipman@brainsell.net) and she will be happy to help educate you on the latest SugarCRM quarterly release.
Source: https://www.brainsell.net/blog/2019/01/crm-news-whats-new-in-the-sugarcrm-winter-19-release/
Publish Date: January 18, 2019 5:00 AM
---
BrainSell is happy to announce the launch of a new video series! "CRM 101" is a video tutorial series of tips and tricks on how to get the most out your CRM software solutions.
In our most recent video, Vice President of Sales and SugarCRM expert, Kevin Cook, gives us a brief overview of customizing the user interface within SugarCRM.
Got any suggestions for what topics we should cover next? We'd love to hear them! Email us at info@brainsell.net or come chat with us on our homepage.
Source: https://www.brainsell.net/blog/2019/01/crm-101-personalizing-your-sugarcrm-views-and-dashboards/
Publish Date: January 15, 2019 5:00 AM
---
What's the difference between Sage 300 and Sage 300cloud? What added benefits can you expect by upgrading to Sage 300cloud? BrainSell's Customer Success Manager and Head of ERP, Kellie Pitt answers these questions and more in our latest episode of What the Heck is…! Check out the video below.
Ready to migrate to Sage 300cloud? We're happy to help make the transition a smooth one. Contact Kellie Pitt to get started.
To watch other episodes in our What the Heck is… video series, view the playlist.
Is there a business challenge that you've been struggling with or do you have an idea for a future What the Heck is… video? We'd love to hear from you! Leave your suggestion in the comments.
Source: https://www.brainsell.net/blog/2018/12/what-the-heck-is-sage-300cloud/
Publish Date: December 14, 2018 5:00 AM
---
Last month, BrainSell went on the offensive to fight the good fight against confusing industry jargon by putting together a list of the top thirty business terms we're regularly asked to define. We started with the first half of the list – now here's the second half!
1.  CRM [noun, acronym]
Stands for "Customer Relationship Management"
CRM is a type of business software that manages your business's relationships – with customers, contacts, contractors, and partner – and interactions with customers or potential customers.
The ultimate goal of a CRM platform is to keep you connected with your contacts, streamline your sales processes, track your processes, and improve profitability. Customer relationship management as a business practice is considered a cornerstone of successful businesses, which is why a CRM platform is such an important tool to have in your technology stack.
Further Reading: CRM Software: 5 Main Benefits To Your Business
2.  Perpetual or Subscription License [noun]
A perpetual license is a type of software license that grants the right to access a software platform for life and doesn't expire.
A subscription license is a type of software license that grants the right to access a software platform for a definite amount of time (usually a monthly or yearly basis). This license requires you to renew your relationship with the vendor to continue using the platform.
The main point in the debate of perpetual vs. subscription licenses among vendors has to do with the comparison between the value of long-term subscription payments and a one-and-done perpetual payment. Among users, the debate has to do with the option of switching to different products, vendors, or versions. There are different benefits to both types of licenses – the decision between the two will depend on personal preferences.
Further Reading: Software Subscriptions vs. Perpetual Licenses: The Pros and Cons
3.  Named or Concurrent License [noun]
A named license is type of software user license that is assigned to one username. Only this user can access the instance of the software platform designated to this license.
Also known as a user, per user, seat, per seat, single, single-user, or individual user license
A concurrent license is a type of software user license that is assigned to several usernames. All assigned users can access the instance of the software platform designated to this license. However, only one user can be logged into the platform at a time. Once that user logs out, another user can log in.
Also known as a multi-user, floating, or network license
Both named and concurrent licenses can either be perpetual or subscription licenses. It's important to remember that named and concurrent refer to how a license works, whereas perpetual and subscription refer to how a license is purchased and who owns the license.
Further Reading:  What is the Difference Between Named and Concurrent User Licenses?
4.  Workflow [noun]
A workflow is a function within a piece of software that streamlines and automates a business process, such as a sale, a payment order, a contract negation, or a marketing schedule. You can use a workflow to track and expedite business processes by automating tasks, assigning action items to team members, automatically maintaining records, and enforcing deadlines. Think of it as live playbook.
Example of a lead qualification process workflow in SugarCRM
All levels of business processes can be improved with a workflow. You can build a workflow for a sales cycle. You can build a workflow for a step in that sales cycle. You can even have a workflow for the day-to-day actions in that step of that sales cycle. Workflows can take on many forms. Sometimes they're not something you can see or read – they're just a chain of automated actions that your software executes for you. But more often than not, workflows are interactive diagram or flowchart modules within your software that act as a visual checklist or tracker.
It's worth noting that not all workflows are automated, nor are they all captured in a piece software. They can be a sloppy illustration on a whiteboard in a conference room – but that doesn't sound too helpful.
Further Reading: 6 Reasons Why Workflow is Important for Your Business
5.  Bottleneck [noun]
A bottleneck is a phase of a business process when all resources – team members, departments, facilities, materials, technologies, etc. – are already working at full capacity and additional demand is placed on them.
This demand could be anything from loss of specific resources, to changes in workflow, to an expediated deadline, to requests from clients or contractors. A bottleneck can discourage team members and kill morale, diminish the quality of work, threaten the likelihood of closing a deal, or even slow down progress to a halt.
Not all processes have predetermined or predictable bottlenecks. Sometimes bottlenecks develop in processes that are otherwise unaffected by them due to unforeseen circumstances.
Further Reading: Process Bottleneck Analysis: Answer these 4 questions.
6.  Digital Transformation [noun]
Digital transformation is a foundational change in how a business delivers valuable products or services to customers.
Digital transformation is not the result a new technology, employee, or process – it's the result of a radical and all-encompassing reinvention or readjustment of your business, your processes, your motivations, and your core values. This is not a light undertaking, as it requires cross-departmental collaboration, alignment of business philosophies, and rapid and effective application developmental models.
Further Reading: The What, Why & How of Digital Transformation
7.  Growth-Hacking [verb]
Growth-hacking is a business strategy used by marketing, business development, sales, and customer success teams to identify areas of their business that need to grow. Traditionally, growth-hacking refers to expanding target customer demographics and growing customer bases with new clients, but it can apply to any aspect of a business that may need a green thumb.
Further Reading: Common Growth Hacking Myths (and How Growth Actually Works)
8.  KPI [noun, acronym]
Stands for "Key Performance Indicator"
A KPI is a quantified principle or standard that businesses use to judge, track, and assess business processes and gauge performance.
You can use KPIs as criteria for determining the success or failure of certain processes. For example, marketing departments use KPIs to determine how well their inbound and outbound strategies work to pique the interest of prospects. Some of those KPIs might include lead scores, SEO traffic reports, incremental sales percentages, or customer acquisition costs. Sales, business development, administration, and customer success departments can also use KPIs to gathering information about the effectiveness of their processes.
Further Reading: 18 Key Performance Indicator Examples & Definitions
9.  Metric [noun]
A metric is a measurement used to record information about a task, activity, or other aspect of a business process.
A metric is often confused with a KPI, but they're not the same thing. Metrics are small pieces of information about parts of business process, but they can't tell you much about the process itself unless you apply it elsewhere – like to a KPI calculation. KPIs are often based on several metrics. For example, a metric can be something as simple as the number of times an ebook was downloaded. But that doesn't tell you much about how the ebook affects lead generation. You can plug this metric into a KPI calculation to determine how many of the people who downloaded this ebook fit your ideal client profile – thus becoming marketing-qualified leads.
Further Reading: The Real Difference Between Metrics and KPIs
10.  Scorecard [noun]
A scorecard is a set of measurements that leadership teams track and review on a regular basis to predict future performance of employees and processes.
A good scorecard relies on leading indicators, which are metrics and KPIs that can be influenced to change a predicted trend in future performance. For example, leading indicators of consumer interest might include website traffic and new lead generation. On the other hand, lagging indicators of consumer interest are sales or revenue – metrics and KPIs that can't be influenced. A scorecard that relies on lagging indicators doesn't yield proactive insights that can help you predict future performance.
Further Reading: Developing a Scorecard for Your Business
11.  Reporting [noun]
Example of a reporting tool in IT Sapiens
Reporting is a data visualization function that allows you to extract and compile data from existing sources in charts, tables, interactives, and other images. Reporting tools make it easy for user to find and present useful information.
A good reporting tool is designed to be extremely user-friendly and intuitive. Customization and personalization are key to successful reporting, as this will allow users to create visualization that are most appropriate for their intended audiences. Some reporting tools are standalone applications that need to be integrated with platforms that hold data, but many reporting tools are built into business intelligence, CRM, ERP or marketing automation platforms where your data lives.
It's important to understand that reporting is not analytics. Reporting is the translation of raw data into a visual reference, it is not the calculation of insights or meaning of that data. You may find a tool that offers both reporting and analytics, but these are two different functions.
Further Reading: What is the difference between traditional reporting and data visualization?
12.  Omnichannel [adjective]
An omnichannel strategy is a marketing, sales, and/or service approach used to create an integrated and cohesive customer experience on any – or all – channels of customer interaction. Channels may include social media, call centers, mobile apps, customer support portals, and even brick-and-mortar storefronts.
This means that all platforms are integrated and all data from multiple disparate sources is in one place. At any given moment, you can pull up all a customer's information – which may have been scattered in different channels – and give them a seamless experience.
Further Reading: 7 Examples of Brands with Excellent Omni-Channel Experiences
13.  CMS [noun]
Stands for "Content Management System"
CMS is a type of business software that manages the creation and modification of digital content. CMS platforms typically include web-based publishing, SEO-friendly URL creation, asset libraries, format management, history editing and version control, and indexing tools.
There's a little confusion about the function of a CSM platform. They can be extremely different in design and range of functionality, depending on the role of the intended user. For example, in the marketing field, CMS platforms are website-publishing applications such as WordPress. But in the administration field, CMS platforms are rolodexes for digital content such as Microsoft SharePoint. These platforms have different features and applications, but still serve the same ultimate goal: managing content.
Further Reading: Do You Really Need a CMS?
14.  Marketing Automation [noun]
Marketing automation is a type of business software that automates marketing processes and activities. Marketing automation can help streamline repetitive tasks involved in email campaigns, social media presence, and content distribution.
Marketing automation is designed to simplify some of the most time-consuming and complex responsibilities of the modern marketing teams, from lead qualification, to planning digital advertising campaigns, to website maintenance. Some conflate marketing automation with email marketing or CMS platforms – but marketing automation includes email marketing and CMS, along with a plethora of other invaluable functions.
Further Reading: What is the Difference Between Email Marketing and Marketing Automation?
15.  Lead [noun]
In the simplest terms, a lead is someone who has expressed a higher-than-average interest in your business.
After a lead is identified, your marketing, business development, and sales team will work together to covert that lead into a customer by moving them along in their buyer's journey. This is where the definition of a lead becomes extremely complicated and subjective, depending on your business processes. Generally, a lead becomes a marketing-qualified lead, then a sales-qualified lead, and then an opportunity before making a purchase and becoming a customer. This conversion is referred to as the lifecycle stages of leads and contacts.
Further Reading: Using lifecycle stages in HubSpot
Source: https://www.brainsell.net/blog/2018/12/business-jargon-dictionary-top-30-terms-part-ii/
Publish Date: December 11, 2018 5:00 AM
---
You know you need to invest in a CRM platform, you just need to invest in the right one for your business. It sounds easy enough but with the onslaught of information out there, the decision-making process can be quite convoluted.
Let us help take you one step closer to identifying a winner.
Check out this on-demand webinar to get an unbiased, side-by-side comparison of two leading CRM platforms – Salesforce and Sugar.
We help businesses of all sizes every day make a decision about which CRM is right for their business. Contact us and will help you navigate through this purchasing choice.
Source: https://www.brainsell.net/blog/2018/11/on-demand-webinar-just-the-facts-salesforce-vs-sugar/
Publish Date: November 16, 2018 5:00 AM
---
As the year comes to an end, let's look back at all you've accomplished. This year, maybe you embraced customer-centricity and delivered solid products and services to your clientele - but did you deliver customer support that left them feeling as bubbly as a glass of champagne on New Year's?
If not, don't fret! You can usher in the new year with customer support software. There are hundreds of platforms that provide solid set of tools to help you assist your clients. Here at BrainSell, we use Zendesk to turn every interaction with clients into lasting relationships through frictionless customer experience.
Before you start searching for options, it's important to know what to look for first. Customer support platforms should have these two major features: omnichannel functionality and integration tools for your CRM.
Omnichannel Functionality
Omnichannel is a term that gets thrown around a lot, but what exactly is it?
Simply put, an omnichannel platform is a system that pours disparate data from multiple sources into one place. This allows you to weave customer support into each aspect of your business, from the accounting team to website developers to your call center.
Ensuring a consistently positive customer experience requires an efficient and engaged customer support service, so allowing all aspects of your business access to your customer support platform is crucial. With omnichannel support, you can serve your customers in multiple channels.
For example, Zendesk allows you to interact with customers through your website chat window, your support ticket system, or your self-service knowledge base. Behind the scenes, support information is compiled by Zendesk no matter where you interact with your customer, giving representatives insight on how they can further develop each channel. This allows you to optimize communication with your clients and improve relationships at every touch point.
CRM Integration
If you're convinced that an omnichannel approach to customer support is best, then you'll need to tie your platform to your one-true customer database: CRM. Most customer support platforms can integrate with your CRM, but not all. It's important to be aware of this while selecting a platform. In BrainSell's case, we chose Zendesk because it seamlessly integrates with our CRM, SugarCRM. It also integrates with Microsoft Dynamics 365, SalesForce, and HubSpot, to name a few.
So let's look at Zendesk/SugarCRM integration as an example. No longer do you have to toggle between your CRM and support platform to see relevant customer information. This integration allows you to see your SugarCRM contact, lead, account, and opportunity data right from within the Zendesk interface. It also allows you to view your Zendesk support tickets and comments from the team right from within SugarCRM as well. Check it out:
SugarCRM View
Immediately after installing the integration module and adding the Zendesk Tickets dashlet, you can see all the associated Zendesk Tickets in the module of your choosing.

You can filter and sort to get to exactly what you need to see right from within SugarCRM. You can click the arrow to open the ticket in Zendesk or click into the Ticket Subject and see all the details, including all public and private comments, without ever having to leave Sugar.
Zendesk View
Likewise, in Zendesk you will be able to see all the associated SugarCRM data associated with the contact who opened the ticket in both Zendesk Support and Zendesk Chat. Additionally, Zendesk can be configured to work with your custom modules, custom fields, and workflows.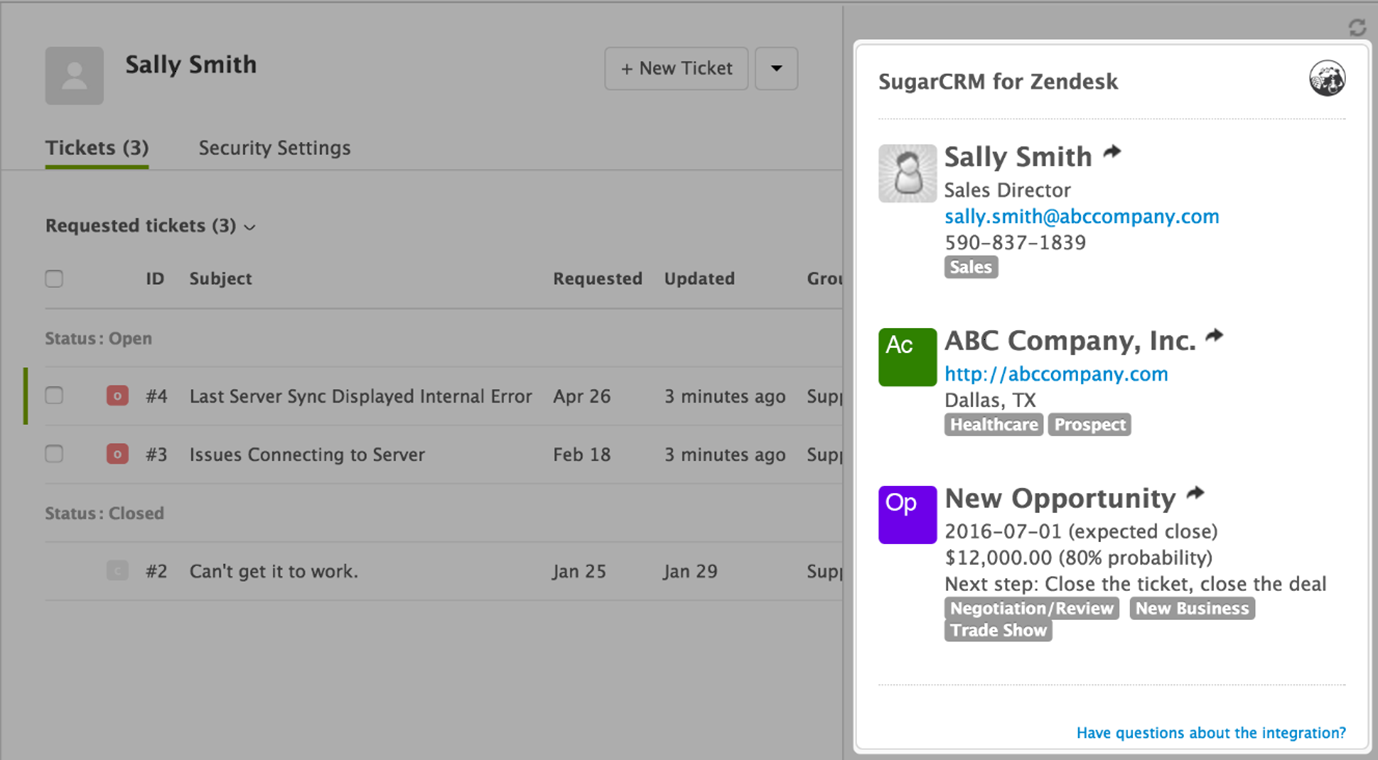 The Bottom Line
Don't let another year of sub-par customer support pass you by. Let's chat about your customer support goals and come up with an approach that's best for your business.
Did something about Zendesk peak your interest? It peaked ours too! Join us for our webinar on December 12th 2018 at 2:00 PM (EST) to learn about how we're ringing in the New Year with superior customer support.
Source: https://www.brainsell.net/blog/2018/11/make-superior-customer-support-a-2019-resolution/
Publish Date: November 14, 2018 5:00 AM
---
If you're satisfied with the status quo, read no further. This content is not for you.
However, if you have an appetite for shaking things up and trying new approaches to old challenges, you'll want to keep reading. Why? For a fresh look at ways to supercharge your sales and marketing teams — and your business — by transforming your Customer Relationship Management (CRM).
It's no secret that digital transformation is disrupting the way businesses interact with their customers. The upside is that these disruptions provide new opportunities to rethink time-worn processes.
By linking disparate sources of data across the business, you can get a clear and comprehensive view of customer activities. The insights you gain from this view will help everyone from salespeople to call-center reps deliver consistently great experiences with every customer interaction.
The foundational tool for superior customer experience is your CRM system.
The challenge, historically, is that the people who stand to benefit most from CRM either can't or won't use it, because traditional CRM systems can be overly complex and very user unfriendly.
But modern CRM has come a long way — and it's time to take a fresh look at what it can do for your business. The best CRM solutions are easy to use, yet comprehensive in scope — turning every employee into a customer expert by putting the right information at their fingertips, often before they even ask for it.
Download "The Essential Guide to CRM" to get insights from top industry experts and forward-thinking business leaders about the challenges of traditional CRM deployments and the keys to a successful implementation. Additionally, learn the questions to ask when evaluating solutions and tips for getting started on the path to modern, game-changing CRM.
Are you currently evaluating which customer relationship management software is right for your organization? Contact us and speak with one of our CRM industry experts about your organization's unique needs and objectives and the software options to address them.
Source: https://www.brainsell.net/blog/2018/05/evaluating-customer-relationship-management/
Publish Date: May 15, 2018 5:00 AM
---
Customer Relationship Management Software (CRM) enables companies of all sizes to efficiently manage business relationships, interactions, and the data and information associated with individual contacts. In today's CRM marketplace, Salesforce, SugarCRM and Microsoft are dominating players – a fact reflected in the poll results from a live webinar we recently held, comparing Salesforce and SugarCRM. We asked webinar attendees which CRM tool their organization was using today, and more than half (58%) of respondents indicated they were currently using one of these three platforms.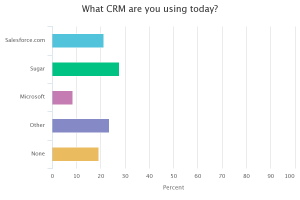 If you're asking yourself, "Which CRM is right for my business?" – we can help.
We recently took a closer look at how these three software vendors stack up against one another. In particular, we explored these five key areas:
Customer support
Deployment
Limitations
Architecture
User minimums and pricing
Customer support
Microsoft Dynamics offers unlimited customer support via its online portal and phone. Salesforce and Sugar are on a pretty even playing field when it comes to support – both offering unlimited support via their online portal with an option to upgrade to phone support for an extra fee.
Deployment
When looking at deployment options, one of the differentiators with Salesforce is that it is on-demand only – meaning it's hosted in their cloud only so your sales team does not need to be tied to their desk – they can access it from anywhere, on any device as long as they have access to internet. Microsoft Dynamics and Sugar on the other hand, both offer a similar on-demand option as well as two other options – putting it in your own private cloud (i.e. Amazon, Azure) and on premise – you can host Sugar or Microsoft within the laptop on your desk. So, Sugar and Microsoft offer more flexibility in terms of how the software is deployed, but the question is whether or not your organization needs the flexibility.
Limitations
In terms of limitations – first off, it is worth noting that every platform will have its limitations. As a company, based on your goals and needs, you'll need to establish which limitations are deal breakers and why. For example, both Salesforce and Sugar do have overage charges associated with data storage.
Another area to consider are API calls – limited vs. unlimited. If you're asking yourself, "what are API calls?" you aren't alone. The phrase API calls is really just computer language for sending out calls between applications – it really helps with ensuring your technology is integrated and works well together.
Architecture
The Salesforce architecture is built on Apex language – an Oracle-based coding – not widely taught and known, so if you need to do any hard coding within the CRM platform, you'll need to find a specialist to make those changes. PHP is what Sugar uses at its core and Microsoft uses C# and DHTML – these are more common languages than Apex, so it is easier to find a developer if you need to make any changes that require hard coding. However, all three products offer point and click changes easily applicable by most users. Simply put, the architecture is important – but it may not be important to you because you don't need to make any significant changes requiring custom coding.
User minimums and pricing
In terms of user minimums, Salesforce doesn't have a minimum requirement. Sugar does have a 10-user minimum to start and Microsoft Dynamics has a 25-user threshold that determines product-level pricing.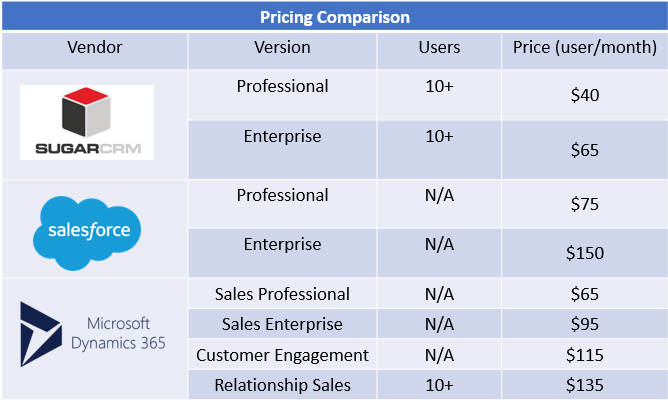 Which CRM is right for my business?
To the casual observer these may seem like very similar products, so how do you decide which software is the best fit for your business. To answer this, you'll need to consider some additional factors outside of functionality, including:
User interface (UI) – While functionality may be similar, the UI of one product may be preferable and can become a decision factor for your organization.
Budget – Establishing a budget and knowing the number of users will help you narrow down your options based on need and what you're willing to spend.
Integration – Take into consideration other technologies you've implemented or are planning to implement within your organization and what potential that have to integrate easier with one software over the other. For example, Salesforce offers an out-of-the-box connecter with NetSuite and Intacct.
Interested in learning more? Get your complimentary Top 5 CRM Software Vendors Report for tips on how to evaluate your CRM needs and identify and involve decision-makers early on in the process.
Ready to further explore which CRM is right for your business? Contact us and speak with one of our CRM industry experts about your organization's unique needs and objectives and the software options to address them.
Source: https://www.brainsell.net/blog/2018/05/which-crm-is-right-for-my-business/
Publish Date: May 10, 2018 5:00 AM
---
Last year, in an effort to deliver a fast and regular pace of project innovation as well as to provide a more predictable upgrade process for its existing customers and partners, SugarCRM switched to a quarterly and annual release schedule. Which means, the Spring 18 (for cloud customers) and Sugar 8 (for on-premises customers) CRM releases are available right now.
So, what can you expect from Sugar with these new releases and what changes will you see to your CRM instance? Sugar's Co-founder and CMO, Clint Oram highlights what's new for Spring '18 and the key features coming out in Sugar 8, including:
New functionality to help organizations more effectively manage incoming data privacy requests.
Availability of the Catalog Price Dashlet (previously introduced in Winter '18) throughout Sugar, making it easier to explore and discuss products from anywhere.
Greater flexibility over workflow actions with run-time execution.
An improved user interface that offers a more modern and elegant color scheme for better legibility and ease of use.
Easier access to data with actionable drill-through charts.
Watch this short video for all the details.
Interested in learning more about SugarCRM's latest functionality and how it can benefit your organization? Contact us – we'd be happy to walk you through the latest enhancements and upgrades and the direct impact to your business.
Source: https://www.brainsell.net/blog/2018/05/crm-news-whats-new-sugar-spring-18-sugar-8-releases/
Publish Date: May 8, 2018 5:00 AM
---
The 2018 SugarCRM release (v7.11) is brimming with updates that range from subtle to stellar. From its fresh new look and feel to improved functionality through the ability to duplicate quote records, SugarCRM's 2018 release facilitates efficiency while optimizing the user experience. As a result of these enhancements, sales representatives can complete quotes and communicate with clients faster and more easily directly from SugarCRM. Customers also benefit from SugarCRM's new updates, as they are able to receive the pricing they need faster. Below is a look at the top ten updates to SugarCRM and how they benefit sales professionals. And you can review the full release notes on Sugar's site here!
SugarCRM's commitment to ongoing quality improvement
"We'd observed that CRM products were among the most disliked among users. The goal was to build something that actually helped the salesperson, the end-user, to do their job. As opposed to something that was about Big Brother, management, and tracking what they were doing. That was the original concept and it's stuck through the company. We still focus on that."
- Larry Augustin, CEO of SugarCRM

As illustrated by his comments in a recent interview with Diginomica, Larry Augustin reminds users that SugarCRM was introduced to help sales professionals succeed in their jobs. In keeping with this goal, the 2018 release of SugarCRM is designed to delight existing users and attract new customers seeking a versatile, user-friendly CRM. Below are the top ten highlights of SugarCRM's new release.
1) A sleek new design
SugarCRM introduced a host of cosmetic changes to produce a fresh new look and feel for users. Design-related changes include a more vibrant Sugar Sidecar user interface that features bold colors and shapes. Examples include colorful, eye-catching sales pipeline graphics and colorful buttons that denote call and opportunity status. These aesthetic changes combine to produce a more positive user experience for sales representatives.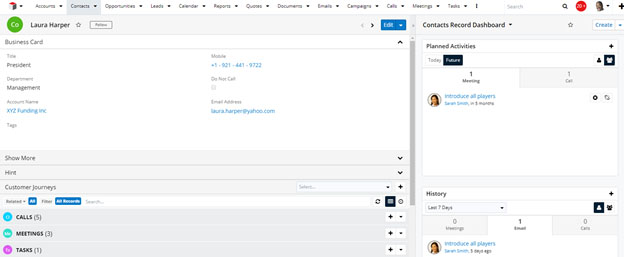 2) A more user-friendly record preview layout
Record previews are vital to busy sales professionals seeking a quick snapshot of a customer's account details. SugarCRM's new release features a more sophisticated record preview interface for users. Through an updated intelligence pane, SugarCRM users can quickly preview a customer's account details to facilitate targeted sales.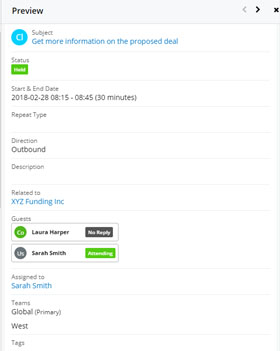 3) Advanced workflow updates
The ability to track lead status changes enables salespeople to successfully manage accounts and focus their energies on new leads. Lead tracking also facilitates opportunity forecasting for sales managers. With Sugar's advanced workflow updates, users receive message events that summarize changes to a lead's status, enabling sales professionals to quickly swing into action if warranted.
4) Quote duplication
Sales professionals serving customers who frequently reorder the same collection of products will be delighted with this update. SugarCRM's new release enables users to replicate past quotes with the click of a button. The duplicate quote will contain the same account information, line items, and products referenced in the original to ensure accuracy. This feature enables sales professionals to save valuable time while providing their customers with quotes in lightning fast time. In these ways, quote duplication improves sales efficiency and higher customer satisfaction.

5) Enhanced email forwarding
The ability to send emails to customers directly to customers from SugarCRM is another time-saving feature. Additionally, it enables sales representatives to effortlessly track and store electronic correspondence with customers. With SugarCRM's new release, sales professionals are now able to easily forward archived email messages to customers and other recipients.

6) Email unlinking
Sometimes users need to unlink emails from an account record to streamline customer data or simply condense data associated with a large account. SugarCRM 2018 enables sales representatives to easily unlink emails from an email subpanel of related records. Whether a user simply wishes to condense an account record or customize the customer's email subpanel, SugarCRM makes it simple to unlink emails.
7) Email sorting
Finding emails with attachments quickly enables sales representatives to confirm quotes and specifications on the spot. SugarCRM's new release features the addition of a filter that allows users to quickly sort emails to locate emails that were sent with quotes and other attachments.
8) An enhanced product catalog dashlet
Finding products with minimal effort and searching is vital to a salesperson's ability to quickly confirm product availability and cost. With this update, SugarCRM users can locate product details rapidly and respond faster to customers. Additionally, users now have access to a visual representation of every product available in the catalog dashlet.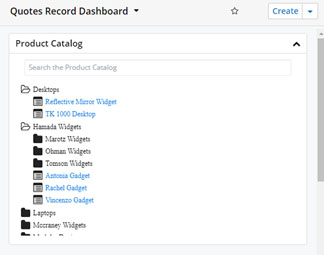 9) Interactive report charts
With SugarCRM's latest updates, users are now able to access and drill through a report chart. By simply clicking on a report chart, sales professionals can actively engage with data in Sugar. They can choose from a variety of report operations such as Record Actions menu, Favorite designation, Refresh, and Mass Actions menu. Through the availability of these operations, sales reps can actually engage with reporting data.

10) Enhanced saved reports chart dashlet
Accessing data contained in originating reports can help sales professionals target their outreach efforts and adjust their individual sales approach. Through the introduction of a View Report option, SugarCRM 2018 enables users to access a detailed view of originating reports. This option can be found in the Saved Reports Chart dashlet.
The Bottom Line
The 2018 SugarCRM enhancements promote efficiency and convenience for busy sales representatives who yearn to meet customer demands quickly and professionally. With an eye-catching new look and a host of new options, SugarCRM's 2018 release enables sales managers and their staff to optimize their communication, quoting, and data reporting. Customers, in turn, receive quotes and correspondence faster. This enables customers to expedite purchasing decisions and respond faster to the demands of key stakeholders. The end results are shorter sales cycles and higher levels of customer satisfaction.
To learn more about SugarCRM's enhanced design, please contact us at BrainSell. One of our industry experts will be happy to introduce you to the specific ways that SugarCRM can benefit your business. As a leader in the advisory and technology industries since 1994, BrainSell is committed to providing companies of all sizes with the software and business process tools that will help them thrive. We look forward to serving as your trusted resource for business software solutions!

Source: https://www.brainsell.net/blog/2018/03/top-10-highlights-sugarcrms-7-11-release/
Publish Date: March 7, 2018 5:00 AM
---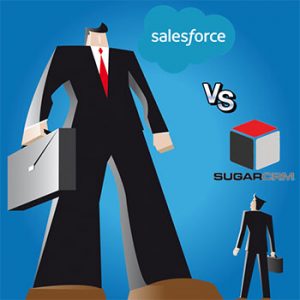 BrainSell asks this question and many more in a free webinar that you don't want to miss, "Is Bigger Better? Salesforce vs. SugarCRM Challenge Series."
On Wednesday, Feb. 28th at 2:00 PM EST, BrainSell's own Sonja Fridell and Kevin Cook are back—and this time they are comparing industry leader Salesforce.com with its close competitor, Sugar.
Always fact-focused and never sales-pitchy, this duo delivers a straight-forward, unbiased look at this CRM rivalry. Their live demo dedicates 10 minutes to each solution, cutting through the mountains of online data sheets to help you narrow down the best choice for your brand.
A quick, easy-to-follow (and super fun!) presentation, Sonja and Kevin take you through every feature of the lead-to-cash funnel, like architecture, deployment styles, support and ending with thorough price comparisons. But do you know what the best part is? Because it's live, you can ask all your burning CRM questions and get answers in real time!
Can't wait for the webinar? Download Brainsell's ebook "Top 5 CRM Vendors of 2018" right now so you can see which CRM would be a good fit for you. And if you want to talk to someone today, just sign up for some quality time with a specialist like Deven—he knows how to identify and implement the ideal strategy to take your business to the next level and turn your dreams into reality!
Sign up now to join Sonja and Kevin for "Is Bigger Better? Salesforce vs Sugar CRM Challenge Series." And hey, if you want to chat with them afterwards, these two sailing fanatics would love to take a break from their summer countdown to connect with you on a great solution!
Source: https://www.brainsell.net/blog/2018/02/bigger-really-better-salesforce-com-vs-sugarcrm-live-webinar/
Publish Date: February 21, 2018 5:00 AM
---
If you've found this blog, you are likely researching CRM systems for your company, and have realized the market is saturated with lots of solutions all claiming to be the "best." Here at BrainSell, we take a step back and make sure the software being selected is indeed the best for your business; that is why we are partners with over 30 different vendors. We understand not everyone fits the same mold.
Most CRM systems have 5 key categories for consideration when identifying which system will best compliment to your business process.
Sales force automation (SFA)

SFA is the use of software and process engines to automate tasks in CRM. Tools like bpm'online are built on a backbone of a process, automating everything from customer journey to marketing and sales. Other solutions like SugarCRM offer a bpm 2.0 compliant process engine in their enterprise edition, Salesforce has Lightning Process Builder, along with Workflow and Visual Workflow available in their Lightning Enterprise and Lightning Unlimited editions. Automating your sales processes will ensure your users follow the same business processes and your clients follow the same journey. This is not only a time saver but also forces organizations to document and fully understand business processes. Having your finger on the pulse of your sales teams and customer interactions is never a bad thing.
Marketing and Marketing Automation

If your marketing and sales teams still don't share data, you are missing out on game-changing information about your prospects and customers. Not to be confused with email marketing, marketing automation is a platform that will centralize all of your digital marketing activities. Salesforce offers Marketing Cloud AKA Pardot, SugarCRM has developed a strong relationship and integration with Act-On, and bpm'online has a "marketing" user and interface but hasn't fully developed their integration points. Infor CRM (formally SalesLogix) has an integration with SalesFusion and Microsoft Dynamics 365 has options available like Act-On and Click Dimensions. These tools will give you the ability to see marketing activities from your clients and prospects inside CRM, apply lead scoring techniques and adopt a "Compel with Content" strategy, as outlined in Predictable Revenue. More information about how these systems work together can be found in our webinar recording "7 Steps to Create a Lead Generation Machine." < - link to webinar
Reporting

Please stop making people use Excel for complex reports. It's mean and likely not accurate. Most top-tier CRM systems have strong reporting features, but don't be fooled by the difference between filters and reports. The right CRM should be able to report cross-module, have drillable graphs, and the ability to schedule automatic delivery of custom and out of the box reports. Looking at the same CRM sample group, bpm'online does not offer a true reporting module. Salesforce leads the pack in this category, since not only can you create custom reports that touch data from across all modules (objects), but you can create great looking graphs and schedule delivery, then take the next step with the AppExchange. SugarCRM and Microsoft both have full ride reporting capabilities, but can both be complex to understand and in some cases, cannot touch across modules for simple tasks like lead conversion rates.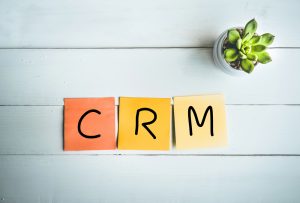 Mobile

Road warriors rejoice! The CRM community heard you and made some significant updates in the world of mobile applications. This past year, SugarCRM released Mobile SDK, allowing the development of fully customizable mobile applications, yet the original SugarCRM mobile app is also still available. The Salesforce mobile app is, in a word, awesome. A full mobile SDK is available as well as the original app, that tout's full customizations, an Apple Watch app, dashboards and Click-to-Dial. Microsoft has kept the "pin" feature from the 2016 homepage in Windows, which is the limit of the customizations one can make. The interface seems slow compared to Salesforce and SugarCRM, however, large investments are being made in the new Dynamics 365 offerings. Perhaps a new mobile app will be one of them. Infor CRM has kept up with their mobile offering, maintaining SalesLogix's strength in the mobile app realm… Bpm'online has an online/offline mobile app, as well. It starts with bare bones and you must configure and customize the app before using it. Once configured, it's as strong as the out of the box SugarCRM and Salesforce apps.
Ecosystem
In the past, CRM systems used to be a standalone platform with limited bells and whistles that would either fit your business or be an "ok" fit. With the rise of Salesforce and SugarCRM as industry leaders, more developers have created add-ons and integrations that allow businesses to build a complete solution. Examples would be connecting your VOIP system for call logging, email integrations for GMAIL or Outlook, and perhaps a big data tool/Business intelligence solution. Don't listen to the "we're working on it" answer when evaluating CRM systems. Either the platform has a large ecosystem or it does not.
To see how some top-tier solutions, score side by side download our full 2018 CRM comparison guide here - http://bit.ly/2FmU6Db
Source: https://www.brainsell.net/blog/2018/01/5-key-categories-consider-crm-selection/
Publish Date: January 10, 2018 5:00 AM