Things to Consider when Migrating to Office 365 - Buchanan Technologies, Inc. - ContactCenterWorld.com Blog
Your organization has decided to transition to Office 365. As any organization knows from experience, no matter the size, change is a process that requires careful research, planning and resources for a successful execution. The devil is in the details. So, when planning any migration, what are the main high-level considerations for a smooth move with minimal to no growing pains?
First and foremost, be sure you've done your research.
When migrating to Office 365, there is not a "one size fits all" solution for every organization. Each organization has a unique set of needs and infrastructure requirements. Consulting with an experienced IT solutions company, like Buchanan, will ensure that all bases are covered from the most minute technical details to large scale considerations such as security.
Questions to consider include:
What are your organization's goals and expectations?
What is your timeline?
Have you set a budget?
Do you have existing licenses, do you need more, and will they need to be managed on a monthly basis?
What will your onboarding process be? Has it been identified?
What about end-user support? Who will handle questions upon execution?
Do you have the internal resources and knowledge to keep the plan on track and on budget?
Answering these questions, and more will help develop a realistic execution plan which will, in the short- and long-run, ease the migration process. Perhaps you have all the manpower in-house, but just need a plan of execution. Perhaps you need a hybrid approach, where you can handle some elements in-house and need to outsource others. Or perhaps outsourcing all of the components of the process is the right solution.
As with many transitions, there may be bumps along the road, but the key is to minimize them and keep the big picture in mind. Set your organization up for success by effectively planning and engaging the right resources, so it's smooth sailing ahead.
Contact Buchanan Technologies for your O365 Consultation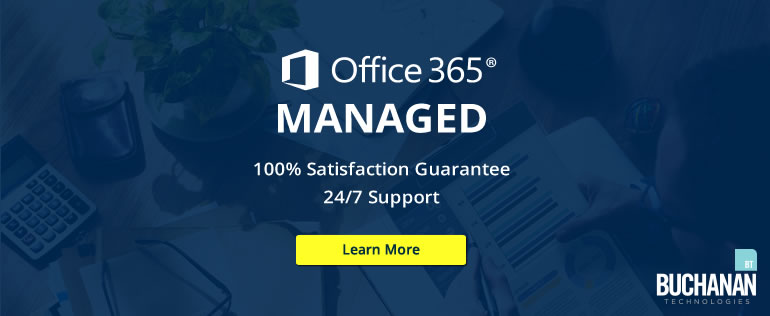 Source: http://www.buchanan.com/2016/01/05/things-to-consider-when-migrating-to-office-365/
Publish Date: January 5, 2016 5:00 AM
---
PREMIUM

CTI Software
(VIEW OUR PAGE)

CTI Software is the creator of custom application called Davos, which complements the telephone client solutions with intelligent features such as automated call attendant, call recording and archivin...

(view more)

PREMIUM

Avizent Ltd
(VIEW OUR PAGE)

Advanced AI technology and Natural Language Processing delivered to clients in the Cloud that harnesses both voice and digital conversations. The focus is on building an environment where intelligent ...

(view more)

PREMIUM

HigherGround, Inc.
(VIEW OUR PAGE)

HigherGround develops data collection, information storage, and interaction analytics solutions that easily transform data into actionable intelligence, enabling operational optimization, enhanced per...

(view more)
---

View more from
Buchanan Technologies, Inc.
Recent Blog Posts:
| | |
| --- | --- |
| How Workflow Automation in SharePoint Can Improve Your Business | March 29, 2017 5:00 AM |
| Things to Consider when Migrating to Office 365 | January 5, 2016 5:00 AM |
| Why Move to Cloud with Office 365? | December 18, 2015 5:00 AM |
| 5 TIPS TO IMPROVE YOUR HELP DESK COMMUNICATION AND CUSTOMER SATISFACTION | December 9, 2015 5:00 AM |
| Lync Voice Tip-o-the-Week #5 – Who Needs YouTube When Lync Does Browser-based Video? | November 2, 2015 5:00 AM |
| Lync Voice Tip-o-the-Week #4 – Lync Knows When You Are Sleeping, It Knows When You're Awake | October 28, 2015 5:00 AM |
| Lync Voice Tip-o-the-Week #3 – Fun with Phone Numbers | October 19, 2015 5:00 AM |
| Lync Voice Tip-o-the-Week #2 – Lync 2013 Mobile Client | October 12, 2015 5:00 AM |
| Lync Voice Tip-o-the-Week #1 — PINS…as far as the eye can see. | October 5, 2015 5:00 AM |