Why Move to Cloud with Office 365? - Buchanan Technologies, Inc. - ContactCenterWorld.com Blog
With ongoing shifts in office productivity software and hardware options, many organizations are turning to cloud-hosted services to keep their business relevant and productive, ultimately with the bottom line in mind.
Moving business operations to the cloud, such as Microsoft's Office 365, gives an organization advantages unlike those offered in the past. Office 365 is a Software as a Service (SaaS) hosted in Microsoft's Azure cloud. With Microsoft Office 365, organizations can now harness the suite of tools they are so familiar with while utilizing the many capabilities that the cloud can provide — mainly flexibility, ease of use and security.
With other offerings available, why chose Office 365? To start, Microsoft's Office 356 is the market leader in this space, but why stop there.
How about:
It's Easy to Use:
It's a "tried and true" suite of office tools that the majority of workforces are familiar with and if they're not, it's simple to use and highly intuitive
It's Flexible:
Companies scale up and down as their needs change, and Office 365 offers superior flexibility. If your company finds an imminent need to increase it's data storage or number of licenses for an upcoming project without a long-term commitment, there are several options, offered on a month-to-month basis.
It's Cost-Effective:
The need for costly hardware, software upgrades, ongoing maintenance and on-premise storage is eliminated, allowing valuable internal resources to work smarter. Microsoft provides automatic updated product releases, bug fixes and anti-virus updates.
It's Secure:
Security is a primary concern for every organization, small, mid-size or large. Office 365 offers a solid security platform using 128-bit SSL/TLS browser encryption.
It's Mobile:
Enabling your workforce to work from any device, anywhere using one data source maximizes your business productivity, plain and simple. Mobility is key in today's business world and Office 365 provides this capability, ultimately allowing your organization to stay in control and ahead of the competition.
I'm sure you've heard lots of hype about moving to "the cloud" and what it can do for your business. Microsoft's Office 365 is a proven solution which can be implemented internally or outsourced to an experienced IT solutions provider. And Having Microsoft's Office 365 at your fingertips is a sure fire way to enhance productivity with minimal effort or cost.
If you are looking for an O365 solution, Buchanan Technologies can assist in consultation, talent, licensing, management, end user support, desktop support, either all or any combination based on your needs. Contact us today!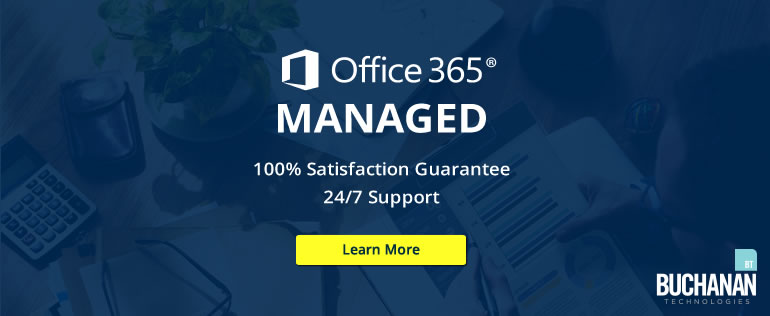 Source: http://www.buchanan.com/2015/12/18/why-move-to-cloud-with-office-365/
Publish Date: December 18, 2015 5:00 AM
---
PREMIUM

Future Gen International Pte Ltd
(VIEW OUR PAGE)

Outsourcing provider of English Call Centre services, Audio Transcriptions, Big Data ETL (Extract, Transform, Load) , Big Data Visualization, Big Data Predictive Model Generation

PREMIUM

Avizent Ltd
(VIEW OUR PAGE)

Advanced AI technology and Natural Language Processing delivered to clients in the Cloud that harnesses both voice and digital conversations. The focus is on building an environment where intelligent ...

(view more)

PREMIUM

HigherGround, Inc.
(VIEW OUR PAGE)

HigherGround develops data collection, information storage, and interaction analytics solutions that easily transform data into actionable intelligence, enabling operational optimization, enhanced per...

(view more)
---

View more from
Buchanan Technologies, Inc.
Recent Blog Posts:
| | |
| --- | --- |
| How Workflow Automation in SharePoint Can Improve Your Business | March 29, 2017 5:00 AM |
| Things to Consider when Migrating to Office 365 | January 5, 2016 5:00 AM |
| Why Move to Cloud with Office 365? | December 18, 2015 5:00 AM |
| 5 TIPS TO IMPROVE YOUR HELP DESK COMMUNICATION AND CUSTOMER SATISFACTION | December 9, 2015 5:00 AM |
| Lync Voice Tip-o-the-Week #5 – Who Needs YouTube When Lync Does Browser-based Video? | November 2, 2015 5:00 AM |
| Lync Voice Tip-o-the-Week #4 – Lync Knows When You Are Sleeping, It Knows When You're Awake | October 28, 2015 5:00 AM |
| Lync Voice Tip-o-the-Week #3 – Fun with Phone Numbers | October 19, 2015 5:00 AM |
| Lync Voice Tip-o-the-Week #2 – Lync 2013 Mobile Client | October 12, 2015 5:00 AM |
| Lync Voice Tip-o-the-Week #1 — PINS…as far as the eye can see. | October 5, 2015 5:00 AM |