Lync Voice Tip-o-the-Week #5 – Who Needs YouTube When Lync Does Browser-based Video? - Buchanan Technologies, Inc. - ContactCenterWorld.com Blog
By Ken Lasko
I'm sure most of you already know you can hold audio/video calls and conferences with other companies that use Lync. If you don't know that, well, I guess now you do. (Tip within a tip: enter the email address of someone you know at another company that uses Lync in the address bar. If they're on Lync, you're off and running).
Did you know you can invite people to a Lync-based meeting even if they don't have Lync installed? Did you also know that people can dial in to your meeting via a normal telephone if they want to? To get started, go to your calendar in Outlook and click the New Online Meeting button.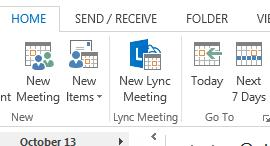 This will open up a new window pre-populated with the Lync dial-in conferencing access numbers available to you. Everybody has their own dedicated conference ID, so there's no more fighting over who gets to use the conference bridge. Send the meeting request to all the participants. When a user clicks on the Join Lync Meeting link in the email, they will join the meeting using Lync if its installed, or the browser-based Lync meeting client if they don't have Lync installed.
The Lync browser meeting client allows users to participate in audio/video conversations, desktop sharing sessions, whiteboards and polls. If they don't have a computer handy, they can dial into the conference using a regular telephone.
Here's an example of video conference and white boarding features in action.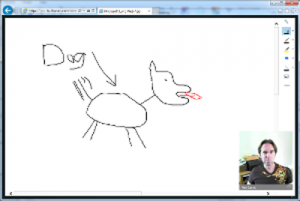 My artistry is second to none, as you can clearly see. I'd like to say that it was my toddler son who drew this, but who are we kidding. He's much better than this.
Running audio conferences is much easier using Lync. Not only can you clearly see who is on the meeting, you can mute the people who are dialed in while riding a motorcycle without a helmet in a hurricane. Or if you're drunk with power, you can drop whoever you want from the conference. I encourage you to try out the Lync conferencing features. Go ahead, it won't hurt you.
As I've noted in my last posts, the features I am covering throughout this series are only available if your Lync admin has enabled them. If you don't have access to these features, you should partner with Buchanan Technologies to help you unlock Lync's full potential.
About Ken Lasko
Ken Lasko is a Microsoft Lync MVP, unified communications thought leader, and first-class David Hasselhoff impersonator. Check out his blog unified communications blog http://ucken.blogspot.com/ and follow him on Twitter at @kenlasko.
Source: http://www.buchanan.com/2015/11/02/lync-voice-tip-o-the-week-5-who-needs-youtube-when-lync-does-browser-based-video/
Publish Date: November 2, 2015 5:00 AM
---
PREMIUM

CTI Software
(VIEW OUR PAGE)

CTI Software is the creator of custom application called Davos, which complements the telephone client solutions with intelligent features such as automated call attendant, call recording and archivin...

(view more)

PREMIUM

Future Gen International Pte Ltd
(VIEW OUR PAGE)

Outsourcing provider of English Call Centre services, Audio Transcriptions, Big Data ETL (Extract, Transform, Load) , Big Data Visualization, Big Data Predictive Model Generation

PREMIUM

HigherGround, Inc.
(VIEW OUR PAGE)

HigherGround develops data collection, information storage, and interaction analytics solutions that easily transform data into actionable intelligence, enabling operational optimization, enhanced per...

(view more)
---

View more from
Buchanan Technologies, Inc.
Recent Blog Posts:
| | |
| --- | --- |
| How Workflow Automation in SharePoint Can Improve Your Business | March 29, 2017 5:00 AM |
| Things to Consider when Migrating to Office 365 | January 5, 2016 5:00 AM |
| Why Move to Cloud with Office 365? | December 18, 2015 5:00 AM |
| 5 TIPS TO IMPROVE YOUR HELP DESK COMMUNICATION AND CUSTOMER SATISFACTION | December 9, 2015 5:00 AM |
| Lync Voice Tip-o-the-Week #5 – Who Needs YouTube When Lync Does Browser-based Video? | November 2, 2015 5:00 AM |
| Lync Voice Tip-o-the-Week #4 – Lync Knows When You Are Sleeping, It Knows When You're Awake | October 28, 2015 5:00 AM |
| Lync Voice Tip-o-the-Week #3 – Fun with Phone Numbers | October 19, 2015 5:00 AM |
| Lync Voice Tip-o-the-Week #2 – Lync 2013 Mobile Client | October 12, 2015 5:00 AM |
| Lync Voice Tip-o-the-Week #1 — PINS…as far as the eye can see. | October 5, 2015 5:00 AM |
Industry Champion Award Leaderboard