Callbox - ContactCenterWorld.com Blog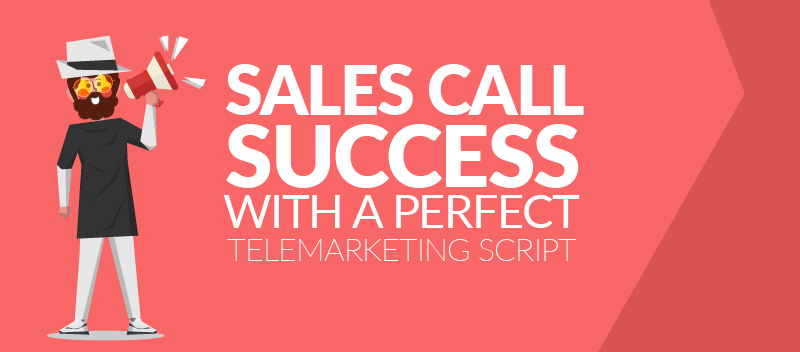 Many people have become allergic to cold calls these days. Ask any telemarketer, and they will tell you how people hung up on them, even slammed phones, when they suspect they are talking to telemarketers.
You cannot blame people for doing so because there are organizations who have given telemarketing or cold calling a bad rap. Despite the bad news, it does not mean that telemarketing is dead. In fact, it remains one of the strategies companies use, even the Fortune 500 companies, to drive revenue.
However, if you are still using dated cold calling techniques, better not do it at all. Many changes have happened over the years, so if you are serious about telemarketing, here are a few tips for creating a successful telemarketing script.
Let's start with the opening:
Hello. My name is Thor Odinson.

I'm calling up tech startups in the area to check if they will be a perfect match for our lead generation beta program.

In a nutshell, we help you connect with your target buyers in any market and industry.

Does it sound interesting to you?
Now, let's break down it down to see why this is the perfect introduction.
Hello. My name is Thor Odinson.
It seems like a no-brainer to start with your name when you introduce yourself. However, it will surprise you that many people forget this important step.
Telling your prospect who you are, establishes context and trust. More so, a name makes the call more human than sounding like a bot.
Set aside your pitch for a minute. Forget about small talk. People already know that chatting about the weather is BS. It might sound friendly, but if they don't know who they are talking to, they will not spare any minute to hear the rest of what you say. Besides, you have interrupted them from whatever important they are doing.
Get to the point. It shows that you value their time.
I'm calling up local startups to check if they will be a perfect fit for our lead generation beta program.
The words have been chosen carefully. In that one single sentence, you were able to:
Show your prospect who you're helping (tech startups)

Tell them where you are from (in the area)

Who you are looking for (perfect match)

What your company offers (lead generation beta program)
Notice that we used "tech startups" rather than "customers" or "prospects." That's because you are making an exploratory call. We also use "beta program" to show them that you understand the language they are speaking (remember you are talking to tech startups).
Just a note: The details of your script depends on your target audience and what you are offering them.
Going in for the kill minus the fluff
In a nutshell, we help you connect with your target buyers in any market and industry.
In less than 10 seconds, you have delivered your elevator pitch clearly and briefly. According to experts, your elevator speech should not exceed 20 or 30 seconds more. According to the Harvard Business Review, if you can hook your prospect in the first 8 seconds, they will allow you to drive your message without giving you a hard time.
Your prospects don't have the patience, especially if you are cold calling them; so make that first 8 seconds count.
Does it sound interesting to you?"
The question allows your prospect to say no at the first opportunity, so why should we use such question?
Think about this:
If you make small talk and proceed to your sales pitch, your prospect might be polite enough not to hang up on you. However, he or she will spend the rest of the call thinking of reasons how to end his or her call with you. You wasted both of your time.
On the other hand, if you allow your prospect to say no at the earliest time possible, you can extract more information from him or her. It allows you to extend the conversation even if for just a few more seconds.
Before we continue with the script, let's take a look at the whole script structure:
Opening
You should have raised your prospect's curiosity at this point before you deliver your elevator pitch.
Qualifying
Learn more about your prospect, their needs, their problems, and their processes. Here are a few questions to ask:
What is your current (ABC) process?

What kind of customers do you cater to?

How do you find a solution to (ABC)?
Related: How to Skillfully Recognize and Respond to True Buying Signals
Test Closing
At this point, you try to find their decision timeline, price sensitivity, and other relevant information.
We would like to start in (start date)

Is that okay with you?

The program has a considerable discount. It is (amount) per month/per day.

How does the decision-making process in your company work?
Next Steps
You schedule what happens next and get the necessary contact details.
Amazing. It sounds like a perfect fit. I'll send you more information about us and schedule a call next week to answer any questions you might have.

What's the best email to send you the invite and the information?

What is the ideal time to sit with you next week?
Related: 'Don't Talk With Your Mouth Full!' and Other Sales Call Tips from Mom
Scripts should not limit your conversation
You have a script, but that should not make you sound like a robot nor should it limit your conversation. Scripts are primarily there to help you deliver your message with clarity and brevity. They also help you polish and develop the sales process as well as increase your sales IQ. They also help you adjust or make changes quickly during the conversation. Most importantly, scripts allow you to listen well to your prospects, enabling you to gain a better understanding of them and their company. In other words, scripts help you perform well.
Related: 4 Sales Call Rapport-Building Techniques That AI Can't Yet Do [VIDEO]
Scripts do not prevent rejection
You now have an excellent telemarketing script, but that does not guarantee that you will get a "Yes" all the time. You will still get a no, but you have to embrace the "nos" you are getting.
Why?
Because they will give you insight. Understand why your prospects are saying "no" to you.
More often than not, it's not really because they are not interested in what you offer. To lessen the percentage of rejection, present the value you have to provide early on during the conversation.
Related: How to Handle Early Sales Objections, According to Science [VIDEO]
Now, it's your turn to polish your telemarketing script.
Source: https://www.callboxinc.com/telemarketing/sales-call-success-perfect-telemarketing-script/
Publish Date: June 27, 2018 5:00 AM
---
Telemarketing still pretty much remains a numbers game.
To deliver results, calls need to be made at scale.
Not convinced?
Let's do the math…
Let's say your funnel looks like this:
15% of contacts you reach are decision makers
25% of decision makers contacted become qualified leads
50% of qualified leads become sales-ready
If you want your reps to meet 20 opportunities,
you need to call up over 1,000 prospects.
Keep in mind that's all based on some pretty decent conversion rates.
If those percentages go down,
you have to call more contacts to hit your targets.
That's why you need volume to get results.
To manage and improve sales call volume,
keep a close eye on these 4 crucial metrics…
#1 Calls Per Hour
This shows you the average rate an agent/rep places calls.

High calls-per-hour numbers are generally a good sign.

But when this metric is too high, it indicates low-quality conversations.

So, don't look at this metric by itself.
#2 Average Call Length (Average Talk Time)
This indicates how much time an agent/rep usually spends on each call.

You want to keep average talk times below some threshold.

But very low call lengths can also mean low-quality conversations.

To understand this metric, also look at script complexity and amount of admin work required.
Related: 5 Data-backed Tips for Better Phone-based Sales Presentations
#3 Occupancy Rate
This is the ratio of time spent on calls versus time spent between calls.

It tells you how efficiently agents/reps use their time.

Occupancy rates greater than 1 indicate agents are spending more time calling than not calling.

If it's below 1, it means something is keeping an agent preoccupied between calls.
#4 Calls Per Record
This shows how many times an agent/rep dials a record, on average.

It tells you how persistently agents pursue each contact.

Keep in mind that it takes up to 18 touches to reach a lead.

So, always be sure this metric is flashing on your dashboard.
Related: 5 Winning Sales Cadence Examples (and Lessons to Draw from Them)
To start managing your sales call volume, keep track of:
Calls per hour

Average talk time

Occupancy rate

Calls per record
Source: https://www.callboxinc.com/telemarketing/track-kpis-learn-increase-sales-call-volume-video/
Publish Date: May 17, 2018 5:00 AM
---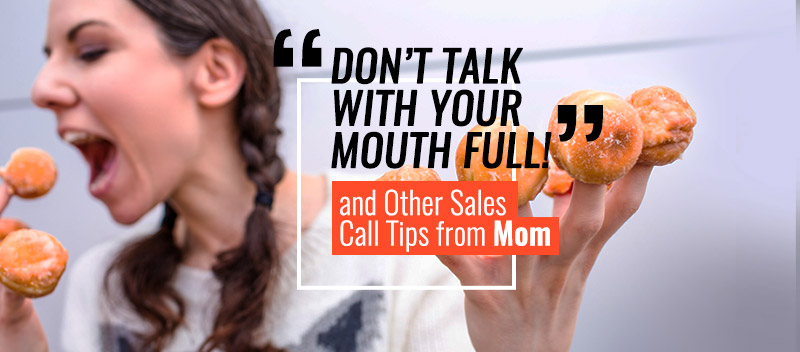 Genetically speaking, you're more like your dad than your mom. But just because you inherit more of your dad's DNA doesn't mean your mom plays a lesser role in shaping who you are. In fact, a Gallup poll finds that more than half (53%) of adult Americans believe their mothers have a stronger influence in their lives.
So, in celebration of Mother's Day, today's post revisits some of the timeless pieces of advice mom gave us when we were growing up. We might not have realized it back then, but these nuggets of wisdom kept us healthy, got us out of trouble, and prepared us to become responsible adults.
And now, these same old "momisms" can help us engage in better sales conversations with our leads and prospects. Here's how:
1. Always say "please" and "thank you".
As a young person, you probably lost count of how many times your mom told you to mind your manners and be polite. As your mom explained, saying "please" meant you acknowledge someone had to go out of their way to do something, while "thank you" meant you were grateful for the effort.
Clearly, your mom was on to something. Saying "please" and "thank you" during sales calls isn't just good manners, it's good sales practice, too. According to stats cited by Converza, calls that convert are twice more frequently handled by agents with good phone etiquette.
Related: 4 Sales Call Rapport-Building Techniques That AI Can't Yet Do [VIDEO]
2. Do your homework
Even the most laid-back mom in the world frequently tells her kids to turn off the television and go do their homework. That's because mothers understand the value of completing assignments and know the best use of their children's time.
It's easy to see why this age-old piece of motherly advice is relevant to doing sales calls. Around 42% of sales reps feel they don't have enough information before calling a prospect, which is surprising given that being unprepared ranks as one of the top turn-offs for B2B buyers.
3. Don't talk with your mouth full.
When your mom kept barking at you not to talk with your mouth full, she wasn't just trying to make you conform to some arbitrary dinner table convention. She wanted you to avoid forming socially awkward, potentially wasteful, and possibly unhealthy (think choking) habits.
But beyond practicing good table manners, keeping your mouth shut while chewing helps you appreciate the importance of doing one thing at a time. Just as there's a time for engaging in conversations over dinner and a time for finishing your plate, the various activities that make up a sales call also need to follow time management best practices to be effective.
4. Don't break your arm patting yourself on the back.
Whenever we got a little carried away with self-congratulations, mom was always there to serve us a slice of humble pie. She just seemed to know how to help us strike a balance between modesty and confidence.
It turns out we could also use a healthy dose of humility in our sales calls. An analysis of more than 25,000 sales calls discovered that the most effective calls all tend to avoid self-promotional language, sidestep criticizing competitors, use collaborative terms, and focus on prospects' pain points/objectives.
5. What part of 'no' don't you understand?
Remember that time you saw a really cool toy commercial and begged your parents to buy it for Christmas? Or when your best friend got a pet snake and you wanted to get one too? Each time you asked, it was always mom who voiced out her disapproval using this classic line, which by now should be permanently drilled into our heads: "What part of 'no' don't you understand?"
As reps, we're trained and equipped to handle prospects' objections, but sometimes a "no" really means "no"—no matter how we try to get around it. In certain situations, it's better to leave uninterested prospects alone and move on, instead of pushing for a meeting or a sale.
Keep in mind that only 17% of sales people believe they're pushy while half of the prospects think they actually are.
Related: How to Handle Early Sales Objections, According to Science [VIDEO]
6. "I don't know" is not an answer.
Nothing annoyed mom more than hearing an "I don't know" from her kids. When mothers asked us about something, they always expected definite answers. But more often than not, due to any number of reasons, we'd rather not answer her directly.
Every time we come across an undecided prospect (or a prospect pretending to be one), it saps the momentum out of the sales call. That's how your mom probably felt, too. So, never take "I don't know for an answer" to your sales questions.
To get clearer responses, keep your questions simple, ask about one thing at a time, make sure your questions follow a logical sequence and sell prospects on the next step (not the deal).
The Takeaway: Mom's wise words still ring true in our adult lives. As sales professionals, these timeless lessons also give us practical guidance to approach how we do what we do. With that, we say:
To all mothers out there, happy Mother's Day from the Callbox team! Thanks for making us what we are today.
Source: https://www.callboxinc.com/telemarketing/dont-talk-mouth-full-sales-call-tips-mom/
Publish Date: May 10, 2018 5:00 AM
---
By 2050, machines will take over half of all jobs.
… and telemarketers will be the first ones to go.
An Oxford study says
there's a 99% chance
AI will replace human telemarketers soon.
But until AI learns how to build genuine rapport,
sales calls will remain a person-to-person interaction.
That's because there are four building blocks of rapport
that only we humans can do for now.
#1 Listening and Empathy
Talking about oneself releases feel-good chemicals in the brain.
It's even more rewarding with a person who's really listening.
How Not to Sound Like a Machine:
Start with an open-ended question;
let them share a bit about themselves.
#2 Being Authentic
People do business with people they like.
No matter how well AI mimics human speech,
there's nothing like the real thing.
How Not to Sound Like a Machine:
Let the conversation flow naturally and show genuine interest,
but don't overdo it.
#3 Finding Common Ground
AI knows more about your prospects than you do.
But only people can connect and find common ground in a conversation.
How Not to Sound Like a Machine:
Bring up interesting tidbits that prospects can relate to.
Build on these points at different moments in the call.
Related: 5 Data-backed Tips for Better Phone-based Sales Presentations
#4 Creating Shared Experiences
The secret to building rapport is creating shared experiences.
Whether it's defining the prospect's problem or identifying a solution,
working together brings people closer.
How Not to Sound Like a Machine:
Turn sales calls into collaborative brainstorming sessions.
Use "we", "our", and "us" in the conversation.
Rapport is a two-way connection between people.
It's going to stay that way unless machines master these four skills.
Source: https://www.callboxinc.com/telemarketing/4-sales-call-rapport-building-techniques-video/
Publish Date: April 10, 2018 5:00 AM
---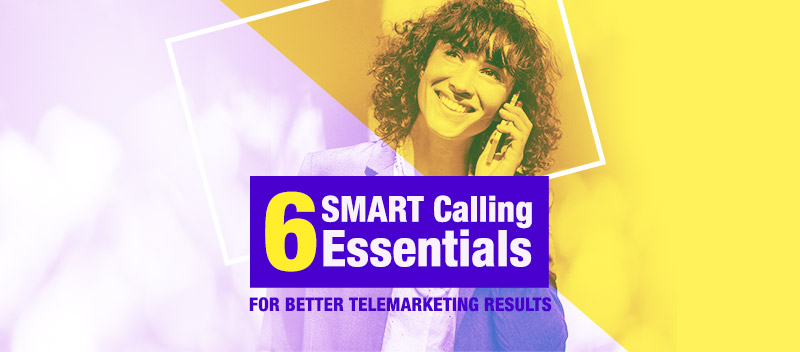 One of the most frustrating and (perhaps) scariest aspects of sales is cold calling. No matter how professional and trained your sales team is, calling a prospective client for the first time without prior notice is intimidating.
The reason is simple - no one wants rejection and when you cold call, there's a bigger possibility of getting turned down. But this does not have your story because there's a better way how to do it.
---
Check out some of our infographics!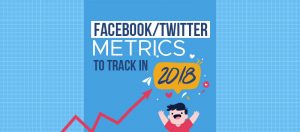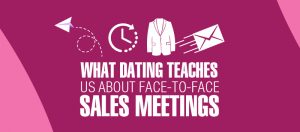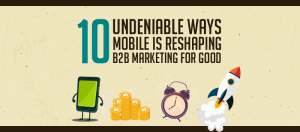 ---
#1 Get SMART

SMART Calling - Sales & Marketing At the Right Time - enables the sales team of a business or company to reach their target at the time they are ready to make the decision. It is based on different sets of data and factors, which give you an insight which prospect should be pursued first. It goes beyond getting a list of the right prospects. It also tells you which of these prospects are ready to make the decision and WHEN to call them.
Let's say for example that your target is hospitals, and you know that a third-party pharmacy makes the buying decisions. You just don't let your sales team barge into their door and deliver the sales spiel. Instead, you patiently wait for the right time to pounce. It is done by studying the online behavior of your prospect including lead scores and KPIs.
Related: 5 Winning Sales Cadence Examples (and Lessons to Draw from Them)
#2 Forget about the Script

Yes, a sales script is very helpful, especially when training new candidates. It also provides confidence to someone who is shy or anxious about talking on the phone. Most of all, it helps you steer the conversation to where you want it to go.
However, there's a couple of problems with using a sales script: first, it sounds fake. Customers are more informed nowadays than before, and they can tell whether you are using a practiced spiel or not. Second, sales scripts get you stuck in a routine. They might be quite useful, but it also stops you from discovering a better alternative.
Related: Don't Waste a Moment! See Sample Cold Calling Scripts
#3 Record and Analyze Your Calls

People tend to be self-conscious when they talk to prospective customers on the phone. Thus, they tend to change the tone and texture of their voice. Your sales people are not immune to this.
A good exercise is recording your sales call and let your sales team listen to them. It makes them collectively aware of the techniques that work, the mistakes they've made, and the things they need to improve.
Aside from recording your calls, using analytics tools can also help you thoroughly dissect your calls, including the turning points of the call and the important keywords that engages the customer. It will also help you brainstorm new strategies and techniques to improve your team.
#4 Set Goals

Goals are powerful - that's a no-brainer; thus, it makes perfect sense why your sales team should have them. Goals help them measure their success and tells them where they are at. If they know where they are, they are motivated to continue and push themselves to reach the goal.
Here's a tip with regards to goal setting: do not make short and long-term goals. You should also set individual and group-focused goals. It will not only encourage them to work together but will also push them to improve as they engage in a bit of friendly competition.
---
Check out our recently published Client Success Stories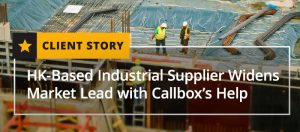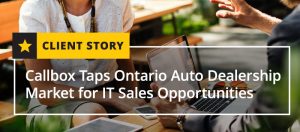 ---
#5 Make Your Calls Short and Sweet

Three minutes per call is enough. Don't chat with your prospects and never give them the impression that you are. Remember that you have a mission, a goal to fulfill and you need to focus on that. Be quick and straight to the point. After that, go on to the next prospect.
Don't forget to take a break as well. Experts advise taking a 5-minute call after every 15 calls you make. During this time, relax and de-stress, so you're refreshed when you get back on track.
Related: How to Structure a Successful B2B Sales Call Blueprint
#6 Experiment and Observe

Not because your strategy is working means you keep on doing that nor should you be comfortable with it. If you want to keep on improving, you need to be agile, dynamic, and innovative, even if it means deconstructing current strategies and experimenting with different approaches.
Observe how your experiments progress - keep the strategies that work and throw those that don't. Soon enough, you will discover something worth pursuing.
A Final Note
Unlike tips like starting your call with a positive story, the above are strategies and methodologies with long-term effects. You can apply them, again and again, to help your sales team improve and learn by themselves. Accordingly, they will not produce immediate results, but when applied over the course of time, they can give you the positive results you've been waiting for.
Source: https://www.callboxinc.com/telemarketing/6-smart-calling-essentials-better-telemarketing-results/
Publish Date: April 4, 2018 5:00 AM
---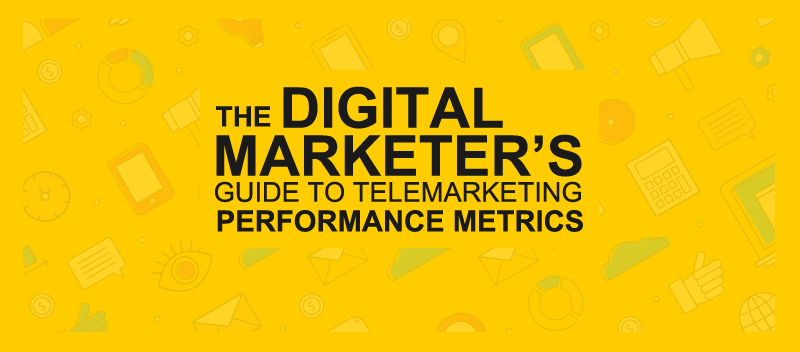 In 1967, a PR consultant named Murray Roman launched the first-ever phone-based mass-marketing campaign. The project hired and trained 15,000 housewives to place a total of one million calls per day on behalf of Ford Motors. The campaign's goal wasn't to generate sales, but to identify likely automobile buyers (i.e., lead generation). This project gave birth to outbound telemarketing, and right from the outset, it was data-driven to the core.
According to a 1976 Harvard Business Review article, Murray Roman's campaign collectively reached more than 20 million contacts. Each call followed a carefully-prepared script and lasted under a minute. The campaign generated a total of 340,000 leads (or 1.7% of contacts reached), handing off about 2 leads per day to each of Ford's 23,000 dealer salespersons, who in turn managed to convert 187,000 of these leads into qualified opportunities (leads planning to buy in 6 months). All in all, the campaign helped Ford sell 40,000 units for a total of $24 million in revenues.
Related: What Makes an Outstanding Telemarketing Campaign [for All Types of Industry]
Half a century later, outbound telemarketing remains as data-driven as ever. With its new role in the modern digital marketing toolkit, telemarketing boosts marketers' performance by delivering leads at scale and producing results in real-time. Given this channel's current function, the success of today's telemarketing campaigns, argues Robert Howells of the Global Marketing Associates, hinges on better use of data.
One crucial data-related aspect that needs a major rethink is telemarketing performance metrics. As the channel evolves, so do the yardsticks used to measure performance. Today's marketers rely on a dizzying array of metrics and indicators to gauge how well each component of their strategy is working, including telemarketing. Modern telemarketing performance metrics help marketers answer five key questions about their campaigns:
Database Quality – Is your database accurate and relevant?
Activity and Volume – Are you making the right number of calls?
Reach Rate – Are you talking to the right people?
Conversions – Are calls driving the desired action?
Costs, Revenues, and ROI – Is your campaign making or losing money?
These are the five areas to look at when evaluating telemarketing performance—whether you're running campaigns in-house or outsourcing to an agency. In this post, we'll go over some important metrics to keep track of under each performance category and find out how to make informed decisions based on the numbers.
Database Quality

If telemarketing had a set of axioms that fundamentally defines how it works, then The old adage "it all starts with the list" would surely be part of it. Data quality impacts every other area of telemarketing—from call volume to conversions to ROI—that having the right list means already winning half the battle. To make sure your (or your agency's) list always stays up to snuff, keep a close eye on the following metrics:
Overall List Health
To get a feel for the overall quality of a telemarketing database, you need to track the ratio of known errors to the number of records. These errors include missing values, duplicates, invalid contacts, data entry errors, etc.
Related: Declare Your Independence from Bad Data: A 5-Step Plan
Segmentation Fields
Another crucial measure of telemarketing data quality is the level of segmentation a list allows. Does your list contain valid industry codes? Does it let you segment into different job titles? Does it create redundant segments? How well do the segments match your target buyer profiles or personas?
List Penetration Rates
Data quality directly affects the number of positive contacts, the number of conversations with decision makers, and the number of conversions your campaign generates. That's why, when expressed as a percentage of total records, these three ratios offer valuable insights on the accuracy and relevance of your list (these metrics are discussed in more detail later).
New Information Gathered
Telemarketing campaigns also provide great opportunities for businesses to update and enhance their marketing data. That's why tracking the amount of new information obtained or verified through phone calls gives you some idea on the quality of data you're working with. How many new records were you able to add? How many fields did you update or verify?
Related: Why Customer Profiling Could be the Best Investment your Company Makes
Activity and Volume

Telemarketing still pretty much remains a numbers game. To drive real conversations and conversions, campaigns need to scale call volume and activity. But there's more to monitoring volume than simply counting and adding up the number of calls made. Effective telemarketing campaigns keep track of:
Calls per Hour
This metric indicates the average rate at which an agent or rep places calls. While high calls-per-hour figures are generally a good sign, the quality of each call matters more than quantity alone. Also, there's a lot of non-agent factors that impact call-per-hour numbers—such as script complexity, dialer system efficiency, and pre-call/post-call work required—which skews benchmarking. That's why this metric shouldn't be taken in isolation.
Average Call length (Average Talk Time)
This is the average amount of time an agent or rep spends on each call. It's good practice to keep calls under a specific number of minutes, but very low average talk times can indicate poor quality of conversations. To make meaningful comparisons, make sure you take factors like the length of the call script and admin work required.
Occupancy Rate
This metric refers to the time an agent or rep spends on calls versus the time spent between calls. Occupancy rates tell you how productively agents allocate their time. If this number is greater than 1 (or 100%, when expressed as a percentage), then agents are spending more time actually calling than doing things in between calls.
Calls per Record
According to data cited by HubSpot, It takes 18 calls on average to actually reach a B2B buyer. While this may or may not be the case for your industry or target market, most B2B leads today require more than one attempt to contact. That's why the calls-per-record metric is a crucial number to keep an eye on.
Related: 6 Ways a SMART Telemarketing Platform Doubles Sales Productivity
Reach Rates

Steli Efti over at the Close.io blog points out that most marketers spend 90% of their efforts just trying to reach decision makers. This means only a small portion of their time actually goes to having conversations with the right prospects. Not surprisingly, one thing that separates top-performing campaigns from the rest is the ability to improve reach metrics, such as:
Positive Contact Ratio
This refers to the percentage of dialed records where agents are able to speak with the target contact. When this metric is low, it indicates agents or reps aren't reaching enough prospects. Persistently low positive contact ratios can mean there's an underlying problem with list quality or outreach tactics.
Related: 4 Ways to Get Past Gatekeepers and Reach Prospects Every Time [VIDEO]
Abandonment Rate
Abandonment rate is the percentage of calls which aren't picked up by the target contact. This can also include answered calls ended while still being routed to a live agent or rep. Convoso recommends keeping abandonment rates under 5%. Anything beyond this needs a closer look.
Unique Decision Maker Conversations
For campaigns that require multiple touches with a decision maker, focusing solely on the total number of conversations can overstate reach rates. That's why you also need to look at the number of unique decision maker conversations. This metric gives insight into data quality as well as lets you compare initial contact versus callbacks and follow-ups.
Related: Things to Do When Dealing With A B2B Prospect that's Difficult to Reach
Requests for Information (RFIs)
This metric looks at how many positive contacts asked for materials about the offer or company. Tracking the number of RFIs allows you to drill down further on a campaign's reach rates. There are two ways to look at this metric: as a gauge of how well agents handle the "send me more info" objection, and as a measure of a prospect's interest.
Not Interested
Monitoring how many uninterested contacts agents identify also provides valuable insight on several campaign components. A very high number of not interested prospects can mean you're targeting the wrong audience, but it can also indicate that agents are doing a good job filtering unqualified leads.
Conversions

Modern marketers now use telemarketing to achieve a wide range of goals. This broadens how we define "conversions". Telemarketing conversion rate now refers to the percentage of calls that result in a specific action from the prospect. Radius suggests tracking the following outbound conversion metrics:
Lead Conversion Rates
This is the percentage of decision makers reached that qualify as leads. Again, what constitutes as a lead will depend on the campaign goal (schedule a face-to-face meeting, sign up for a free trial, verify some information, etc.).
Call-to-Close Ratio
This is the percentage of telemarketing-generated leads that actually convert into paying customers. Depending on the sales process, conversion into sales can take place right after the lead is handed to sales or at the end of a longer nurture cycle.
Calls per Outcome
This metric tells you how many calls it takes to get a result (conversion). In some ways, it can be thought of as the flipside of lead conversion rates. Calls per outcome measures how efficiently a campaign generates results and you largely want to minimize this metric.
Related: How to Use the 3 Levels of Pain Points for Better Sales Conversations
Costs and ROI
Conversions directly impact a campaign's costs and returns. To get a 360-degree view of telemarketing performance, you also need to look at whether the money you spend on telemarketing is actually producing value.
Cost per Lead and Cost per Opportunity
This is the total costs incurred in the campaign divided by the total telemarketing-generated leads (or opportunities). When done in-house, telemarketing costs can include direct costs (staff, telecom, database, software, etc.) and overhead. But when outsourced to a third-party agency, costs are more streamlined and transparent.
ROI
Telemarketing ROI is the revenues attributable to the channel divided by the total telemarketing costs. But because modern telemarketing is just one component in a revenue-generating machine, it can be a bit of a challenge to determine how much of the revenues telemarketing actually contributes. This is usually estimated through attribution models such as first touch, last touch, weighted, time decay, linear, and position-based attribution.
Related: Going Beyond the 500% ROI: How to Integrate Telemarketing with Other Channels
The Takeaway
Telemarketing performance metrics help you uncover problem areas and rooms for improvement in your campaign. But keep in mind these numbers are only averages, summaries, and headline figures. They only tell you part of what's going on. To really get the full story, you have to dig deeper into the components that make up your telemarketing strategy: the list, the script, the audience, the agents, and the calls themselves.
Source: https://www.callboxinc.com/telemarketing/digital-marketers-guide-telemarketing-performance-metrics/
Publish Date: March 7, 2018 5:00 AM
---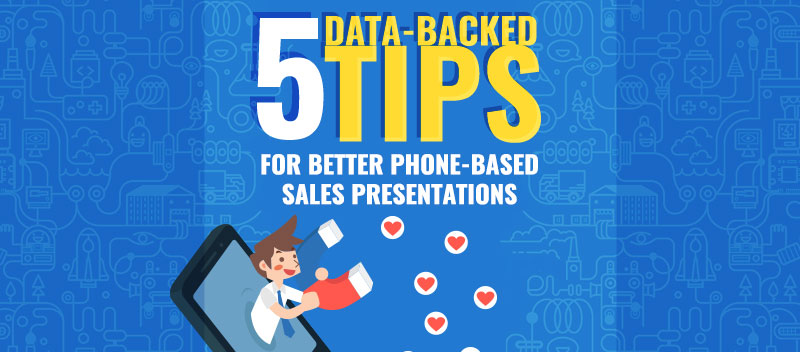 Let's start off today's post with a quick poll. When doing sales presentations, which format do you prefer: in person or over the phone?
My experience tells me that salespeople tend to be evenly split on this one, but they somewhat lean slightly toward meeting prospects in person. Face-to-face meetings let sales folks put their people skills to use and allow more time for conversing with the prospect. More importantly, in-person presentations enable salespeople to read prospects and get to know them even better from visual cues.
When you're meeting prospects face-to-face, it's fairly easy to get a feel for how interested (or disinterested) they really are. Once a prospect slumps down onto the chair with eyes wandering and chin resting on one hand, these are dead giveaways you're losing your prospect's attention—and that you better switch gears or risk blowing up the deal.
You obviously won't get this level of visual feedback during phone-based presentations. Sales meetings done over the phone only provide salespeople verbal clues on whether or not a prospect is really into your conversation.
That's a huge information gap, considering that 93% of communication is nonverbal.
Still, phone presentations play a key role in the selling process. There's just no substitute for the convenience and efficiency that phone calls deliver. In some cases, for example, the telephone remains the most viable option for many companies that can't afford their own field sales team or businesses whose target prospects are too far away.
That's why it's crucial to refine your phone-based presentation strategy. Conventional sales wisdom offers a ton of useful advice on substance and delivery that you should definitely pay attention to. But data to support (or disprove) these best practices are hard to come by—until now.
The data scientists at Gong, an AI-enabled language platform for improving sales team performance, crunched the numbers from over 25,500 sales calls earlier this year. Their analysis found some surprising things about many of the sales profession's time-honored calling tactics. Among other findings, they uncovered several qualities that the best sales calls have in common.
Here's a rundown of five actionable tips based on Gong's study that you can (and should) apply to improve results from your phone-based sales presentations:
---
1) Listen 1.3 times more than you talk
---
This is prospecting 101, but salespeople seem to have forgotten this lesson. Gong's research finds that the average sales rep takes up 65% to 75% of the total call time with prospects. Even more importantly, the study reveals that talk-to-listen ratio impacts win rates:
The ideal talk-to-listen ratio for the most productive sales calls is 43:57.

Increasing the prospect's talk time from 22% to 33% significantly improves opportunity win rates.
The numbers speak for themselves. Let your prospects do more of the talking. Just listen.
Relared: A Software Company's Guide to More Software Clients and More Sales
---
2) Talk about price 3 to 4 times, but build value first
---
Gong's analysis also uncovers a strong correlation between the number of times pricing came up in a sales call and the likelihood of closing the deal. They find the sweet spot to be between 3 and 4 times:
When reps mention pricing less than three times or more than four times in any given call, win rates decline.

If price comes up three or four times in a call, that's a buying signal.
Moreover, there's the right time to talk about price in a sales call. High-yielding sales calls tend to bring up price-related discussions around the 40- to 49-minute mark. This indicates that top-performing reps build value before talking about price, while low-performing and average reps mention pricing throughout the call.
Related: Ditch that Pitch: The Case Against Selling to First-Time Prospects
---
3) Ask (11 to 14 questions) and you shall receive
---
In another analysis (this time involving 519,000 sales calls), Gong's data science team concludes that there's a clear relationship between the number of questions a rep asks and his chances of closing the deal.
Asking 15 to 18 questions during a call is "only marginally more effective" than asking 7 to 10 questions.

The most productive sales reps ask 11 to 14 questions in a sales call.
So, what type of questions should a rep ask? The research also identifies that questions about your prospect's business pain points exert the most impact on win rates. Elementary. By that, you should read this later How to Use the 3 Levels of Pain Points for Better Sales Conversations.
---
4) Distinguish between caution and hesitation
---
Needless to say, prospects' responses indicate a sales call's likely outcome. But some remarks appear to be more telling than others, particularly the following replies to timeline questions:
If a prospect uses "probably" in a response like "…probably in 2 weeks", the forecasted time horizon is 73% accurate.

Answers that resemble ""We need to figure out…" are negatively correlated with win rates.
Responses that indicate caution can imply that your prospect is seriously considering your offer. Responses that suggest hesitation, on the other hand, can mean a lack of interest.
Related: Using Social Signals to Spot Sales-Ready Leads
---
5) Use language that embraces and soothes
---
Every sales rep knows that their style and tone matter as much as the message itself. Gong's findings seem to support this idea. Some specific words and phrases apparently influence a rep's chances of closing the deal.
Top-performing reps are 10 times more likely to emphasize collaboration than low performers.

The most productive salespeople are 5 times more likely to use words and phrases that focus on mitigating risk than other reps.
In other words, reps who focus on collaboration and inspire confidence tend to close the most number of deals.
Related: How To Improve A Lagging Inside Sales Team
The Takeaway
So there you have it, five practical ways to improve phone-based sales presentations backed by solid data. Most of you are probably already following some variations of these best practices, and the study findings cited here only serve to vindicate your calling methods. The most important results, of course, are those generated by your own campaigns. What other tips and tricks do you apply that are supported by hard numbers?
Read the latest updates on The Savvy Marketer's Blog
Get a targeted sales leads or a sample sales and telemarketing script
Contact us or Dial 888.810.7464
Source: https://www.callboxinc.com/telemarketing/phone-based-sales-presentation-tips/
Publish Date: November 10, 2017 5:00 AM
---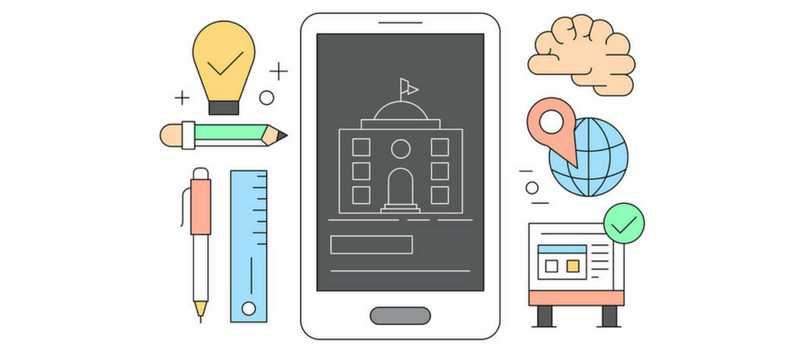 Hold on to your high hats folks, because we are about to drop major love for telemarketing.
And what better way to start off than with some juicy observations from 72Solutions.com:
B2B Telemarketing is NOT annoying in B2B. Managers expect to receive sales calls, it is part of their job.

Telemarketing is the most effective lead nurturing technique. Find out why

Telemarketing delivers far better quality leads than social media.

Relevant data can increase B2B response by 800%

Tools that have human interaction, like telemarketing, build lasting relationships
We can say all we want against telemarketing. But the fact that B2B brands are using it as their main channel for generating leads and increasing sales speaks volumes about how it is going to stay in a digitally-driven world. Read more on Keep Calm and Cold Call: B2B Telemarketing is Still an Unstoppable Force
You are probably thinking, "Well, I should drop everything and focus more on outbound campaigns."
But before you go planning on setting up a telemarketing component, you should understand that a lot has to be considered in building a truly effective conduit for generating and nurturing sales leads.
Without proper strategy and implementation, a B2B telemarketing campaign would not be able to provide the results you wanted, entailing a waste of resources on your part. Avoid going down this road by understanding the elements that will make most out of your conversations with B2B prospects.
An Effective Call Script.

Communication is the foundation of any telemarketing call. But the moment you say the wrong words will be the moment a prospect is turned off. This is where call scripts come in handy.
Now, businesses are deeply divided on the issue of using call scripts. Some say they reduce the "human aspect" of a telemarketing call, while others agree they are essential to keeping the conversation within the road to a sales appointment. Both parties seem to offer valid points, but why not find a middle ground?
There is truth to the issue that call scripts dehumanize conversations, but only if these scripts are designed specifically to make you sound like a robot. With that said, the best way is to create a script that includes the most relevant information you have to say (i.e. your company's identity, its products and services) as well as some spaces in between where you can improvise and respond to questions like the bag of flesh and bone that you are. Check out our sample telemarketing scripts here
The Right Tools.

But what's a conversation without having the right kind of infrastructure to support it? For sure, you need to use the best tools in order to keep your telemarketers productive in seeking out leads and open up sales opportunities.
The trend right now has always been integration. B2B companies have decided that it is best to tie up their telemarketing with scalable marketing automation systems.
Related: 6 Ways a SMART Telemarketing Platform Doubles Sales Productivity
But what can marketing automation do for the simple act of picking up the phone and talking to a decision-maker?
A LOT. And one essential thing it can do is to enable telemarketers to concentrate on leads that already indicate high exposure and interaction with your content. Marketing automation takes these interactions into account and scores each lead accordingly. You will eventually acquire a list of prospects that express high levels of interest in your products and services. What's more, these are prospects who are now ready to accept a cold-call.
Related: How to Get Quality IT Appointments Hands-Free with Marketing Automation
A quality list.

"Okay, effective call script… check! Marketing automation… check! I think I am ready to start a telemarketing campaign!" Well, not just yet. You still need to build a database of names to help you seek out sales opportunities.
Related: For List Buyers: Fantastic Leads Databases and Where to Find Them
But list-building has always been a critical issue among B2B enterprises. In most cases, they have to do it from scratch, which obviously takes a whole lot of time. They can always purchase lists from third-party marketing service providers, but there is no guaranteeing that such lists contain profile-consistent prospects.
But one thing is certain: List-building should always be about quality. And whether you are building your database yourself, or acquiring one from a marketing firm, you still need to make sure that the names and addresses contained in it are responsive. Stop chasing invalid email addresses. Or else you get to see your campaign suffer.
Get our FREE sample telemarketing scripts for All Industry types. This includes scripts for appointment setting, event telemarketing, and data profiling:
Sample Telemarketing Scripts for SOFTWARE
Sample Telemarketing Scripts for MEDICAL
Sample Telemarketing Scripts for ADVERTISING
Sample Telemarketing Scripts for INFORMATION TECHNOLOGY
Sample Telemarketing Scripts for FINANCIAL SERVICES
Sample Telemarketing Scripts for BUSINESS CONSULTING
A WINNING SCRIPT and S.M.A.R.T Calling strategy is surely the BEST combo!
Get more qualified telemarketing leads today! Dial 888.810.7464
This ebook walks you through some key questions and tips to help you get started on using a predictive lead scoring system for ranking and classifying leads. Grab a copy here!
Source: https://www.callboxinc.com/telemarketing/what-makes-an-outstanding-telemarketing-campaign/
Publish Date: October 11, 2017 5:00 AM
---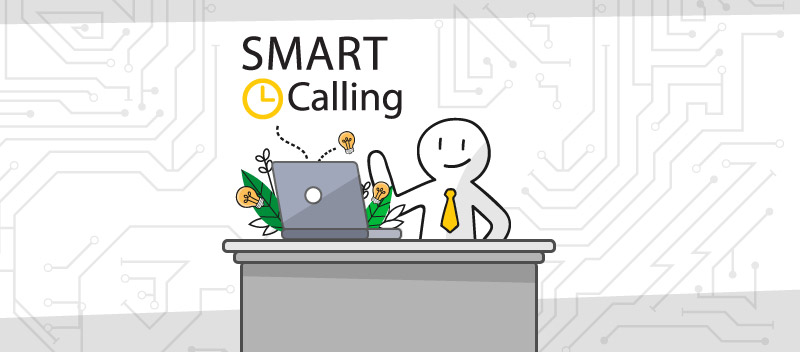 When really is the "best" time to call leads? By now, we know the answer to be between 8 and 9 in the morning as well as 4 to 5 in the afternoon. The best day of the week for a sales call? Everyone now knows it's Wednesdays and Thursdays. That's based on a widely-cited study from DR. James Oldroyd and InsideSales.com whose findings have now become woven into conventional marketing wisdom.
While Dr. Oldroyd's research has certainly given us B2B folks some fresh insights on timing our calls, the way that most marketing blogs and news outlets have reported the study's results leaves a lot to be desired. It's not hard to find posts that try to promote the study's findings as the de facto standard for every inside sales rep on Earth to follow, regardless of industry or context.
Will Thursdays work equally work for both an HR manager in the United Kingdom and a CEO at a startup in Singapore? Maybe. But then again, maybe not. The fact is that there's no single, universally-valid "best" times for reaching out to different prospects via phone calls. The right time to talk to leads will depend on a whole set of factors unique to each individual prospect.
This is where a SMART telemarketing platform comes in handy. SMART is a technology for managing outbound calls that tell inside sales reps which prospects on a call list will most likely pick up the phone and are interested in listening.
Related: Keep Prospects Glued on the Phone Like Bees to Honey
This is based on a prospect's reachability score—computed from that prospect's lead score, time elapsed since last contact, positive phone contacts, email responses/actions, and website activity. This means SMART calling determines the "best" call schedule for every single prospect instead of assuming that it's the same for all leads.
SMART calling clearly brings some measurable benefits to an inside sales team's performance. Here's a rundown of six ways it boosts sales team productivity (arranged in no particular order):
#1. More talk time, less downtime
With a SMART telemarketing platform, inside sales agents no longer need to carry out many non-value-added (NVA) activities in their workflow. That's because the system updates reachability scores and lines up calls in real-time.
This means that reps avoid wasting time manually scrolling for the next call or dialing up unavailable prospects. In other words, SMART calling keeps a steady flow of willing and interested prospects on cue.
Related: SMART Calling: What's the Edge?
#2. Better quality of conversations
Lattice Engine estimates that 42% of sales reps feel they don't have enough information before making a call. That's a shocking statistic, especially with today's buyer-led purchase process where prospects expect to speak with knowledgeable sales people.
With the time freed up by SMART calling, inside sales reps can review notes or brush up on a prospect in preparation for a call.
Related: Who Says Telemarketing Can't Drive Leads Further Down the Sales Funnel?
#3. Reinforces earlier touch points
Depending on whom you ask, it takes 6 to 13 touch points to generate a viable lead. What's even more interesting is that these touch points take place across different marketing channels.
A SMART telemarketing platform gauges a prospect's reachability not only through her lead score but also with her responses and activities on past touch points such as calls, emails, and website visits.
---
Helpful Guide: Weed Out Junk Leads With Predictive Lead Scoring
---
#4. Higher lead quality
SMART calling prioritizes prospects not only on availability. It also ranks contacts according to their willingness and interest as well. Prospects with higher reachability have higher lead scores and tend to be more engaged on previous touch points.
This implies that leads higher up the calling cue have a higher likelihood of responding or converting once reps interact with them in live conversations.
Related: Classification of Sales Leads: Hot, Warm or Cold
#5. Purely data-driven
We've already become a little familiar with how reachability scores work. The key thing to consider is that reachability is based on actual prospect data. That's why a SMART calling system is able to measure reachability for each prospect in the calling database.
These computations are made in real-time, so that reachability scores are kept up-to-date once new data points on any of the attributes become available.
Related: Using Social Signals to Spot Sales-Ready Leads
#6. Motivated sales team
By helping inside sales reps focus on what they do best (having meaningful conversations with prospects) instead of doing mindless and repetitive tasks, a SMART telemarketing platform helps develop a more motivated team.
SMART calling removes the barriers that get in the way of most sales reps. Rather than spend a huge part of their day making a ton of calls to unavailable or uninterested contacts, reps can now give their full time and attention to what really matters.
The Takeaway
It's not very smart to simply follow one-size-fits-all tactics in sales and marketing. The best way to find out what's going to work for you is to test it out using your own data. SMART calling builds on this idea by finding the different "best" times to talk to every decision-maker. It's no longer just telemarketing, it's smart telemarketing.
Get our FREE sample telemarketing scripts for All Industry types. This includes scripts for appointment setting, event telemarketing, and data profiling:
Sample Telemarketing Scripts for SOFTWARE
Sample Telemarketing Scripts for MEDICAL
Sample Telemarketing Scripts for ADVERTISING
Sample Telemarketing Scripts for INFORMATION TECHNOLOGY
Sample Telemarketing Scripts for FINANCIAL SERVICES
Sample Telemarketing Scripts for BUSINESS CONSULTING
A WINNING SCRIPT and S.M.A.R.T Calling strategy is surely the BEST combo!
Get more qualified telemarketing leads today! Dial 888.810.7464
This ebook walks you through some key questions and tips to help you get started on using a predictive lead scoring system for ranking and classifying leads. Grab a copy here!
Source: https://www.callboxinc.com/telemarketing/ways-a-smart-telemarketing-lead-generation-software-increases-sales/
Publish Date: September 19, 2017 5:00 AM
---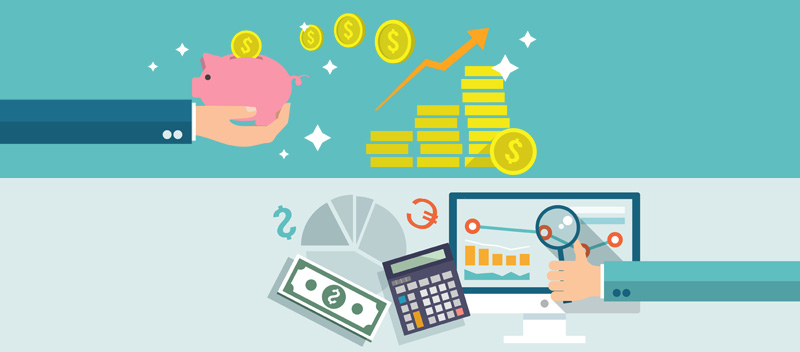 For what it's worth, telemarketing is still relevant to businesses today and for very good reasons.
B2B marketing, after all, entails listening to your audience and asking about the issues they wanted to be resolved right away. Telemarketing does not falter in this respect it's all about urgent and intimate communication. Making a cold call to a lead opens you up to better sales opportunities better than any other marketing channel could.
In fact, research by DMA Contact Centres and Telemarketing Council showed telemarketing as the top channel, with an effectiveness rate of over 90%.
With the advent of digital marketing today, businesses are afforded newer and more effective means of reaching out to their target audience, positioning their brand front and center, and hit record revenues. The trend right now is integration, and marketers know better than to allow only one marketing channel to do all the handy work in lead generation and appointment setting.
For a fact, having a diversified marketing campaign can be beneficial to a business. Not only does it work to cover larger prospect populations, it also functions to boost ROI significantly. In the same paper, DMA showed that integrated telemarketing can deliver a thousand times the ROI for B2B companies. This proves once and for all that telemarketing isn't dead; it continues to thrive as long as businesses are seeking to increase their qualified leads and come up with hard-hitting results.
As a marketer, you might as well ask yourself, "Where to start?"
For that, you only need to identify the channels you pair your cold-calling campaign with. For DMA, email continues to be the most reliable of these channels among B2C and B2B companies. Although company websites and social media remain as two of the most effective ways to scout for leads, email does a lot more when it complements the urgent and straightforward engagements that only telemarketing can secure.
One thing's for sure, email can further add to telemarketing's effectiveness in terms of generating leads by following up on where the initial conversation last took place. At the end of a cold call, marketers can initiate an email blast and provide content and information that had been left out.
But aside from email, marketers can also integrate their telemarketing with other effective channels. You can maximize your telemarketing by using the following tips:
#1. Interact with your audience via social media.
We all know that social media is overrated, but hear us out on this one: You can use social channels in order to gather important information about your prospect's expectations and needs. That way, you can come up with the right talking points that will guide you even before you pick up the phone and start calling.
Related: Using Social Signals to Spot Sales-Ready Leads
#2. Establish your brand via social.
Most of the time, your prospects don't even know who you are. If they are not that aware of your brand, then why should they even bother answering a cold call from you? It makes a whole lot of sense if you have a telemarketing campaign without an effective social media presence to back it up.
---
Interesting Read: Who Says Telemarketing Can't Drive Leads Further Down the Sales Funnel?
---
#3. Set appointments using email.
Want to maximize your integrated telemarketing and email marketing efforts? Check this out. While your telemarketing does the hatchet job of scouting for qualified leads, email allows you to set appointments with ease. For one, when an appointment is set via cold call, you can then send an email to confirm the date and other details. This allows you to reintroduce yourself and provide a summary of the things you discussed over the phone.
Related: How to Get Quality IT Appointments Hands-Free with Marketing Automation
#4. Use email to verify contacts.
There are somethings you just can't do with telemarketing alone, and one of them is data cleansing. To know for sure if the contacts on your list are active, you only need to send an email to the address and follow up with an outbound call to confirm the contact. Here's how to Declare Your Independence from Bad Data: A 5-Step Plan.
According to dma.org.uk, telemarketing is mainly used for the following purposes: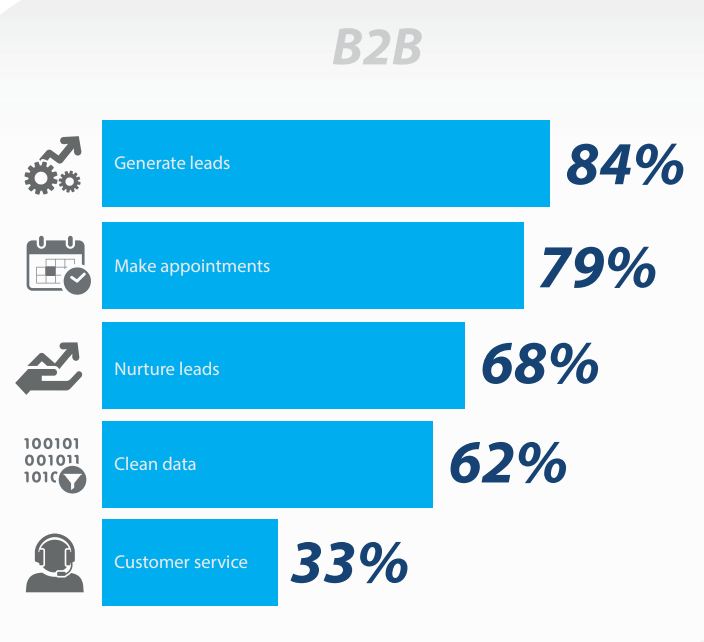 The best conclusion about telemarketing integration was also quoted by DMA so here it goes: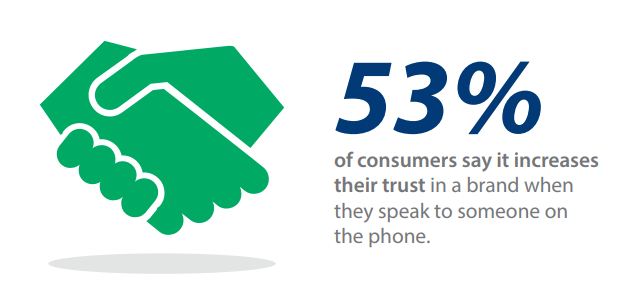 The marriage of telemarketing and email remains the most effective combination. Yes, telemarketing requires a greater investment than some channels but with ROI gures of between 500% to 1,100% it offers a return for every £1 spent – and that return will increase if it's combined with other marketing channels.

But businesses need to be more creative in how they use telemarketing - it can be used for more than just selling. Think beyond immediate sales or lead generation and consider incorporating other elements into your call, such as obtaining opt-in for further marketing contact.

Our digital lives mean alternative products and services are just a click away, but the human interaction of telemarketing can improve customer loyalty and trust when it's done right.
A WINNING SCRIPT and S.M.A.R.T Calling strategy is surely the BEST combo!
Get more qualified telemarketing leads today! Dial 888.810.7464
This ebook walks you through some key questions and tips to help you get started on using a predictive lead scoring system for ranking and classifying leads. Grab a copy here!
Source: https://www.callboxinc.com/telemarketing/how-to-integrate-telemarketing-with-other-channels/
Publish Date: September 5, 2017 5:00 AM
---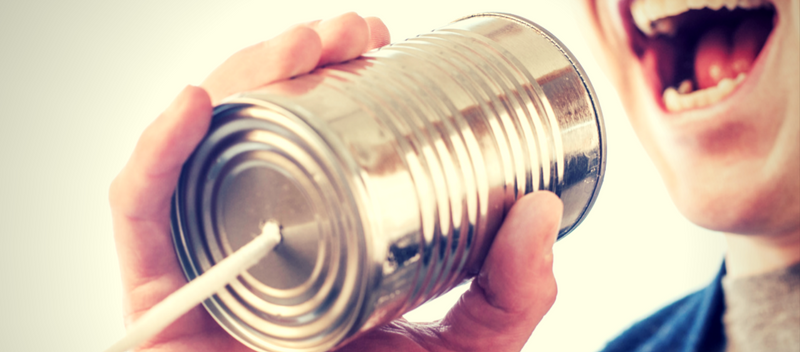 You've probably come across the ancient sales adage "resist the itch to pitch", and you've most likely felt and gave into this irresistible urge yourself one too many times already. It turns out, there's sound reason behind the rhyme. Sadly, though, this point gets lost on many sales and marketing folks, inevitably leading to an all-too-familiar outcome: prospects losing interest and going cold.
If someone submits a form on your site, becomes your blog subscriber, downloads your whitepaper, or happens to be a valid entry on a list, do you jump out at that potential prospect with your sales pitch right away?
Of course not. But that's what most B2B marketers seem to be doing, and here's why you have to set yourself apart and always start with a thorough understanding of your prospects' situation before anything else.
Putting yourself in your prospects' shoes is bad advice
It's going to take a long and careful process to get leads to that point where they'll be interested in hearing about your pitch, and the first few steps will involve becoming really familiar with your prospect's needs and pain points.
Pitching too early means that you probably haven't done your homework thoroughly enough (and are just relying mostly on guesswork). There's far too much nuance involved in creating a sales pitch that putting yourself in your prospects' shoes simply won't cut it. You have to ask questions first.
Related: The Remedy for Unqualified Leads: Nurture Them Until They're Ready
You can't (and shouldn't) connect the dots with just a single touch point.
It goes without saying that not all leads are created equal. Only some small portion of your new leads (about 15% by some estimates) will actually be ready to face your sales team. Clearly, this means that you'll be putting off the vast majority of prospects that enter your pipeline by throwing your sales pitch at every new contact you come across with.
It takes two separate points to draw a line and, to paint a fuller picture of your lead, you're going to need a series of connected touch points, with each one designed to incrementally sharpen your prospect's profile. This will help you craft a more compelling sales pitch later on and help you decide whether a prospect is qualified enough to hear it.
Check this out: Multi-Channel Approach & Marketing Automation: Partner for 33% Sales Increase in Sydney IP Services
Taking time to qualify early speeds things up later.
The quality of the leads you work with at the early stages of the sales process is an important factor in determining how long it's going to take leads to become buyers.
Assess your lead: Is hot, warm or cold? Find out here..
If you're able to slow things down and thoroughly identify prospects that really have an urgent need, then the time-to-decision is going to be much shorter. Also, by taking this approach, you're able to reduce the time spent on prospects who'll never become your customers. This helps you put resources where and when they're needed the most.
In other words, rushing things and pitching to new prospects right away will actually make the sales process longer than it should be.
Related: CHAMP Methodology: Spot on Sales-Ready Leads with These Questions
Pain doesn't always equal an urgent need.
Your target buyer's pain points can be your most important resource-that is, if you can figure them out and have the solution they really need. But sometimes, pain points don't often make up an urgent need. Urgent needs are what turn your prospects into buyers, so you have to gauge whether the issue your leads face is severe enough to require an urgent solution.
Once again, this means that you have to set your sales pitch aside and focus on knowing what your prospect is really going through. You need to ask probing questions that uncover specific issues in front of your leads and find out whether these make up a real business need or not.
There's always a right time for delivering your sales pitch, and the early stage of the sales process (when you still have very little idea about your prospect's situation) is clearly not when this should happen. That's the time for asking questions, diagnosing pain points, and matching your solution with your prospects' needs.
Proceed if and only if all these have been checked off. Otherwise, just ditch that pitch.
Author Bio:
Ralph is a content writer at Callbox. He closely follows developments in B2B marketing and occasionally looks back on interesting business stories. He enjoys reading, playing the guitar, and spending time with his pet cat.
Learn more Sales and Telemarketing tips at The Savvy Marketer's Blog
Love to know how we generate qualified leads?
Get in touch with our Marketing Consultant or Dial +1 888.810.7464 or 310.439.5814
Source: https://www.callboxinc.com/telemarketing/ditch-that-pitch-the-case-against-selling-to-first-time-prospects/
Publish Date: March 9, 2017 5:00 AM
---

When is the best time to post on social media? Maybe between 7 to 9 in the morning before classes and office hours start, 5 pm till late evening, weekends, or just anytime a thought or a moment that deserves a click comes up; regardless of who likes, reacts or shares the post.
In business, you couldn't care less on your social media posts. According to The Social Media Hat there are optimum post times for businesses to catch the majority of followers when they are most active.
Worst Time:
Facebook: 8pm - 8am
Twitter: 8pm - 9am
Google+: 6am - 8am
Pinterest: 5pm - 7pm
Best Time:
Facebook: 1pm - 4pm
Twitter: 1pm - 3pm
Google+: 9am - 11am
Pinterest: 2pm - 4pm, 8pm - 1am
The social media posting data was probed not solely for users to maximize the peak exposure period but to enable them to reach target followers at a time when they are most active and ready to respond.
The same tactic works well for marketers in analyzing the best time to call prospects.
We've learned so many telemarketing lessons and strategies in the past like to call prospects during Wednesdays and Thursdays between 8-9am and 4-6pm and promptly calling inbound leads within 5 minutes of receipt, but getting hold of a prospects in a phone call at his best time is a prevailing challenge for most telemarketers up to now.
The truth is, these proposed calling time frames may have been proven effective in the previous years, but may now hardly withstand the challenge brought about by the rapid evolution of the digital age that has affected and continue to affect the way people do business.
Related: Inbound and Outbound Strategies is a Match Made in Marketing Heaven
Today, decision makers move and think fast, are aggressive, interactive and adeptly practice technology-based sales scheme from start to finish. This should be a compelling reason for telemarketers to become smarter in analyzing the best time to catch prospects when they are most ready to answer a business call and at the same time, utilize all available tools and resources that would ease the call flow while mitigating call failures like missed appointments, No Answer, several follow-ups and busy signals, SMART Calling is one of the proven tactics.
Here's a quick walk-through of SMART Calling
SMART Calling is a technology process that is capable of prioritizing sales calls based on a set of rules that can be configured to optimize prospect reachability. Using a weight-based system of different events, filters, KPIs and lead scores, SMART Calling scores target prospects on the list based on a combination of factors, including:
Lead score

Recency of the Last Call

Times of successful phone contact

Times of email opens

TImes of email replies

Times of website visits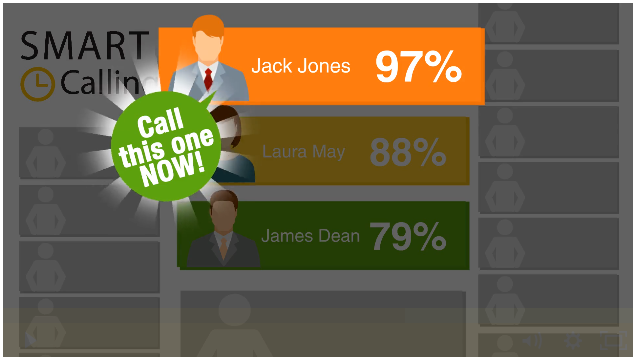 Note that Lead scores are an indication of your prospect's sales-readiness based on demographic and behavioral scores and an integral part of the prospecting process that will give insight of WHO to pursue first - a process that would hone agents to become SMART marketers.
Read more: SMART Calling: What's the Edge?
What difference can a SMART Marketer make?
The SMART Calling process will remain just a process unless efficiently utilized and proven effective by telemarketers, but wouldn't you agree if we say vice versa? Undeniably, the telemarketing business, just like all the others have become much dependent on technology breakthroughs in streamlining and refining prospecting methodology.
Below are notable characteristics and skills of a SMART marketer:
A SMART Marketer knows how to reach targets who are ready to move further down the sales funnel.

The SMART Calling technique will enable the agent to prioritize calls in real-time, moving up calls to prospects with the highest SMART scores, giving a higher probability of speaking with the target decision maker.
Related: Who Says Telemarketing Can't Drive Leads Further Down the Sales Funnel?
A SMART Marketer knows when the target decision maker himself is most reachable and available to talk.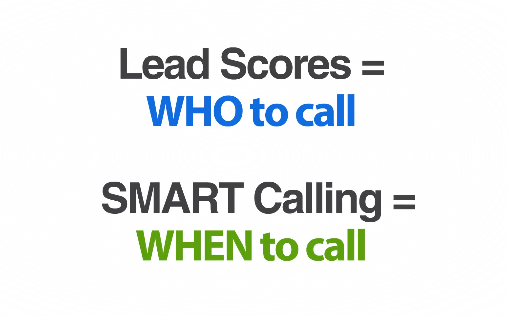 While Lead scores will demographically show you WHO to call, SMART Calling provides the agent the ability to demographically and behaviorally calculate not only with WHO to pursue first but also the best time WHEN to call and HOW to best reach the target decision maker as to whether via mobile, email or social/professional network sites.
Enabling marketers to reach warm prospects at the right time with less time wasted on busy signals, voicemail or no-answers, and more time for actual talk.
Related: Keep Prospects Glued on the Phone Like Bees to Honey
A Smart Marketer knows how to run an efficient marketing campaign.
SMART Calling processes contact data and makes adjustments in real-time, improves agent productivity levels with less idle time and more talk time, and gets you in front of your target prospect at the best time – when they are most interested and willing to hear what you have to offer.
Let's simply put it, SMART Marketers are those who Reach the Right Person at The Right Time, just as how savvy social media posters snappily catch the most followers at a time when they are most ready to Like, Retweet or Share your posts.
Source: http://www.callboxinc.com/telemarketing/how-to-know-the-best-time-to-call-your-prospects/
Publish Date: February 17, 2017 5:00 AM
---
Whether you're selling a service or product, you need an effective B2B sales call blueprint in order to successfully close a deal. Hence, there are important techniques and skills to master that are similar to any marketing niche.
Basically, you are required to have charisma, style, accuracy, and credibility before you can entice a potential buyer to patronize what you are offering. So if you think cold calling is dead, think again.
Essential Guidelines to Consider
#1: Devise the ideal plan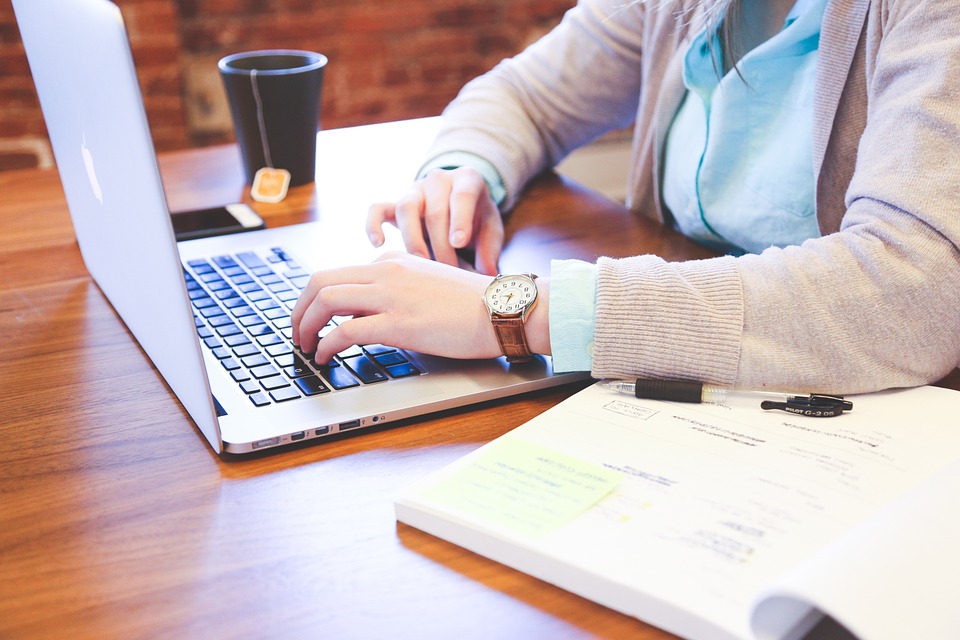 Managing a business doesn't need guesswork; you have to make accurate decisions or else you will fail. So when creating your plan, you can consider making a checklist to keep focus on the goal. Perhaps, you may write your targets on every call you make. This will make the sales call process simpler and more organized as it needs to be.
#2: Consider Lead Relevance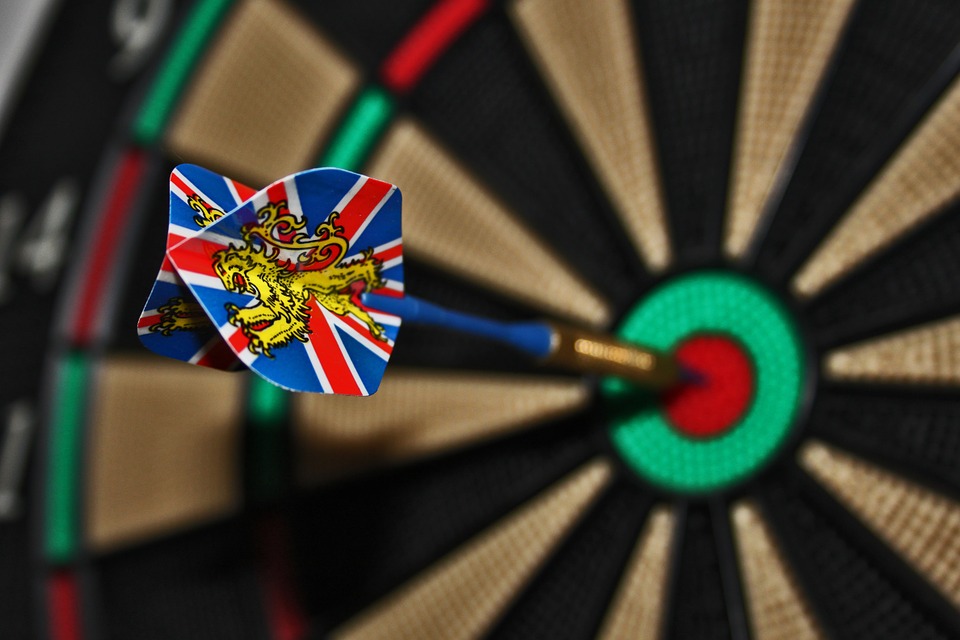 If you are not relevant to the type of lead you want to generate, then you're on the wrong boat. Determine your target market, and from there, you will know how to create best lead generation techniques that truly work via phone calls.
Related: SMART Calling: What's the Edge?
#3: Draft the B2B Sales Call Plan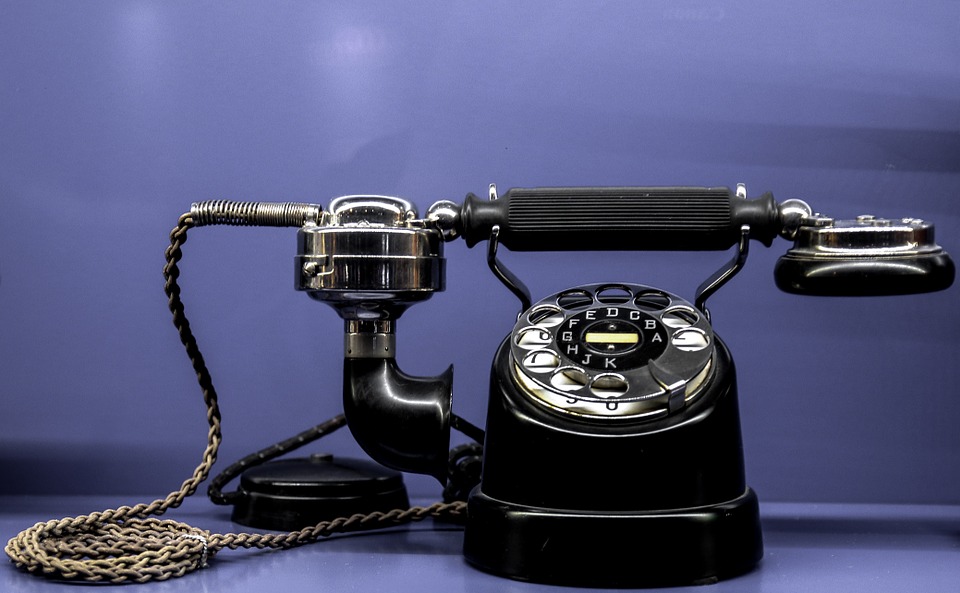 Consider some important factors like a sales script, mapping out the conversation, and preparing for unexpected questions from the other end. You need to make an original introduction to build rapport with the customer. But before you pitch anything; be sure that they are completely engaged in your conversation.
Related: The Best Technique In Sales Leads Telemarketing? Start A Conversation
#4: Ask Pertinent Questions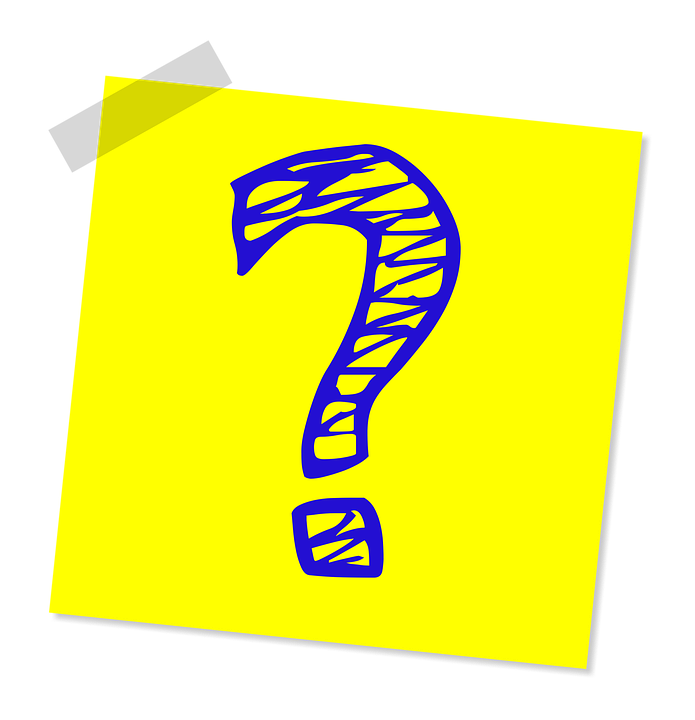 If you're making your first sales call, asking questions will help in qualifying the lead. But for succeeding sales calls, you can now ask for deeper questions while discovering potential guidelines to make successful sales via phone call.
Related: Top 5 Sales Blind Spots in the IT and Software Industry
#5: Timing of the Pitch

You should know when to deliver the pitch because it's crucial in the buyer's decision. So after you have introduced yourself and made pertinent questions, it's time to offer the pitch. However, it shouldn't be always "salesy" that it only focuses on the product or service you are promoting. One tip is to concentrate on your call's objective like a follow-up call, demo, in-person meet up, or a direct close deal.
Related: Ready, Set, Call: Getting the Most of Telemarketing in Generating Leads
#6: Handle Objections

Of course, you will surely encounter objections when making a sale on the phone. So when this part comes, be sure to know how to properly address them. Try to explain your part and assure the customer that you will manage the concern in the best way possible.
Related: Have you been Bitten by a Snake Oil Salesman?
#7: Call to Action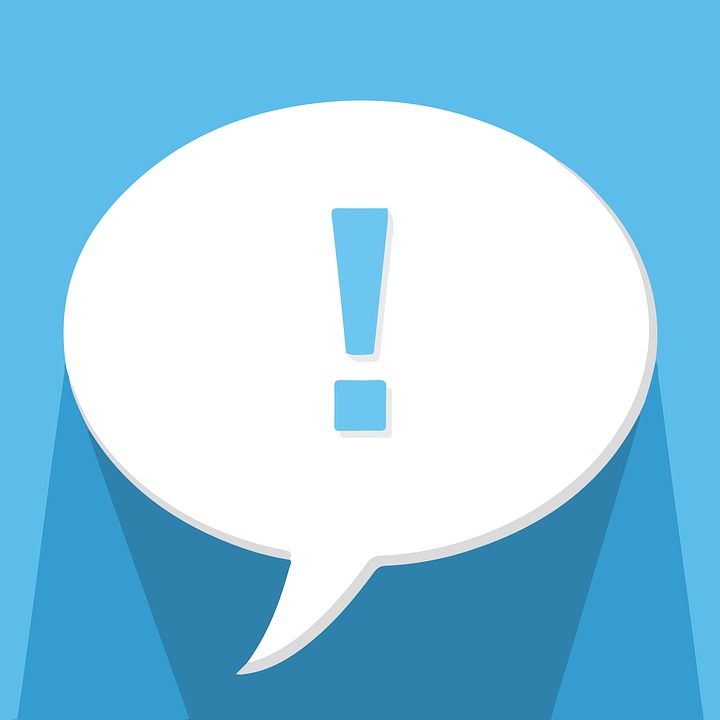 Before you end the conversation, spill your call to action. If you don't, the next attempt will surely be difficult as it was during the first call. When it comes to sales call strategy, you need a holistic approach that matches your brand. It's certainly a hard goal to make a sale via phone call but if you do, you will figure out how to effectively handle customers through cold calling. Just consider the tips provided above and customize your sales script for successful sales in the future.
Create better telemarketing strategies, Check out The Savvy Marketer's Guide
Kick off your marketing campaign now
with proven telemarketing and lead generation process! Dial 888.810.7464
Source: http://www.callboxinc.com/telemarketing/how-to-structure-a-successful-b2b-sales-call-blueprint/
Publish Date: November 18, 2016 5:00 AM
---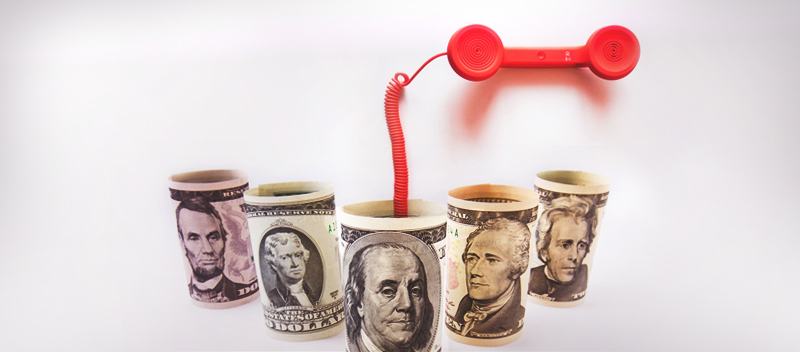 One of the things that experts don't like about outbound marketing is that it's not as sustainable as inbound marketing. The longer the campaign, the more expensive it gets. ROI is difficult to track. Then there are the numerous blocking techniques, from spam filters to TiVo to DNC lists. And to add insult to injury, inbound marketers harp about how inbound leads usually go much further through the sales funnel than most outbound leads.
Well, it's hard to argue with them. But it's not like their argument is hermetically-sealed. For one, it doesn't always mean that outbound leads can't go further down the sales funnel. In fact, outbound marketing is as important as inbound marketing.
They can, and here's where good old lead nurturing plays a crucial role.
The Head Start
You have to remember that the telemarketer is the most proactive marketing tool in a business. On the micro level, there's no other person in an organization that has the same level of correspondence with prospective clients. On the macro level, there's no other form of marketing where you can instantly interact with a prospect and take note of their needs or address their concerns.
Here are the other advantages of telemarketing:
Direct contact with clients
Pulling in high value leads
Ability to segment audiences
These are substantial advantages. In basketball, it's like leading by 15 with two minutes left in the fourth quarter. In swimming, it's a half-body lead with one turn to go. It's like being up four strokes in the back nine in golf. These are not insurmountable leads, but they sure ease the pressure, make you feel comfortable.
But since you're in marketing, you cannot really feel comfortable for a long time or allow yourself to be complacent, no matter the advantages. Remember, when you're doing outbound, you have a chip on your shoulder. You always have to outperform yourself.
Related: Inbound and Outbound Strategies is a Match Made in Marketing Heaven
Capitalizing on the Advantages
Give it a Little Push
There are some companies that have a relatively longer sales cycle. A custom made lead nurturing program is perfect for these kinds of organizations. These programs are designed to engage with prospects over time, making them more likely to buy the product or avail of the service at the right time. Don't ever think that leads can push themselves down the sales funnel by themselves. To make things work positively for you, you need to give them a little push. Here's a detailed guide on nurturing and following up on leads who requested more information or pursue those leads who are not interested.
When Less is More: How to Make Prospects Buy From You from Callbox on Vimeo.
Right Message at the Right Time
Sending the right message to the right person at the right time is what lead nurturing is all about. It's more than just writing a series of emails, sending them out to your prospects on a drip schedule or calling them with the most enticing script. It's not even just about writing different kinds of content for each stage in the funnel and hoping the prospect is all tender for buying. It's about getting your prospects' attention, educating them and getting them engaged, by being able to deliver certain messages they need to receive at certain points in the sales process.
---
Check out our email marketing video series on How To Make Your Emails Impossible to Ignore. Get more tips on increasing your email open rates.
---
Follow Up
When a person says he has "no time" for something, that person is lying. We have time, but each of us has our own priorities, and sometimes, it just happens that what you are offering isn't in your prospect's list of priorities, or he must have forgotten it because of, well, the same priorities. Don't wait for your prospect to reach out to you. Your goal is to keep communication lines open between the prospect and your company. Remember, one out of five prospects will take more than a year to finally buy the product.
And the best news is, nurtured leads make roughly 50% larger purchases than those who weren't nurtured.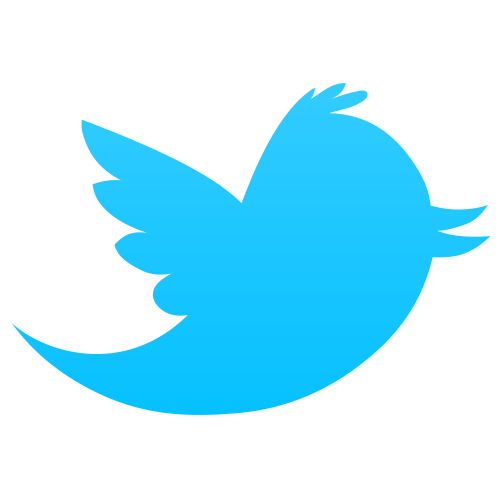 Tips:
Send "Win-Back" Email
Reconnect through Social Media
Create Good Quality Content to Lure Them Back
Read more on how to follow up and reactivate the interest of your old leads on your pipeline. Follow up, follow up, follow up!
Keep it Personal
Yes, you have an automated lead nurturing scheme, but don't let it take away the personal touch you have. Everybody loves being given personal attention. Talk to prospects in a way that you'd talk to close friends or even family. As these prospects go down further the sales funnel, your level of familiarity with them should also go deeper. Make them feel not like customers but partners or associates.
Humanize your marketing automation and lead nurturing process. Learn more on Lead Nurturing: The Callbox Way.
Summing Up
Leads are the lifeblood of every business, and no other tool puts a business directly and continuously in touch with prospects than telemarketing. I'm not saying that telemarketing should be used more than content marketing or social media, because that would downright absurd if not tantamount to committing marketing hara-kiri. What I'm saying is, telemarketing is still as important to companies when it comes to lead generation as it was before content marketing came along.
Reach the right prospect at right time. Learn more about SMART Calling!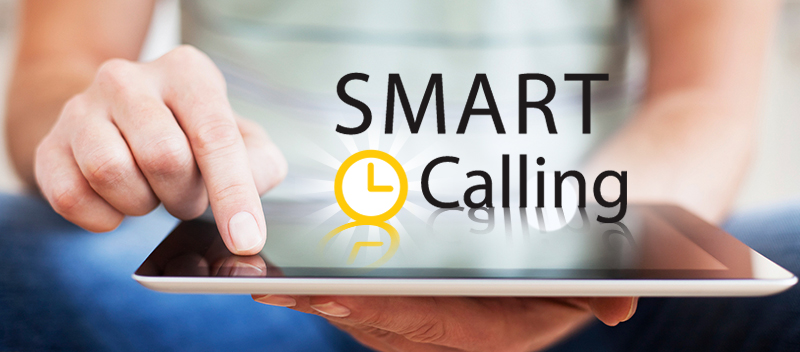 Nurture your leads today

and improve your sales numbers! Dial +1 888.810.7464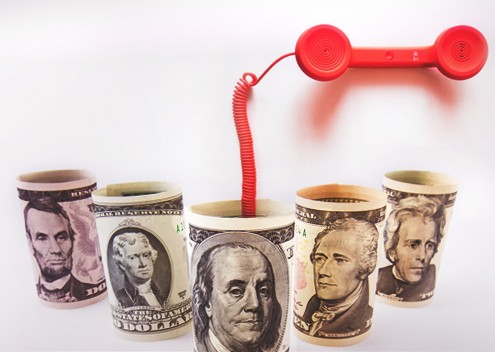 Source: http://www.callboxinc.com/telemarketing/who-says-telemarketing-cant-drive-leads-further-down-the-sales-funnel/
Publish Date: October 7, 2016 5:00 AM
---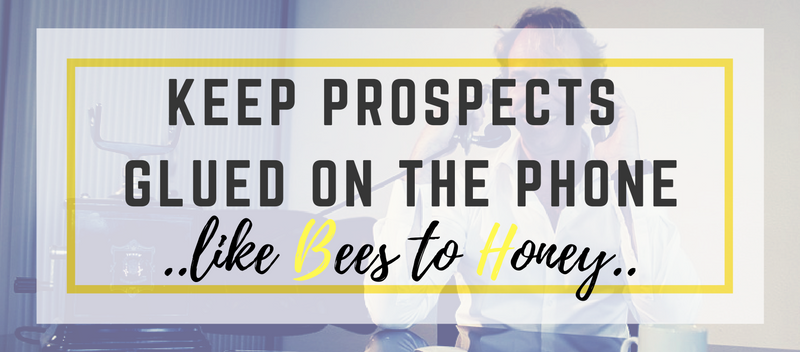 Research says the longer a caller is able to hold a business prospect on the phone, the better his or her chances are in getting a positive result.
Okay, research didn't say that.
Common sense says every conversation with a prospect is a chance to establish a connection, build rapport, and eventually, a mutually beneficial relationship. So it follows the longer you keep the person you are calling on the phone, the better the odds of your getting a "yes".
But the million-dollar question is: How do you keep a prospect engaged in a phone conversation outside of singing your best rendition of "Sweet Child of Mine" or telling the person at the other end you might be long-lost siblings?
The answer may have something more to do about psychology and sociology than marketing.
See, making phone calls goes beyond business. In a way, it is a social act with a social function – the sociology part. Your success or failure hinges as much as in the solution to their problem as it is in your ability to connect with the prospect, to appeal to the emotion – the psychology part. How you marry the two to your advantage is entirely up to you.
Here are five simple ways to better engage your prospects on the phone:
Communicate clearly and professionally and be polite
You probably know the drill: introduce yourself, the name of the company you are calling for, and the purpose of the call. Always do these in a very clear and professional manner. But before going any further and asking the prospect a lot of personal questions, ask if it is a good time for them to spend a couple of minutes listening to your sales pitch. If it's not, ask when it would be more convenient.
Remember to apologize when you make a mistake – like mispronouncing a name or even the address. And of course, always thank the prospective customer for their time.
Related: How to Make your Outbound Campaign Standout: A B2B Telemarketing Guide
It's important to show sincere enthusiasm during a phone call to better engage customers on the phone. More often than not, you have a company-provided script, but during the critical initial stages – when you're trying to establish a connection — it's better to stay off script so that you'd sound more genuine. The person at the other end would appreciate an honest conversation more than one that reeks of aggressiveness and hard selling.
If you show genuine interest in your customer, they will feel a stronger connection to you and the company you represent. Giving your customer information that is helpful to their specific situation is a great way to show that you are really interested in their needs. In case the offer is rejected, you can still follow up a call on them after a couple of weeks or months. We'll never know, it might be the right time to pitch and close the deal.
Know when is the right time to call a prospect. Learn more about Smart Calling!
Know your products and services but avoid tricks and gimmicks
You cannot give what you do not have, right? Believe in your product and explain why your product is the solution to the customer's problem or need. Here's the tricky part: If the customer is willing to listen to what you have to offer, you can be sure they don't want to hear you reading it from a catalogue, otherwise, they'll do it themselves.
When you're pitching a product or service, make sure you know it like the back of your hand and you take to heart whatever you are promoting so you won't have to use gimmicks just to better engage customers on the phone. You'd not only sound smart and confident, but it will also go a long way in helping to establish credibility for you and your company. Trust is essential to close sales and win loyal customers.
Related: Ready, Set, Call: Getting the Most of Telemarketing in Generating Leads
Use the words they love to hear
Everybody feels good when they hear the words they love to hear. So go ahead, make your customer feel good. Take advantage of certain words that elicit a specific positive effect on a person depending on the situation. Certain persuasive words encourage customers to buy more than others, like: free, guaranteed, new, improved, and instantly. When customers hear these words, it causes some kind of placebo effect — they'll enjoy their purchases more than they would have otherwise. It's even better if the quality of the product or service backs up the initial promise.
Bonus tips: Five Telemarketing Phrases That You Should Skip!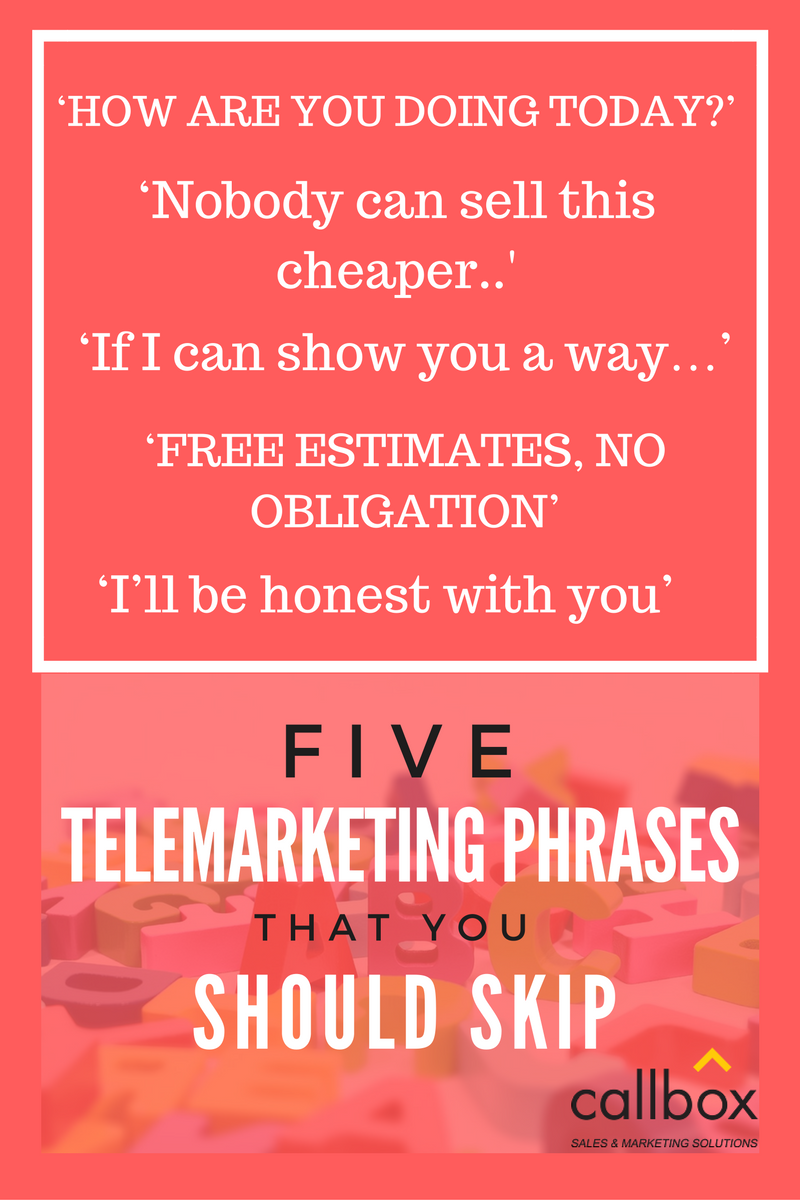 Listening to customers isn't enough – you really have to listen carefully, paraphrase and repeat their points or concerns. In other words, you really have to have conscious effort in listening to the person you are talking to on the phone. That's the only way you can respond in an empathetic and understanding way.
You should not only listen well during conversations with customers, but also take notes. Your customer will appreciate when you show that you've remembered a detail or two about them and bring it up later in a conversation.
Using active listening on the phone helps your callers feel heard and appreciated. It makes them more likely to engage with your business and become repeat customers. You can never go wrong giving too much attention and care to your customers!
Related: Top 5 Sales Blind Spots in the IT and Software Industry
---
Bonus Tip: Don't stop smiling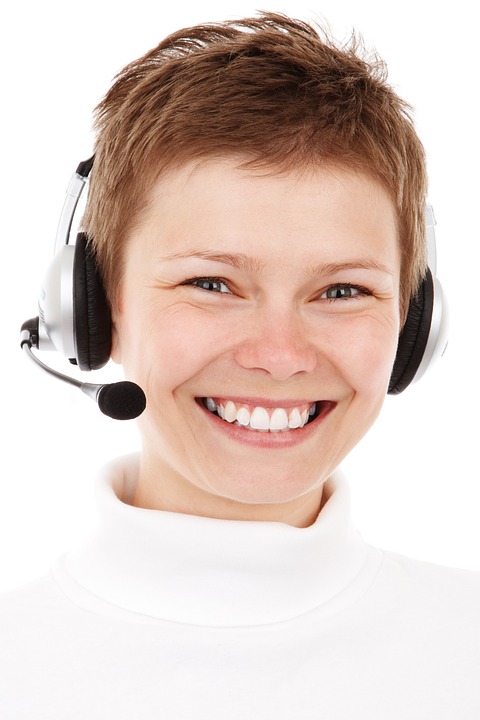 I used to attend a class in college where we were trained to handle phone calls. I forgot most of the lessons except for one: Always smile when talking on the phone. Why? Smiling actually gives your voice a positive, friendly tone.
Here's more: Studies have shown that callers notice when the speaker has a smile on their face and when they do not. Keep a smile on your face when speaking to customers on the phone and you are setting the tone for a positive, engaging interaction that they will not forget.
---
Bottom line
When you're calling a prospect, don't ever think that your job is just to get information and close a deal. Think of it as establishing a real connection that would eventually lead to sales. Don't be a snake oil salesman everyone is avoiding.
If you want to better engage customers on the phone, be clear, be genuinely nice, know what you are selling or offering, actively listening, and always smile. Worst case, even if a caller doesn't have an immediate need for your product or service, they'll refer your company to friends and family if you engage them well on the phone. Best case, you have a new customer.
The Calling Rule that Generated a Million dollar Sales Close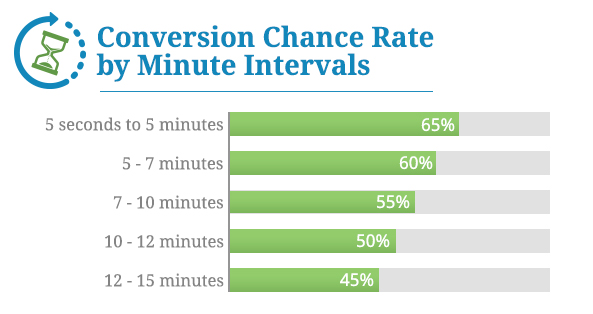 Create better telemarketing strategies,
Check out The Savvy Marketer's Guide
Kick off your marketing campaign now
with
proven telemarketing and lead generation process!

Dial 888.810.7464

Source: http://www.callboxinc.com/telemarketing/how-to-keep-prospects-stay-on-the-phone/
| | | |
| --- | --- | --- |
| Publish Date: August 12, 2016 5:00 AM | | 1 |