CallRevu - ContactCenterWorld.com Blog
Page: 1 | 2
We've done our job in pointing out why people call sales and service departments and where the fail points are in calls, but what kind of "fix the phones" blog would we be if we didn't actually fix the problems we are saying might be happening in your dealership? Let's start to close that gap. Roll up your sleeves, it's time to get your hands dirty.
Bucket #1: Process and Systems
Every dealership has a process, even if it's by default. Establish what your process is currently and evaluate the effectiveness of that process you currently are following. Is this the process you want to stick with? Do you have the right people in the right seats to excel in the process you have set? Establishing a process first is key to ensuring you can bring in the right people to follow the process you have set.
What about the phone systems themselves? Are you using an IVR? A Phone Tree? Are they performing properly, or are there problems around connectivity, voicemails, and transferring? Perform test calls to your dealership, go through the same process that your customers are going through. Test to see if your process and systems are working exactly as you want them to. Continue to perform these tests often, through every department.
Bucket #2: Skills
Second are the skills that we need to train and coach on. Surprisingly, coaching and training are a little bit different. Before training in a dealership, the principles of your store need to be established. Training is the teaching of a skillset to the masses, and we need to make sure that that skillset meets our dealership's principles. Training can be signing up for webinars, taking an online class, or even watching on demand videos- all aimed at generically teaching a specific skill needed.
After the principles of your store and your training is complete, we transition into coaching. Coaching is where you train specific individuals on skill deficiencies that they have. It's the one-on-one time needed to help an individual get to the next level. Coaching is what takes your store from average to great.
Bucket #3: Matching Inbound with Outbound
The third bucket we refer to as matching inbound with outbound. This translates to making sure every inbound call receives the necessary outbound call. Our main tool for accomplishing this is alerts. Alerts are notifications via email or text that you get when an opportunity on a call is missed or mishandled. You can use a call monitoring service, or you can have an employee listen to each call (whatever you decide, it is vital that the process you choose happens in near real-time). When you receive these alerts, it should be an immediate notification to you to call the customer back before it is too late and they move onto your competition.
It's necessary to make sure that every important inbound call gets its required follow-up outbound call. Please note that this means that in the process review that you do, you need to be certain that you are logging every inbound call. If you don't log the calls, those that get dropped or eventually missed will never be able to be followed-up on because they are not in your CRM. On average, 8/10 calls aren't entered into the CRM.
So what type of inbound calls deserve a follow up outbound call? It breaks down pretty simply into a few scenarios:
Outcome #1:

The call is missed altogether. In this case, we know that we need to make a courtesy call back to our known customers whose call we missed, and

especially

to those who we know are local to our dealership (based on their area code)

Outcome #2:

The caller who called and asked for an individual, a department, or a service, but never actually spoke to the intended agent/department. Maybe that caller left a voice message, maybe they didn't. Bottom line is that we need to re-engage that caller

Outcome #3:

The third category is a customer that called and spoke to an agent, but the agent couldn't answer all of the questions. That agent needs to make that follow-up call, and provide the information promised to the caller

Outcome #4:

A customer calls and speaks to an agent, and has all of their questions answered, but doesn't set an appointment. At this point let's turn that over to a manager to have them try to set the appointment. A leading stat that we have found dealers understand well and work to benefit from is that if you call back this type of opportunity,

1 in 4 will set an appointment
Outcome #5:

Caller sets an appointment. Great! This is the preferred outcome! Let's call to confirm that appointment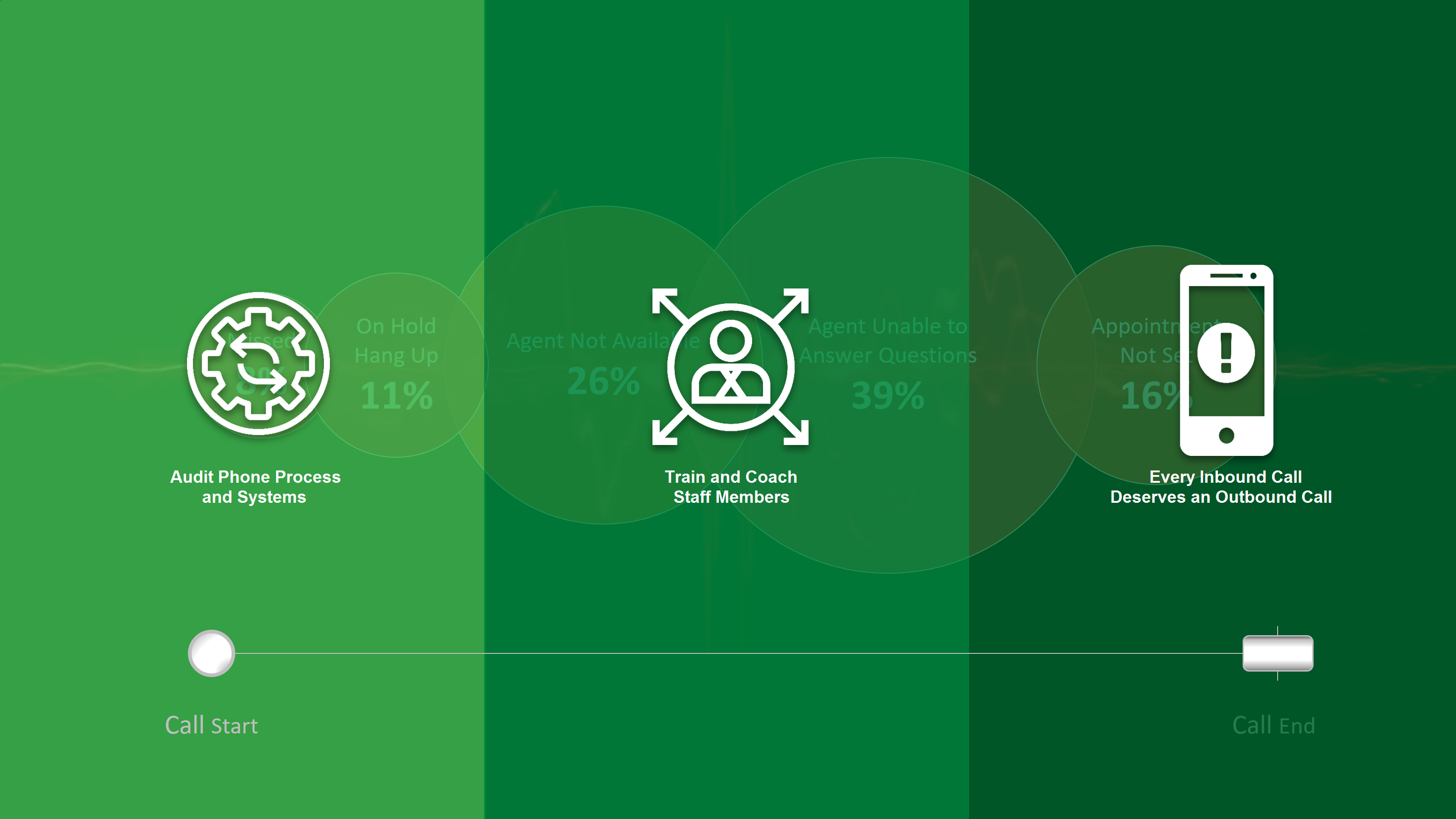 The three step approach is the beginning of monitoring and fixing any phone processes, skills, and follow-up concerns you may have currently in your dealership. In the next Fix the Phones blog, we will go even further into the details of how we fix the phones to take that next step to greatness.
Want to learn more about phone management and the best phone handling best practices for auto leads? Access CallRevu's free training videos by clicking the link below!
Source: https://www.callrevu.com/blog/callrevu-fix-the-phones-the-3-step-approach-to-success-on-the-phones
Publish Date: April 5, 2017 5:00 AM
---
Make sure your dealership isn't a one and done team.
March Madness is upon us, and we've already seen the emotional downfall and uphill battle that comes along with it. We understand, the frustration a busted bracket can cause can seem like the end of the world. Yes, we've all been there, the #1 seed you picked to go all the way, the one you planned out for weeks ahead of time, is out after round two and there goes your whole bracket down the drain.
Your team's performance on the phone can be just as disappointing, or just as exciting as your #1 pick going all the way. It all depends on what happens on that phone call.
After analyzing millions of calls, and combining the call data, we've noticed that there are fail points along the way from the start to the end of the call that will make or break your team. During these crucial steps, your dealership is either eliminated by the customer or you get to move onto the next round.
Let's discuss the 5 main fail points during a call and the frequency of those points so that your team can be trained to own the bracket.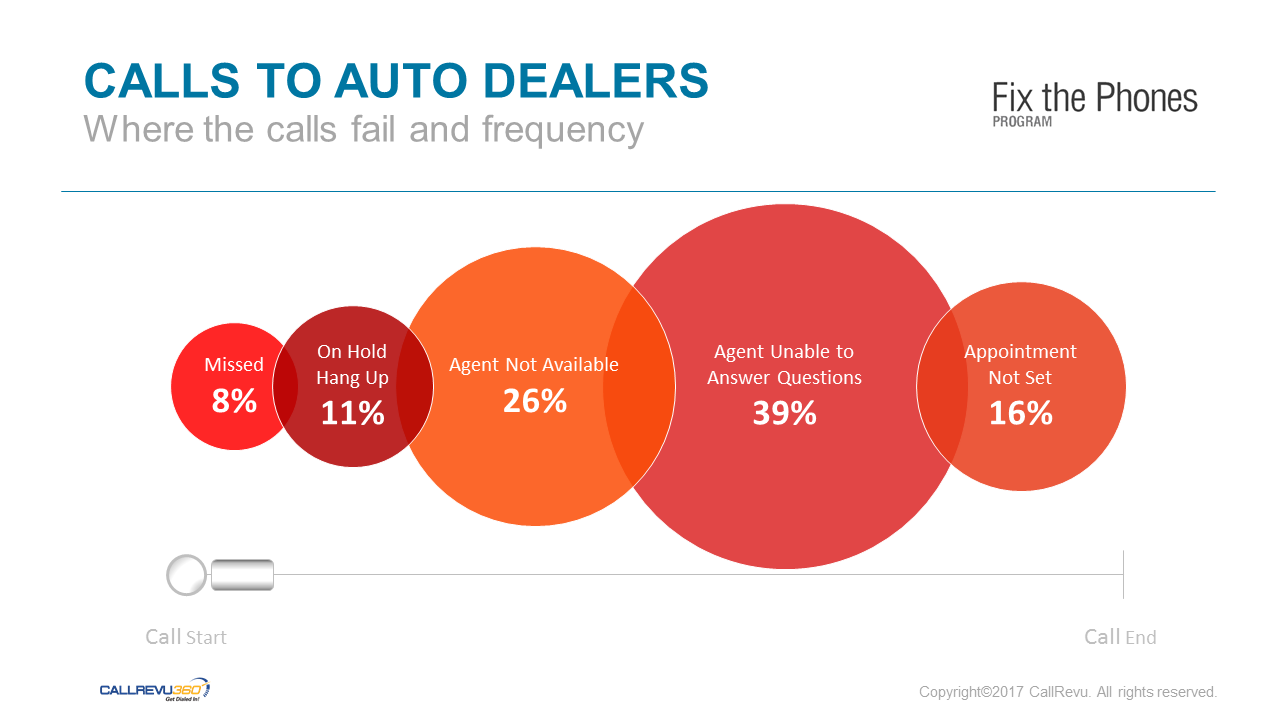 #1 - Missed Calls
On average, 8% of calls to a dealership are missed. Missing a call altogether is a sure way for your dealership to become a one and done. It's important for your dealership to know how many calls you're missing and who you're missing them from. This failpoint is one of the most obvious and has the most apparent solution: answer your phones!
The good news is that not all missed calls are created equal. Our research shows that a couple points of that 8% are actually individuals who dial your dealership on their smartphone and then hang up immediately just to save the number in their completed call list, like a temporary speed dial. Customers may find it easier to dial the number, call, then end the call while they are in a meeting, work, or just not ready to commit to the call yet. I'm sure all of us reading this blog are guilty of doing this at some point.
#2 - On Hold Hang Up
Once the call is actually answered, and your dealership has made it past round one, it's time to face the second failpoint: does the caller actually get correctly connected and speak to someone? On average, 11% of calls are not connected properly, leading callers to hang up while they are on hold. Callers can be connected through an IVR/phone tree or through a receptionist, but either way there is an art to getting customers connected to the intended agent very quickly. The average hold time for a call has been steadily decreasing, and as hold times become shorter, the importance of this skill increases.
In the past, callers were forced to stay on hold, but today that is no longer the case because there are many other ways to get in contact with someone. Callers can fill out web forms, text, or even try calling the intended party directly on their mobile phone. We know that dealers want to keep conversations going through the proper channels and that's why we put a big importance on these 11% of calls. It's all about the transfer process.
#3 - Agent Not Available
At this point in the tournament of your dealership's calls, the call hasn't been missed and it has been successfully transferred. We're off to a strong start!
Once the transfer process is complete, then comes the hard part. The next step is to determine whether or not there is an agent there to actually take the phone call. The fail point of an agent not being available is an issue 26% of the time. Oftentimes, a caller is just told "We're sorry, no one is available," but more often than not, these calls are "cold" transfers (sent to an agent without notification to agent, caller, or knowledge if they are available) that end up at a voicemail.
A lot of the time, voicemail boxes are set up in a very general fashion, half of callers leaving a message and half not. If you take a step back, dealerships really want to not only focus on the transfer process itself, but also on the nature of the caller's request.
When someone calls and asks for John, it implies that this caller has had a previous interaction with John. If the caller asks for a specific vehicle by name that they saw on your website, that caller most likely has no relationship with the dealership. So, if we just simply cold transfer this individual to a voicemail we could lose that lead altogether. All leads are important, but this lead should definitely be carefully logged, it should be warm transferred (the customer is warned that they are going to be transferred to (Name) and the receptionist confirms with the agent that they are able to take the call), and we should aim to answer the questions of this caller with the person still on the phone if possible. If we don't do these things, this caller could eliminate you.
#4 - Agent Unable to Answer Questions
This bracket buster is a fail point for 39% of calls. The biggest failpoint of a phone call is when the agent is unable to answer questions, but the reality of it is that often times the agent is unwilling to answer the questions. They are either distracted by another opportunity that they have, say on the floor, but in many instances, it's not that agent is inept, but that they're often unempowered! Agents are often trained to ask for a name and number as a means of collecting contact information and to offer to call back to answer the questions.
This blog series has already covered the top specific reasons customers call sales and service, but if you simplfy it, a caller's intent can really be boiled down to a desire to verify information before investing their time in coming to the dealership. They've done their research online and want a few questions answered, leaving us with the exact reason why it's vital that we do answer the callers questions.
Today's consumer is calling to eliminate us every day. They will buy from the dealership that makes the process as easy as possible, and doesn't promise a call back with more information, or invite the caller to the dealership instead of answering the question over the phone.
#5 - Appointment Not Set
The final fail point is when an appointment is not set, averaging at 16% of calls. This is someone who called, the call was answered, they were properly transferred, there was an agent there available to take the call, and that agent was able and willing to answer all of the caller's questions...yet the agent did not set an appointment.
The good news is that it is only 16% of the problem, most calls that get down this far actually do set an appointment. This part of a call uses your soft skills. Setting an appointment is the phone skills training portion we all want to improve on, but the interesting point is that with all of the focus we have and money we spend on phone training, we see that the soft skills that we train to are only 1/6th of the problem, an important 1/6th, but only 1/6th.
Understanding the most common pitfalls during a call can help you and your team train appropriately. Make sure your dealership avoids these fail points to lock in your position as your callers' #1 choice.
Want to learn more about phone management and the best phone handling best practices for auto leads? Access CallRevu's free training videos by clicking the link below!
Source: https://www.callrevu.com/blog/callrevu-fix-the-phones-call-data-know-where-calls-fail
Publish Date: March 21, 2017 5:00 AM
---
Now that the Fix the Phones blog series has covered the most common and specific reasons why callers are calling sales and service, what's the overall purpose of those calls and the core principles necessary to answer them?
At a basic level, the motivation of a phone call is driven by the need of a customer to clarify a few questions in their mind. After all, buying a car is a huge decision and they are already far down the funnel of making their choice! Callers are just looking to cement their decision in their own minds before proceeding with the dealership visit. We all know that pretty much any of the information needed is available online.
In fact, today's car buyer could easily know more about the car that they are interested in than the salesperson who will field the call. By the time a caller is ready to pick up the phone and contact your dealership, the call is more of a confirmation than an inquiry. This is why how we respond to calls is so important.
So, how does one respond to all of these questions? To look at it from the 35,000 foot level, there are two simple components to call management that we broke down with the help of Google. Through our travels with the Google Automotive team to many cities last year and our meeting with many automotive manufacturers, Google distilled how to respond into two categories:
Callers demand transparency on these phone calls

Callers demand the use of technology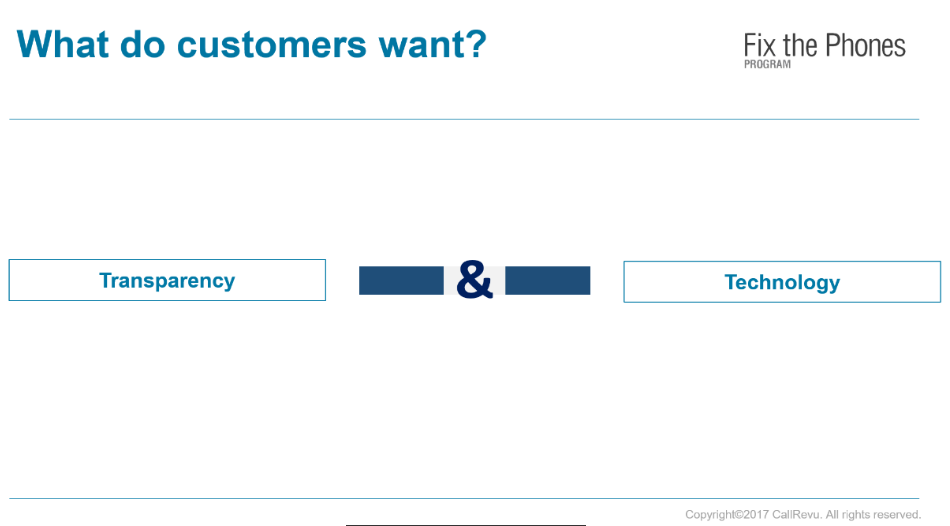 When you consider transparency, everything is online today around pricing: best price, discounts, price calculators, online tools that offer price by day, and services like Truecar. On the service side, callers can even go to some dealer's websites and book an appointment for the day and time that they choose. So when the phone calls come in and the customer is asking about availability or any other questions, callers want that same transparency on the phones as well. It's what they are used to and what they are demanding from businesses every day!
Callers are also demanding that technology is utilized when answering their questions. You should be able to quickly look up information and have answers available at the click of your finger. This is why when a caller calls and they don't get an answer at all, or you offer to call them back with the answer, they are thinking, "Is this person not telling me the truth?", "Does this dealership not have the answers I'm looking for", "Is it both?"
CallRevu's mission is to ensure that every phone call to an auto dealer is a positive experience. Conducting yourself in a transparent matter by giving the callers the answers they want from the phone call, and having the technologies in place to answer the questions that your people may be unaware of are the fundamental processes that need to be in place within your dealership to create that positive experience that is demanded from today's consumer.
Ready to use transparency and technology? Click below for a free demo and see how CallRevu can help!
Source: https://www.callrevu.com/blog/callrevu-fix-the-phones-transparency-and-technology
Publish Date: March 10, 2017 5:00 AM
---
To understand how to train employees on incoming calls, it's important to first understand the why.
Why do customers call service?
Unfortunately, the answer isn't simple. Customers call your service department for many reasons. Unlike sales, where there are really only a handful of reasons customers call (see top 5 reasons customers call sales here), service has around 200 detailed reasons why customers call.

Yes, we know. That seems like a lot, and the list keeps growing if you want to get more specific. For example, one of those calls will be about keys; "I lost my lost keys", "my key fob doesn't work anymore", and the relatively new problem thanks to remote start of "I ran over my key". We have classified the top 5 reasons customers call service by dividing them into buckets.
The Why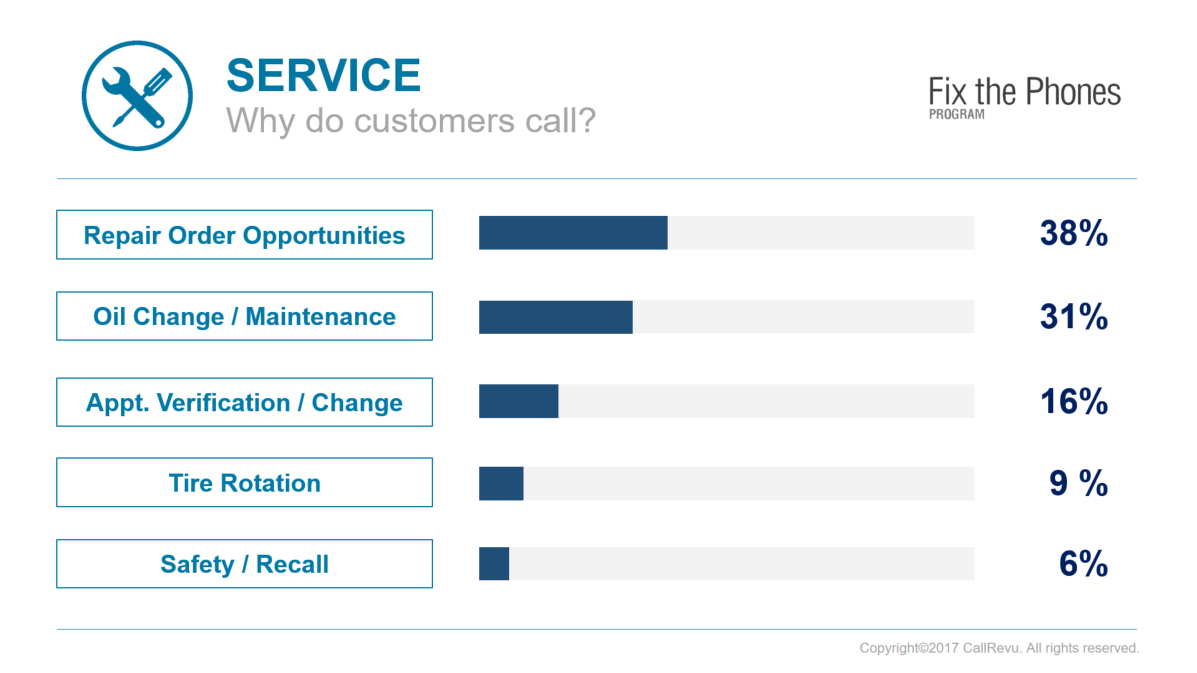 The Top 5 Reasons Customers Call Service:
38% of calls to service are repair order opportunities

31% of the calls are about oil changes

16% of the calls are about appointment verifications

9% of the calls are about tire rotations

6% of calls are about safety/recalls
Over ⅓ of calls are for repair order opportunities and that's great for dealerships, but about ½ of the calls are about oil changes and appointment verifications and that's what dealerships need to try to cut down. Putting processes in place to minimize those calls gives the service advisors more time to take the calls that they need to be focusing on, like repair order opportunities.
So, how do we do that? One best practice is to have dedicated lines for oil changes that go straight to a phone tree. This allows customers to call to set an oil change or alter their appointment.
You also want to make sure that your dealership is taking advantage of your appointment verification process. Callers asking about their appointments proves that the appointment verification is not being taken advantage of because if the customer was reached out to proactively, the appointment would have been verified, confirmed, or changed if needed, while we had the customer on the phone. Understanding why customers are calling is the first step to fixing the phones.
We believe that a great call starts with great call data. Callrevu has gathered information from millions of calls. Our goal is to use this information to improve your customer's phone experience and to help dealers fix their phones. Stay tuned for our next fix the phones blog that will go further into the "why" to examine the purpose of the call.
Want to learn more best practices for service calls? Access CallRevu's free training videos by clicking the link below!
Source: https://www.callrevu.com/blog/callrevu-fix-the-phones-understanding-why-customers-call-service
Publish Date: March 1, 2017 5:00 AM
---
In order to properly prepare your phone processes and train your employees on how to handle customers' calls, it's important to first take a step back and understand why customers are calling.
The Why
In the sales world, as we know, things have changed dramatically because of web and mobile search. Customers have a wealth of knowledge right at their fingertips at every second of the day.
In automotive, oftentimes the caller knows more about the vehicle they are calling about than the actual employee that answered the phone...to answer the callers' questions.
Today's car buyer has made their decision before they talk to you. They have a high interest in this car, likely wanting to see it and perhaps buy it. All they need is to complete that one final step and make a call to ensure that their vehicle of interest is in stock and they can ask any further questions they couldn't find out themselves.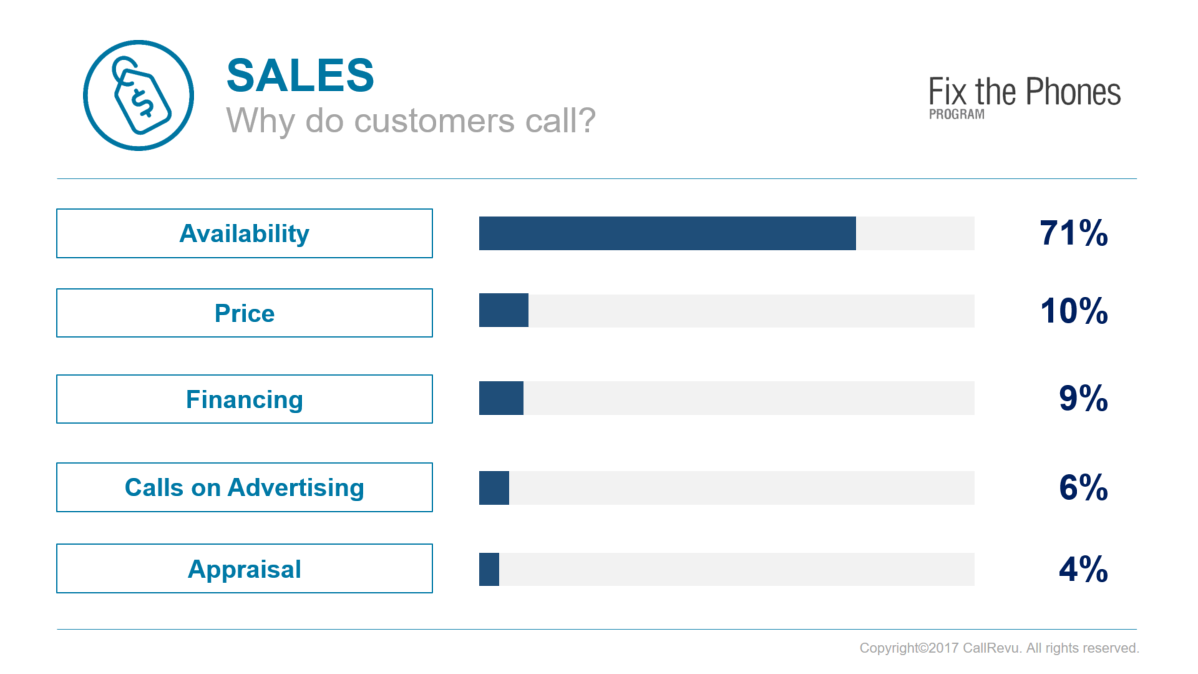 "Is This Car Available?"
Calls where the caller asks if a vehicle is available account for over 7 out of 10 sales calls. Half of those are general availability, and that tends to be your new car calls. For example, "Do you have this car, in stock, with these trim options?" The other half of availability calls tend to be about specific availability, and those are your used calls. Example, "I'm looking at VIN/stock number ____, is it available?"
Transparency translates into answering the questions customers ask when they call. You don't want to be unwilling to answer the question and simply attempt to get the caller's name and number, you want to be able to address the question while the customer is on the phone. Phone answerers also need to understand how to entertain the caller on the phone while searching for their answer. Technology can be used to get the information needed to answer questions in front of dealers quickly.
It's interesting today that you can go to a dealer's website to book a service appointment, or that when you travel you can book the exact seat you want to sit in on the airplane, but dealerships tell customers that they need to "go out to check and make sure the car is still there."
While yes, there could be a situation where it's a busy Saturday and the vehicle of interest is a popular car. But typically, systems are good enough to know if a car is available. So, when the average customer hears that you need to call them back, their immediate thought is that the dealer is not knowledgeable of their inventory or they are not being honest; a dooming thought either way, Immediate gratification and better customer service is demanded by today's customer.
Understanding that a majority of customers are now calling to ask if a car is available illustrates the need for training and focus on how to handle these calls above everything else. You can utilize CallRevu's free phone skills training to master the availability call at any time.

We believe that a great call starts with great data. Callrevu has gathered information from millions of calls. Our goal is to use this information to improve your customer's phone experience and to help dealers fix their phones. Our next post in the Fix the Phones blog series uses this information to answer the question, "What are the top reasons customers call service?"
Want to learn the best practices for availability calls? Access CallRevu's free training videos by clicking the link below!
Source: https://www.callrevu.com/blog/callrevu-fix-the-phones-the-top-reason-customers-call-sales
Publish Date: February 21, 2017 5:00 AM
---
CallRevu has been helping auto dealers improve their phones for over a decade. In that time, we have processed millions of calls and learned a lot from the data gathered from those call recordings. CallRevu wants to share it's gained knowledge by giving dealers the details they need to fix the phones.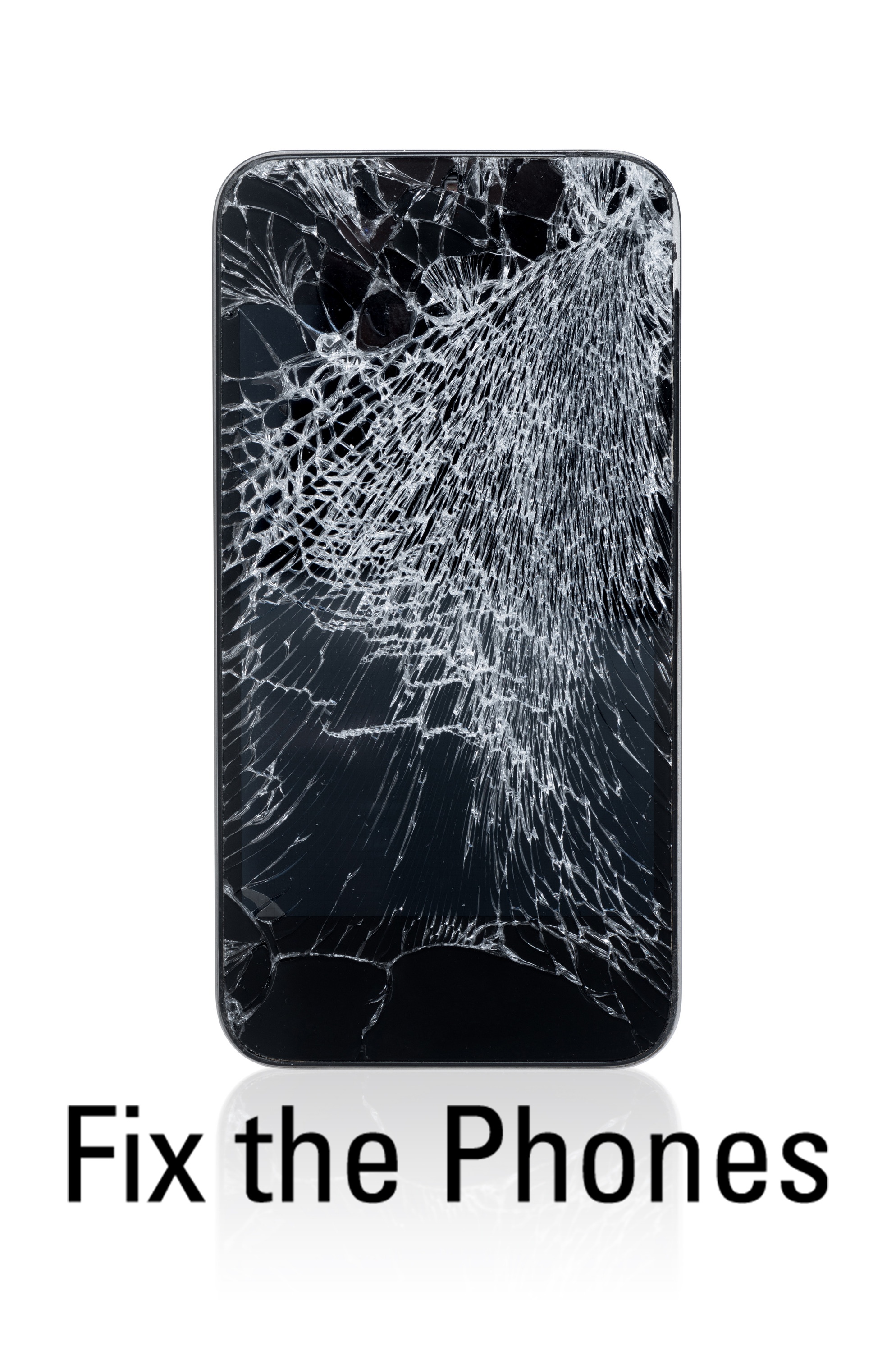 Over the next few months, CallRevu will be posting a series of blogs aimed at helping dealers establish a plan of attack for fixing their phones.
It starts with understanding why customers call in the first place. Dealers also need to take into account the frequency and importance of each 'why'. Once the 'why' is understood, then you can apply the technology to address those calls.
Fixing the phones boils down to a three step approach.
Processes, starting with your phone system

Product knowledge and soft skills

Logging and alerting calls that helps you to final disposition of every call
Fixing the phones is not something that happens overnight. Throughout this process, we will attack the low hanging fruit first and then proceed with whatever is next on the list. Fixing the phones is not about doing one thing 100% better, it's about doing 100 things 1% better.
Keep a look out for our blog series aimed at fixing your phones!
Want to learn more best practices? Click on the link below to access CallRevu's free training videos!
Source: https://www.callrevu.com/blog/callrevu-fix-the-phones
Publish Date: February 8, 2017 5:00 AM
---
Collect the right data to improve customer communication.
If you want great interactions with customers, collect great data.
Multiple Communication Methods: More is Better.
What communications do you manage in real-time? If you consider the most common ways to communicate (email, chat, phone, and text), each are used differently depending on personal preference and the situation, e.g. BDC or non-BDC stores. Most of us check email and voicemails when it's convenient and we usually check our texts in real-time.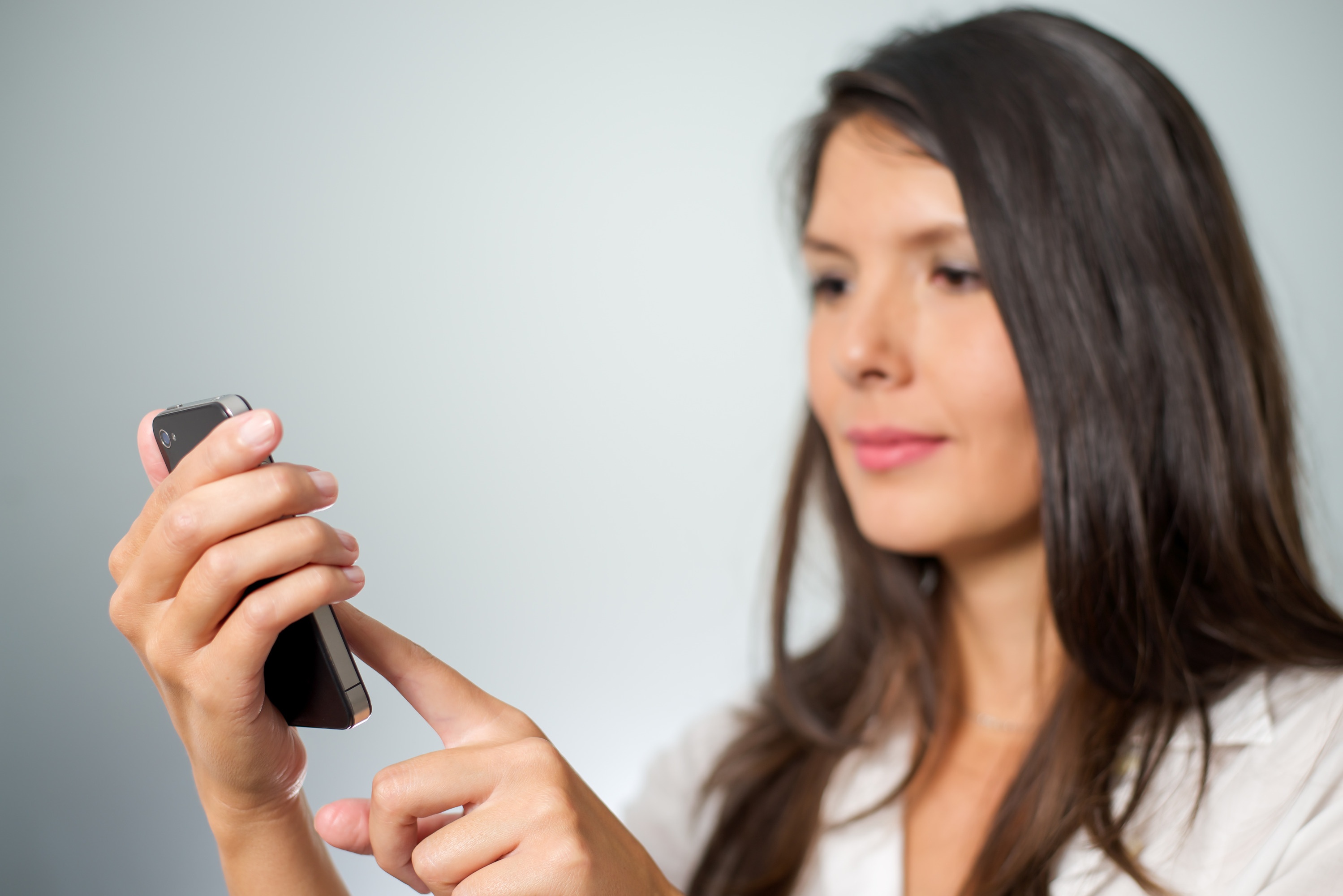 Emails might be appropriate if the message being sent is longer in nature or contains several multimedia links. But, sometimes it makes more sense to talk. Situations when you need to talk are typically when the information needed is more complex in nature or immediacy is required. Sometimes, a text may be the only option in places where you are unable to talk but still want an immediate answer, e.g. "Is my car ready?". The point is this; multiple customer contact points, including multiple phone numbers, increase your ability to identify and follow up with prospects.
Ideally, in your dealership, you should capture both work and mobile numbers since oftentimes, people will call from work and acquiring a mobile number improves your chances of reaching them in the future. If you're able to get a mobile number, you should also ask if the customer's preference is to receive calls or texts when following up on their question or appointment confirmation.
It is important to adhere to TCPA regulations as well as any state or local laws around texting, but assuming you're able to, text is a great opportunity to communicate with customers. Email and physical addresses are also important contact points to collect from prospects for future follow-up.
Data that results in better conversations is the most meaningful.
In addition to collecting multiple contact points, another key call data point to collect from callers is information about a customer's current vehicle. Learning more about their current situation allows you to take the conversation into new directions, develop rapport, and have a more familiar conversation.
For example, if a caller says they looking for Honda Pilot, you could ask what they currently drive. If they say an Acura MDX, this gives you the opportunity to comment on the similarity of the vehicles and the change back to a Honda.
"Well, we're expecting another child in the fall."
This builds a connection with the customer while allowing you present additional options as well.
Don't just collect data, use it to follow up with a customer.
Great notes make for great follow-up calls. Every inbound call deserves an outbound call as well, whether an appointment was made or not. An estimated 20% of sales come from the follow-up with leads in CRMs. Consider the difference between a note in your CRM that says, "John called about a Honda Pilot" and one that includes numbers such as "Expecting child. Wants to put $5,000.00 down, payments under $500/month, has interest rate of 3% from his or her own bank." Based on our data, CallRevu estimates that only 10% of relevant information discussed on phone calls to automotive dealers ends up in CRM.
An agent or manager can read those CRM notes in less than 30 seconds and can have a much easier call to make because the conversation is more contextual and familiar to the consumer, thus more successful.
For more on important data to collect from customers, check out Cory Wright's video, our Director of Training, on obtaining contact information from your customers.
Want even more? You can also register for free traing sessions by clicking the link below!
Source: https://www.callrevu.com/blog/a-great-call-starts-with-great-data
Publish Date: January 3, 2017 5:00 AM
---
On average, you are spending $350 on advertising per car sold. And what is that money used for? To make the phone ring! Phone calls are the biggest profit generators, and can be the biggest profit leak for any automotive dealership. If the phone call fails to impress the customer, the sale and your CSI are doomed.
Have you ever called a business and gotten stuck on the phone tree for way longer than you had hoped? Well, that is why live answer is always best, especially for first time callers. We live in the time of "now". Everything needs to apply immediate gratification to what could be a customer, or we are moving onto the next one. Customers often don't want to reach a phone tree to be redirected, get tired of pressing a button, and hang up. The chance of your potential customer hanging onto the limb drops dramatically.
The most common reason phone trees are implemented is to reduce the strain/need for a receptionist, automatically routing as many calls as you can. The "answered" caller's experience decreases with phone trees, but clearly if the receptionist is missing calls, the overall customer experience increases with phone trees.
There are other ways to reduce strain on receptionists, like offering text-enabled direct inward dial lines (DIDs) for customers to call their dealership representative directly, removing the need for a phone tree or receptionist for voice and text communications.
In our experience, when "say or enter your zip code to be routed to a dealer nearest to your location for a live answer" was added to our ad association, the conversion rate doubled. This approach blended the routing capabilities of an phone tree with the benefits of having a live person answering those calls.
What is the right solution for your dealership? Ask yourself, "what would you like your callers to experience in an ideal world?" Carefully evaluate auto attendants and phone trees as these systems can become obstacles in optimal communication with your customers when experiencing system issues.
After evaluating, dial your store and experience the reality of your phone process today. Use your call monitoring data goals:
Abandoned call rate (<10%)

Time to live answer (

Agent reached percentage (85%+)
To learn more best practices when answering the phones, check out our free receptionist training to improve skills and process.
Photo Credit: https://talkroute.com/what-makes-the-best-phone-tree-for-business/
Source: https://www.callrevu.com/blog/phone-trees-vs-live-answer-whats-best
Publish Date: December 7, 2016 5:00 AM
---
Sales
CallRevu analyzed data from 699,639 sales calls and found the following:
32% of incoming calls never connected with an agent. Of these, 7% of callers hung up when placed on hold, 8% left a voice mail, 8% hung up when they are transferred into voice mail and 10% hung up because nobody was available to help them

27% of all attempted calls resulted in appointments

46% of connected calls resulted in appointments
Service
Call Revu analyzed data from 960,066 Fixed Ops calls and found the following:
23% of incoming calls never connected with an agent

45% of all attempted calls resulted in an appointment

74% of connected calls resulted in a price inquiry, inventory inquiry or appointment

18% of service calls are status checks on vehicles
If you look at these stats, the first thing that pops out is that dealerships are losing a huge amount of phone leads. Of calls to ALL departments, an average of 28% never got through to a human being! That's hundreds of thousands of lost opportunities.
When dealers realize they are losing this many phone leads, they often blame it on people or processes. Sometimes that is the cause, but calls that never connect with a human being often have nothing to do with process. They have everything to do with technology. Specifically, these lost leads are a direct result of a poorly designed call flow.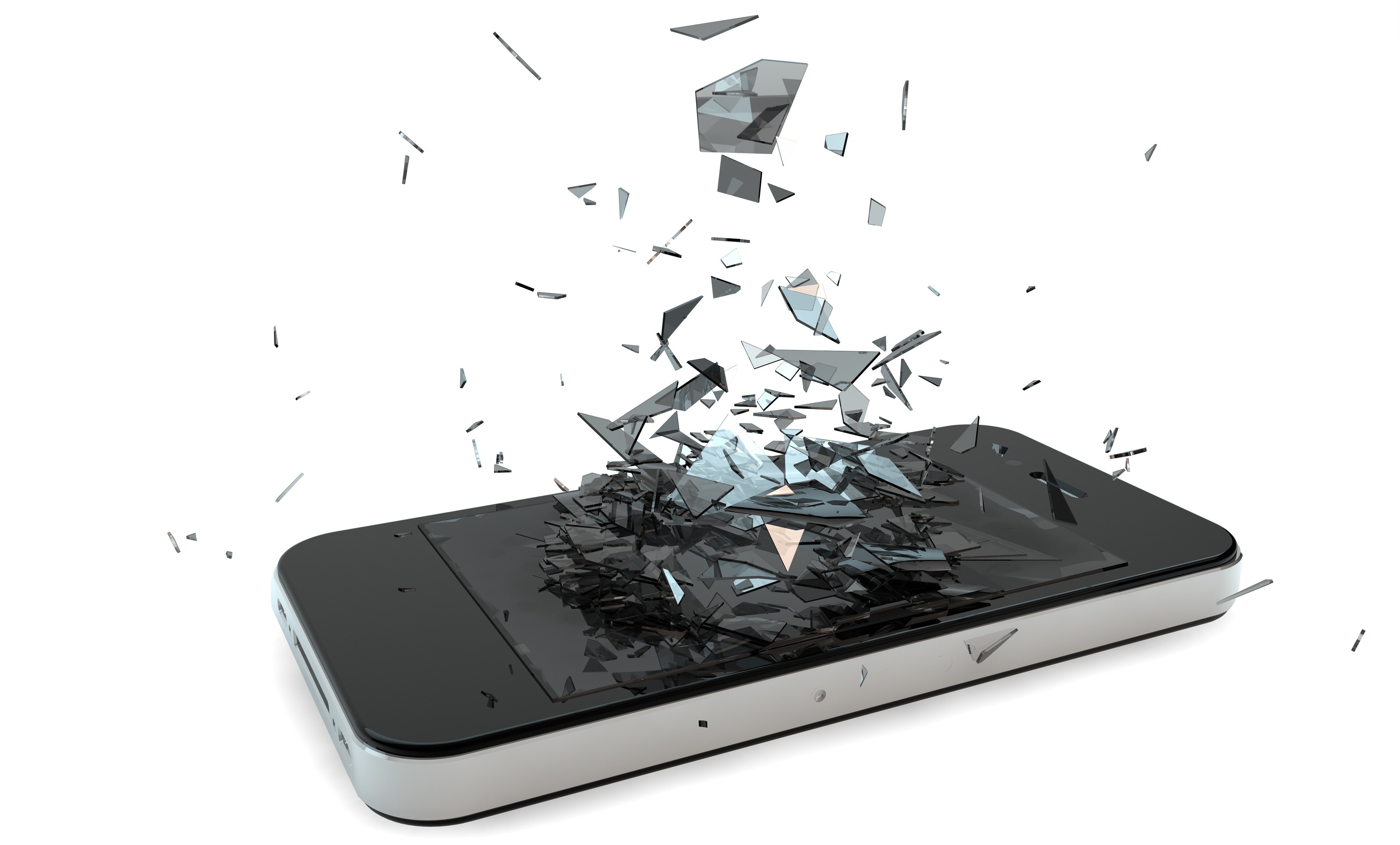 A phone system's call flow determines rules like how many times a person's phone rings, whether a call gets routed back to the receptionist or into voice mail, and what happens to calls after hours.
Call flows are set up when the phone system is installed. An inefficient call flow emerges over time due to the following reasons:
1) Employee turnover, extensions change, call groups changes
2) New managers create new call flows, creates loops or black holes
3) Lack of training for receptionists on call routing
4) No tracking or management of incoming calls; what doesn't get measured doesn't get done
The good news for dealers is that it's possible to fix call flow problems. The first thing that needs to happen is a meeting that includes managers from all departments to discuss the current call flow. What does it look like? Do you have a call flow map? If not, create one so you can visually see the holes. Do you have a process for assigning and re-assigning extensions?
Now think about your sales process and service process. How do they work? Design a call flow that is synergistic with your current processes. Don't let phone extensions ring more than four times. Avoid sending callers into voice mail except as a last resort. Create multi-line hunt groups to increase the chances of someone picking up. Create a process for assigning and re-assigning extensions when employees leave, as well as adding and deleting extensions.
It's important that the people involved with creating the call flow are familiar with dealership operations and your specific processes. This is why managers must get involved.
Next, assign a keeper of the call flow. Someone has to be responsible for approving any requested changes to the call flow. If a new manager wants calls to be routed a certain way that does not fit in with your process, don't let it happen. Also, the keeper should conduct an annual review to keep the call flow clean.
Is it possible to get a 100% connected call rate? According to Call Revu, in the very best dealerships 14% of calls still don't connect with a human being. But there's a lot of room for improvement between 28% of callers not connecting with an agent and 14% of callers not connecting with an agent. That difference could translate to thousands of dollars per month to the bottom line.
Do you have any idea how many phone leads your dealership loses every month due to poor call flow? Figuring this out is not something that most dealers place on their list of top priorities, but maybe after viewing these stats it will be.
*Data from CallRevu 2MM Call Report
Source: https://www.callrevu.com/blog/seven-call-stats-that-every-dealer-needs-to-know
Publish Date: November 16, 2016 5:00 AM
---
The obsession with technology, particularly smartphones, has changed the world as we used to know it. Just look at the difference between the crowd in front of the Vatican from 2005 and now.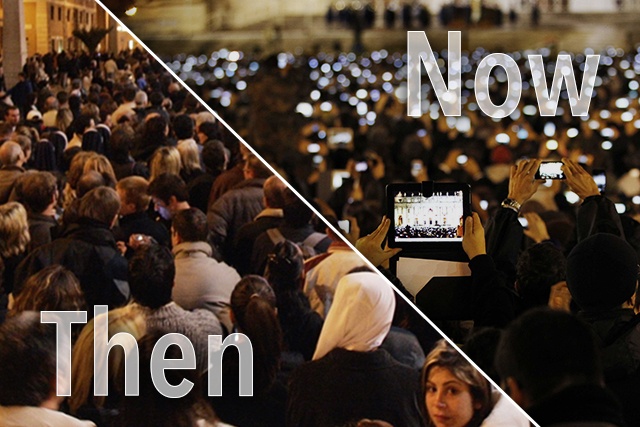 But, even with the focus on the phone increasing so dramatically, the automotive industry may be no better today than it was 10 years ago, and a lot of that is because there are dealers that are still not utilizing a call monitoring service! We know, we can't believe it either.
The cool part? The dealers utilizing our call monitoring solution sure have improved!
After finding some old presentations we'd created years ago, we had to do a double take at some of the older numbers! It's been quite some time since we've seen our partner's missed opportunity numbers so high, that we thought we might have been reading it wrong. After the intial shock, we realized this is a good thing! We decided to run a little data test to see the difference that CallRevu dealers have created over the years. So, why not put the past against the present and truly deep-dive into the data from the beginning and now!
And what did we find? Dealers utilizing CallRevu's services have gotten significantly better over time, and we have the data to prove it!
Connection Rate:
In our first 2 million call report starting in 2008, an average of 47.5% of all calls going into car dealerships did not reach the intended agent or department. We repeat, 47.5% of all calls, connected and asking for an agent or department, did not connect. We're not saying that we're mathematicians or anything...but that is almost half of all opportunities missed.
10 years later, that number has dropped to 27% of all calls not reaching the requested agent or department! (Warning: We're about to toot our own horn) CallRevu has helped our partners answer 20% more of their calls in less than a decade.
Well, actually 20.5% more, but hey, who's counting….
While that number is still not where we would want it to be as the goal is always perfection, we do have high hopes for the future based on the improvement thus far. With about ½ of the calls not connecting with the requested party then, CallRevu partners were able to drop that statistic to about ¼ of calls not connecting to the requested agent or department.
We just went from an F to a solid C.
Obtaining Contact Info:
Obtaining enough customer information to place in your CRM for follow-up is always an area of struggle. In fact, 8 in 10 calls aren't properly entered into the CRM. We always suggest earning your customers' information, rather than the, uh, not-so-much earned method of copying the number they are calling from off of the caller i.d. In fact, the caller i.d. is only accurate 42% of the time. What if they are calling from work, were calling from their friend's cell phone, or from their family members' house phone? By creating this relationship of earning the right to ask for contact information, you build a customer for life, ultimately increasing your chances of getting enough contact information for your CRM.
Over the past decade, tens of thousands of salespeople nationwide have been certified through CallRevu University and have learned how to earn, ask, and receive customer contact information, building better rapport, life-long relationships, and building the database in their CRM.
In the first 2 million call report, 46% of all calls in all departments did not gather enough contact information to load the prospect into the CRM. In 2016, that number improved to 37%. CallRevu has helped its partners retain 10% more of their phone ups in their CRM.
The Difference Makers:
While we may have been tooting our own horn before, the real difference makers are our partners. Those dealers who've come to the realization that more and more traffic is coming to them through the phone today, and have answered the wake-up call, are the ones driving the statistics you see here in this article.
Tracking and monitoring your phone calls is no longer the secret sauce. Knowing what happens after the phone rings is where the real value and ROI lies!
The key to market dominance is differentiating yourself from your competition. Now, 7 of the showroom ups of the past shop you online. Customers will call 6 dealers, but only visit 1.4! Making sure you're the one selected and not eliminated is the difference in surviving in this new digital information age. Make sure the pace of change in the industry doesn't exceed that of your business.
Take the first step to market domination by deciding that the caller's journey in your dealership is important. The next step is taking action and bringing vision to where you were once blind!
Here's to continuing to fix the phones!
Source: https://www.callrevu.com/blog/now-and-then-first-call-monitoring-data-to-today
Publish Date: October 19, 2016 5:00 AM
---
Your website and inventory are stellar, your reviews are impeccable, you've caught a potential customer's attention, and now they want to use the phone to get to know you better.
What does the data tell us?
"How long should a phone call last?" is one of the most commonly asked questions. "Not too long", General Managers preached for years. " Keep it under 3 minutes ", they said. "Get their name and number and call them back!"

Those who broke this golden rule were destined to be embarrassed by having their calls played during Saturday morning sales meetings. Or worse, they'd be barred from the phones. Who wants that? With the phone being your number 1 lead source, few can afford to have that ripped from under their feet.
But...times have changed, and so has the way our customers choose to shop for their next vehicle.
Here's our take: A phone call should only be long enough to entice the customer to visit your dealership instead of the competition. That may sound vague, but there is no hard-and-fast call duration rule that works for everyone. Factors to consider include customer needs, tone, whether they are a repeat customer, and whether or not they've done research before calling you. Every customer is different.
Keep this in mind: In today's world-we have DVR, we have text messaging, you can get breakfast all day, every day at McDonalds…and one click same-day delivery online shopping through Amazon.

What does this say about today's buyer? They're not sitting captive on a couch waiting for their favorite show to come on at 8:00 PM. They skip commercials and they binge watch an entire season in one night through their DVR or Netflix.
They text because they want control over when they will respond. They want breakfast after 10:00 AM. They'd much rather avoid traditional store hours…and lines…and instead make a one-click purchase from their phone app in their PJ's or at a stop light (Ugh! Please don't use your phone while driving...especially if the light turns green!).

We have arrived to a place where the customer demands control of their precious time.
Let's respect that.
With this in mind…we turned to Steve Chisholm, our resident data scientist, to crunch the numbers and help us better understand what customers want. After a few hours of purifying the reports from our multi-million call archive, we found some interesting results.

Here are graphs showing appointment set percentages based on time: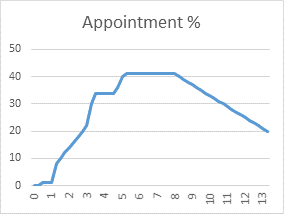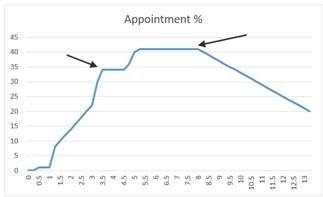 We found an interesting correlation of appointment percentage averages and time spent in conversation with a potential customer.
There were two major sweet spots: Between 3 and 4 minutes (34% appointment set), and then a bigger and better target of 5 to 8 minutes (40% appointment set). The two plateaus show us that our customers are different. That success can be found in two areas; brief concise conversations from 3.5 to 4.5 minutes, and just detailed enough from 5 to 8 minutes. It also shows us that our chances of setting an appointment are drastically reduced under 3 minutes and over 8 minutes.

So does the old under 3 minutes' rule work for today's customer?
The data tells us no.

...And now for the "Wright Call Rant".

From a training perspective, this has always made sense to me. Our customers want a quality conversation. Too often we have been brainwashed to think that all we need to do is disregard their questions and ask them to come in for a test drive. Oh yeah, and awkwardly ask for their contact information without a reason and before we've earned it.

If you do that today, you run the risk of getting hung up on. Millennials, smartphone shoppers, and 5th generation car buyers set today's rules of engagement. Listening will help you determine if you need to be extra thorough or quick and to the point.

So, where did the idea of an under 3-minute call spawn from? Dealerships that have little to no faith in the people they have handling their phone calls. They urged reps to keep it quick and provide very little information because they didn't train them properly. They felt that extra conversation could lead to a customer ruling them out. But, the reality is that extra conversation could actually produce more reasons for us to invite them into our dealership...if we take the time to listen.

I always enjoy asking dealers, "how are the phones different from what we do when the customer arrives? When they walk in the door…do we start doing paperwork? No!" And for the same reason we have a showroom process, we should also adopt a phone process including a proper greeting, a promise to serve the customer, a basic needs analysis, an attempt to earn their contact information, an honest and energetic request for an appointment, and the proper farewell.

The best way to understand what they want is to let them talk while you listen. In the restaurant industry, the service provided by a waiter/waitress or bartender can help us understand this nuance. If a customer comes in looking rushed, placing an order upon being greeted, and asking for the check in with their credit card ready, it lets us know we should be extra snappy to serve them as fast as possible. If a customer comes in with guests and they mention that it's their first time visiting, it's time to roll out the red carpet. We impress them with menu recommendations, we may offer them a sample, make sure their drinks are always full, bring extra bread, and introduce them to the maître d'. In both instances, we read the customer and serve them according to their needs. If we accomplish this, we usually are rewarded with a tip.

The same goes for the phone call in the automotive industry. If you listen to your customer, treat them right, and respect how they want to spend their time - you'll likely be rewarded with their business for life.
To learn more about the skills I discuss above, sign up for our FREE phone skills training!

Source: https://www.callrevu.com/blog/how-long-should-a-phone-call-be-in-your-dealership
Publish Date: June 24, 2016 5:00 AM
---
What's most important about outbound calling; Making outbound calls. Outbound calling and texting go hand in hand, at CallRevu, we don't think you can do one without the other.
Why Make Outbound Calls?
Most appointments are set on the follow-up outbound phone call. About 11% of sales come from contacts within the CRM that have been followed up with. Since CallRevu360 is all about the metrics within the phone call, we reveal where the successes and fail points are. If we look at 10 typical outbound calls, a customer was reached and discussed buying a car on 2/10 calls. Out of the other 8, most went to voicemail, which is a typical result of an employee calling out of the dealership. Of the 2 call that the customer was reached, we want to go a little further and look at the conversions: one call resulted in an appointment and the other did not.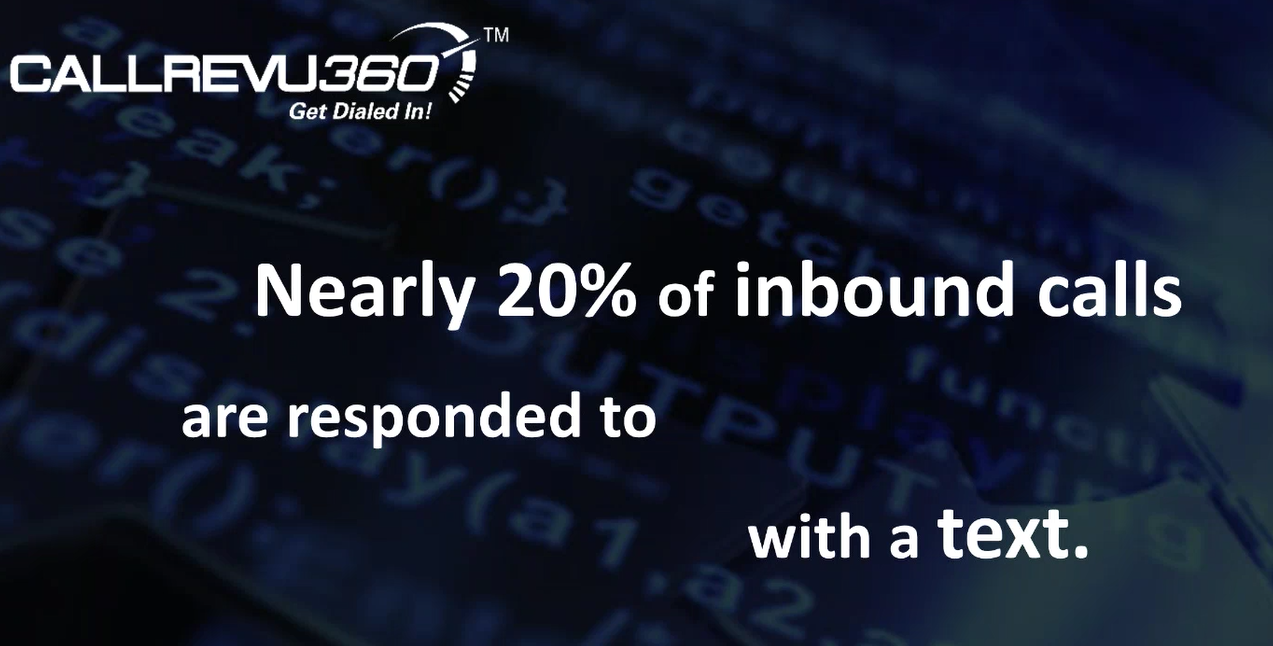 The most important thing happening in our industry today is texting. We all know ourselves that when we are in a meeting, we have been guilty of rejecting an inbound phone call and choosing the easy option of the auto reply; "Who is this?", "I am in a meeting", "Can we talk later?". The same thing is happening to your agents as they make outbound calls. Nearly 20% of inbound calls are responded to with a text. The only difference here is the dealer will not see those responses. Missing these responses is quite a shame because those responses are a great opportunity to convert customers into appointments and sales.
At CallRevu, we deliver text message responses that customers are sending to dealers. This opens up the opportunity to respond with an invitation to the service department for customers who respond that they have bought a vehicle. For customers who haven't bought a car yet, the dealer is able to convert the call into an appointment.
CallRevu 360 will allow you to see further into your outbound calls and double your conversion rate from 20% to 40% by allowing dealers to communicate via texting. Doubling your conversion rate increases your appointments, which leads to more shows, and increases sales!
How is this available to dealers?
CallRevu360 provides employee dashboards, phone skill sections for both inbound and outbound calling, and training videos that are available in a "click-to-improve skill set" manner.
Advantages
Outbound call tracking to the appointment set

Text visibility and response tools to double success rate

Team dashboard with live actionable data

Employee dashboard with goals: Actual results and training content

Easy EPI Suite

Integration with leading CRMs, like eLead CRM
Source: https://www.callrevu.com/blog/outbound_calls_with_texting
Publish Date: May 31, 2016 5:00 AM
---
Are air dancers, tube men, and a lot full of balloons enough to stand out among 16,545 car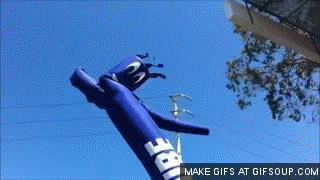 dealerships?
According to this month's issue of NADA Convention Magazine, dealers have some work to do when it comes to differentiating themselves among their competitors. NADA reports that as of 2015, there are 16,545 new-car dealerships nationally. When there are dozens of dealers near your location, how are you going to set yours apart from the rest of the competition? By focusing the people that are already customers.
NADA reports that the average age of a vehicle on the road in 2015 was 11.5 years. You have almost 12 years to develop, and keep, a relationship with your customer. The service department is the heartbeat of every dealership; you may not be able to draw every new-car buyer into your store with giant inflatables, but you can generate $5.87 million every year by retaining the customers you already have.
With your retained service customers calling your dealership an average of 20 times to every 1 time they are calling your sales department, it is more important than ever to create the most pleasurable experience on the phones. You know...the kind the customer wants, and let's be honest, the kind they deserve for their continued relationship with you and your dealership.
Even in an excellent economy, the profit margin from new-car sales is still surpassed by that of service and parts. Without service, customer loyalty is a one-time transaction based almost solely on price. Making, and keeping, the connection after the vehicle purchase is what has to happen for your customers to want to come back to you and not go to another dealership or go with the conveniency of a quick-service shop. Offer your customers an invitation to come in every 5,000 miles. Ask about their car, call to see how they're doing, and invite them back to service their vehicle. Continue to nurture your relationships with your customers.
Aside from the little things you can do, make sure your fixed operations team is prepared to deliver an experience that creates a lasting impression and motivates customers to speak favorably to their family and friends about their service experience with your dealership, increasing customer loyalty.
For more inspiration for what you could do to maximize those customers who chose to repair vs replace, check out what this dealership in Puklich Chevrolet in Bismarck, N.D did using their BDC and a little creativity.

Source: http://www.callrevu.com/blog/better-service-on-the-phones-will-increase-customer-loyalty
Publish Date: March 31, 2016 5:00 AM
---
In a benchmarking study of 2 million calls in all departments, 28% (534,735 calls) never got through to the intended agent. In sales department only, 32% (228,994 calls) did not reach the intended agent and 23% (221,566 calls) in fixed operations departments.
Now, these calls are connected calls; they reach the dealership, but at some point during the transfer from first responder to requested person or department, the call is lost. This can be for a variety of reasons, but the main being:
1. Voicemail was reached
2. Caller hung up while on hold
3. Agent was not available

Fix the Phones:
Stop placing your callers and your people in the cold, dark world of blind transfers. Give them both a fair warning before transferring the call.

Warn your callers, before they leave the first responder, of different things they might expect after the transfer attempt happens.
"I am going to transfer you to John Smith. In the case that John isn't available, please feel free to leave him a message or press (XX) to get back to me and I can find you someone who can help."

Warn your people before blindly transferring a call. Have a process in place where you have a "warm transfer" to your team; connecting with the intended employee/department and ensuring they are able to accept a call, before transferring the caller.
BUT, be sure to warn the caller that you are going to place them on a brief hold to ensure that so and so is available.

As a fail safe, add a video monitor to your showroom and service lane where your first responder can physically see who is available for a phone call, and who is not, preventing the dreaded hang-up or lost call that leads your callers to move on to the next store.
Of connected sales calls that reach the intended agent, 46% result in an appointment, compared to 27% of all sales calls. Of connected fixed operations calls that reach the intended agent, 74% result in an appointment, compared to 45% of all fixed ops calls.
Connecting more calls will dramatically increase your appointment setting rates, and ultimately, the number of customers you have and cars you sell.
You may also want to read up on 'How to Staff an Auto Dealership to Sell More Cars' or download this dealer's success story revealing how better phone processes led to more car sales:

Source: http://www.callrevu.com/blog/how-call-transfers-can-improve-appointment-setting
Publish Date: March 22, 2016 5:00 AM
---
It can take many years to master being the best of the best. It took a few box offices blunders and six prior nominations for Leonardo DiCaprio to finally win Best Actor. Long before he tangled with a bear, DiCaprio was seen in movies that were far beyond just a 'near miss' for an Oscar. Just one year after his smashing success in Titanic, the budding superstar did The Man in the Iron Mask, a remake of a Three Musketeers "adventure" that offered bad french accents and little to no adventure.
The point here is practice, makes perfect.
Are you mastering being the best of the best on the point of contact that could make your dealership a superstar, the phones? We know that on average 1 out of 3 potential customers don't connect with their intended party when calling dealerships. You don't need an Oscar nomination as motivation to make the most out of the leads you already have calling.
Don't spend more to get more. Fix the phones in 4 steps:
1. Relate to your audience:
Start communicating with customers using multiple methods, by texting. Not everyone has time for a phone call, and even if they do, most prefer texting. With the average consumer checking their phone 43x a day, it's easy to tell that smartphones have changed the way people communicate. And, your customers are already texting you, you just don't know it. Meet your customer where they want to be met.
2. Get the whole story:
You've heard that every $100 you spend on advertising is turned into $33. Why? Because on average, 33 of every 100 inbound calls that ask for sales never reach an agent. Of the 67 that do connect, 51% are never asked for their contact information. Thus dooming your CRM. Train your sales reps to be disciplined enough to earn, ask, and receive caller information when they call.
3. Prepare your cast:
Make sure your employees are equipped to handle various selling scenarios. Outbound follow up is hard but necessary. 48% of salespeople never follow up with a prospect, but 80% of sales are made on the fifth to twelfth contact. Train your team and help to support them so they are able to get comfortable with the uncomfortable. Role play outbound call back scenarios, help your team develop good questions to ask when they connect with customers, and encourage them to use their personalities over scripts. Smiling and dialing can be successfully accomplished with a little skill and a lot of enthusiasm.
4. Be your own critic:
Just like the actors watch their own films before releasing to the public, you should know how your team sounds on the phone. Listen to your calls, they might please you, surprise you, or make you cringe. One thing is certain, they will reveal adjustments that need to be made to improve phone handling process and skills.
In the case of Leo's success, knowing his lines was critical. But for auto dealers, it's encouraged to go off script, because your phone agent's personality is their key to building rapport with customers. That rapport allows them to have familiar conversations that lead to more auto sales.
Make the most of the customers and leads who are already calling your dealership. They are interested; they've done the hard part and called you. Be the best of the best. Be the Leo at the 2016 Oscars and fix your phones. Wouldn't that Oscar just look great on your desk?
Perfect your team's phone skills to increase auto sales with our Expert Guides to Phone Call Handling:


Happy DiCaprio gif credit: Dana Heyward on Global Grind.
Source: http://www.callrevu.com/blog/perfect-your-teams-phone-skills-to-increase-auto-sales
Publish Date: March 1, 2016 5:00 AM
Page: 1 | 2