Fix the Phones to Set Your Dealership Apart and Increase Customer Loyalty - CallRevu - ContactCenterWorld.com Blog
Are air dancers, tube men, and a lot full of balloons enough to stand out among 16,545 car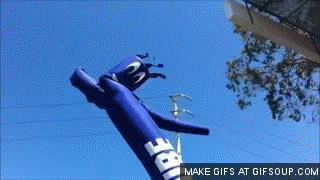 dealerships?
According to this month's issue of NADA Convention Magazine, dealers have some work to do when it comes to differentiating themselves among their competitors. NADA reports that as of 2015, there are 16,545 new-car dealerships nationally. When there are dozens of dealers near your location, how are you going to set yours apart from the rest of the competition? By focusing the people that are already customers.
NADA reports that the average age of a vehicle on the road in 2015 was 11.5 years. You have almost 12 years to develop, and keep, a relationship with your customer. The service department is the heartbeat of every dealership; you may not be able to draw every new-car buyer into your store with giant inflatables, but you can generate $5.87 million every year by retaining the customers you already have.
With your retained service customers calling your dealership an average of 20 times to every 1 time they are calling your sales department, it is more important than ever to create the most pleasurable experience on the phones. You know...the kind the customer wants, and let's be honest, the kind they deserve for their continued relationship with you and your dealership.
Even in an excellent economy, the profit margin from new-car sales is still surpassed by that of service and parts. Without service, customer loyalty is a one-time transaction based almost solely on price. Making, and keeping, the connection after the vehicle purchase is what has to happen for your customers to want to come back to you and not go to another dealership or go with the conveniency of a quick-service shop. Offer your customers an invitation to come in every 5,000 miles. Ask about their car, call to see how they're doing, and invite them back to service their vehicle. Continue to nurture your relationships with your customers.
Aside from the little things you can do, make sure your fixed operations team is prepared to deliver an experience that creates a lasting impression and motivates customers to speak favorably to their family and friends about their service experience with your dealership, increasing customer loyalty.
For more inspiration for what you could do to maximize those customers who chose to repair vs replace, check out what this dealership in Puklich Chevrolet in Bismarck, N.D did using their BDC and a little creativity.

Source: http://www.callrevu.com/blog/better-service-on-the-phones-will-increase-customer-loyalty
Publish Date: March 31, 2016 5:00 AM
---
PREMIUM

Future Gen International Pte Ltd
(VIEW OUR PAGE)

Outsourcing provider of English Call Centre services, Audio Transcriptions, Big Data ETL (Extract, Transform, Load) , Big Data Visualization, Big Data Predictive Model Generation

PREMIUM

Avizent Ltd
(VIEW OUR PAGE)

Advanced AI technology and Natural Language Processing delivered to clients in the Cloud that harnesses both voice and digital conversations. The focus is on building an environment where intelligent ...

(view more)

PREMIUM

HigherGround, Inc.
(VIEW OUR PAGE)

HigherGround develops data collection, information storage, and interaction analytics solutions that easily transform data into actionable intelligence, enabling operational optimization, enhanced per...

(view more)
---

View more from
CallRevu
Recent Blog Posts:
| | |
| --- | --- |
| The 3 Step Approach to Success on the Phones | April 5, 2017 5:00 AM |
| Own the Bracket: Know Where Calls Fail | March 21, 2017 5:00 AM |
| Answering a Call with Transparency and Technology | March 10, 2017 5:00 AM |
| Why Customers Call Service? | March 1, 2017 5:00 AM |
| The Top Reason Customers Call Sales | February 21, 2017 5:00 AM |
| Fixing Dealerships' Phones | February 8, 2017 5:00 AM |
| A Great Call Starts with Great Data | January 3, 2017 5:00 AM |
| Phone Trees vs Live Answer: What's best? | December 7, 2016 5:00 AM |
| Guest Blogger: Seven Call Stats That Every Dealer Needs to Know | November 16, 2016 5:00 AM |
| Now and Then: Most Recent vs. First 2 MM Call Report | October 19, 2016 5:00 AM |
Industry Champion Award Leaderboard