Answering a Call with Transparency and Technology - CallRevu - ContactCenterWorld.com Blog
Now that the Fix the Phones blog series has covered the most common and specific reasons why callers are calling sales and service, what's the overall purpose of those calls and the core principles necessary to answer them?
At a basic level, the motivation of a phone call is driven by the need of a customer to clarify a few questions in their mind. After all, buying a car is a huge decision and they are already far down the funnel of making their choice! Callers are just looking to cement their decision in their own minds before proceeding with the dealership visit. We all know that pretty much any of the information needed is available online.
In fact, today's car buyer could easily know more about the car that they are interested in than the salesperson who will field the call. By the time a caller is ready to pick up the phone and contact your dealership, the call is more of a confirmation than an inquiry. This is why how we respond to calls is so important.
So, how does one respond to all of these questions? To look at it from the 35,000 foot level, there are two simple components to call management that we broke down with the help of Google. Through our travels with the Google Automotive team to many cities last year and our meeting with many automotive manufacturers, Google distilled how to respond into two categories:
Callers demand transparency on these phone calls

Callers demand the use of technology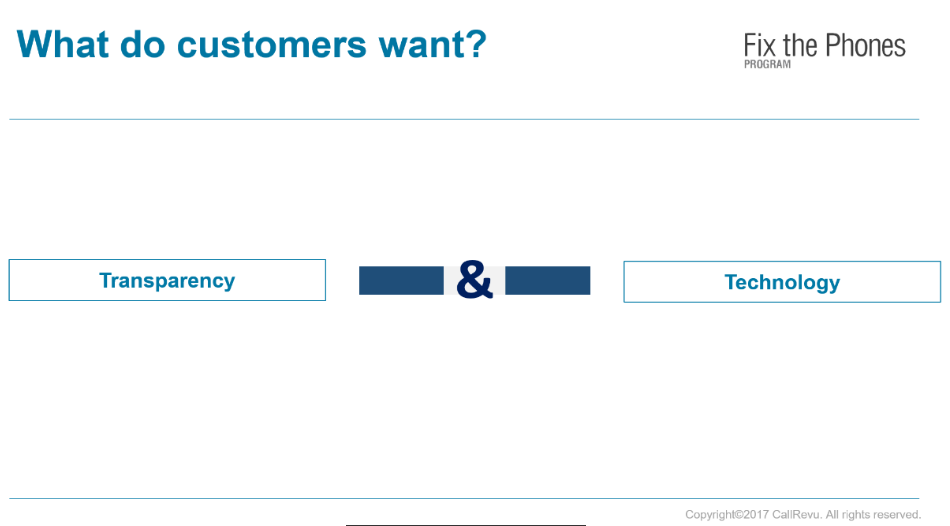 When you consider transparency, everything is online today around pricing: best price, discounts, price calculators, online tools that offer price by day, and services like Truecar. On the service side, callers can even go to some dealer's websites and book an appointment for the day and time that they choose. So when the phone calls come in and the customer is asking about availability or any other questions, callers want that same transparency on the phones as well. It's what they are used to and what they are demanding from businesses every day!
Callers are also demanding that technology is utilized when answering their questions. You should be able to quickly look up information and have answers available at the click of your finger. This is why when a caller calls and they don't get an answer at all, or you offer to call them back with the answer, they are thinking, "Is this person not telling me the truth?", "Does this dealership not have the answers I'm looking for", "Is it both?"
CallRevu's mission is to ensure that every phone call to an auto dealer is a positive experience. Conducting yourself in a transparent matter by giving the callers the answers they want from the phone call, and having the technologies in place to answer the questions that your people may be unaware of are the fundamental processes that need to be in place within your dealership to create that positive experience that is demanded from today's consumer.
Ready to use transparency and technology? Click below for a free demo and see how CallRevu can help!
Source: https://www.callrevu.com/blog/callrevu-fix-the-phones-transparency-and-technology
Publish Date: March 10, 2017 5:00 AM
---
PREMIUM

Future Gen International Pte Ltd
(VIEW OUR PAGE)

Outsourcing provider of English Call Centre services, Audio Transcriptions, Big Data ETL (Extract, Transform, Load) , Big Data Visualization, Big Data Predictive Model Generation

PREMIUM

ConceptCall
(VIEW OUR PAGE)

Аутсорсинговый контакт-центр ConceptCall| КонцептКолл специализируется на исходящем и входящем телемаркетинге: мы предоставляем услуги по осуществлению холодных звонков и продажи по телефону, проводим...

(view more)

PREMIUM

CTI Software
(VIEW OUR PAGE)

CTI Software is the creator of custom application called Davos, which complements the telephone client solutions with intelligent features such as automated call attendant, call recording and archivin...

(view more)
---

View more from
CallRevu
Recent Blog Posts:
| | |
| --- | --- |
| The 3 Step Approach to Success on the Phones | April 5, 2017 5:00 AM |
| Own the Bracket: Know Where Calls Fail | March 21, 2017 5:00 AM |
| Answering a Call with Transparency and Technology | March 10, 2017 5:00 AM |
| Why Customers Call Service? | March 1, 2017 5:00 AM |
| The Top Reason Customers Call Sales | February 21, 2017 5:00 AM |
| Fixing Dealerships' Phones | February 8, 2017 5:00 AM |
| A Great Call Starts with Great Data | January 3, 2017 5:00 AM |
| Phone Trees vs Live Answer: What's best? | December 7, 2016 5:00 AM |
| Guest Blogger: Seven Call Stats That Every Dealer Needs to Know | November 16, 2016 5:00 AM |
| Now and Then: Most Recent vs. First 2 MM Call Report | October 19, 2016 5:00 AM |