Sales Potential on Outbound Calls with Texting - CallRevu - ContactCenterWorld.com Blog
What's most important about outbound calling; Making outbound calls. Outbound calling and texting go hand in hand, at CallRevu, we don't think you can do one without the other.
Why Make Outbound Calls?
Most appointments are set on the follow-up outbound phone call. About 11% of sales come from contacts within the CRM that have been followed up with. Since CallRevu360 is all about the metrics within the phone call, we reveal where the successes and fail points are. If we look at 10 typical outbound calls, a customer was reached and discussed buying a car on 2/10 calls. Out of the other 8, most went to voicemail, which is a typical result of an employee calling out of the dealership. Of the 2 call that the customer was reached, we want to go a little further and look at the conversions: one call resulted in an appointment and the other did not.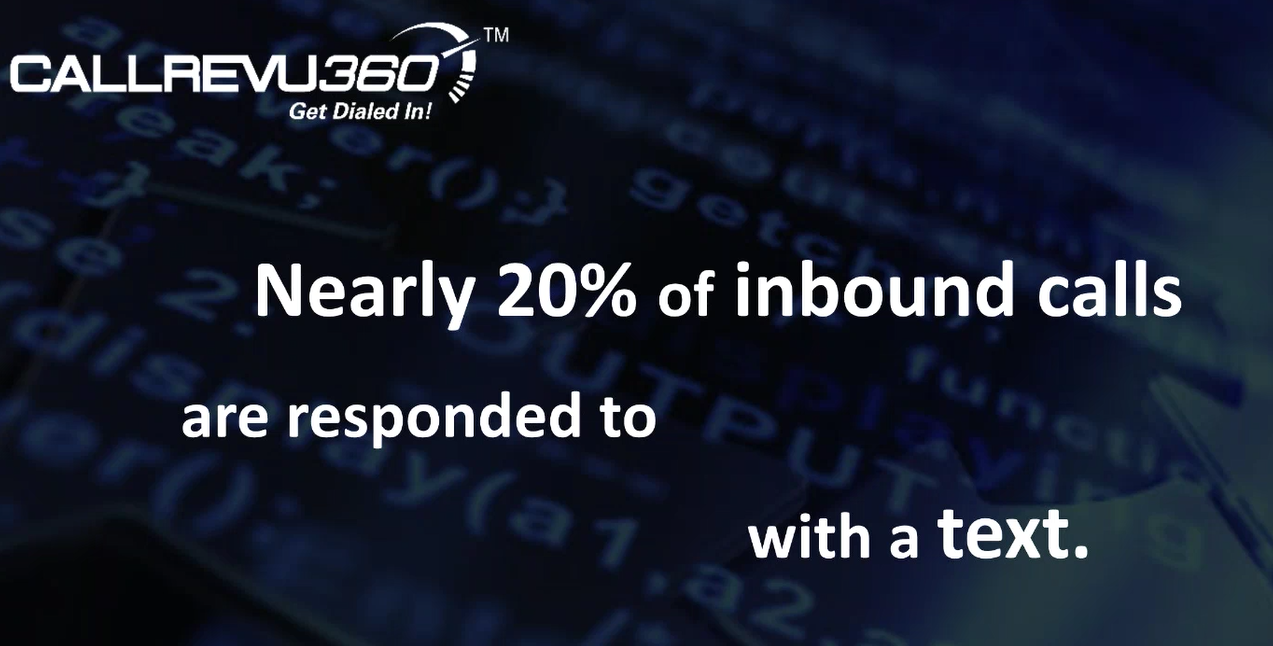 The most important thing happening in our industry today is texting. We all know ourselves that when we are in a meeting, we have been guilty of rejecting an inbound phone call and choosing the easy option of the auto reply; "Who is this?", "I am in a meeting", "Can we talk later?". The same thing is happening to your agents as they make outbound calls. Nearly 20% of inbound calls are responded to with a text. The only difference here is the dealer will not see those responses. Missing these responses is quite a shame because those responses are a great opportunity to convert customers into appointments and sales.
At CallRevu, we deliver text message responses that customers are sending to dealers. This opens up the opportunity to respond with an invitation to the service department for customers who respond that they have bought a vehicle. For customers who haven't bought a car yet, the dealer is able to convert the call into an appointment.
CallRevu 360 will allow you to see further into your outbound calls and double your conversion rate from 20% to 40% by allowing dealers to communicate via texting. Doubling your conversion rate increases your appointments, which leads to more shows, and increases sales!
How is this available to dealers?
CallRevu360 provides employee dashboards, phone skill sections for both inbound and outbound calling, and training videos that are available in a "click-to-improve skill set" manner.
Advantages
Outbound call tracking to the appointment set

Text visibility and response tools to double success rate

Team dashboard with live actionable data

Employee dashboard with goals: Actual results and training content

Easy EPI Suite

Integration with leading CRMs, like eLead CRM
Source: https://www.callrevu.com/blog/outbound_calls_with_texting
Publish Date: May 31, 2016 5:00 AM
---
PREMIUM

CTI Software
(VIEW OUR PAGE)

CTI Software is the creator of custom application called Davos, which complements the telephone client solutions with intelligent features such as automated call attendant, call recording and archivin...

(view more)

PREMIUM

Future Gen International Pte Ltd
(VIEW OUR PAGE)

Outsourcing provider of English Call Centre services, Audio Transcriptions, Big Data ETL (Extract, Transform, Load) , Big Data Visualization, Big Data Predictive Model Generation

PREMIUM

HigherGround, Inc.
(VIEW OUR PAGE)

HigherGround develops data collection, information storage, and interaction analytics solutions that easily transform data into actionable intelligence, enabling operational optimization, enhanced per...

(view more)
---

View more from
CallRevu
Recent Blog Posts:
| | |
| --- | --- |
| The 3 Step Approach to Success on the Phones | April 5, 2017 5:00 AM |
| Own the Bracket: Know Where Calls Fail | March 21, 2017 5:00 AM |
| Answering a Call with Transparency and Technology | March 10, 2017 5:00 AM |
| Why Customers Call Service? | March 1, 2017 5:00 AM |
| The Top Reason Customers Call Sales | February 21, 2017 5:00 AM |
| Fixing Dealerships' Phones | February 8, 2017 5:00 AM |
| A Great Call Starts with Great Data | January 3, 2017 5:00 AM |
| Phone Trees vs Live Answer: What's best? | December 7, 2016 5:00 AM |
| Guest Blogger: Seven Call Stats That Every Dealer Needs to Know | November 16, 2016 5:00 AM |
| Now and Then: Most Recent vs. First 2 MM Call Report | October 19, 2016 5:00 AM |