Centrecom - ContactCenterWorld.com Blog
According to Buzinga, there are 4 main areas in any game that lend to an engaging experience. Exhibited below are the fool-proof rules they recommend you follow when developing a game users will love and share.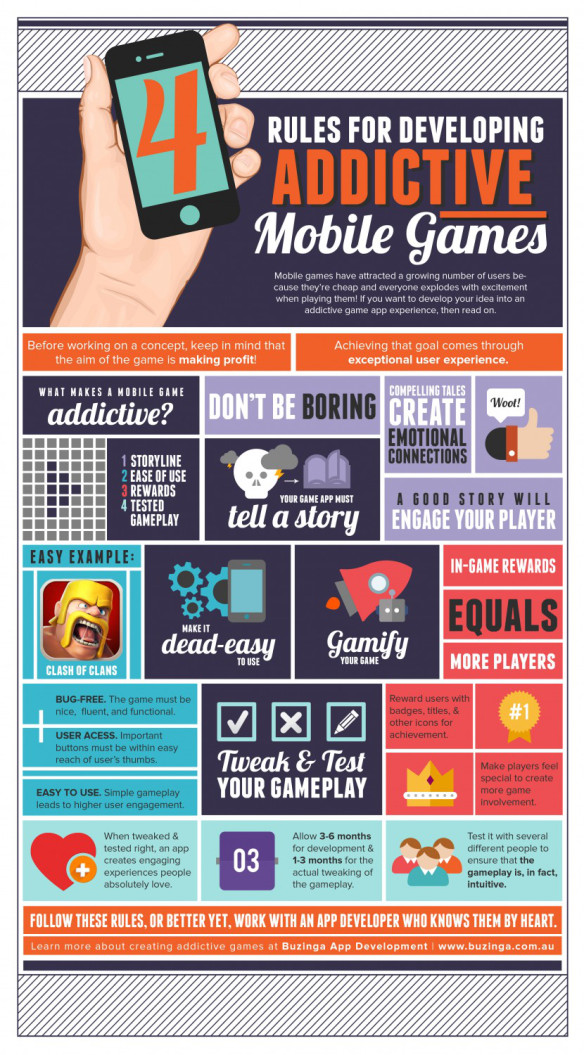 (image: http://www.buzinga.com)
They claim that the absolute most important aspect of an online or mobile game is that of the user experience. If kept in mind at all times, Buzinga believes that you are likely to succeed.
Source: https://centrecomnews.com/2016/01/08/4-rules-for-developing-addictive-games/
Publish Date: January 8, 2016 5:00 AM
---
Possibly the most relevant and crucial statistic is that of customer satisfaction. According to a report by Customers 2020, the customer experience will overtake price and product as the key brand differentiator within the next 4 years.
Keeping this in mind, we have compiled what we believe to be the most hard-hitting of facts and figures, in order to gain a new perspective on the topic of outsourcing.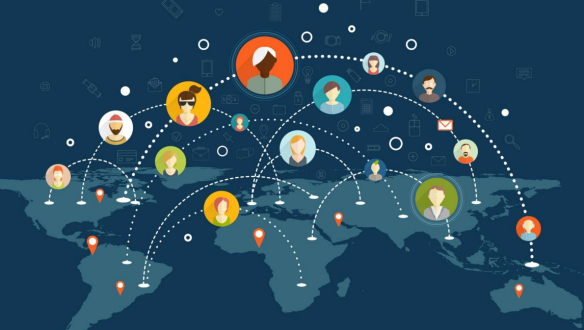 (image: http://www.webdesignerdepot.com)
Popularity:
A tried and tested method to keeping customers happy is by means of outsourcing and it is certainly big business. It is estimated that worldwide, the industry generated €471 billion in revenue in just 2014. When you take into consideration that the global outsourcing market amounted to just €81 billion in 2008, the growth is promising. The freelance outsourcing economy has also improved drastically, especially with the emergence of the Internet. It is estimated that the global online workforce generates almost €1 billion annually.
Why:
The number one reason companies opt to outsource is cost reduction. It is the most compelling reason why businesses choose to relocate, and in the IT and business sectors, cost has been found to factor into just over 85% of outsourcing decisions. Almost all companies, however, say they would not outsource strategic planning functions and many are even reluctant to outsource their sales or marketing jobs. In the iGaming industry, this definitely seems to be the case. That being said, just under half of the firms surveyed on the state of outsourcing in the U.S., claimed to outsource call centre management positions to workers overseas. This is a trend expected to grow, with just under 25% of employers remarking that they plan to outsource call centre employment in the near future.
Aside from reduction in costs, the main reason businesses tend to use offshore outsourcing, is the gained access to capabilities, primarily IT. Tapping into a larger pool will allow your firm greater opportunities to come into contact with able and experienced individuals. This lends a hand to your levels of efficiency. Being able to offer your customers better, more focused and refined services will help create more stable, long-lasting relationships. Unfortunately, in this day and age, requests are varied and expectations are high and for this reason, it is virtually impossible for businesses, especially if they are smaller in size, to cater for all aspects. Therefore, outsourcing certain departments to specialised third parties can only stand to benefit you in the long run.
Why not:
It goes without saying that there are issues associated with outsourcing, however, most of these can be rectified.
The issues most commonly associated with outsourcing are that of job loss and the challenge of finding and maintaining a balance between outsourced jobs and in-house jobs. For instance, almost 60% of employers worldwide are currently employing workers overseas, primarily from the Asia-Pacific area. What's more, 22% of companies are planning on transferring sections of their businesses to the area or would consider doing so in the very near future.
Finding the perfect balance between that which is performed in house and that which is performed by others is one that many have struggled with. However, once both firms have established and adhered to company culture and behaviours, the transition is sure to be almost seamless.
Sources:
Outsourcing Statistics: The Pros and Cons. (2014, April 2). Retrieved January 6, 2016, from https://blog.udemy.com
Outsourcing: Global market size 2014. (2014). Retrieved from http://www.statista.com
Outsourcing Statistics: 23 Facts and Trends. (2015, August 20). Retrieved from https://www.creditdonkey.com
Source: https://centrecomnews.com/2016/01/07/the-facts-and-figures-you-need-to-know-about-outsourcing/
Publish Date: January 7, 2016 5:00 AM
---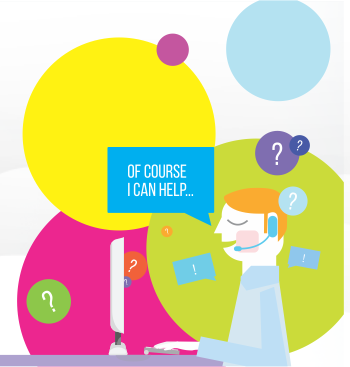 Nowadays, expectations are high. Customers not only want but expect to be able to contact your business in more than one way. This goes hand in hand with a high quality service, that they expect to be consistent, regardless of which method they are using to contact you.
By its very definition, offering a multi-channel service simply means that there's more than one way for customers to reach out to you for support. This refers to phone, email, live chat, social media, and even online forums. You're probably already providing multi-channel support, but how many channels and are they the right ones? Differing channels over various benefits and your customer demographics may just pick one over the other.
Mobility is the new norm, especially in the iGaming industry, whereby almost everything is done from a mobile device with online access.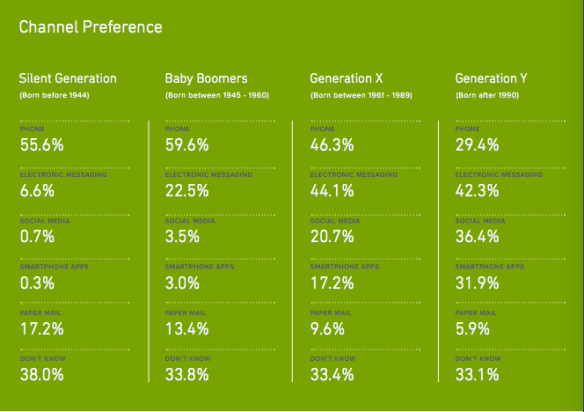 (image: dimension data)
Opening new channels increases contacts and raises expectations that you will provide a better service.
In order to live up to this expectation, you must capture all requests in a unified tool. As reported in The Cross Channel Customer Experience, by Genesys, "[w]hile many enterprises have accelerated their implementation of select, new communication channels, very few have tied them together into a complete system of customer care." This could result in a scattered company, unable to reap the benefits of multi-channel support.
If done the right way, you can maintain cohesion and consistency and also ensure that no requests are falling through the cracks.
In essence, omni-channel support is merely the progression of multi-channel support, as opposed to it being a competing strategy. Omni-channel support goes one step further by integrating the multiple channels and effectively unifying the customer service. Most businesses, however seem to be a long way away from managing successful omni-channel strategies. A report by BT revealed that only 17% of consumers say it is easy to switch between different channels.
However, if companies, especially in this particular industry, are able to leverage and integrate several channels, whilst simultaneously maintaining high quality customer service, the benefits and possibilities are endless but it is yet to be seen.
The demand for one-stop customer support solutions is growing and therefore, companies are on the lookout to outsource various departments so as to ensure unity and cohesion.
Selling your product or service all over the world is no easy feat, but an even greater challenge is offering your overseas consumers the opportunity to receive support in their very own language. Outsourcing such a department can only serve to benefit your business as it ensures uniform customer treatment, regardless of the contact point chosen by the consumer. Integrating the use of effective multilingual support with multi or omni-channel support is possibly the greatest achievement of all.
Sources:
A Guide to Multi-Channel Customer Support. (2015). Retrieved from https://d26a57ydsghvgx.cloudfront.net
What is Omni-Channel Customer Service Experience? (n.d.). Retrieved from http://www.aspect.com
Omnichannel Customer Engagement Contact Center Solutions. (2015). Retrieved from http://www.genesys.com
Source: https://centrecomnews.com/2016/01/06/customer-service-options-explained/
Publish Date: January 6, 2016 5:00 AM
---
The local iGaming industry is and has been experiencing an overwhelming boom as of late and we are all excited.
Here at Centrecom, we have compiled a few intriguing reasons as to why you should be considering opening up shop on the sunny island of Malta.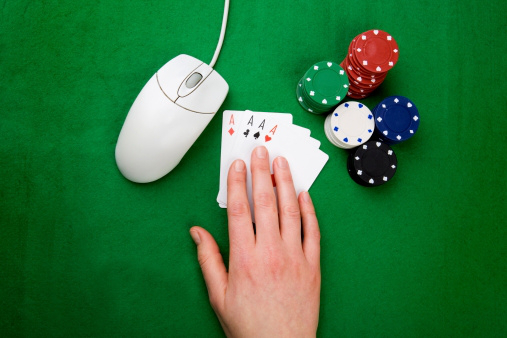 Why Malta?
As the first member of European Union to liberalise remote gaming in Europe, Malta has been established as a reputable jurisdiction, allowing gaming activities to occur in a safe and regulated environment. In addition, the industry has certainly been uplifted by the financial and regulatory incentives, put into place by the Maltese government.
In the words of Dr Claudio Caruana,"Malta not only appeals to iGaming companies as a result of the licensing possibility, but is also attractive in terms of fiscal incentives available to be availed of both by the companies setting up as well as by individuals taking up employment in Malta."
How?
Firstly, applicants must qualify for a gaming license by meeting the requirements and criteria set in the gaming regulations. In a nutshell, the applicant must represent a Maltese limited liability company. They must also show that they have the necessary resources to operate the business, in a manner that the LGA (Lotteries and Gaming Authority) is content with. Organisational policies and technical documentation must then be sent to the authority, assuring that the applicant is able to conduct remote gaming activities within a safe and regulated environment.
Is it safe?
Firstly, the Maltese jurisdiction, under which we all conduct our remote gaming activity, has been described as straightforward and just, especially when it comes to relocation or setting up iGaming companies. In addition, the amount of residents in Malta wholly engaged in the industry has dramatically increased in the last few years. This gives rise to the belief that gaming operators are not solely operating under a Maltese license overseas, but are setting up shop locally. That being said, it would be naïve to assume that such operators are not shifting their focus to larger and more profitable markets. Therefore, if all foreign jurisdictions required licensees to acquire licenses within their respective jurisdiction, the value of the highly praised Maltese license is likely to decrease drastically. The UK is the first member of state to set off this trend, as plans to introduce point of consumption taxes and licensing requirements have been put in place. This means that an operator accepting a player in the UK would have to acquire a license in the UK itself, as well as pay the necessary taxes of the respective jurisdiction. This could have countless effects on the industry and it may even create some sort of a black market, whereby unlicensed and unregulated gaming operators based in far off locations would evade the taxation and requirements.
In truth, Malta has a great deal to lose if trends such as these gain popularity. Of course, there is a great deal being done in order to combat these trends.
Now armed with the necessary information, the choice is yours.
Sources:
Malta: A Jurisdiction in iGaming – MiGS – Malta iGaming Seminar. (2014, August 18). Retrieved from http://www.maltaigamingseminar.com
Setting up gaming business in Malta. (2015, February 1). Retrieved from http://whpartners.eu
The formula leading to success in the iGaming industry. (2013). Retrieved from http://capstonegroup.com.mt
Source: https://centrecomnews.com/2016/01/05/setting-up-shop-in-malta/
Publish Date: January 5, 2016 5:00 AM
---
Do you ever wonder how a gambler's brain works? And what kind of thoughts flood into their brain when they're about to go all in?
Find out how hard their heart is beating, and which part of their brain encourages them to fold in the infographic below: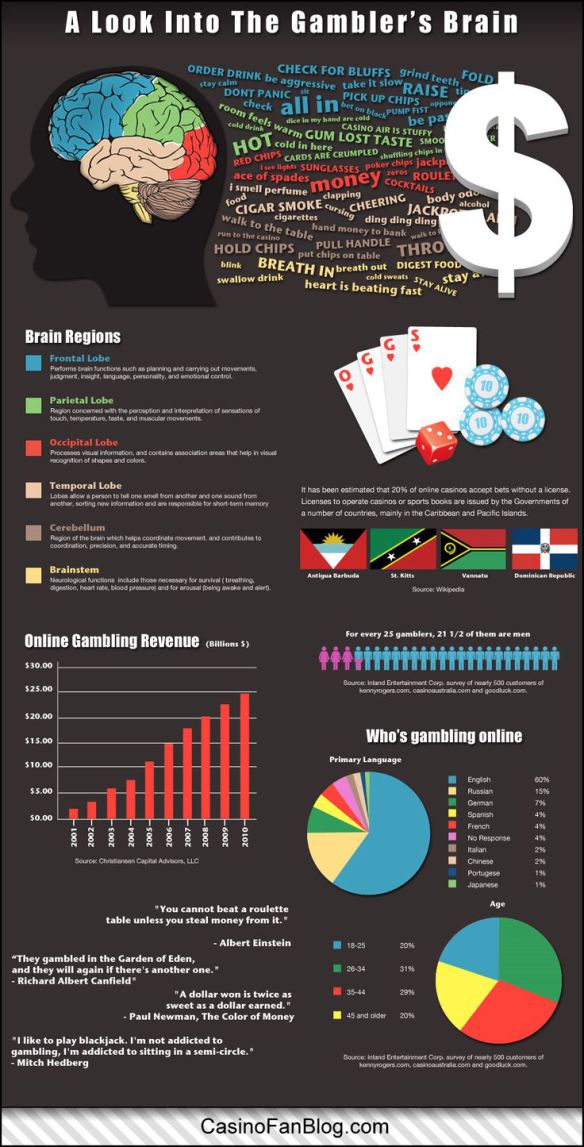 Source: https://centrecomnews.com/2016/01/04/pull-handle-check-for-bluffs-what-its-like-inside-a-gamblers-brain/
Publish Date: January 4, 2016 5:00 AM
---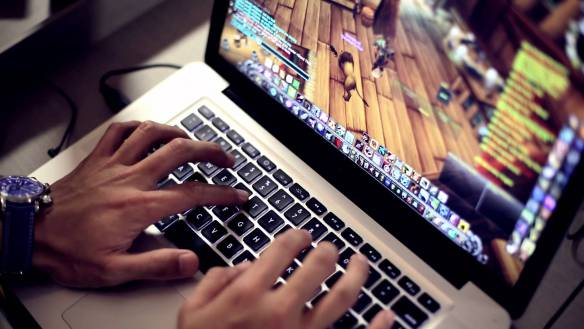 (Image: http://www.yes4g.com)
"Thanks to the rapid evolution of mobile technology, smartphones have transformed the real world into a giant game board, allowing users to interact and compete in ways that were science fiction a decade ago".
Social media strategist David Griner certainly knew what he was talking about as Forbes recently found that the global gaming market is predicted to grow to just over €75 billion by 2017. Who in their right mind wouldn't want a piece of that pie?
If you're looking to start your own online gaming business, we have just the plan for you.
Research:
First things first: do your research. Figure out what people are already consuming and obsessing over and find your niche. It is recommended that you focus on a single platform at the start, even if you plan on expanding your product at a later stage. The intriguing thing about this booming industry is that it has made it significantly easier for start up companies to enter the market, with limited capital.
Test:
Whether or not you would like to appeal to a broad audience is your decision, however, implementing elements that would engage both hardcore players and more casual players would be a good idea so as to maximise your appeal.
Also, it would be your best bet to have your game developer involved in all testing steps and phases; a common practice in the early days of gaming. Once a playable prototype has been developed, be sure to test it out as much and as often as possible, continuously evolving and adjusting to create the perfect game/s.
With no proper or required reference to a reusable test strategy, game testing tends to follow a game-specific test approach. This concept ranges from exploratory testing to a structured approach that is based on the experience of testers, complexity and production delivery date of the game. The choice is yours.
Distribution:
Typically, gamers might be reluctant to pay for your service, especially if offered for free initially. A better way to approach the issue is by collaborating with a marketing partner, who will not only help you to reduce costs, but also raise awareness of your games and your company. Despite the initial spend required for such a collaboration, you stand to reap the benefits in the long run. In this way, you will have access to larger brands and companies from a very early stage.
Additionally, it would be best to find a distribution partner, who has both reach and access. It may be somewhat of a challenge to form a partnership this early on as they may be reluctant to back an intangible, unfinished product. However, if the testing phase goes swimmingly, this can be completely avoided.
When looking to enter a fast-paced industry such as that of gaming, you need to ensure that you are relating your products to your consumer's everyday life. In truth, even if you do succeed (which we're sure you will), it's important to remember that games go in and out of style in the blink of an eye. Therefore, it is your responsibility to get a conversation going, excite your users with impressive features and maintain social relevancy.
Sources:
Starting Your Game Business Part I: Business Plan And Legal Steps To Take. (2015, February 26). Retrieved from https://www.gameacademy.com
How to Write a Business Plan for a Mobile Gaming Company. (2010, July 27). Retrieved from http://www.inc.com
Source: https://centrecomnews.com/2016/01/03/the-game-changer-business-plan-for-start-ups/
Publish Date: January 3, 2016 5:00 AM
---
Allow us to introduce you to the contact centre of the 'future'.
The infographic below offers interesting insight into the world they predicted we would be inhabiting, in 2015.
Take a look at the comparisons between 2012 and today. Were they right or were they completely off?
See for yourself.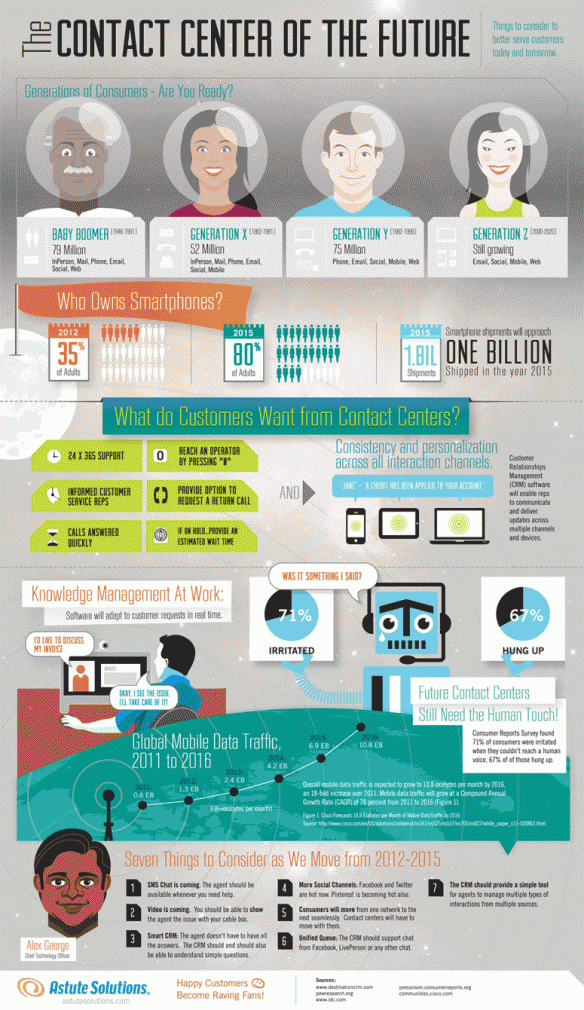 (image: http://www.blog.kunnect.com)
Source: https://centrecomnews.com/2016/01/02/are-you-ready-for-generation-z-infographic/
Publish Date: January 2, 2016 5:00 AM
---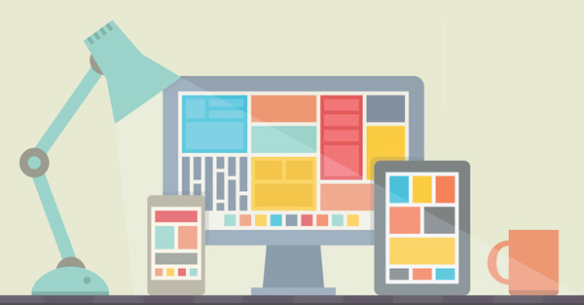 (image: http://www.webdesign.org)
Do you dream of generating so much traffic to your website that you can hardly deal with it? We can't guarantee that this list of tips will do that, but they will certainly get you started on the right track.
Here are 20 tips and tricks:
Social Media
Facebook is the greatest of all promotional tools, especially in this day and age. Install a Facebook tracking pixel on your website and create return traffic. In this way, you'll be able to continue to market to customers who have already visited your site.
Revitalise your email list and upload it to Facebook. Customers who have their email addresses linked to their social media will appear. This could benefit your business greatly as it will allow you to market to the tech-savvy ones who tend to use their mobile devices more.
Make use of social media scheduling software such as Hootsuite to automatically post on your behalf. This guarantees that your posts will be seen by a larger, more diverse audience as they will be posted at the best time of the day, thus putting your mind at rest (at least a little).
Share others posts on social media sites and comment on others with insightful, useful comments.
Be absolutely sure to include social sharing buttons on your site, as well as everything related, including emails. Failing to do is just a missed opportunity for others to do the sharing for you.
Content
Content is king and don't let anyone tell you otherwise. Have eye-catching headlines, adopt the mantra of quality over quantity and as a rule of thumb, make sure to use link bait techniques.
Explore your analytics and insights pages. Keep an eye on your most popular content and expand upon it.
The above point goes hand in hand with search forums. Consult Google and research your niche market to find out exactly what people are talking about. In this way, you'll be one step ahead of your game, thus inviting customers and readers to migrate to your site, without even noticing.
Do you ever find yourself sitting at your desk, drumming your fingers on your keyboard, at a loss, as you have no idea what to write about next? ASK. It is as simple as that. Ask your customers what they would like to see and they will more than likely let you know.
Interview influential people in your industry/market. Get opinions and comments from those who are considered to be in the know. They will not only attract more traffic, but will also add the edge that you've been looking for.
Multimedia
We humans are a race characterised by impatience and short attention spans. Enhance your site with multimedia, which includes photos, graphic, even videos.
Create or share interesting, attention grabbing infographics. They are a fraction better than images, as they can serve to educate, as well as entertain. They are also more likely to be shared, as they serve a purpose.
Produce podcasts, webinars and the like. Distribute them on several channels and then if you are able to, transcribe them, for extra content.
Upload videos to Youtube and Vimeo, even if they are short and sweet! Make certain that a link to your site is in the description box below or above the video, as well as in the video itself. You may be surprised by how much interest your videos will spark.
The trick is to have several forms of multimedia present on your site. In this way, you will pique the interest of anyone and everyone, adapting yourself as well as your brand to a more diverse market.
Miscellaneous
Install a related content plugin to link each post to other related posts. In addition, install an SEO plugin, thus optimising your sire for search engines in general. It can only help, right?
Write and publish and e-Book and/or white-paper and offer an affiliate commission to encourage others to distribute it and link it to your site. Better yet, offer it for free on Amazon kindle and make sure your web address is present and clickable!
Attend conferences and networking events. We are aware, this is a completely different tip from the other 17, but trust us, it is the perfect opportunity to distribute your business cards and make contacts and friends.
Create an app. Provided your site has already garnered a significant amount of attention an application will only improve your situation. Make certain that the app is available for both android and iPhone users.
Be nice. Be likeable. Be friendly. Be yourself, but nicer. If people are fond of you, they are more likely to want to help you out.
Sources:
17 Ways To Immediately Improve Your Website Traffic. (2015, September 3). Retrieved from http://www.entrepreneur.com
101 Simple Tips To Increase Website Traffic. (2013, October 30). Retrieved from https://graphpaperpress.com
Source: https://centrecomnews.com/2015/12/30/20-simple-ways-to-improve-your-traffic/
Publish Date: December 30, 2015 5:00 AM
---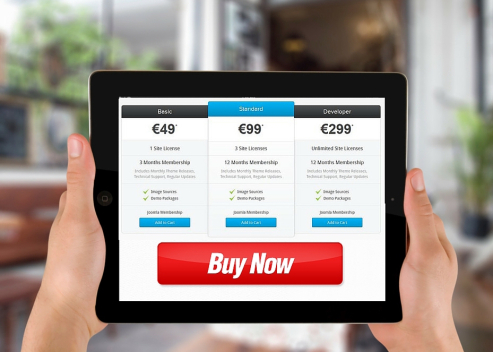 Many make the mistake of having just one offer that prompts a call to action. What they fail to realise is that different customers and website visitors may very well respond to completely different triggers.The game of lead conversions is a harsh and competitive one, but definitely one worth investing in, as it can lead to great profits before you know it.
It is easier than you might think to lose track of lead conversion tactics, especially when you spend most of your time focusing on generation of traffic.
We have compiled a list of things to remind you and help in converting those leads into sales.
The Top of The Funnel
These visitors are on the search for information. Their interests are certainly piqued but they are unlikely to make a purchase this very second. At this stage, the design and preliminary content is what will strike your visitors. Adhere to the quality over quantity regulation and present your prospects with high-quality content, coupled with a minimalistic, easily digestible design. In addition, provide downloadable white papers and e-books, online guides, even instructional videos, so as to inform and educate visitors about your product or service and let them know exactly what you're offering. This will not only intrigue site visitors, but encourage them to spend more time browsing and thus, familiarising themselves with your brand.
Visitors do not move on to the next stage of the funnel until they have had some sort of encounter with a company representative, so as to apply a face to the name. An engaged individual is made aware that he is in the database, either by actively seeking help or answers, or by downloading an e-book, for instance.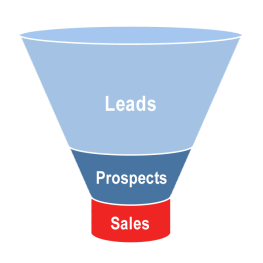 The Middle of The Funnel
At this point, the individual is educated about your offered products and services, but is not as aware of your brand. Even if the visitor has downloaded a couple of white-papers and "liked" your social media page, they cannot technically be classified as a customer yet. Including product specifications, catalogs and video testimonials on your site can aid the process as they can further inform themselves on the ways in which your company functions.
In order to progress to the next and final point of the leads funnel, an individual must show sufficient interest. This can be achieved by means of responding to direct mail, attending an event and the like. This will lead to the person having a high lead score, indicating to you that they are a promising lead.
The Bottom of The Funnel:
This is the most crucial point, as it is the fine line between individuals becoming sales leads or being sent back to marketing for lead nurturing, which can often occur. This is referred to as the 'recycled lead'; whereby the prospect is recycled back into the lead nurturing database and provided with relevant educational material, in hopes that someday soon they will be re-engaged and become a viable lead.
The final point is where leads are converted into sales. At this stage, individuals have made it abundantly clear that they are not only willing to make a purchase, but excited to do so. It is now up to you to facilitate the buying process. Provide them with free evaluations or consultations, give them live product demonstrations or offer special prices for first-time buyers.
Keeping a keen eye on your lead conversion is essential for keeping your business current and ultimately, increasing your profits, thus making everyone happy.
Sources:
5 Lead Conversion Tactics that Can Help Your Business Grow. (2014, July 24). Retrieved from http://www.g2msolutions.com.au
12 Often-Forgotten Lead Conversion Tactics. (2012, December 5). Retrieved from http://www.smartbugmedia.com
Lead Generation: What Is Your Sales Funnel? (2015). Retrieved from http://www.dummies.com
Source: https://centrecomnews.com/2015/12/28/conversion-tactics-you-should-be-using/
Publish Date: December 28, 2015 5:00 AM
Industry Champion Award Leaderboard