Conversion Tactics You Should Be Using - Centrecom - ContactCenterWorld.com Blog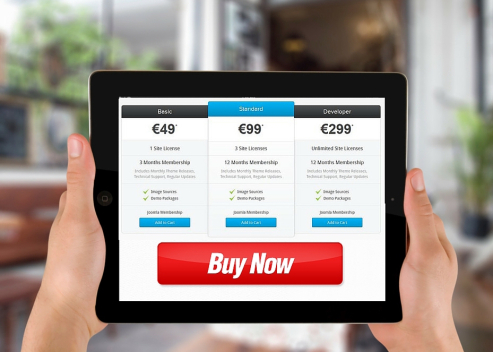 Many make the mistake of having just one offer that prompts a call to action. What they fail to realise is that different customers and website visitors may very well respond to completely different triggers.The game of lead conversions is a harsh and competitive one, but definitely one worth investing in, as it can lead to great profits before you know it.
It is easier than you might think to lose track of lead conversion tactics, especially when you spend most of your time focusing on generation of traffic.
We have compiled a list of things to remind you and help in converting those leads into sales.
The Top of The Funnel
These visitors are on the search for information. Their interests are certainly piqued but they are unlikely to make a purchase this very second. At this stage, the design and preliminary content is what will strike your visitors. Adhere to the quality over quantity regulation and present your prospects with high-quality content, coupled with a minimalistic, easily digestible design. In addition, provide downloadable white papers and e-books, online guides, even instructional videos, so as to inform and educate visitors about your product or service and let them know exactly what you're offering. This will not only intrigue site visitors, but encourage them to spend more time browsing and thus, familiarising themselves with your brand.
Visitors do not move on to the next stage of the funnel until they have had some sort of encounter with a company representative, so as to apply a face to the name. An engaged individual is made aware that he is in the database, either by actively seeking help or answers, or by downloading an e-book, for instance.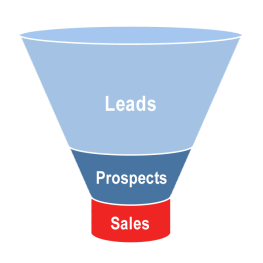 The Middle of The Funnel
At this point, the individual is educated about your offered products and services, but is not as aware of your brand. Even if the visitor has downloaded a couple of white-papers and "liked" your social media page, they cannot technically be classified as a customer yet. Including product specifications, catalogs and video testimonials on your site can aid the process as they can further inform themselves on the ways in which your company functions.
In order to progress to the next and final point of the leads funnel, an individual must show sufficient interest. This can be achieved by means of responding to direct mail, attending an event and the like. This will lead to the person having a high lead score, indicating to you that they are a promising lead.
The Bottom of The Funnel:
This is the most crucial point, as it is the fine line between individuals becoming sales leads or being sent back to marketing for lead nurturing, which can often occur. This is referred to as the 'recycled lead'; whereby the prospect is recycled back into the lead nurturing database and provided with relevant educational material, in hopes that someday soon they will be re-engaged and become a viable lead.
The final point is where leads are converted into sales. At this stage, individuals have made it abundantly clear that they are not only willing to make a purchase, but excited to do so. It is now up to you to facilitate the buying process. Provide them with free evaluations or consultations, give them live product demonstrations or offer special prices for first-time buyers.
Keeping a keen eye on your lead conversion is essential for keeping your business current and ultimately, increasing your profits, thus making everyone happy.
Sources:
5 Lead Conversion Tactics that Can Help Your Business Grow. (2014, July 24). Retrieved from http://www.g2msolutions.com.au
12 Often-Forgotten Lead Conversion Tactics. (2012, December 5). Retrieved from http://www.smartbugmedia.com
Lead Generation: What Is Your Sales Funnel? (2015). Retrieved from http://www.dummies.com
Source: https://centrecomnews.com/2015/12/28/conversion-tactics-you-should-be-using/
Publish Date: December 28, 2015 5:00 AM
---
PREMIUM

HigherGround, Inc.
(VIEW OUR PAGE)

HigherGround develops data collection, information storage, and interaction analytics solutions that easily transform data into actionable intelligence, enabling operational optimization, enhanced per...

(view more)

PREMIUM

CTI Software
(VIEW OUR PAGE)

CTI Software is the creator of custom application called Davos, which complements the telephone client solutions with intelligent features such as automated call attendant, call recording and archivin...

(view more)

PREMIUM

ConceptCall
(VIEW OUR PAGE)

Аутсорсинговый контакт-центр ConceptCall| КонцептКолл специализируется на исходящем и входящем телемаркетинге: мы предоставляем услуги по осуществлению холодных звонков и продажи по телефону, проводим...

(view more)
---

View more from
Centrecom
Recent Blog Posts:
| | |
| --- | --- |
| 4 Rules for Developing Addictive Games | January 8, 2016 5:00 AM |
| The Facts and Figures You Need To Know About Outsourcing | January 7, 2016 5:00 AM |
| Customer Service Options: Explained | January 6, 2016 5:00 AM |
| Setting Up Shop in Malta? | January 5, 2016 5:00 AM |
| Pull Handle, Check for Bluffs: What It's Like Inside a Gambler's Brain | January 4, 2016 5:00 AM |
| The Game Changer: A Business Plan For Start Ups | January 3, 2016 5:00 AM |
| Are You Ready For Generation Z? | January 2, 2016 5:00 AM |
| 20 Simple Ways to Improve Your Traffic | December 30, 2015 5:00 AM |
| Conversion Tactics You Should Be Using | December 28, 2015 5:00 AM |
Industry Champion Award Leaderboard