Saddletree Research – Isolate Automate: Cicero Introduces Discovery Automation - Cicero - ContactCenterWorld.com Blog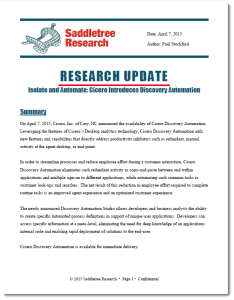 blog ping service
"When reviewing this product announcement, Saddletree Research was immediately struck by the
pragmatic approach Cicero is taking to solving a problem that does not get the headlines of the more
trendy of today's contact center solutions, but is a challenge that we believe is universally understood
and likely universally experienced in the industry. Productivity slowdowns at the agent desktop, which
Cicero refers to the agent end-point, not only hamper the delivery of an optimal customer experience,
they are frustrating to the agent who must deal with these productivity inhibitors that are out of his or
her control but have a direct impact on output factors that lead to such desirable outcomes as positive
reviews, raises, promotions, etc.
Drawing upon the principles of classic desktop analytics, Cicero takes the process to the next level.
Discovery Automation identifies how employees are using technology, finds processes where there is
room for improvement, isolates where the problem lies, then offers automation solutions that address the
isolated problem. It is important to note that Cicero's is an iterative approach to automation. Users are
not required to automate entire processes or systems. Only the elements that are selected for automation
by the user are actually addressed by Discovery Automation.
By gaining visibility into what is happening at the agent end-point, Discovery Automation can eliminate
the customer service domino effect that invariably leads to a less-than-optimal customer experience.
One Cicero customer realized a reduction in average handle time (AHT) of ten percent simply by
implementing single sign-on to agent end-point applications. Saddletree Research expects Discovery
Automation's ability to remove barriers to agent productivity and customer service will also have an
immediate and positive impact on such emerging productivity performance indicators as first call
resolution (FCR) and customer effort score (CES).
Cicero Discovery Automation is non-invasive, which means it does not have to get "under the skin" of
other software applications in order to isolate and automate agent end-point activities. As a result, the
performance of the system software itself is not impaired in any way while productivity and efficiency at
the agent end-point is significantly improved. This characteristic is true of all Cicero software.
Research conducted at the end of 2014 by Saddletree Research in conjunction with the National
Association of Call Centers (NACC) at The University of Southern Mississippi indicates that analytics
solutions, and particularly desktop analytics solutions, remain in high demand by end-users. 30 percent
of survey respondents indicated that they intend to evaluate desktop analytics for purchase in 2015. An
additional three percent of respondents reported that desktop analytics has already been funded for
purchase in 2015. This puts desktop analytics firmly on the list of the top five contact center solutions
that will be purchased in 2015. In terms of real numbers, we estimate that about 23,000 contact centers
in the U.S. will be evaluating for purchase or purchasing desktop analytics this year.
Cicero is clearly on the leading edge of an emerging trend with the introduction of Discovery
Automation. To provide a practical, manageable solution for an industry shortcoming that is universally
understood and close to universally experienced is, in Saddletree Research's opinion, destined to raise
Cicero's visibility in the contact center industry. Cicero Discovery Automation clearly demonstrates the
company's level of expertise in the agent desktop, or end-point, market segment that should be of
interest to the industry as a whole. The time has come to start paying closer attention to Cicero's ability
to potentially influence the direction of the contact center market in the future."
Read more from Saddletree Research – Isolate Automate
Click here to learn more about Saddletree Research.
Source: http://www.ciceroinc.com/saddletree-research-isolate-automate/
Publish Date: April 7, 2015 5:00 AM
---
PREMIUM

Future Gen International Pte Ltd
(VIEW OUR PAGE)

Outsourcing provider of English Call Centre services, Audio Transcriptions, Big Data ETL (Extract, Transform, Load) , Big Data Visualization, Big Data Predictive Model Generation

PREMIUM

HigherGround, Inc.
(VIEW OUR PAGE)

HigherGround develops data collection, information storage, and interaction analytics solutions that easily transform data into actionable intelligence, enabling operational optimization, enhanced per...

(view more)

PREMIUM

ConceptCall
(VIEW OUR PAGE)

Аутсорсинговый контакт-центр ConceptCall| КонцептКолл специализируется на исходящем и входящем телемаркетинге: мы предоставляем услуги по осуществлению холодных звонков и продажи по телефону, проводим...

(view more)
---
View more from
Cicero
Recent Blog Posts:
Industry Champion Award Leaderboard